I may receive a commission if you purchase through links in this post. I am not a doctor; please consult your practitioner before changing your supplement or healthcare regimen.
Paleo & Keto Donuts take just 10 minutes to mix together! Perfect for low carb, gluten-free and GAPS diets, you'll love the tender crumb and different topping options.
I'm not sure why it took me so long to make Paleo donuts! I think I needed a recommendation for which donut pan to buy, for starters. (Here's the one I use!) After that, this recipe was handed to me, by a friend, via her new e-book. We love them, and I'm not sure when I'll make my own recipe. Although now that I have my new donut pan it won't be too long.
How to make Paleo and Keto Donuts
One thing I love about this recipe is how fast and easy Paleo and Keto Donuts are to make, 20 to 30 minutes total (including baking time)! Just one medium size bowl and mixing the few ingredients by hand.
What they taste like
These donuts turn out really light, a bit sponge-y and, with the glaze, they are cake meets healthy candy — so yum!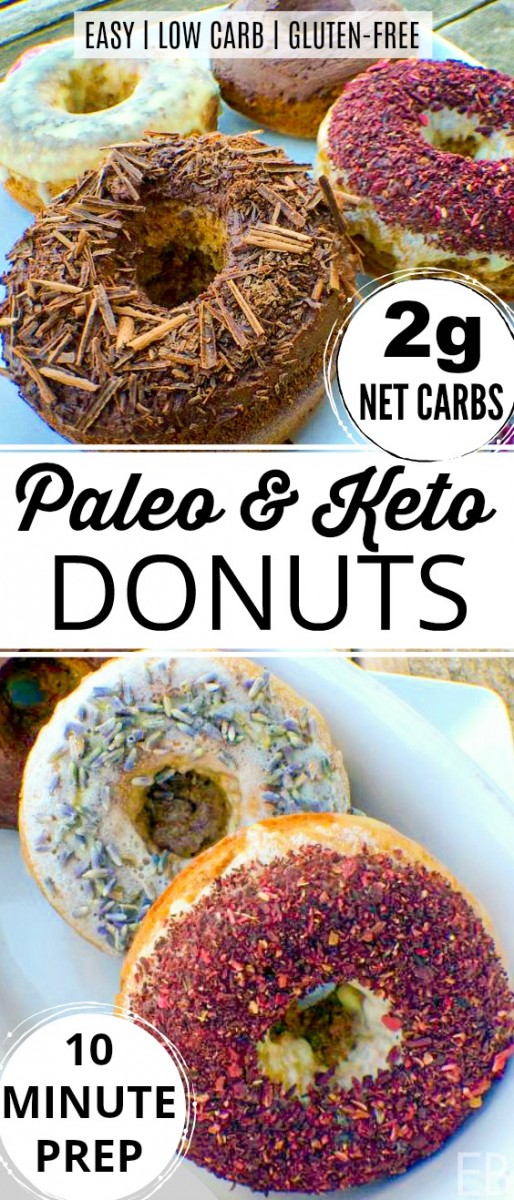 The credit for this recipe goes to Andrea Wyckoff. They're from her cookbook, Pure and Simple Paleo, published with her permission. Please see her blog, ForestandFauna.com, for some other lovely whole food recipes.
Tips for buying blanched almond flour
I don't usually bake with almond flour because it is high in omega-6s, and almonds as a crop have some environmental concerns. (Read these articles if you're curious to learn more: 1, 2, 3)
But this donut recipe does use blanched almond flour! So, to buy smart 🙂 , consider these two choices:
If you like using almond flour, make sure it's organic. (Here's a good one.) Most people buy conventional almond flour because it's cheaper. But almonds retain heavy amounts of glyphosate residue due to spraying just before harvest. Humans get the poison that remains.
Try using another nut! 🙂 I really like putting walnuts or pecans in my blender or food processor to make happy omega-3 nut meal. Different nuts will create different textured donuts, but they're all yummy! Have fun enjoying different nuts and textures. Either use low carb macadamia nuts (because they're the nut lowest in anti-nutrients like phytic acid) or consider soaking and dehydrating your nuts and seeds for best digestion. (Learn how here.)
If you want the best donut pan, for texture and performance, that great baking tool is

here

. You'll love this pan. We tried out several before landing on this one.
How to store Paleo and Keto Donuts
You can keep your donuts on the counter, covered and sealed, for a few days, or in the fridge.
To freeze your donuts, simply wrap well, and freeze for up to 3 months. To defrost, leave them out at room temperature for 3 to 4 hours, or overnight.
Print Recipe
Paleo and Keto Donuts
Paleo and Keto Donuts are baked, not fried, and turn out perfectly! Healthy, decadent and fun, this recipe takes literally just 10 minutes to mix together!
Equipment
silicone donut pan: Use a full sized donut baking pan with space for 9 standard donuts (or more if making mini- donuts). If your donut pan is silicone, set it on a full metal baking sheet for ease in getting it in and out of the oven.

oven
Instructions
Preheat oven to 350 degrees Fahrenheit.

Whisk eggs. Add in remaining ingredients, and mix well by hand.

Grease donut pan thoroughly. Spoon batter into a piping bag (or use a zip lock bag, then cut off the corner). Pipe donut filling into baking pan. ( If your donut pan is silicone, set it on a full metal baking sheet for ease in getting it in and out of the oven.)

Bake 10 to 16 minutes (cooking time varies depending on the type of baking pan used).

After baking, let donuts *fully cool* before removing from pan. It is super hard to wait for these to cool; but do. They will break if you try to pop them out early.

If you are going to top them with my simple chocolate glaze, put the donuts into the freezer to chill for 20 minutes while you make the glaze.

Dip the chilled donuts in the chocolate coating, sprinkle on chopped nuts or freeze dried fruit, and serve. Or you can make a small batch of my vanilla icing to top them (recipe below), and stir in freeze dried strawberries for flavor and a nice pink color.
Notes
Find liquid keto sweetener

HERE

.
Toppings and Decorations
Optional garnish: Use Andrea's simple chocolate coating for a glaze or her vanilla icing (both recipes are below), chopped nuts, dried coconut flakes, crumbled freeze dried fruit, or roll in maple sugar and cinnamon.
I garnished my donuts, after glazing, with shaved unsweetened chocolate, powdered hibiscus blossoms and lavender blossoms (very herby but yummy).
I also made a honey glaze with

½

cup melted cocoa butter + 2 T. honey (or Keto sweetener)  &

½

tsp. vanilla extract.
Vanilla Icing
1 cup organic palm shortening (best one

here

)
2 to 3 Tablespoons honey or maple syrup (or powdered sweetener for Keto and Low Carb

here

)
1 teaspoon vanilla
Tiny pinch sea salt
Whip icing ingredients together in a small bowl, add sweetener to taste. I like to use the whisk attachment on my immersion blender to make this frosting extra creamy.
Chocolate Glaze for Donuts
½

cup fair trade cacao butter (

here

)

½

cup fair trade cacao powder (

here

)
2 to 4 Tablespoons maple syrup (or stevia, to taste) or low carb liquid sweetener here
Gently melt the cacao butter over low heat, or in a double boiler. After melting cacao butter stir in cacao powder and sweetener. Do your best to melt together at a low temp to avoid scorching the chocolate.
To Glaze Donuts: After mixing the chocolate sauce together, let it cool until it thickens a little, then you can dip the donuts in the chocolate sauce. It also works best if you start with a chilled donut. You may need to "double dip" the donuts, meaning dip them once, then stick them in the freezer for a few minutes to let the chocolate firm up, then dip them in chocolate again.
The Nutritional Facts below represent the Keto and Low Carb version of this recipe.
Nutrition
Serving:
1
donut
|
Calories:
67
kcal
|
Carbohydrates:
2
g
|
Protein:
4
g
|
Fat:
5
g
|
Saturated Fat:
1
g
|
Cholesterol:
70
mg
|
Sodium:
102
mg
|
Potassium:
116
mg
|
Fiber:
1
g
|
Sugar:
1
g
|
Vitamin A:
100
IU
|
Calcium:
28
mg
|
Iron:
0.6
mg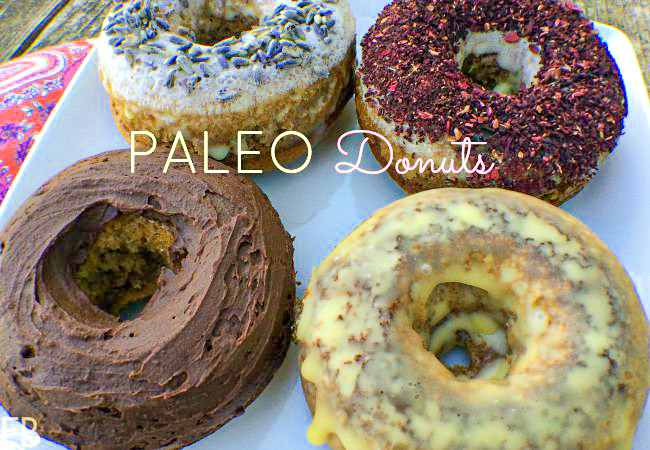 LOVE Paleo, Gluten-free and GAPS baked goods?
Here are a few other favorites:
And here are some fun Keto, Low Carb treats: