I may receive a commission if you purchase through links in this post. I am not a doctor; please consult your practitioner before changing your supplement or healthcare regimen.
Homemade chocolate chips in SIX flavors!! You will love making chocolate, carob, peanut butter, berry, butterscotch!!! and chocolate mint chips for all of your fun baking needs. These are great in the usual places: cookies, muffins and scones; and they're also great as a cute or pretty garnish! Homemade chocolate chips mean no funny ingredients, no refined sugar and more creative flavors! Paleo, Keto, Low Carb and GAPS.
I have toyed with/dreamed for years of making my own chocolate chips, ones I could eat, ones that don't contain refined sugar. I DO have a recipe for some in my cookbook, actually (pgs. 62 and 119). That recipe is amazing; but I pipe out each chocolate chip into the little kiss shape with a pastry bag…and this is not something I want to do regularly.
Some folks have started using (super inexpensive) silicone trivets as molds for the chips instead, which got me thinking of all the kinds of chips I'd love to eat, or chips that would be pretty for fancy cupcakes etc. (And you don't have to use the trivet mold, if you don't prefer. You can slather the rich goodness on parchment paper instead, chill, then chop into small pieces. See photo example below.)
Butterscotch and peanut butter of course came to mind– classic chip flavors that are usually made with horrible ingredients.
I made another chip with freeze-dried berries, perfect for decorating or adding to muffins and scones.
Redoing chocolate chips gives us control over what sweetener we want to use, subbing in carob for cocoa if our bodies prefer it, and adding in essential oil if we want chocolate mint chips.
Although white chocolate confections can be tricky, it was my goal to not need an immersion blender with these recipes. I'm super happy that they can all just be stirred with a fork or whisk, and they're done!
All together these chips are fun! The recipes are easy to assemble and novel to "harvest"~ popping out the little sweets and thinking about how to use them!
(By the way, how to pop them out evolves: I got better at it as I went. The first time I made chips I was careful and it took me 5 minutes to get them all out! Oy. I learned to be a bit ruthless. The chips stay intact, so just go to it or ask a kiddo to help.)
These recipes were a really playful series to develop and make; they're confetti for the soul! Meaning — even the process is celebratory, anticipatory, and exciting! Quick, cute and magical: multi-flavored Paleo/Keto/Low Carb/GAPS (chocolate) chips!
Recipes, Ingredients and Flavors
Although it would be cool if there was one master recipe and all flavors flowed from it, I originated three of the recipes independently so they would taste their best, not be locked down to a recipe model.
Peanut Butter
These chips I love because, firstly, they're addictively delicious! and secondly, because it's a really fast, easy recipe to pull together. You can also use any nut butter, instead of peanut butter, if you prefer. What will you add these to? Banana muffins, chocolate brownies, scones with "jelly" on top? They're really good to nibble, great in cookies, winner of best-all-round.
Butterscotch
This recipe has several ingredients that come together to create a caramel, butter, Scotch flavor. There is a teeny bit of optional Scotch whiskey in the recipe, if you're going for the most accurate flavor; otherwise vanilla does a good job. Enjoy these rich beauties in brownies, cookies, scones, and muffins; but we love them best alone or especially on top of ice cream. They are the quickest to melt, though, so keep them chilled until you're ready to put them in your recipe or munch on 'em! Remember: These are awesome on ice cream!
For the keto and low carb version of this chip, be sure to use macadamia nut butter. (See the recipe below for details.)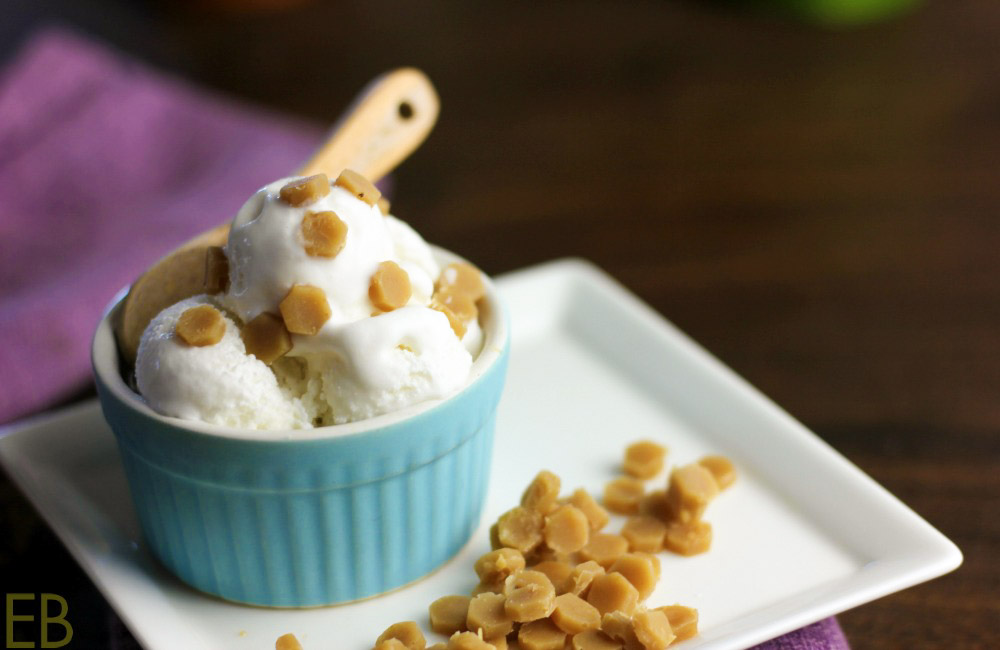 Berry
I made my version with raspberries. You can also easily find strawberries~ freeze-dried. If you use raspberries there are seeds; so after blending my berries into a powder (instructions below) I sifted the powder to remove the seeds. These chips turn out really rich and intensely flavored- lovely for muffins or scones or to bake into cake and then top with cream! Be creative… They certainly make a pretty garnish. We like them best for nibbling, in granola and for making things pretty.
I had to cut myself off somewhere or I would have never stopped creating new flavors. Suffice it to say, I think it would also be
delicious to make apple-cinnamon chips– great in scones! or muffins… Just do the same thing: powder freeze-dried apples (instructions below in the Berry recipe) and add in 1/4 teaspoon cinnamon. Yum.
Cacao Butter, Coconut Butter and Coconut Cream
Yes, to keep you on your toes (and to create just the right chip) I use all three of these ingredients, depending on the chip variety. So be careful when reading the recipes.
Cacao butter is going to come in big chunks and needs to be melted over low heat before being measured. There is no special mystery surrounding using this magical fat. The ONLY trick to its success is DON'T let water get into it. 🙂 And it's best to heat it over low heat. When the solids are almost completely melted, turn off the heat and allow the hot fat to continue melting the remaining solids. You don't need a double boiler or anything fancy, though. (Cacao butter comes from the cacao plant, same as cocao powder, and tastes of chocolate, but without the caffeine and antinutrients.)
Coconut butter, or manna, is that fantastic whole food made from just blending dried coconut for a really long time. You can make it homemade. Here's how. Or buy it.
Coconut cream comes from blending dried coconut with warm water. The creamy milk separates and the cream that this recipe calls for is what rises. When you buy a can of full fat coconut milk, the cream is what can be scooped from the top half of the can. That's what you want for this recipe. So don't buy "lite" coconut milk, or shake your can before opening.

Which chip will you make? Or will you make more than one?
The recipes double well. The trivet will only hold half a recipe; so you'll need to freeze half into chips, then freeze the other half of the recipe after popping out the first half of the batch. Or put half the recipe into the trivet mold and spread the other half on parchment to chop into chips/chunks. The chunks are basically what we call "bark." Great for snacking! And the bark could be a pretty dessert in and of itself with chopped things topping and hardened into it: dried fruit and nuts.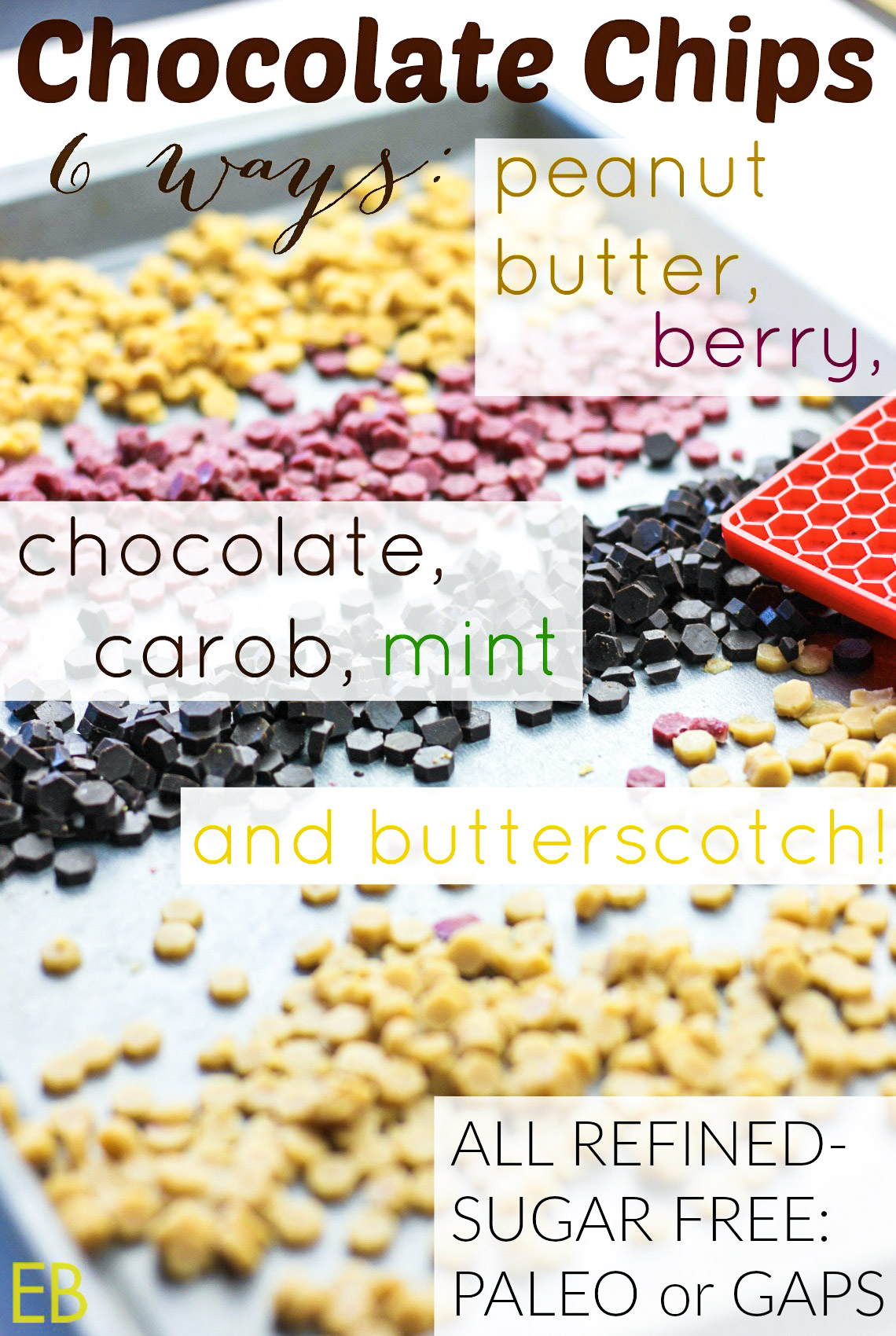 Print Recipe
Paleo/GAPS Chocolate Chips~ 6 ways: chocolate, carob, peanut butter, butterscotch, berry, chocolate mint
Please pay special attention in the following recipes to three different ingredients that sound similar: cocoa butter, coconut cream and coconut butter. These recipes can be doubled.
Ingredients
Instructions
Chocolate Chips, Carob Chips or Mint Chocolate Chips
Melt and measure cocoa butter. Add remaining ingredients to medium size mixing bowl. Add cocoa butter. Stir well with fork for about 1 minute. Pour butter into molds, fanning out evenly with a spatula; or spread on parchment to chop into chunks once chilled. Freeze a minimum of 25 minutes before unmolding.
Peanut Butter Chips
Place all ingredients in small bowl. Stir well to mix. Pour butter into molds, fanning out evenly with a spatula; or spread on parchment to chop into chunks once chilled. Freeze a minimum of 25 minutes before unmolding.
Butterscotch Chips
Place all ingredients in a small saucepan and heat over low, stirring, to dissolve maple sugar. Pour butter into molds, fanning out evenly with a spatula; or spread on parchment to chop into chunks once chilled. Freeze a minimum of 25 minutes before unmolding.
Berry Chips
Working in two batches, powder freeze-dried fruit in automatic coffee/spice grinder. If using raspberries, sift out the seeds. Place all ingredients in a small bowl. Stir well to mix. Pour butter into molds, fanning out evenly with a spatula; or spread on parchment to chop into chunks once chilled. Freeze a minimum of 25 minutes before unmolding.
Notes
This is the coconut butter you can use.
Nutrition
Calories:
236
kcal
|
Carbohydrates:
9
g
|
Protein:
7
g
|
Fat:
19
g
|
Saturated Fat:
6
g
|
Sodium:
86
mg
|
Potassium:
364
mg
|
Fiber:
5
g
|
Sugar:
17
g
|
Vitamin C:
69.5
mg
|
Calcium:
38
mg
|
Iron:
3
mg
Which chip will you make first?