I may receive a commission if you purchase through links in this post. I am not a doctor; please consult your practitioner before changing your supplement or healthcare regimen.
Delicious and creamy coffee whip with truly energizing mushroom powders tastes like the best iced latte! Spoon atop your choice of iced milk. Dalgona Herbal Mushroom Coffee can be made with coffee or decaf coffee + mushroom powder OR completely herbal.
Paleo, Keto, Low Carb and Vegan.
Jump to Recipe
What is Dalgona coffee?
This 3-ingredient coffee drink emulates a Korean toffee-flavored street candy (called ppopgi). Caramel-colored coffee whip is placed atop iced milk — looking at once intriguing, alluring and delicious!
The recipe takes only five minutes to make.
As one source rightly says, "If you like your coffee sweet and milky, you should definitely try making it at home!"
Ingredients and substitutions
Dalgona coffee uses just three ingredients: instant coffee, granulated sugar and boiling water … all poured on top of the iced milk of your choice.
Instant coffee is what makes this recipe work, so you can't substitute other forms of coffee, such as espresso grounds. The coffee must be freeze-dried.
But, various instant coffee powders do work!
Ingredients in Dalgona Herbal Mushroom Coffee
Dalgona Mushroom Coffee takes organic instant coffee to an altogether healthy place by adding energizing mushroom powders — which are something my husband and I drink daily already.
Mushroom powders stimulate the organs naturally — improving our stress response, brain health, cellular energy and bolstering the body with antioxidants.
To make Dalgona Mushroom Coffee: You can use either your own instant coffee + bulk mushroom powder (more on these in a minute) OR Instant Mushroom Coffee packets.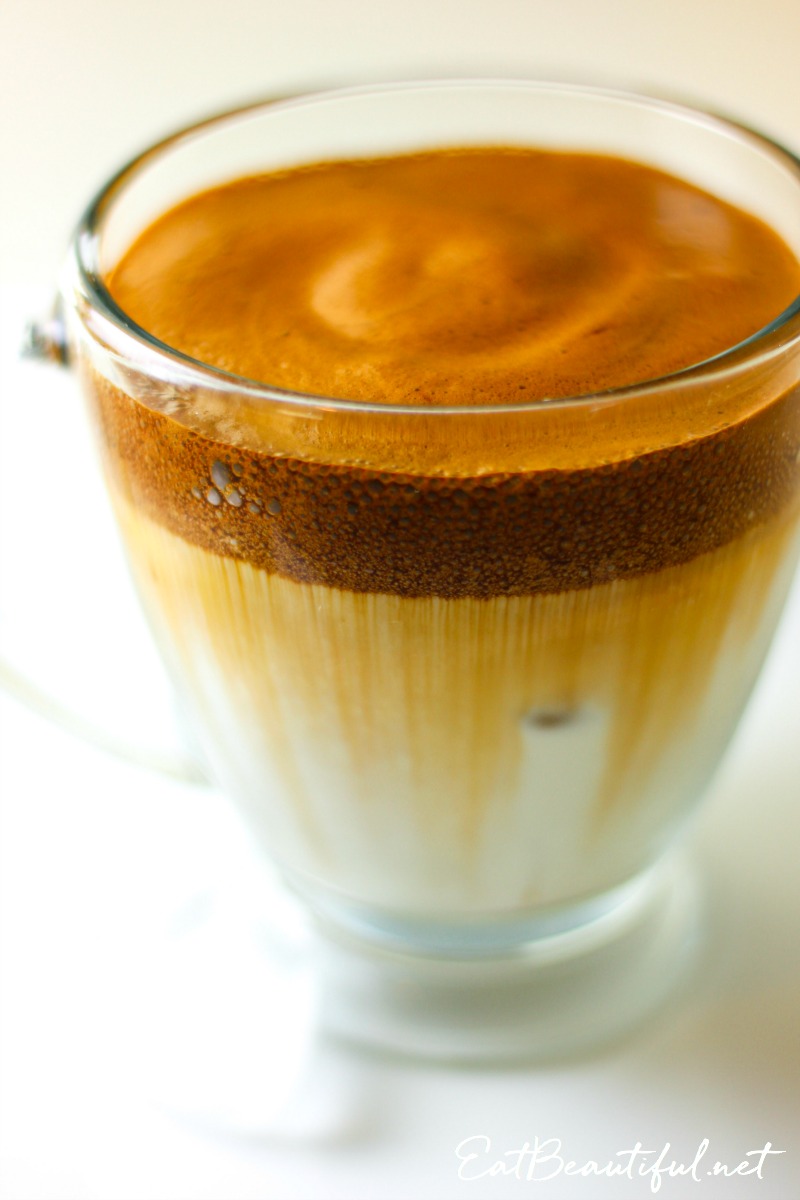 Four Sigmatic packets
Four Sigmatic makes three coffee mixes that blend organic instant coffee with medicinal mushrooms. Each blend of mushrooms has different health benefits. (Find their three mushroom blend options here).
Choose their

Cordyceps and Chaga blend

for antioxidants, cellular energy (for core healing), stamina and immunity. (This one's my personal favorite.)
Enjoy their

Tulsi & Astragalus Adaptogen coffee if you wish to calm stress levels and boost immunity. (This one's nice because it's got half the caffeine + antioxidants.)

Lion's Mane & Chaga is great for brain function and focus + immunity.

If you choose to use Four Sigmatic's packets, make sure you choose one of their products that includes "Coffee Mix" in the title, or you won't get the rich Dalgona foam.
How to make your own Dalgona Mushroom Coffee blend
I make my own coffee-herbal mushroom blend because I prefer to drink decaf coffee, and it's more affordable to buy bulk ingredients.
Make your own mix with organic instant coffee (here's decaf, and here's regular) + bulk mushroom powder.
Choosing a variety of bulk mushroom powder is easy, or you can mix two or more!
My FAVORITE mushroom powder is cordyceps. My doctor first turned me onto it for core healing and energy, and I definitely notice a difference taking it. I've come SO far since I first starting taking my daily dose.
I also get pretty excited about a lot of these mushroom choices!! Check out the health impacts and TONS of medical and historical studies on these mushrooms and choose one, two or more for your daily coffee. Choose from these great options:
You don't have to make a coffee drink to add mushrooms to your life. Just add them. 😉 But Dalgona Mushroom Coffee is one more way to integrate mushrooms into your diet.
Decaf and herbal options
To make this recipe decaffeinated but still use real coffee, simply use Decaf. Instant Coffee in the recipe below. (I made several test batches for this post, and my youngest son loves the decaf coffee version: "Can you make that stuff again?" So funny. He loves coffee, and what's not to love about a sweet, creamy, foamy coffee?!)
For a truly herbal mushroom recipe, with no real coffee, use the Dalgona Meringue recipe in the Recipe Notes. You'll blend in 1 teaspoon bulk mushroom powder OR one packet of Four Sigmatic's purely herbal mushroom Elixir at the end, per serving. This herbal version provides the most beautiful fine foam that heaps up in your glass. (This is my oldest son's favorite version. He loves the thick creamy voluminous foam.)
Scaling the recipe up
Definitely feel free to double, triple or quadruple this recipe! Make it for family members — a super fun and social drink to enjoy together.
However, this recipe shouldn't necessarily be made ahead of time, because the foam will wilt and make leftovers less exciting. The exception is if you wish to make this drink in a mason jar and shake it up. I did this for our boys, and it made a great caramel-colored coffee drink that lasted well in the fridge (just no foam on top, but refreshing and delicious).
Variations and optional add-ins
This toffee-flavored drink is just perfect on its own, but herbal mushrooms are also beautifully complimented by other delicious ingredients. If you wish, add in per serving:
1/4 teaspoon ground cinnamon
1 to 2 pinches of sea salt
How to make Keto, Paleo and Vegan
Keto and Low Carb: This recipe uses low carb powdered sugar.
Paleo and Vegan: Use maple sugar or coconut sugar. Place in blender or coffee grinder to powder (easy and fast!)
Choose the milk you like best for your eating style. My favorite non-dairy milk is Homemade Macadamia Nut Milk. 🙂
Print Recipe
Dalgona Herbal Mushroom Coffee (Keto, Paleo, Vegan)
Creamy whipped toffee-flavored Dalgona Herbal Mushroom Coffee tops your milk of choice in this energizing and healthful drink that's trendy, sweet and deliciously refreshing! Enjoy for breakfast, snack or dessert. Keto, Low Carb, Vegan, Paleo.
Cost:
.50-$2 (depending on brand of mushroom powder and if you buy in bulk or individual packets)
Equipment
hand held mixer OR immersion blender with whisk attachment
Ingredients
1

packet Four Sigmatic Mushroom Mix Instant Coffee

OR 1/2-1 teaspoon bulk mushroom powder of choice + 1 Tablespoon instant coffee

1

tablespoon

Low Carb Powdered Sugar

OR for Paleo: granulated sugar of choice, such as maple sugar or coconut sugar powdered in a coffee grinder

1

Tablespoon

hot water

1

cup

milk

of choice (<— my favorite is homemade macadamia nut milk), cold

ice cubes
Instructions
Pour instant coffee, mushroom powder, sweetener and boiling water into mixing bowl or tall glass (that fits your beater/electric whisk). Use an electric hand mixer OR an immersion blender with a whisk attachment.

Whisk together ingredients until foam is thick and creamy, about 2 to 3 minutes. The color will change from dark brown to a light caramelized color.

Put ice cubes into a glass. Pour over milk. Spoon the whipped coffee on top, one spoonful at a time. Serve.
Notes

Dalgona Meringue (variation with extra voluminous fine foam)
Make this version if you want a really fine and fluffy foam that's caramel-colored. You can make it purely herbal with no real coffee, just mushroom powder, or add instant coffee too, if you prefer. (I haven't tried to make this version low carb, so I don't know if a liquid low carb sweetener will work. Let us know if you try it.) This version is Paleo.
Ingredients
2 Tablespoons maple syrup or honey
1 egg white, no yolk at all, preferably room temperature
1 teaspoon mushroom powder (Note: You can use just mushroom powder, just Instant Coffee, or a combination of both)
2 teaspoons Instant Coffee Powder, decaf or regular (optional)
Instructions
In a mixing bowl or tall mixing glass, use an electric mixer or an immersion blender with whisk attachment to beat the egg white. Beat on high until egg white foams and turns white, about 1 minute.
In a small saucepan (choose a lightweight saucepan to make the next step easier) add the honey or maple syrup. Heat to boiling (which will happen fast with so little sweetener being heated). Swirl the pan as needed to evenly distribute the bubbles, when bringing to a boil.
While constantly beating the egg white, pour the hot syrup mixture into the fluffy egg whites in a slow and steady stream.
Finally, add mushroom powder and/or the coffee powder, and continue to beat until super fine, glossy foam develops that forms peaks. This step takes about 1 to 2 minutes. (The heat of the maple syrup or honey fully cooks the egg whites.)
Proceed with Step 3 in the main recipe above.
Nutrition
Calories:
220
kcal
|
Carbohydrates:
2
g
|
Protein:
3
g
|
Fat:
12
g
|
Saturated Fat:
2
g
|
Sodium:
107
mg
|
Potassium:
123
mg
|
Fiber:
3
g
|
Sugar:
2
g
|
Calcium:
75
mg
Love herbal recipes that taste great and make you feel your best? Me too!! Here are some other favorites: