I may receive a commission if you purchase through links in this post. I am not a doctor; please consult your practitioner before changing your supplement or healthcare regimen.
Paleo Kind Bars are a homemade healthy trail mix-style "granola" bar you can tailor to your diet. Nutrient-dense with a yummy goo that holds them together, this nut & seed bar copies a store-bought favorite, but is much better — and healthier.
Nuts and dried fruit are condensed magic. This grain-free nut & seed granola bar taps into the trail mix addiction.
No-bake, Paleo Kind Bars are also GAPS diet-friendly, Ancestral and Gluten-free, with an easy Keto variation. You won't want to stop eating them!
This recipe is also allergy-friendly and can be tweaked for the ingredients you can or can't have.
Years ago, my hubby and I went trekking in Egypt. We first went to our favorite outdoor market in Jerusalem and hand-selected the best dates, walnuts and other dried fruits and nuts. As we hiked through the Sinai Desert, our food was in our pockets.
I couldn't have been happier because in that dessert: there are no insects, and we ate trail mix all day.
Well, Paleo Kind Bars bring all that joy into bar form with a touch of sweetness.
By the way, I created this recipe before I'd ever heard of Kind Bars, but I know many of you are looking for that kind of a recipe, so I named them aptly, so you'd be able to find this beloved treat that so closely matches.
Jump to Recipe
Variations of Paleo Kind Bars
There are several versions of Paleo Kind Bars you can make, depending on what you like best (or food restrictions):
Chocolate Chip & Nut — I don't eat fruit anymore (long story) so I make mine with a combination of sprouted nuts and seeds, the awesome goo that holds them together (more on that below) and chocolate chips. (Great option for Keto.)
Fruit + Chocolate — Kids 1, 2 & 3 like their nuts and seeds best with dried fruit and chocolate, no wonder.
Nuts and Fruit — Chopped up dried bananas, dried or freeze-dried berries, dried mango, raisins etc. Any dried fruit may be used in these nut and seed bars.
Nut-free Seed Bar — If you can't have nuts, you can make this bar entirely with seeds. I have a friend who regularly makes this recipe with just sprouted pumpkin seeds, and her kids love it. Plus, certain seeds come already sprouted (more on this below) and are more affordable than nuts.
Paleo Kind Bars are flexible. You can tailor them to your dietary needs.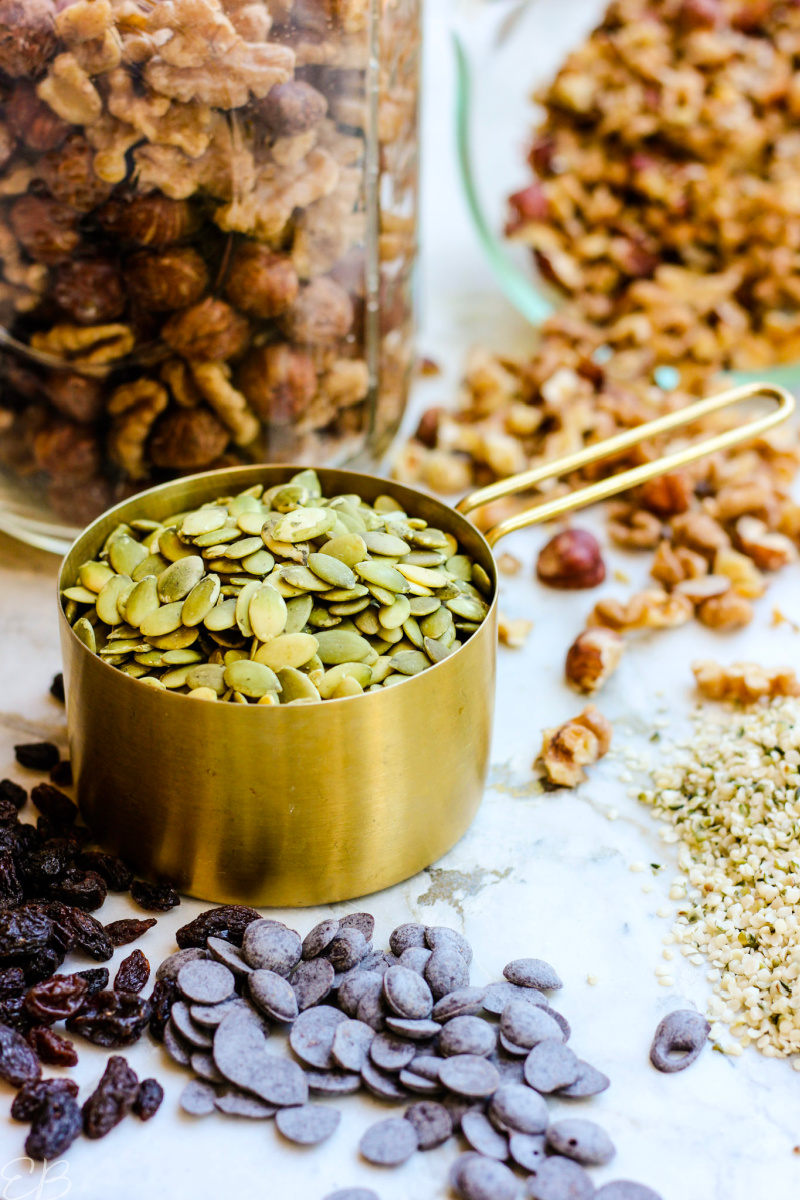 Sprouted or "Activated" soaked nuts and seeds
When you soak your nuts or seeds in salted water overnight, then rinse and dehydrate them, this is called sprouting or activating.
Of course, you do not need to do this to make Paleo Kind Bars. But I always do.
I am staunch about sprouting nuts and seeds. When you've been sick and focused on healing your digestive mechanism for years (like me), you get serious about preventing stomach aches and accessing the best nutrition.
Unsprouted nuts make an unfaithful friend. Be kind to you, and soak. 🙂 Here's how and why.
BUYING SPROUTED NUTS OR SEEDS
But …. if you know you aren't up for the soaking and dehydrating process (it's so fast and easy, but maybe you don't have a dehydrator or just can't do "one more thing"), then I recommend budgeting in the cost of already sprouted nuts and seeds. These are the least expensive! (Click on pumpkin or sunflower.) 🙂
If you're ready to consider getting a dehydrator, here's the top-rated AND most affordable option to buy, or look for a super inexpensive used one.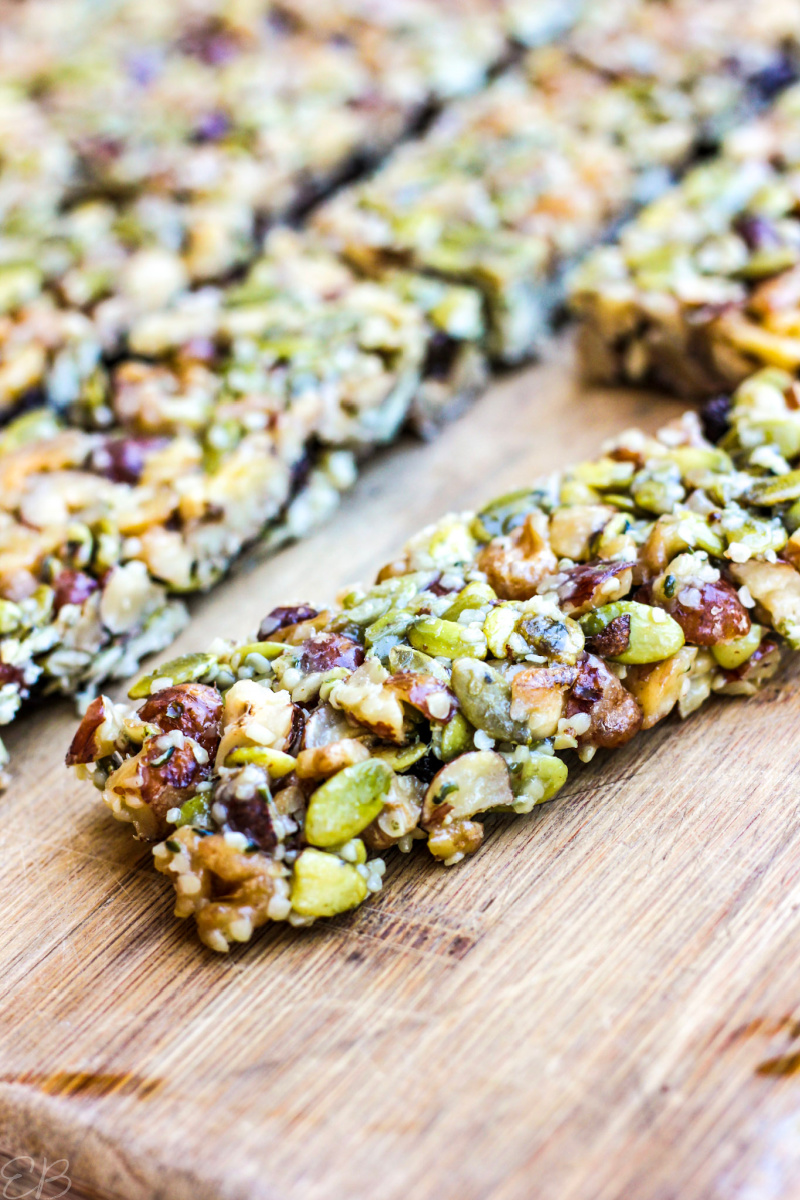 "Granola" Nut & Seed Bar
Years ago, I wanted to make a sprouted grain-free "granola" bar but couldn't slow down long enough to do it.
Then, I came across a recipe for natural rice crispy treats with a syrup approach that intrigued me. The recipe's creator whisked gelatin directly into hot maple syrup and coconut oil to create the "glue," so to speak, of her treat. I loved the idea and created this bar recipe based on her inspiration.
Back then, I made mine with a honey option, for all my beloved GAPS diet folks, my kids included.
But we now also make this recipe with maple syrup, so you can choose which is best for your needs.
TRAIL MIX …
My favorite version of this recipe is to follow the classic granola bar model (minus the oats) and use everything but the kitchen sink, the trail mix theme I mention above, with various sprouted nuts and seeds + more:
sprouted walnuts or other nuts
dried bananas, mangoes, raisins or goji berries
The day I photographed this recipe, I activated hazelnuts and walnuts, used sprouted pumpkin seeds and hemp … and made the recipe with chocolate chips and raisins. Pretty classic.
Use whichever nuts and seeds and fruits you love best! Feel free to use pecans, almonds, whatever you like.
For non-Paleo, peanuts may also be used.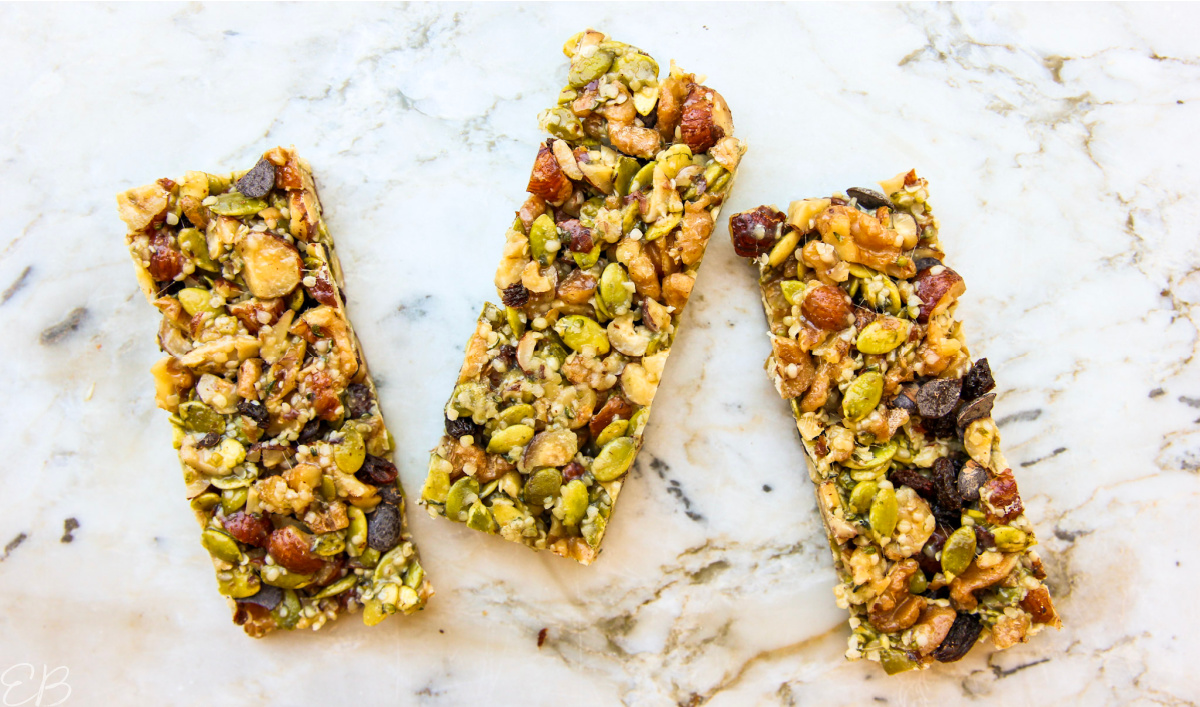 Other ingredients and how to make Paleo Kind Bars
For the most part, this recipe is about making an easy syrup and then quickly stirring in your nut/seed mixture.
Then, pack this sticky treat into a loaf pan (or small quarter size sheet pan), and chill. Once firm, cut into bar shapes.
Here are a few other steps:
If using nuts, pulse them in a food processor first to break them up. Or, simply chop nuts on a large cutting board.
Use cocoa butter for the most delicious fat in this recipe.

Cocoa butter has staying power and amazing flavor! (Find it

here

.) It tastes of chocolate, as I've mentioned before lovingly, and it caramelizes nicely. When you're eating these bars you get little pockets of gooey caramel that taste fruity, a happy-treat in your teeth.
You may also use coconut oil, if preferred.

Lastly, you may optionally dip your bars' bottoms in chocolate (that hardens) or drizzle chocolate over them. They're great either way. The dip or drizzle just puts them over the top, if you want extra chocolaty flavor or for them to look special.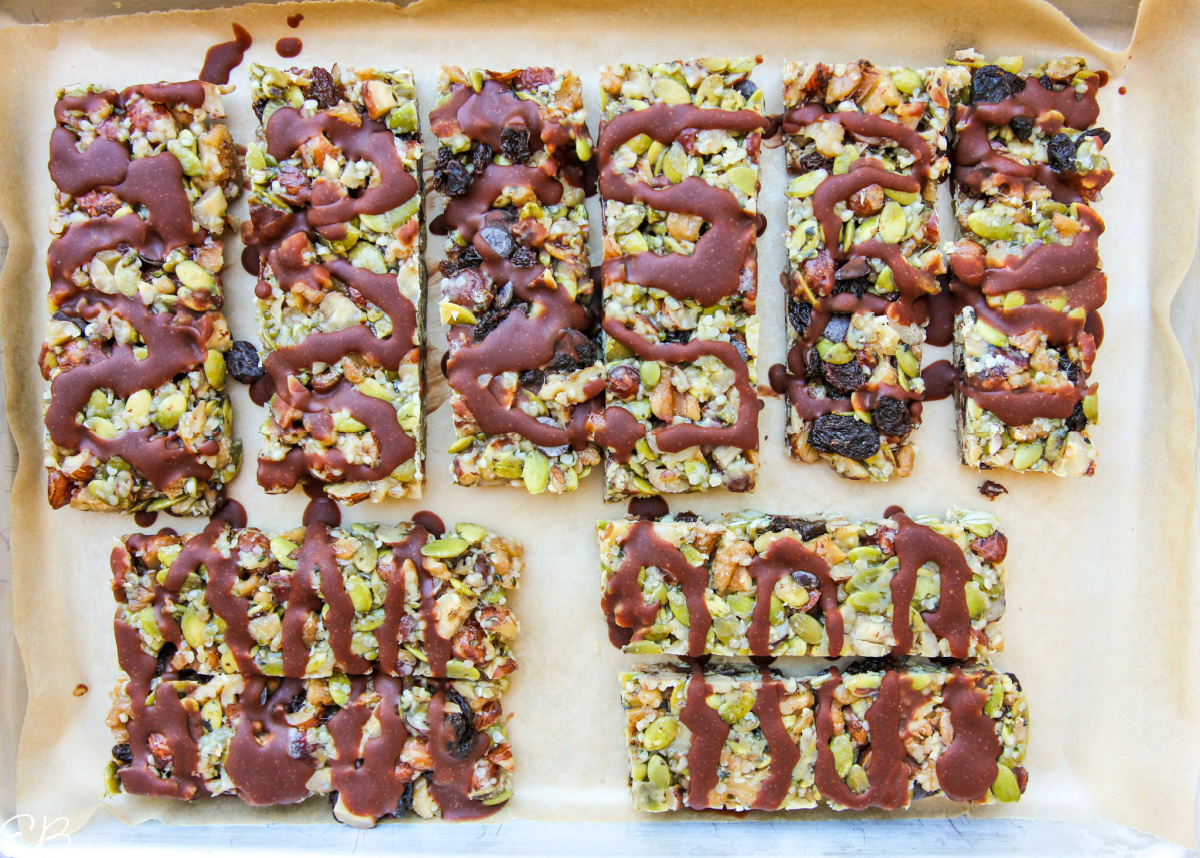 How to store Paleo Kind Bars
Keep Paleo Kind Bars in the fridge or freezer. Store them in a sealed container, and enjoy them for months to come.
But it's very likely they won't last that long.
They hold together nicely for day trips and don't require constant refrigeration.
Great for lunches, snacks and even breakfast.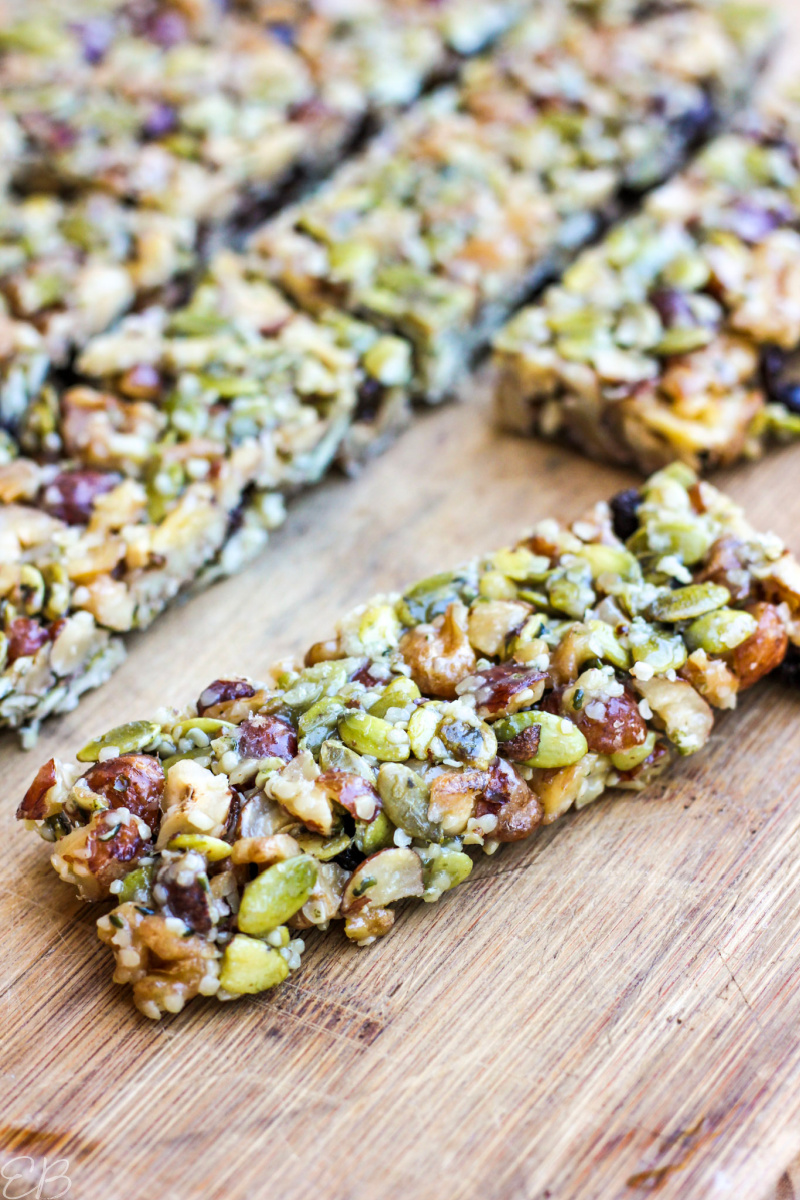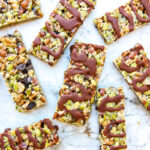 Print Recipe
Paleo Kind Bars (GAPS, Ancestral, GF, Keto)
Paleo Kind Bars are a healthy trail mix-style "granola" bar you can tailor to your diet. Nutrient-dense with a yummy goo that holds them together, this nut & seed bar copies a store-bought favorite, but is much better — and healthier. Paleo Kind Bars are also GAPS diet-friendly, Ancestral and Gluten-free. You won't want to stop eating this no-bake treat.
Servings:
12
granola bars
Equipment
2 loaf pans (for slightly thicker bars), a 9"x9" casserole dish, or 1 quarter size sheet pan (for thinner bars)

saucepan
Ingredients
3

cups

nuts

of choice, preferably sprouted/activated for best digestion, or a combination of several kinds, also okay to use peanuts for non-Paleo

1

cup

seeds

of choice: hemp, pumpkin or sunflower, or a combination

½

cup

dried berries

, raisins, chocolate chips or freeze-dried fruit, or a combination of several (omit fruit for Keto version, or use freeze-dried raspberries)

¼

cup

COCOA butter melted to measure, from a slightly heaping

¼

cup of cocoa butter wafers (like these)

2

Tablespoons

gelatin

1

teaspoon

vanilla

optional

⅛

teaspoon

sea salt

optional
Instructions
Grease two loaf pans or a 9"x 9" casserole dish. Set aside. (I like using loaf pans for making these granola bars. Cut one direction, parallel to the width of the loaf pan, it is easy to get 6 bars. Two loaf pans work perfectly with this recipe, for a total of 12 bars.) (The day I photographed this recipe, I used a 1/4-size sheet pan, and that works well, too, and produces 16 thinner bars.)

Place honey or maple syrup and cocoa butter into medium-large size saucepan and whisk over medium heat until fully melted. While whisking constantly, over very low heat, sprinkle gelatin in slowly, to avoid clumping, until it's all fully incorporated. (The simmering mixture will caramelize a bit while you're whisking in the gelatin.)

Add the sprouted nuts, seeds or peanuts, vanilla and sea salt. If you're adding dried fruit, add this now, too. Stir to completely coat the nuts with syrup. The mixture will become very sticky and thick.

Working quickly, loosely spread

⅓

of mixture out into each greased dish, if using loaf pans; (otherwise, spread

½

the mixture into 1 larger dish). If using chocolate chips or freeze-dried fruit that's fragile, sprinkle

⅔

of them evenly over the surface(s). Pour/scoop remaining sticky mixture over the surface(s). Sprinkle final

⅓

of chips and/or fruit. Press mixture flat, firmly. (I like to use my whole hand.)

Refrigerate one hour or longer. Cut into desired shape (I do long rectangles to imitate granola bars) and serve.

If you wish to drizzle chocolate or dip the bottom halves of your bars in chocolate, see recipe Notes below.
Notes
Notes on using freeze-dried fruit
Some freeze dried fruits will stand up to stirring, such as apples or mangoes. Other freeze-dried fruits, such as raspberries, are very brittle and will crush or crumble. Layer the more brittle fruits with the chocolate chip step instead of stirring them in, to prevent crushing them.
Chocolate recipe for drizzle or dipping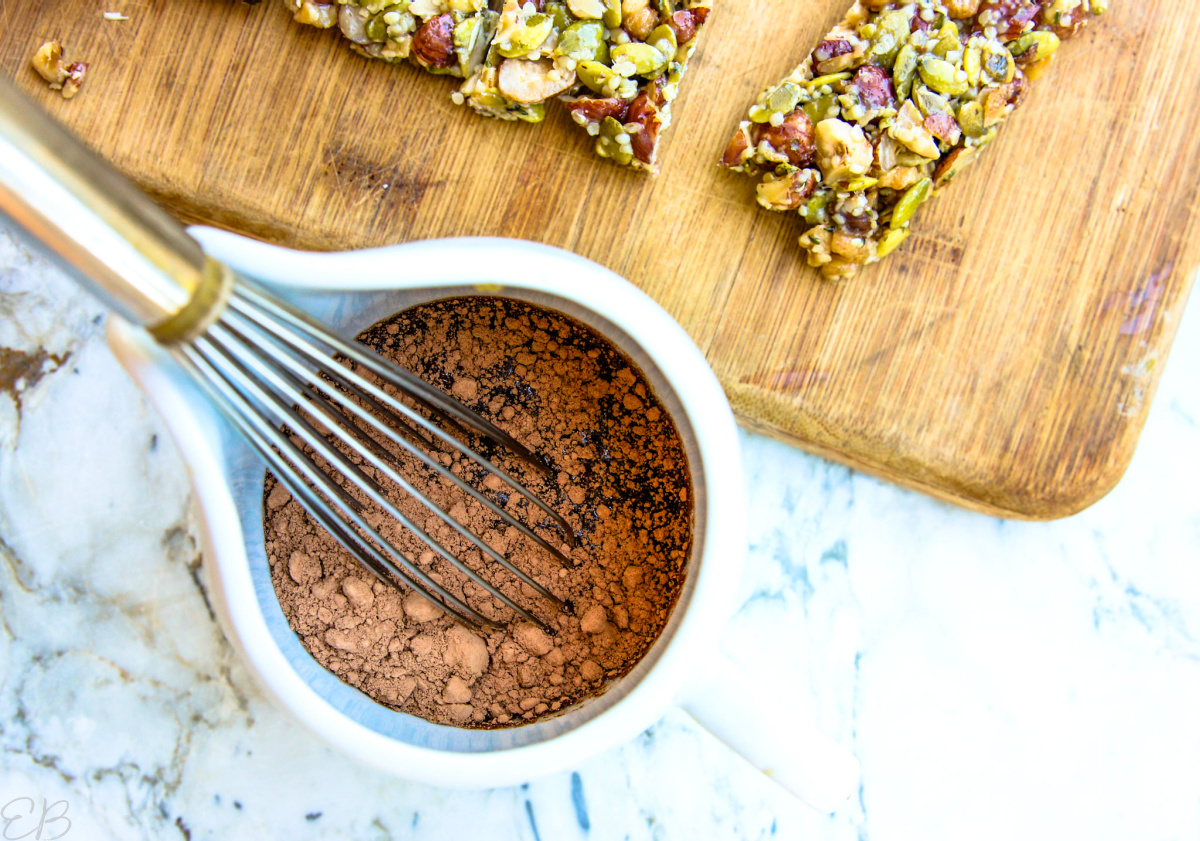 Ingredients
¼

cup melted cocoa butter, still warm
2 Tablespoons cacao powder
2 Tablespoons honey or maple syrup (or low carb liquid sweetener for Keto)
Instructions
Freeze bars, for 10 minutes, on parchment lined cookie sheet, to assist/expedite drizzling/dipping process.
Whisk ingredients together in: 1) pitcher with pour spout for drizzling or 2) broad bowl if you plan to dip the bars. (Be sure no water touches your whisk or gets into the mixing vessel.)
Remove bars from freezer and 1) drizzle with chocolate OR for dipping: 2) dip each into chocolate, shaking off any excess. Replace onto cold cookie sheet and repeat until all bars are dipped. Place cookie sheet into freezer or fridge briefly to allow chocolate to harden off completely. Dip each a second time for a thicker coating, if desired.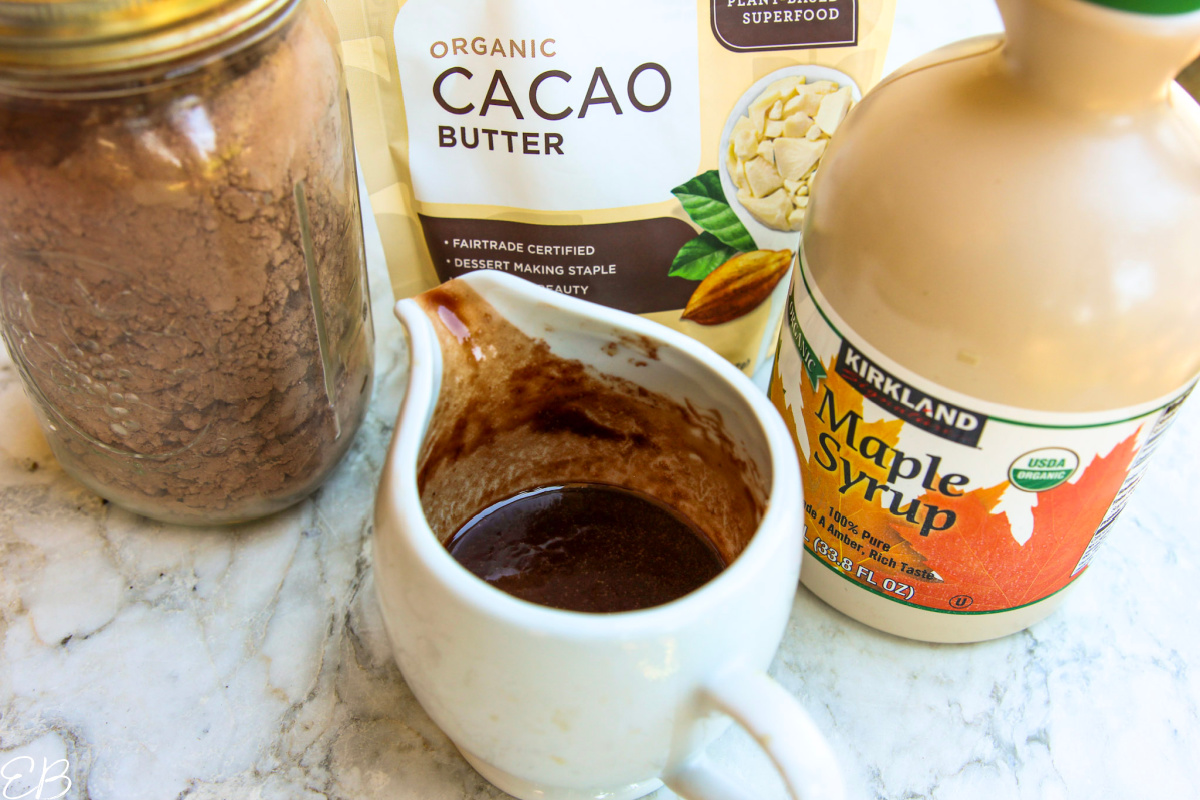 Find fair trade cocoa butter HERE.
Find the best grass-fed, pesticide-free gelatin HERE. (Use my code BEAUTIFUL10 at checkout to get 10% off your entire order.)
The Keto version of this recipe has 2 grams net carbs per bar.
The non-Keto Paleo version has 17 grams of carbs.
Nutrition
Calories:
347
kcal
|
Carbohydrates:
2
g
|
Protein:
14
g
|
Fat:
26
g
|
Saturated Fat:
3
g
|
Sodium:
7
mg
|
Potassium:
216
mg
|
Fiber:
4
g
|
Sugar:
1
g
|
Vitamin A:
92
IU
|
Vitamin C:
1
mg
|
Calcium:
49
mg
|
Iron:
4
mg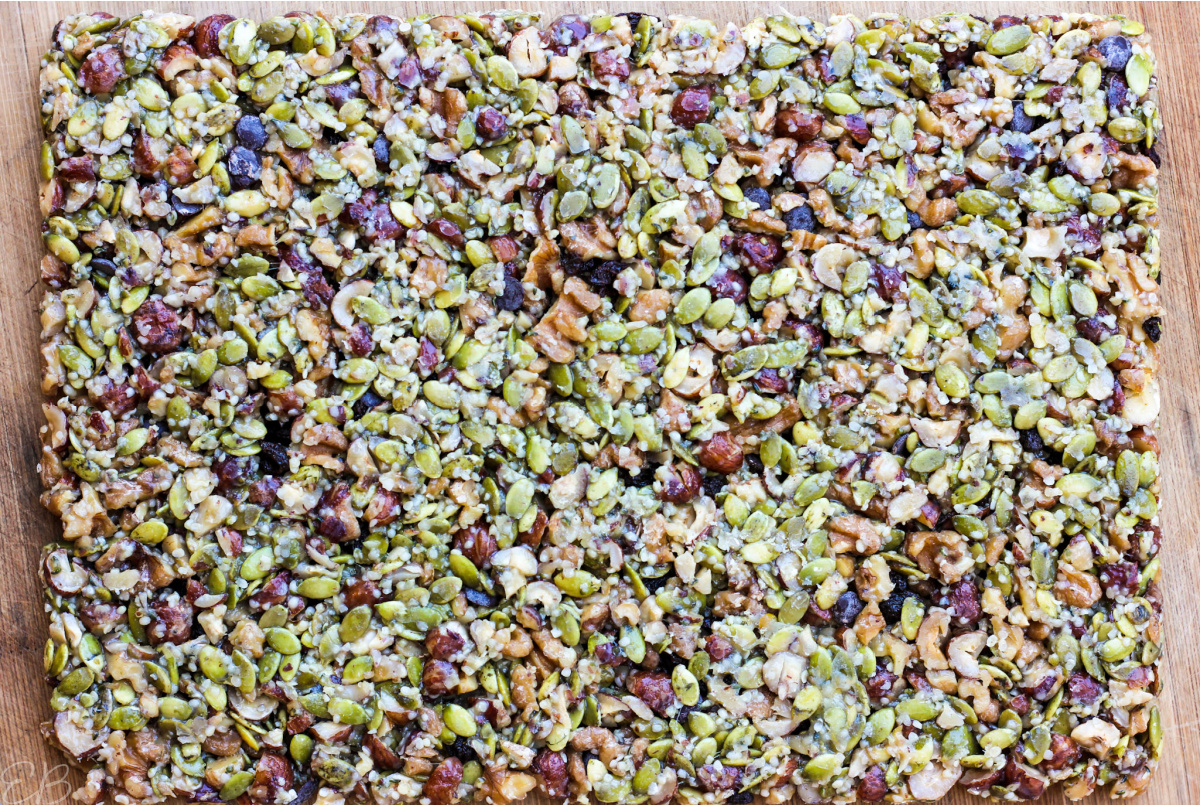 Pin this recipe here: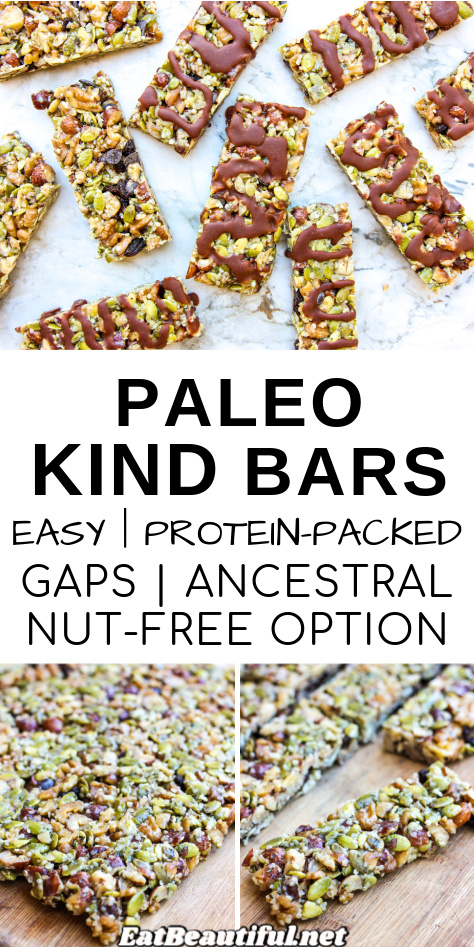 Enjoy these similar recipes: