I may receive a commission if you purchase through links in this post. I am not a doctor; please consult your practitioner before changing your supplement or healthcare regimen.
Making a cup of chicory (herbal) coffee is as easy as making a cup of tea. But this herbal coffee is dark, for those of us who love a rich, bold, slightly bitter punch, and tastes a lot like real coffee. To add to its allure, chicory coffee has the nutritional benefit of containing prebiotics, actually the highest concentration of inulin in any plant! This hot beverage is a great Keto and/or AIP cup that will truly satisfy, (and it's inexpensive).
Scroll to the bottom of this post to see more of chicory's health benefits. There are SO many!! 🙂
Prebiotics are GREAT for colon and gut health. They feed probiotics; so they're at home in your gut with every meal, helping the friendly bacteria to proliferate. (source)
Personally I love decaffeinated coffee; and I love herbal coffee mixtures. But what I learned is that chicory alone is excellent in flavor, easy and quick to make, and INEXPENSIVE!
I was buying a yummy herbal coffee blend that was pricey, and now I see, unnecessary.
When I found bulk chicory (find it here), I thought I'd experiment to see how it was on its own. All the recipes I'd seen online included blends with dandelion root and many other ingredients. I don't always have the time nor the desire to blend one more canister of herbs. I want simple– yet dark and rich and satisfying.
That is exactly what I got with chicory. It stands on its own beautifully. We can all add dandelion and other roots, if we choose, but they aren't needed to make a healthful, flavorful blend– just optional if you want additional benefits or nuances.
Roasted chicory root is also excellent mixed (in varying ratios) with real coffee grounds. This, of course, is done in New Orleans. And it's done by many who are trying to reduce their caffeine intake.
Here's how to make basic, one-ingredient Chicory "Coffee" (and a few variations):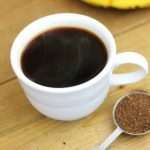 How to Make Chicory "Coffee"- 1 ingredient, herbal, 5 minutes to make, great prebiotics! (Keto, AIP safe)
Ingredients
1

Tablespoon

chicory root

roasted and ground, see Recipe notes below for sourcing

2

cups

filtered water
Instructions
Place water into small saucepan and bring to simmer. While it heats add chicory either to a French press -or- to the pot with water.

When water comes to a boil, turn off heat and pour it into French press. Alternately allow the chicory root to steep in the pot. Steep for 5 minutes.

Pour through mesh strainer into mug. Sweeten and/or add something creamy, as desired; or drink black.

See Recipe notes below for variations.
Recipe Notes
Find bulk chicory root

here

.
Variations
Health Benefits of Chicory
(Dandelion root [find it

here

] also has many wonderful healing properties, making it very popular, and rightly so, in health circles. It's known to be high in anti-oxidants and good for circulatory health. It helps to produce bile; it helps to support liver health; and it can help to increase energy levels.)
Do you use chicory yet? It's a great way to enjoy a hot cup and to do your body several favors!