I may receive a commission if you purchase through links in this post. I am not a doctor; please consult your practitioner before changing your supplement or healthcare regimen.
The main reason to make Paleo Cocoa Butter Pound Cake is that it's delicious! Like, it's hard to stop eating it. It's also dairy-free, yet tastes better than butter (hardly possible, I know). This recipe is awesome for those of us on grain-free, GAPS or even nut-free diets. It's also flourless, Keto and Gluten-free. Lastly, and amazingly, this cake is good for you because of its two main ingredients: cocoa butter and coconut butter.
COCOA Butter … in Paleo Pound Cake
Cocoa butter is an underutilized fat. It is genuinely good for you, has awesome properties, and heck, it tastes like chocolate!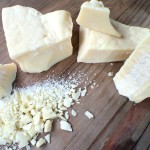 Yet the cake comes out a golden blond color. My daughter kept saying, "It tastes like chocolate. It tastes like chocolate," not knowing why. Yep! Cocoa butter tastes like chocolate and brings with it most of the nutrition the cacao bean has to offer: antioxidants, especially Vitamin E, and saturated and mono-unsaturated fats.
Cocoa butter (find it here) is most often used in candy-making. But I am a cake-loving girl and am more intrigued by the role this very hard fat plays in creating the right crumb.
Coconut Butter/Manna and other ingredients in Cocoa Butter Pound Cake
As you may know, coconut butter* can be used in place of flour in grain-free baked goods! This is not only a cool nut-free substitute, but, of course, coconut butter
is also exquisitely nutrient dense. Again, we are talking about cake that is genuinely good for you.
(To make your own coconut butter, see instructions below the main recipe.)
This recipe combines the properties of an oily flour– coconut butter, with cocoa butter, the fat in the cake. Reason being, cocoa butter not thinned by another fat will set up too hard in one's baked good, making the crumb too dry. But diluted, it makes the perfect crumb for pound cake.
You'll also see coconut flour, which contributes to the perfect crumb, some honey, vanilla — simple perfection.
The Keto version of Cocoa Butter Pound Cake
If you're making the Keto version of this recipe, you'll simply use low carb sweeteners, instead of honey. I give those details in the recipe below.
There are 4 grams net carbs per serving for the Keto version. The nutritional data below the recipe reflects this Keto version.
There's also a Keto Streusel Topping, that's optional, in the recipe Notes.
How to eat Paleo Cocoa Butter Pound Cake
Eat it plain, with butter, with Dairy-free Vanilla Custard, with creme fraiche, with berries and whipped cream! It is hard to stop eating it.
Or see the Paleo recipe variation (not GAPS) that adds a streusel topping with optional macadamia nuts, which makes it fun for a brunch baked good!
Which pan to bake Paleo Cocoa Butter Pound Cake in
I like the traditional shape of pound cake, baked in a loaf pan. But this does produce a darker loaf, especially since we are baking with honey as the sweetener.
What size loaf pan? Use a 1-pound loaf pan, like this one. Aluminum conducts heat well. I've also used a glass loaf pan or the Pampered Chef loaf pan, which is ceramic stoneware.
You can, alternately, divide the batter between two 9″ cake pans. This will, of course, allow them to bake more quickly, resulting in a lighter exterior.
More serving ideas based on pan choice …
In this case, frosting the two cakes and layering them is a nice option.
Stabilized Whipped Cream and strawberries is great. This cake makes a great shortcake base with Lavender Ice Cream. And, we love eating it plain, dunking the dark edges in Bulletproof Hot Chocolate or Butter Tea!
(I haven't yet tried making this loaf with maple syrup or coconut sugar [for those not on GAPS], but that should also create a lighter exterior. Let us know if you do!)
Streusel Topping variation
The Paleo Streusel Topping can be made with or without nuts. This is a nice variation if you're serving the cake for brunch.
You can then also choose to bake your cake in a 9-inch square cake pan — as coffeecake!
Print Recipe
Paleo Cocoa Butter Pound Cake (nut-free, flourless)
Paleo Cocoa Butter Pound Cake has an incredible texture, flavor and aroma! This cake is nut-free, flour-free, dairy-free, refined sugar-free + incredibly special and delicious! Also Keto, GAPS-friendly and Gluten-free.
Ingredients
Optional Streusel Topping (nice for coffeecake if serving for brunch; nuts are optional; not Keto, find Keto version below in recipe Notes)
Instructions
Preheat the oven to 300 degrees Fahrenheit. Lightly grease a 1-pound loaf pan, and line it with parchment paper, leaving the paper taller than each side of the pan (see photo). The ends of the pan do not need to be lined.

Place the coconut flour into a medium-size bowl. Sift the baking soda into it, add the sea salt, and stir the three together. Set aside.

Place all remaining ingredients into the work bowl of a food processor (or use a hand mixer).

Blend until well mixed. Add the baking soda mixture and mix again, briefly but thoroughly, 8-10 seconds.

Pour into prepared pan and bake in preheated oven until toothpick inserted into center comes out clean or with a teeny moist crumb adhering. Check first at 1 hour for loaf pans. For 9" cake pans, check first after 30 minutes.

Cool on rack and serve. Use the parchment paper as handles: free the ends of the cake with a metal, offset spatula or knife; then pull up on the paper to easily remove your cake for slicing.
Optional Streusel Topping (nice for coffeecake if serving for brunch; nuts are optional)
Place flour, coconut sugar, coconut oil and sea salt into food processor. Blend, pulsing to begin with, for at least one minute, until the flour and sugar change color just slightly as they begin to absorb the fat. The mixture will be powdery, not yet clumping together.

Add optional macadamia nuts and pulse until nuts are in smaller pieces.

Top cake with about half the topping (or a pie with all of it), pressing down slightly so topping sticks to itself. (Reserve any leftover for other uses, such as topping muffin batter before baking!)

Proceed with baking the main recipe.
Notes
How to melt and measure cocoa butter
Use one of two methods:
Place estimated amount of cocoa butter into pyrex (oven-proof) or metal bowl. Place bowl in preheating (300 degree) oven until fully melted. (This is my favorite method, easy!) Measure out

½

cup and melt a bit more if needed.
Place estimated amount of cocoa butter into top insert of double boiler. Make sure water in lower half of double boiler does not touch bottom of insert. Heat water and simmer over medium-low heat until cocoa butter is fully melted. Measure out

½

cup and melt a bit more if needed.
Note - Make sure that no water gets into the cocoa butter at any point.
How to melt coconut butter
Store-bought or leftover coconut butter can be melted by placing the jar in a hot water bath, then stirring, until the entire bottle is liquidy. Making fresh coconut butter in your food processor will yield a recipe-ready finished product.
Keto Streusel Topping
Ingredients
Instructions
In a food processor, or in large bowl with a pastry cutter, combine all ingredients until a crumble forms. Sprinkle over cake batter before baking.
For Paleo version, find Otto's Cassava Flour, with free shipping, here.
The nutritional data below reflects the Keto version of this recipe.
Nutrition
Calories:
697
kcal
|
Carbohydrates:
4
g
|
Protein:
9
g
|
Fat:
59
g
|
Saturated Fat:
29
g
|
Polyunsaturated Fat:
1
g
|
Monounsaturated Fat:
4
g
|
Cholesterol:
123
mg
|
Sodium:
311
mg
|
Potassium:
107
mg
|
Fiber:
9
g
|
Sugar:
10
g
|
Vitamin A:
178
IU
|
Vitamin C:
2
mg
|
Calcium:
65
mg
|
Iron:
3
mg
How to make your own coconut butter for Paleo Pound Cake
COCONUT BUTTER RECIPE HERE, which includes blender instructions.