I may receive a commission if you purchase through links in this post. I am not a doctor; please consult your practitioner before changing your supplement or healthcare regimen.
Only four ingredients in this homemade chocolate with cocoa butter. I never knew just how easy — nor how delicious — homemade chocolate is to make. By only using these four (no soy lecithin or other additives), you get such flavor! This recipe is refined sugar-free and dairy-free, so perfect for Paleo, Plant-based, Vegan and even GAPS Diet.
Homemade Chocolate with Cocoa Butter, what could be lovelier?
I am not an impulse shopper. But this time something changed. I was actually in the market for chocolate molds when I stumbled upon these chocolate frog molds.
I almost felt guilty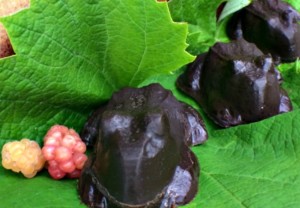 choosing them over the traditional bon bon shapes. After all, the frogs are a bit distracting, a bit juvenile…
Yet the little rounds all looked so factory-made to me, for something so completely homemade! When I saw the frog molds something childlike inside me felt so excited. I LOVED them.
Therefore, this Homemade Chocolate with Cocoa Butter recipe can be CHOCOLATE FROGS. But I love making bars too!
Homemade Chocolate with cocoa butter!
I've been a dark chocolate snob for years and never tasted the perfume that comes through with this recipe.

Raw cocoa butter

(so nutritious, actually!),

fair trade cocoa

, raw honey and pure vanilla. Sweet, bitter goodness.
You may make solid chocolates with this recipe. There are even molds available to make slim chocolate bars!
I love this option.
If you wish, you can also make truffles. This is done by filling the molds only halfway to start, putting a little surprise in, chilling, and then topping the filling with a final amount of chocolate.
Here are my proposals for filling options:
If you want easy, I propose cutting

honey mints

in half or in quarters. Yummy mint filling, no work.
If you want something homemade and exciting, see below my Rooibos Chai Filling. It is delicious, nutrient-dense and caffeine-free.

Coconut butter

can be mixed with anything yummy to make a filling, yes! A bit of honey or stevia + any flavoring will work well: vanilla, peppermint, cocoa, teeny bit of orange oil, finely ground coffee, etc. Whoop! Love the creative options here!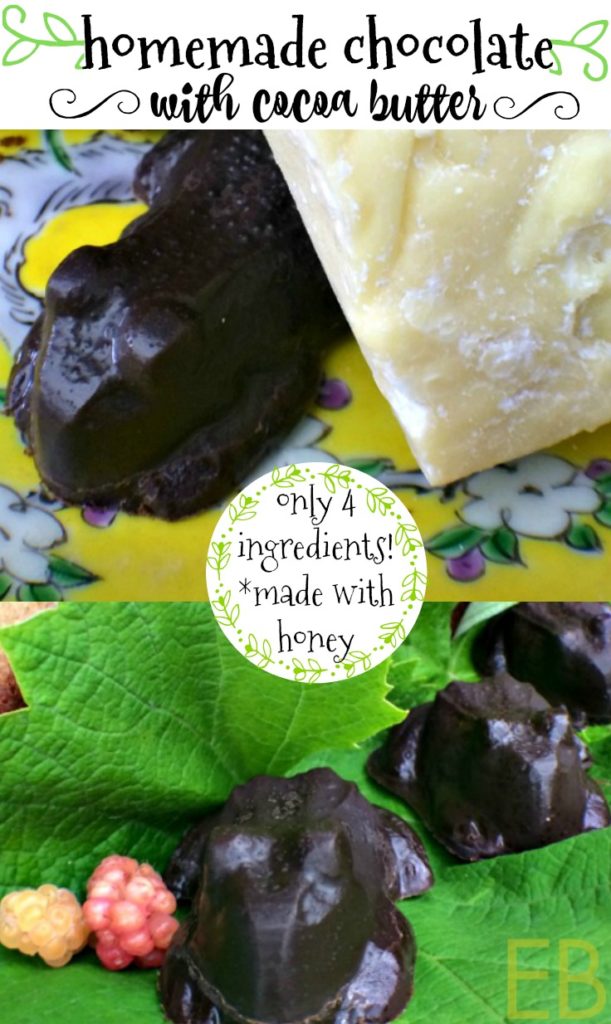 O, Darlings, chocolate making is so much fun; and easy!! Enjoy this magic. And, your loved ones will LOVE these. Make them as a love gift to share.
You can buy raw cocoa butter here.
There are links for the other ingredients you may not readily have below as well: coconut butter
, fair trade cocoa
, and raw honey
.
Print Recipe
Homemade Chocolate with Cocoa Butter
Homemade Chocolate is actually very simple to make! With just a few ingredients and no refined sugar, you can craft it the way you like it and love the results.
Equipment
double boiler

candy molds or chocolate molds
Ingredients
Optional Chai Filling for Truffles
Instructions
Homemade Chocolate
Place cocoa butter chunk(s) or pieces into the upper insert of a double boiler, estimating how much you'll need to get one cup of melted cocoa butter. (Make sure no water touches the bottom of the pan or gets inside. Alternately, place cocoa butter in an oven-proof pan and allow it to melt slowly in a 200 degree oven.) Melt cocoa butter, measuring out 1 cup as it melts, and adding more to melt, as needed.

Place melted, measured cocoa butter into a medium size mixing bowl. Add remaining ingredients: cocoa, honey and vanilla. Stir or whisk to mix well.

Fill molds

½

way if you plan to fill them, or fully if you wish them to be solid chocolate. For filled truffles, carefully add 1/2-2 tsp. filling (depending on mold size) into the middle of each mold. Refrigerate this stage for 30 minutes.

To slightly chilled filling, add remaining chocolate, up to 1-

½

T. more for each mold, to form the base of each chocolate truffle.

Refrigerate the mold to fully harden the chocolates. After a minimum of 3 hours, unmold. The chocolates are now ready to eat or may be stored at a steady room temperature.
Optional Chai Filling
Place coconut butter into medium-size bowl. Add honey, vanilla and 2 T. chai, measured from Base Instant Powdered Chai Recipe (below in Recipe Notes). Stir well to mix. Set aside.
Notes
Storage
After making your chocolates, protect them from fat bloom. Fat bloom occurs when chocolate is exposed to fluctuating temperatures, rising above 75 degrees Fahrenheit and then dropping in temperature. The cocoa butter rises to the surface in this situation and speckles the surface with white spots. Well-sealed, cool, dry storage helps to prevent fat bloom.
Base Instant Powdered Chai Recipe
Ingredients
½

cup powdered rooibos tea (Place 1 cup loose rooibos tea leaves into high-powered blender or spice/coffee grinder. Use speed 10 or highest power until leaves are mostly powdered. Sift to catch any large fibers.)
2 tsp. cinnamon
1 tsp. ground ginger

¼

tsp. each: cloves, cardamom, nutmeg, allspice
Method
Place all chai ingredients into small bowl. Stir to combine.
Keto/Low Carb version
Use powdered erythritol in place of honey. Use a whisk to stir it in. Taste. Add a few drops of liquid stevia, to taste, if you like it sweeter. (Erythritol must be powdered.)
Nutrition
Serving:
1
g
|
Calories:
32
kcal
|
Carbohydrates:
8.6
g
|
Fat:
34
g
|
Saturated Fat:
24
g
|
Polyunsaturated Fat:
1
g
|
Monounsaturated Fat:
9
g
|
Potassium:
67
mg