I may receive a commission if you purchase through links in this post. I am not a doctor; please consult your practitioner before changing your supplement or healthcare regimen.
50+ Paleo AIP and Low FODMAP Recipes + Tips and Food List features 10 general tips for overall success, 10 cooking tips, 10 basic recipe ideas (intuitive inspiration for basic meals), an Approved Food List (with Free Printable), plus 50 recipes! Make this short-term combo diet easier!
Whether you're struggling with IBS, SIBO, or other digestive issues, combining the Low-FODMAP and AIP diets can often be the answer to no more bloating, improved bowel movements and just plain feeling better.
One of the best things about the Low-FODMAP diet is that it's a short-term diet, ranging in length from 2 weeks to 1 year, for most people. After the first 2 to 6 weeks, new foods are often reintroduced.
Let's reduce any confusion as you begin or navigate this time of improving your gut health.
The recipes in this round-up are separated into categories, so you can find what you need more easily: Beef, Chicken, Pork, Seafood, Veggies and Treats.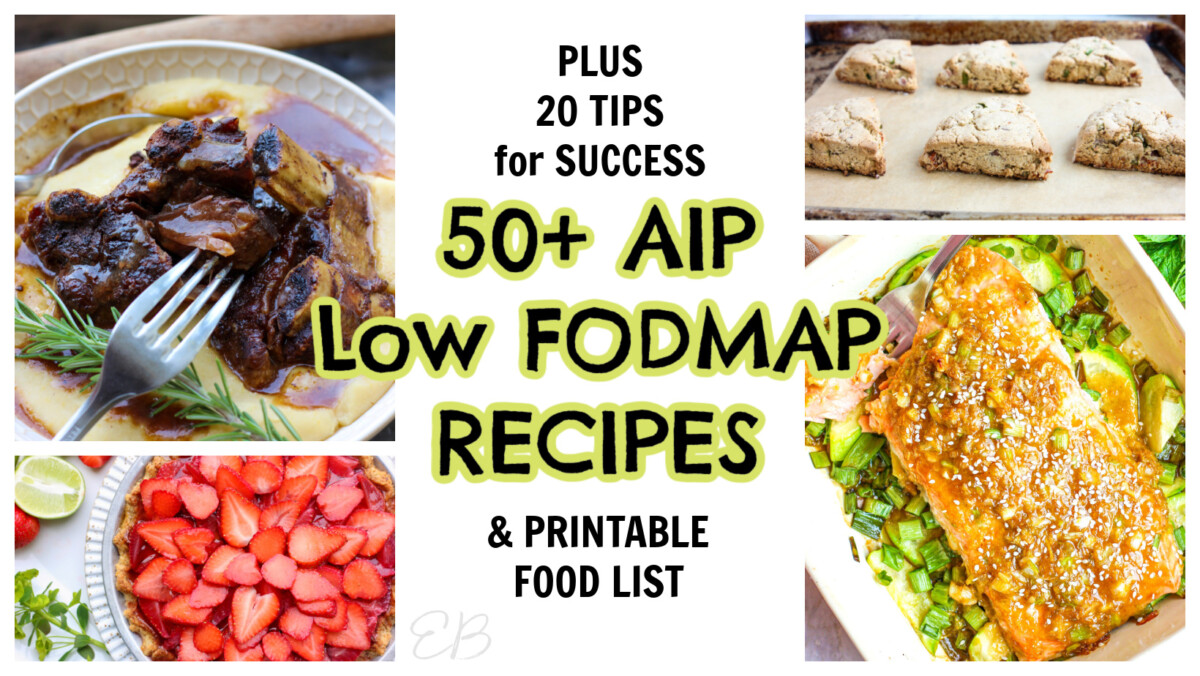 Paleo AIP and Low FODMAP Food List
Find the complete (free) Low-FODMAP and AIP Food List HERE, with Printable.
Also, if it's helpful:
General TIPS for success when combining AIP and Low FODMAP
1. Post a list of compliant foods for quick reference.
Bring it with you to the grocery store, or use it to create your grocery list. Post it on the fridge or a kitchen bulletin board for quick and easy reference.
Remember to print the free Printable food list here.
2. Keep meals simple: l
ots of meat, salads, stews, roasted or steamed veggies!
3. Consume rapidly digestible carbs.
After 2 to 6 weeks, consider adding in the foods you miss most, in very small amounts.
But until that time, eat and enjoy the Low FODMAP carbs that digest easily and well. These include compliant fruits like blueberries, but also grain substitutes like tapioca, arrowroot and tiger nut products.
This tip, of course, makes the diet easier and more enjoyable.
4. If you prefer to cook from recipes, see the list below of 50 recipes! or choose a cookbook.
One option:
5. Use the FODMAP App.
It requires a purchase (find it here), but may be worth it if you want a thorough resource when you're at the store.
(Otherwise, remember to bring your free printable, which also does the trick.)
6. After 2 to 6 weeks, begin trying small amounts of foods you've eliminated.
Start with a very small quantity of a food you miss: sautéed onions, winter squash or avocado, for example. See how you do, and then gradually increase that food over the coming months if it goes well.
Otherwise, wait a little longer, and focus on what you can have: Enjoy it, and cultivate contentment.
7. Don't cheat.
Don't cheat, so your time on the diets is effective.
Remind yourself that the Low-FODMAP diet works, so it's temporary.
8. For SIBO: Eat as many FODMAP foods as you can. Avoid low carb.
Here's a fun tip. Eat as many high FODMAP foods as your body digests well.
For those addressing SIBO, fermentable carbohydrates have been shown to improve success rates, when combined with natural or prescribed antibiotics. (source)
Find the right balance of consuming prebiotics without causing bloating or gas.
One way to do this is: after the initial 2 to 6 weeks on the Low-FODMAP diet, try introducing small amounts of cassava flour. (Cassava flour is a fermentable carb, and it's a prebiotic food. Some people start the diet including cassava; others wait 2 weeks before trying it.)
This combo diet is highly individualized for each person, so don't force it too fast, but add in what you can when you can.
9. Delight in each success. Reintroduce foods.
When you reintroduce foods successfully, delight in the new small portion of the food you can now have. Don't increase beyond that small portion too quickly. Just enjoy that little bit. The new portion size may need to stay that way for a month or longer.
This may be: a 1/4 cup of sautéed onions, 1 slice of avocado or a few bites of winter squash. Enjoy this new food, and keep it in your diet.
Reintroduced foods can actually help your gut recover better.
10. Choose and use the right supplements.
One goal when addressing SIBO is to prevent recurrence. One of the best ways to do this is to choose a couple of important supplements:
Ask your doctor about benefiting your gut and helping the wellness process with soil bacteria. Non-bloating Saccharomyces Boulardii (I choose this quality product) is one good option. SB is a powerful but gentle yeast probiotic, an excellent accompaniment to a Low FODMAP diet and for those recovering from SIBO.
These are both options I used while on the Low-FODMAP diet to overcome SIBO. I continued to use bitters for several years afterwards, but now no longer need them.
Cooking TIPS for success when combining AIP and Low FODMAP
1. Find good replacements for garlic and onions.
2. Keep portions of certain vegetables small.
If it's hard to give up favorite vegetables, see how your body does with small portions of them.
Get a food scale if it's helpful.
Weigh out 75 grams of broccoli. Steam or roast it, and see how your body responds. Smaller portions sometimes work fine.
3. Mix veggies together to create a medley.
By combining certain Low FODMAP veggies with higher FODMAP veggies, you can still stay within Low FODMAP guidelines.
For example, sauté together: carrots, broccoli, green beans and zucchini.
4. Use coconut aminos.
Find them here.
5. Find replacements for old favorites.
Replace sautéed onions with sautéed fennel.
Sub mashed sweet potatoes for mashed cauliflower.
Find a new favorite carb: like Green Bananas, cooked! These are my personal new favorite carbohydrate. They can be used like potatoes: in hashes, smashed, boiled or fried and crispy. (Green Bananas are not plantains. They are unripe green bananas, and they are a staple [for good reason!] in some parts of the U.S. and world, but just now catching on throughout the States in the Paleo community.)
Replace pasta with Daikon Noodles (I love these).
6. Take advantage of bacon.
Bacon makes many plain meals special:
Garnish soups with bacon.
Top baked or twice baked sweet potatoes with it.
Create a hash, and add bacon to it.
7. Use meat stock or bone broth to make simple and delicious soups.
Here are a few simple and great soup ideas that are all Low FODMAP and AIP:
Look for low-FODMAP Pumpkins: Kabocha squash (Japanese pumpkins) — these are wonderful and one of my favorite winter squash, and Kent pumpkins. Bake the pumpkin. Then purée it with stock to thin to desired soup texture, schmaltz or olive oil (for a rich delicious flavor), sea salt, and optionally, top with bacon.
Sauté a few bulbs of fennel: dice, use olive oil and sea salt. Once softened and a little browned, add broth and leftover chopped chicken. Simmer briefly. Garnish with chives.
Follow directions on How to Cook Green Bananas. Meanwhile, cook up ground beef, greens of green onions, diced zucchini and carrots. Add dried herbs, broth or stock and chopped cooked green bananas. Simmer briefly then serve, for a lovely satisfying soup full of great hearty ingredients.
8. Rethink how you used to use ingredients, or how you used to cook
This includes not only using new ingredients, but using them differently. A few examples include:
Follow recipes so you learn new ways of cooking with Low FODMAP ingredients.
Repeat the same recipes that work well for you (like stir fries) but with different ingredients, for variety.
Use cooked, smashed carrots in smoothies, with cinnamon (recipe below), to replace large amounts of fruit.
9. Make a lot of hashes, stir fries, steamed veggies and simple sautéed meats.
This way of cooking is easy and gets easier the more often you do it. It lends itself well to basic "safe" ingredients.
10. When in doubt, make a big main dish salad: salad greens topped with protein. Then add a carb on the side.
Have easy carbs ready you can add on the side. One great option is to batch cook Low FODMAP bread, so it's ready to add to your meal. See the Treats section below to get recipes for Low FODMAP scones, tortillas and crackers.
10 Basic AIP and Low FODMAP recipe ideas
The first thing I'm going to share in this recipes section is actually just 10 recipe ideas. While many of us use and need actual recipes, many of us also like basic ideas and find them just as helpful. So enjoy these basics, followed by 50 recipe links to actual recipes. I hope you'll find both approaches super helpful!
Breakfast or Snack — Any sweet treat can have some source of protein on the side.
Coconut milk yogurt (1/2 cup) or kefir with a cup of sliced strawberries or some blueberries.
A baked good Treat from below spread with tiger nut butter and a little maple butter.
Make a hash of favorite veggies chopped small and ground meat.
Lunch or Dinner

Salad greens topped with shredded carrots and olives drizzled with olive oil and lemon juice. Top with grilled chicken, canned tuna or wild-caught steamed/sautéed shrimp.
Roast sweet potatoes, and top with diced protein like leftover pork stew meat or chicken. Serve with a side of vegetables like sautéed zucchini or steamed/roasted broccoli, once re-introduced.
Stir-fry sliced or spiralized daikon radishes. Add thinly sliced raw chicken or steak, with greens of green onions and cook over medium high heat. Add coconut aminos. Fresh ginger is great with a recipe like this. Grate or mince small, and add as much as you like.
Make a hash with shredded or chopped-small carrot, ground turkey, greens of green onions and dried sage.
Fry up thin slices of pork tenderloin with red cabbage in olive oil.
Zucchini noodles tossed with garlic-infused olive oil, meat of choice and lots of fresh herbs + sea salt.
Make Tiger Nut Tortillas. Fill with leftover chicken, cucumbers, lettuce, diced greens of green onion, only one slice of avocado if tolerated, lots of fresh herbs (like fresh cilantro or fresh basil) and any other foods you might enjoy in a wrap (like fresh or sautéed grated carrot, olives or a squeeze of fresh lemon juice). These wraps are hard not to love!
50+ Paleo AIP and Low FODMAP Recipes
Enjoy these 50 recipes!
BEEF, LAMB or DUCK

AIP Low-FODMAP Beef Curry Stew
Paleo AIP Coconut Ground Beef Curry with Turmeric
Paleo AIP Hamburger Macaroni Pasta
Middle Eastern Beef Stew (See AIP Notes.)
AIP Burgers and Fries Sheet Pan Dinner
Grilled Skirt Steak with Chimichurri Sauce
CHICKEN
Paleo Teriyaki Chicken Drumsticks (4 ingredients, easy!)
Easy Dump & Bake General Tso's Chicken (See Low FODMAP notes.)
Paleo Fried Chicken (See AIP version in Notes.)
Whole Chicken with Lemon and Mint
Chicken & Ginger Mini Meatloaves
PORK

AIP Pork Tenderloin with Blueberry Sauce
Pork Chops with Herbs and Grapes
Ginger Lime Noodle Bowl (with parsnip noodles)
FISH
Ginger-Lime Salmon (Follow the Low-FODMAP notes in the recipe.)
Salmon Patties (See AIP notes.)
VEGGIES
Mashed Parsnips (with optional Crispy Parsnips on top)
Roasted Caramelized Delicata Squash
Cassava Pasta (This post shares how to cook it easily in the Instant Pot.)
Green Banana Fries (and how to cook Green Bananas for soups and stews and hashes)
TREATS
Paleo AIP Strawberry Coconut Lime Cream Pie (Choose the maple syrup option, for sweetener.)
Low FODMAP Tropical Berry Smoothie
Rhubarb Sauce — Enjoy this with a tiger nut baked good or coconut yogurt.
AIP Bacon & Green Onion Scones
Tostones — Fried Green Plantains
You can Pin this recipe round-up here: