I may receive a commission if you purchase through links in this post. I am not a doctor; please consult your practitioner before changing your supplement or healthcare regimen.
How to Cook Green Bananas shares how to make the world's best grain-free carb side dish! This under-discovered savory treat makes amazing Green Banana Fries (recipe included!) or is a great addition to soups and stews. SO easy, nourishing and delicious.
I first had this revolutionary (for me!) and healthy starch in Africa during a recent trip, and afterwards was SO surprised that it's not popular yet in the Paleo and Gluten-free communities, as well as throughout the United States. It is eaten regionally in the States, and I consulted several sources before landing on the easiest method for how to cook green bananas.
Do Green Bananas taste like bananas? Only very faintly. They mostly taste like potatoes, but better, in my opinion — and without the nightshades.
Green Bananas are appropriate for a variety of real food diets, including Paleo, AIP, Gluten-free, Vegan, Whole30 and VAD.
Jump to Recipe
What are the benefits of eating Green Bananas
This article is NOT talking about eating green bananas raw. Most articles on green bananas tout them as a health food when raw because of their resistant starch. In this recipe, we're talking about the benefits of eating COOKED Green Bananas.
This gentle food takes no getting used to. They're a native food to Africa and absolutely delicious for anyone!
In addition to being so delicious and satisfying, these are the features I love about green bananas:
They're affordable for everyone.
Green Bananas are easy to source; anyone can find them, almost no matter where you live.
They're easy to find organic (and still cheap). This is unlike cassava, which I also love; but cassava is impossible to find organic.
Green Bananas are easy to prepare, and you can also batch cook them — make them ahead of time if that's easier for you. (I'll show you how.)
Enjoy Green Bananas in stews, like you would potatoes, or FRY/sauté them for a crispy treat like French fries.
Green Bananas are SUPER high in gentle fiber, so they're wonderful for the GI tract. SO many people struggle with regularity. This one food will likely help with that.
Unripe green bananas rank low on the glycemic index, with a value of 30. (The glycemic index measures how quickly foods raise blood sugar levels after eating.)
While resistant starch is usually considered a benefit, this feature is lost when Green Bananas are cooked. This is actually a benefit for anyone with sensitive digestion. Cooked Green Bananas should not give you gas or bloating. They're a truly gentle food.
Green bananas provide lasting energy and electrolytes, so they're great for active bodies. Green bananas are high in potassium.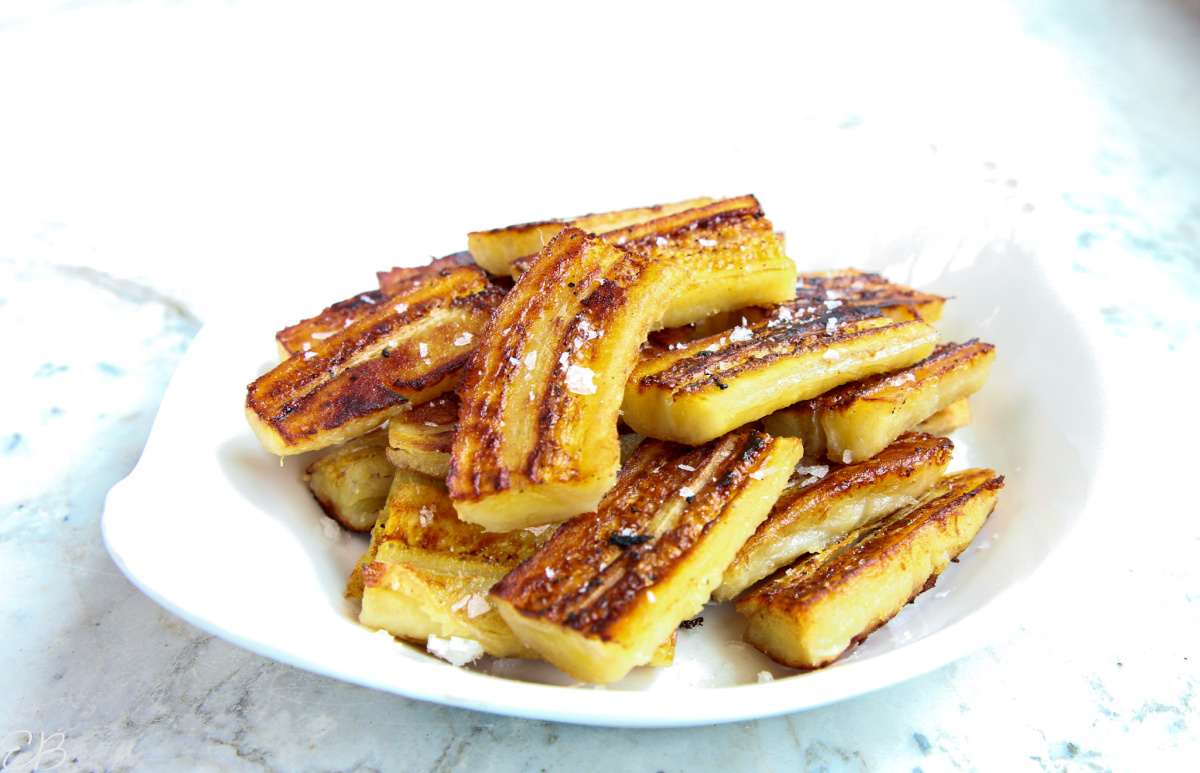 How to cook Green Bananas
The most wonderful thing about this recipe is I researched every method, and the method I share with you today is REALLY easy and almost no work — compared with some of the methods shared that are actually a lot of unnecessarily work!
How to prep green bananas for cooking
Instead of peeling the raw green bananas, which is an involved difficult process (battling hard, sticky enzymes with oiled hands and tough peel: no, thank you!), we simply boil whole unpeeled bananas!:
Cut off both ends of green bananas.
Use the tip of a knife to make an incision of peel-depth lengthwise down the banana. The incision does not need to be perfect.
Bring a pot of water to a boil. Boil bananas 25 minutes.
Remove from water, and allow to cool, at least partially. Peel: The peel now comes off very easily.
Now your bananas are ready to eat in stew or be sautéed/fried till crispy. Either way, they can be cooked right away, or put in the fridge or freezer until you're ready to use them.
SUPER easy.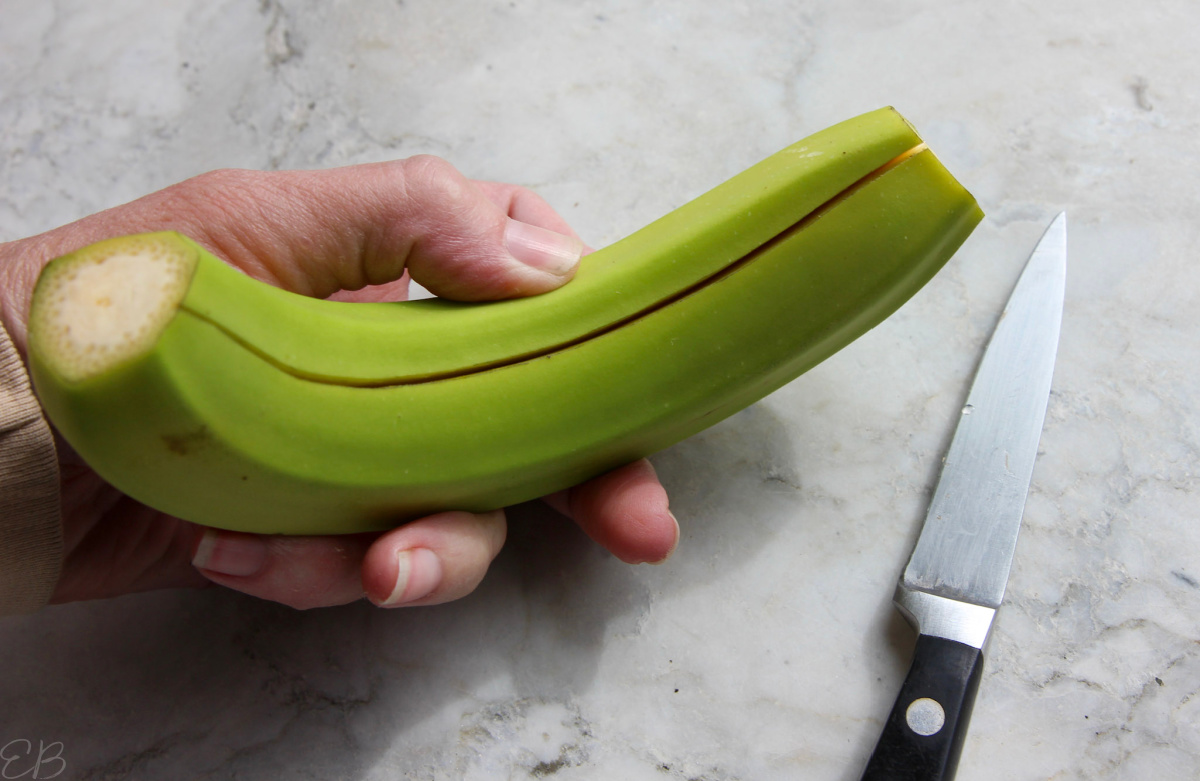 In fact, Green Bananas are so easy to make that we've been having them at least weekly since our return from Africa. I just rotate them with our other favorite carbs, but they're our new favorite by far.
Crispy fried Green Bananas are a huge treat. And having starchy, good-textured slices or chunks in stew is also wonderful.
TIPS for buying and making Green Bananas
Plan to buy and cook your Green Bananas the same day, or the next day at the latest. You'll be surprised how quickly green bananas ripen when you don't want them to!
Yes, it's okay to make Green Bananas from bananas that are just beginning to turn yellow, as long as the yellow is faint, and they're still mostly green.
Another great option for buying bananas, and finding them while they're still green, is to buy them in bulk. Find an organic produce supplier, or buy in bulk through your grocery store or co-op. Buy as many pounds as you're willing to cook.
How to batch cook Green Bananas
Then just choose a big pot, and cook them all up according to the recipe directions below.
Proceed in peeling them, then freeze in plastic bags, or other preferred storage container. Whenever you wish to use them in recipes, they'll already be cooked! SO easy and convenient. Simply defrost, then slice or chop for stews, or slice and fry up for Green Banana Fries.
Ingredients in Green Bananas for different preparations
Green Banana Stew
If you're going to use your cooked Green Bananas in a soup or stew, this recipe has just one ingredient: Green Bananas.
Actually, I found a few recipes that over-complicate the process by adding oil and salt to the boiling water. These ingredients are completely unnecessary. You just neeed a pot of water and green bananas. That's it.
Most of the time, when I ate green bananas in Africa, they were mixed into a vegetable stew, with sautéed onions and other veggies. (But they are first boiled plain before being added to recipes.)
Eat boiled Green Bananas plain
Obviously, you don't need to add your Green Bananas to stew, either. You can also eat them plain. They're lovely, and again, so similar to a potato.
In Burundi, I was served plain cooked green bananas one of the times I ate them. In many African countries, a stew is served, with a starch of choice on the side. You sop up the stew with the starch, dipping or scooping. So plain boiled Green Bananas can be dipped in or eaten alongside a meat or stew dish.
Green Banana Fries
If you plan to sauté or fry your boiled Green Bananas, then you'll need one other ingredient, and that's cooking fat, but you don't need too much. When cooking four bananas, as with this recipe, only 1 to 2 tablespoons of fat are used.
For non-vegan, I like to use duck fat. For vegan, avocado oil is a good option.
And then finally, it's lovely to garnish your Green Banana Fries with a good finishing sea salt, like this one.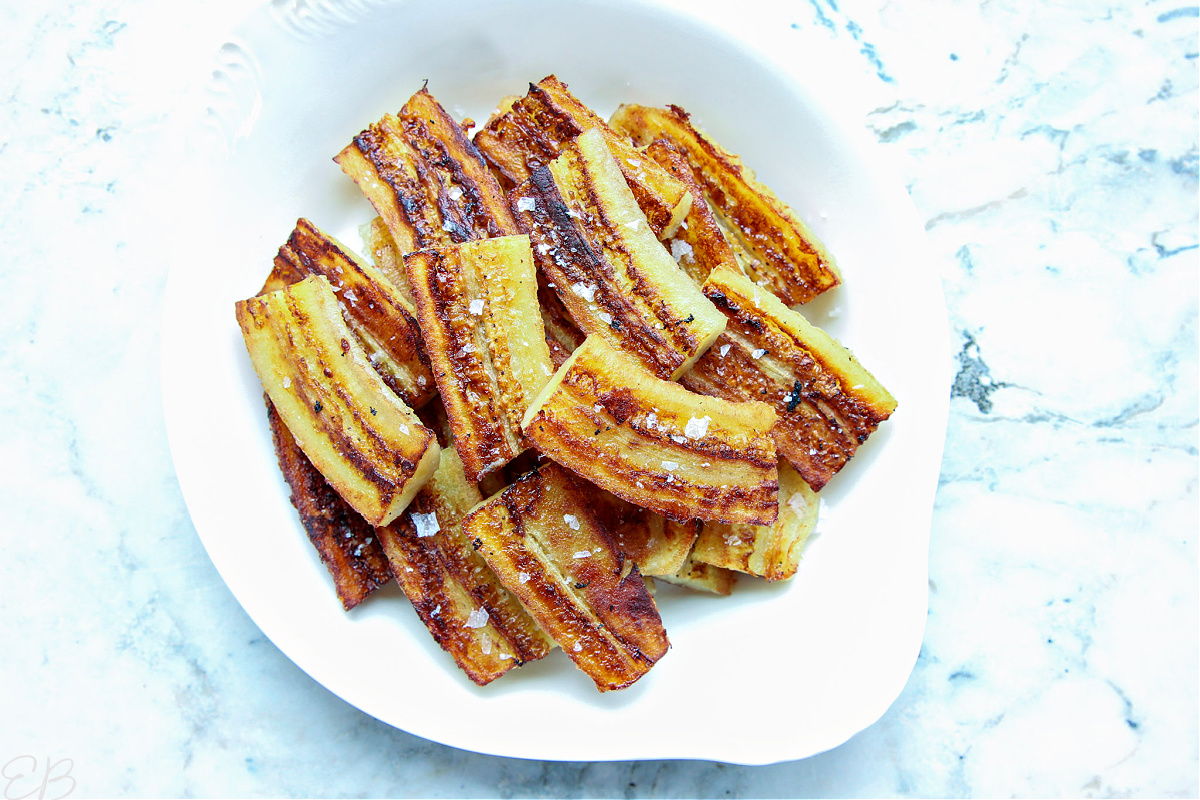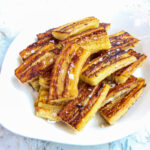 Print Recipe
How to Cook Green Bananas (Easiest Method!, Paleo, AIP)
How to Cook Green Bananas shares how to make the world's best grain-free carb side dish! This under-discovered savory treat makes amazing Green Banana Fries or is a great addition to soups and stews. SO easy, nourishing and delicious.
Equipment
big pot

frying pan

if you're going to make Green Banana Fries
Ingredients
4

green bananas

very unripe, no yellow on them
Instructions
Fill large pot with water. Bring it to a boil over high heat.

While you're waiting for the water to boil, trim both ends off the bananas. Then take the tip of your knife and make an incision down the length of the banana, about ¼ to ⅓" deep, through the peel, to the flesh of the banana. The incision's depth does not need to be perfect.

Once boiling, add prepped green bananas to water. Maintain boil, and cook uncovered 25 minutes.

Remove and briefly rinse each one. (The cooking water turns almost black, and there are little black bits that float around, so it's nice to quickly rinse them off.) Place bananas on cutting board to cool fully or partially. Peel bananas. (This is very easy.)

To add to stew, cut into desired shape and size. Prepare stew. Add cooked Green Bananas at any point in the cooking process. They're ready to eat, so may be added at the end, but can also stand up to more cooking if you want to add them to a cooking stew or soup.

To fry or make Green Banana Fries, heat 1 to 2 Tablespoons duck fat or avocado oil in frying pan, over medium heat. Cut boiled Green Bananas into desired shape and size.

Fry until crispy brown on the first side (don't move them around in the pan; just let them sit), about 8 minutes over medium-low heat. Then flip and fry the second side for about 5 minutes. Season with sea salt, and serve. For 4 bananas, I cook mine in two batches.
Nutrition
Serving:
1
g
|
Calories:
107
kcal
|
Carbohydrates:
27
g
|
Protein:
1
g
|
Sodium:
98
mg
|
Potassium:
358
mg
|
Fiber:
3
g
|
Sugar:
14
g
|
Vitamin C:
9
mg
|
Calcium:
5
mg
You can Pin How to Cook Green Bananas here:
More similar recipes