I may receive a commission if you purchase through links in this post. I am not a doctor; please consult your practitioner before changing your supplement or healthcare regimen.
Learn how to make Cabbage Noodles as a wonderful grain-free replacement for pasta — gluten-free, low carb and great for anti-inflammatory diets like AIP, this recipe is also Paleo, Keto, Whole30 and GAPS-friendly.
Plus, scroll down to see some great topping ideas and recipes!
While Cabbage Noodles don't taste "just like" noodles made with grains, we love this recipe and how satisfying a meal can be made with this healthy vegetable — truly delicious, and they won't weigh you down. I enjoy pasta-style Cabbage Noodles with Marinara or No-Tomato (AIP) Sauce JUST as much as I used to enjoy real pasta!
This Complete Guide to Cabbage Noodles teaches you how to either braise or boil your noodles, whichever you prefer. And, depending on your diet, see the variety of sauces to put on top below! Whether Gluten-free, Paleo, AIP or Keto, you'll love sauce, add-ons and even meatballs on top of your Cabbage Noodles!
How to make braised Cabbage Noodles
Economical yet gourmet, the pan juices and wilted goodness of braised Cabbage Noodles are comfort food with an elegant finish. De-glazing the pan with broth or scant vinegar, starting with bacon fat and sea salt, you get a silky, caramelized noodle.
Here's how to make braised Cabbage Noodles:
Cut the cabbage into quarters. Cut out the core, and cut the cabbage into strips — as thick or thin as you like. I like fettuccine thickness. Watch the video below (in the recipe Notes) to see how! 🙂
Next, heat a large skillet over medium-high heat. When it is very hot, add your fat of choice (bacon fat is wonderful), and swirl to coat the pan. Add the cabbage plus a bit of sea salt, and sauté until the cabbage is almost tender — about 5 minutes.
After sautéing, you'll add a small amount of broth, plus a little optional vinegar (usually apple cider vinegar is used) to de-glaze the pan. De-glazing might sound fancy, but it's just a way of harvesting all the good sticky bits off the bottom of the pan and consolidating that flavor into a glaze that coats the Cabbage Noodles.
Lastly, reduce the heat, cover, and slow-simmer the noodles until your desired tenderness is reached — five to ten minutes. As a rule, a crowded pan increases the cooking time.
PRO TIP: Use a big skillet. Crowding the cabbage slows down the cooking and allows less surface area for sautéing.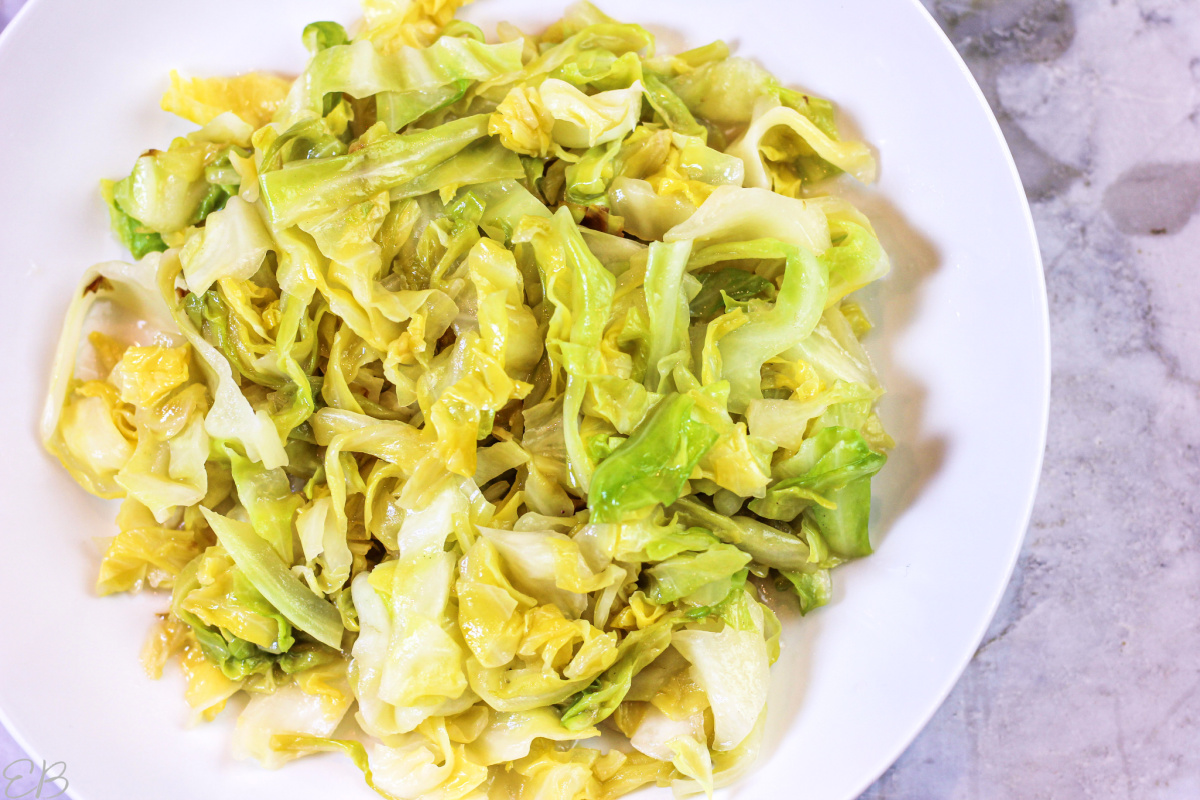 Broth and Vinegar
Choose just broth to de-glaze if you want a neutral flavored noodle.
Or vinegar is often used in German cooking. Braised Cabbage Noodles de-glazed with vinegar are a little bit tangy and taste great served with sausages.
That's it! Now taste your noodles, and add a little more sea salt if desired, to taste. Or your sauce may add all the flavor you need.
You can also finish braised cabbage by briefly cooking with fresh or dried ginger, to create a fitting spicy nuance.
For those not doing the AIP diet, you can add freshly ground pepper.
How to make boiled Cabbage Noodles
Nothing could be simpler, and yet the result creates a great meal:
Bring a large saucepan or stock pot of water to a boil. As with braised Cabbage Noodles, simply quarter and core your whole cabbage (watch video how-to in the recipe Notes).
Add sea salt to the boiling water, add your sliced raw cabbage, and boil for up to 5 minutes, or as little a 3, until you've reached your desired doneness.
Strain, as you would pasta, top with your favorite pasta toppings, and serve.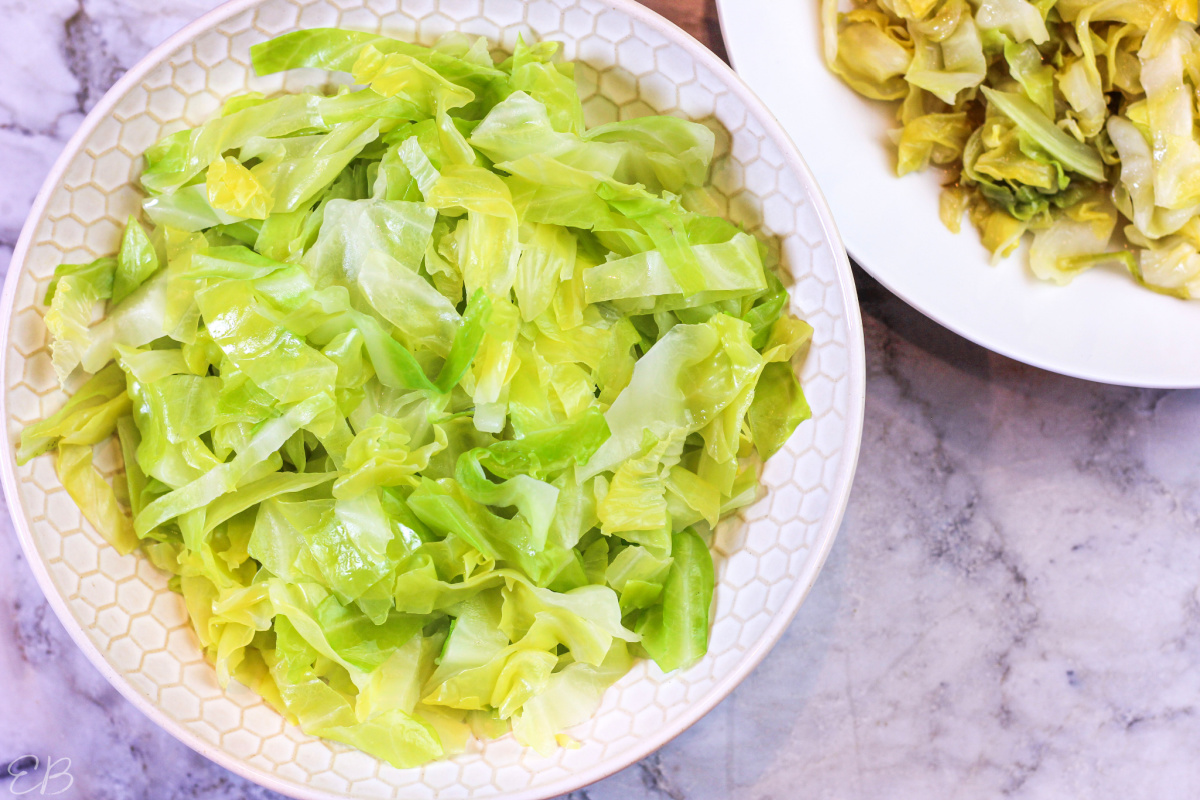 Toppings for all ancestral eating
As mentioned, Cabbage Noodles are great for a variety of real food diets: Gluten-free, AIP, Paleo, Keto, Whole30 and GAPS. Most of you know what toppings you like on pasta!
I'm going to highlight toppings specifically for the AIP and Keto diets below, to assist with what CAN be eaten on these diets (which are very different and specific).
The rest of you can most likely have most of the options listed. (Although, for Whole30, obviously avoid any dairy recipes given for Keto.)
AIP Cabbage Noodles toppings
No-Tomato Sauce that's nightshade-free
Nomato Sauce, Cabbage Noodles & Meatballs is one of those casual meals that makes everyone full and happy. Nightshade-free, Paleo, AIP and GAPS, this nourishing dinner truly satisfies like a big plate of pasta — but better!
The No-Tomato (a.k.a. Nomato) Sauce recipe I share below is something I decided to try back in 2015, while taking a break from nightshades. Nightshades, as you may already know, are a category of produce than can exacerbate inflammation. So often times, those of us with autoimmune conditions, especially those following the Autoimmune Protocol (AIP diet), will forgo this whole group of vegetables and fruits to find added relief from inflammatory symptoms.
If you haven't had No-Tomato Sauce yet, you'll be amazed, really, how similar to tomato sauce it is! I didn't set out to make it taste JUST like tomato sauce, but more to create a yummy red sauce. But the lime juice and other flavors really marry so beautifully, so you do get a very tomato-y, delicious flavor and texture.
If you're not avoiding nightshades, I still recommend No-Tomato Sauce for anything but a low-carb diet. Served over cabbage, with meatballs, it's one yummy meal! If you've got produce to process — beets, carrots and turnips — this is a great way to use them!
No-Tomato Sauce freezes beautifully. You can even make a big batch for convenient, healthful, future meals. (We also enjoy the leftover sauce with chicken.) Find the Instant Pot version of No-Tomato Sauce HERE.
Other great AIP toppings for Cabbage Noodles are:
chopped cooked bacon, roasted slices of delicata squash and fresh or dried sage
AIP-compliant sliced sausages, sautéed onions and garlic + fresh herbs
pan-fried or oven-roasted chicken with pan juices or gravy

Keto Cabbage Noodles toppings
For a great Keto and Low Carb meal, whip up a batch of Cabbage Noodles. Then serve with a variety of sauce and protein options:
Low carb Cabbage Noodles are a great base for so many wonderful toppings. A full serving of Cabbage Noodles has 3 to 4 net carbs, depending on your appetite.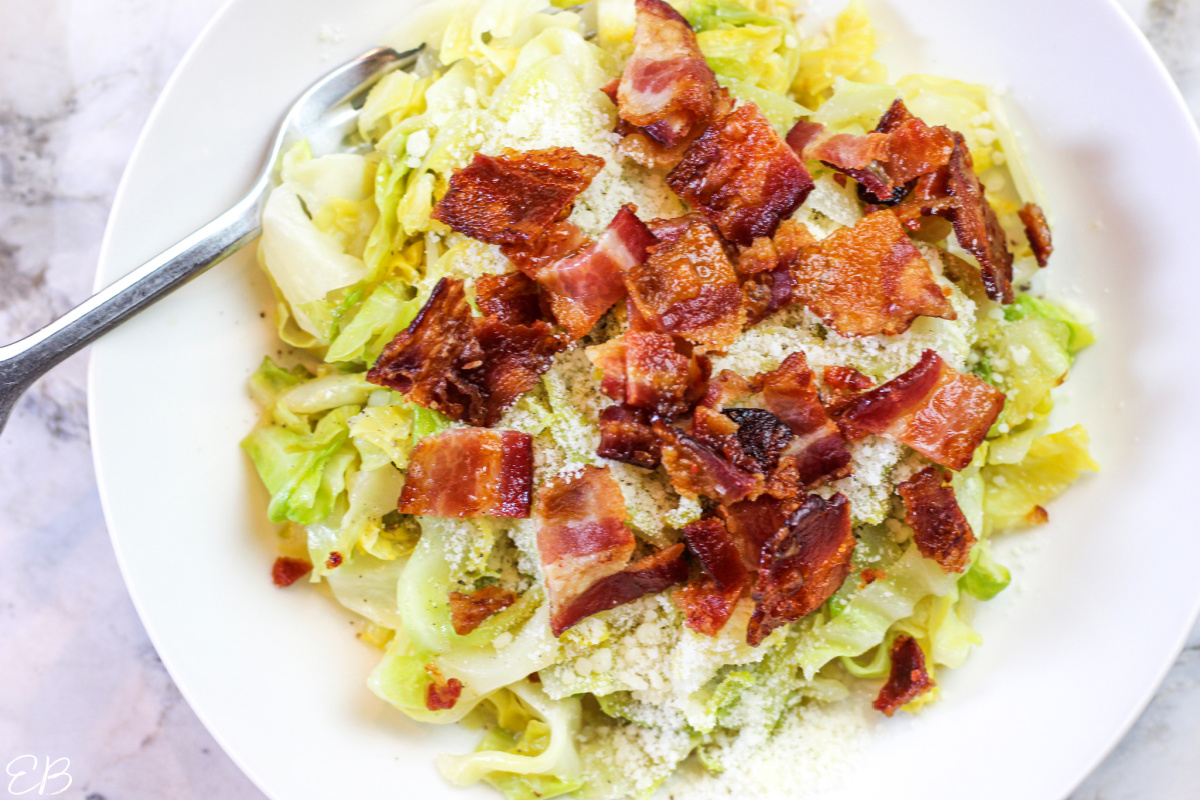 Meatballs with Cabbage Noodles
Meatballs are easy, affordable, and everyone loves them. I include a recipe for Paleo, AIP, Keto, GAPS, Whole30, Gluten-free Meatballs below where I bake them on a cookie sheet OR poach them in simmering bone broth — so very little work to cook them while the noodles cook.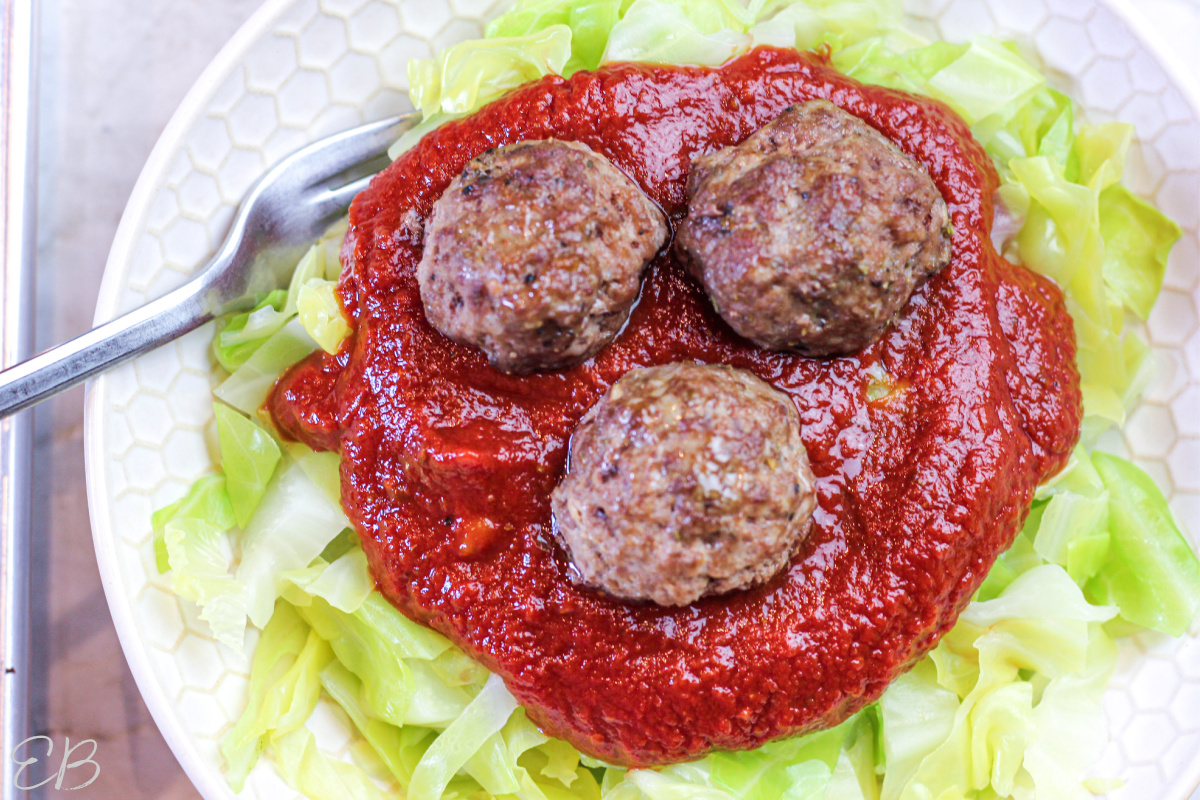 Print Recipe
Complete Guide to Cabbage Noodles (pasta alternative!) — Paleo, AIP, Keto, GF
Cabbage Noodles are a wonderful replacement for pasta — gluten-free, low carb and great for anti-inflammatory diets like AIP, this recipe is also Paleo, Keto, Whole30 and GAPS-friendly.
Equipment
skillet

Crock Pot or saucepan

blender
Ingredients
Cabbage Noodles
1

head

green cabbage

core removed and thinly sliced; (see video how-to below)

¼

cup

bone broth

2

Tablespoons

bacon fat

or traditional fat of choice

1-½

Tablespoons

apple cider vinegar

or balsamic vinegar (optional)

1

teaspoon

sea salt

¼

teaspoon

dried ginger

, optional OR (not AIP) freshly ground black pepper
Optional Marinara Sauce or AIP No-Tomato Sauce (see recipe Notes below for recipe)
OPTIONAL: Meatballs (AIP, Keto, Paleo, GF, Whole30, GAPS)
2

pounds

ground turkey

thigh or other ground meat of choice; pork is good or a combination of two meats works well

2

Tablespoons

coconut aminos

optional

2

teaspoons

dried thyme

or a combination of other dried herbs: sage, rosemary, oregano, basil

1½

teaspoons

sea salt

¼

teaspoon

dried ginger

OR (not AIP) freshly ground pepper, to taste
Instructions
To cut cabbage: Cut the cabbage in half. Cut each half in half again, so you have 4 quarters. Cut down at a diagonal to remove the core from each quarter. Slice each quarter into strips, about 1/3" each. (See how-to video below in recipe Notes.)
Braised Cabbage Noodles (like sautéing, but the pan is de-glazed)
Heat large sauté pan over medium-high heat until very hot. Add fat, then cabbage and sea salt. Sauté for 5 minutes; then turn heat to low and cover for 5 minutes.

Add the broth and vinegar to deglaze the pan, scraping up any bits that are stuck and folding the noodles to distribute the pan sauces. Taste one "noodle" to see how crunchy it is and if you want your noodles softer. If so, reduce heat to low, cover and slow simmer 5 more minutes. Serve. Top with preferred sauce, cooked bacon pieces, fresh herbs and/or optional Meatballs.
Boiled Cabbage Noodles (alternative to braising/sautéing)
Over high heat, bring large saucepan or stock pot of water to a boil.

Add 1 teaspoon of sea salt. Add all the sliced raw cabbage noodles. Give them a stir.

Reduce heat slightly as needed to keep the water simmering or slow-boiling. Cook noodles about 5 minutes (or as few as 3 minutes for a more al dente doneness).

Strain and serve, topped with favorite toppings.
Optional: Meatballs
In a large mixing bowl: Sprinkle coconut aminos, herbs, sea salt and optional ginger/pepper over ground meat. Mix it into the meat; but don't over-mix. Form meatballs, whatever size you like. I prefer large meatballs (about 1"+ in diameter) because they remain moist inside and they're faster to make.

To poach: Poach these in simmering bone broth until they float and are cooked through when cut open in the middle, about 15 to 20 minutes if the broth is simmering, depending on their size. To bake: Bake them on a cookie sheet, at 375 degrees Fahrenheit, until cooked through, about 20 minutes, depending on their size.
Notes
How to Cut Cabbage Noodles video
OPTIONAL: AIP No-Tomato Sauce OR for Keto, use Marinara Sauce
Ingredients
4 medium carrots, cut in half
1 small beet
1 small-medium turnip

⅔

 cup 

bone broth

3 Tablespoons lime juice, fresh
1 inch nub fresh ginger root, chopped roughly
1-½ inch nub fresh turmeric root, chopped roughly
2 cloves fresh garlic, chopped roughly
2 teaspoons fresh oregano, or use 1 tsp. dried
¼ teaspoon 

sea salt
Instructions
Vegetables can be steamed, or simmered until tender in bone broth. (If you have a pot of simmering bone broth already cooking, just pop veggies into the simmering broth, and have them cook without any effort.) Either way, cook veggies until they're very tender: carrots, turnip and beets.

Place the

⅔

cup bone broth in blender. Add slightly cooled, cooked veggies. Add remaining ingredients as well: lime juice, ginger, turmeric, garlic, oregano and sea salt.

Purée until smooth, 30 to 50 seconds. You will have a thick, beautiful sauce.
How much this recipe makes
You'll have meatballs and sauce leftover, which for us is always a good thing. Double the cabbage recipe, if you prefer, using two pans for the added quantity.
Keto Carb count
The nutritional information for this recipe reflects just the Braised Cabbage Noodles (not the optional sauce or meat toppings).
Nutrition
Calories:
123
kcal
|
Carbohydrates:
4
g
|
Protein:
3
g
|
Fat:
7
g
|
Saturated Fat:
3
g
|
Cholesterol:
7
mg
|
Sodium:
639
mg
|
Potassium:
386
mg
|
Fiber:
6
g
|
Sugar:
7
g
|
Vitamin A:
222
IU
|
Vitamin C:
83
mg
|
Calcium:
91
mg
|
Iron:
1
mg
How to incorporate bone broth
Bone broth can be used in this recipe to de-glaze the Braised Cabbage Noodles.
But if you intend to serve this dish with Meatballs or the AIP Nomato Sauce, you can also use bone broth as an easy, nutritious way to poach the meatballs and veggies — like a Chinese hot pot.
I usually have bone broth cooking OR ready to use. I keep it on hand, but also find it very easy to make last minute in my Instant Pot.
You can keep this simmering savory goodness to make life easier. On the days or nights when there's little time to cook, use broth to cook veggies or poach meat. Nothing could be simpler and it makes meat moist, veggies EASY, and the broth, well, it makes the broth taste like whatever you've cooked in it, which is fine.
Nutrition in cabbage
Cabbage is a cruciferous vegetable, in the same family as broccoli and cauliflower. It is credited for:
assisting in phase 2 detoxification
being high in fiber
its provision of Thiamin, Calcium, Iron, Magnesium, Phosphorus, Potassium, Vitamin C, Vitamin K, Folate and Manganese (source)
You'll also enjoy these cabbage recipes: