I may receive a commission if you purchase through links in this post. I am not a doctor; please consult your practitioner before changing your supplement or healthcare regimen.
AIP and Paleo Asian Meatballs Sheet Pan Dinner is a super easy and flavorful dinner with authentic ingredients and the convenience of using ground beef or lamb. Serve with optional cauli or white rice. This dish is also Keto, Whole30, GAPS and Gluten-free.
Serve this satisfying dinner in bowls, with an optional side of Marinated Cucumbers and Radishes!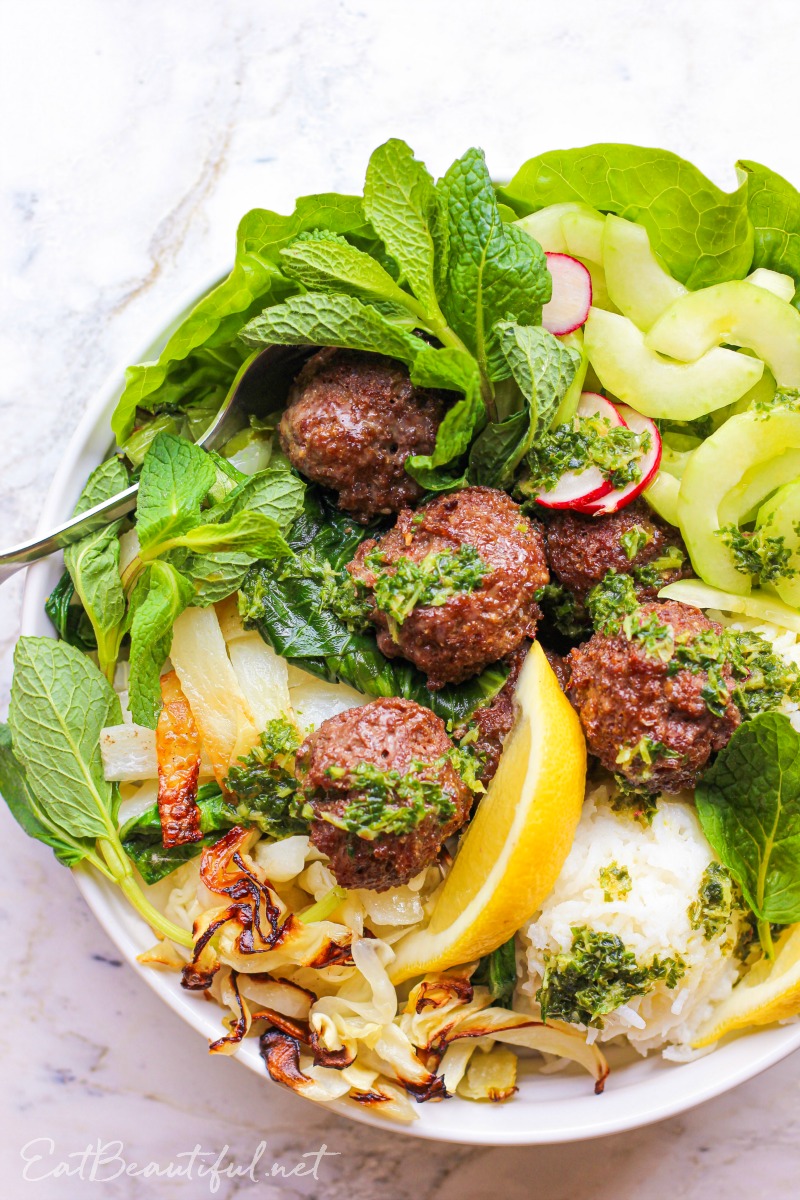 Jump to Recipe
AIP and Paleo Asian Meatballs Sheet Pan Dinner
As with most of my dinner recipes, I go for big flavor, ease of prep work and family-friendly ingredients.
The Asian meatballs are juicy and burst with Asian flavors — coconut aminos, lemon, garlic, ginger, and then there's a sweet note too.
These slightly sticky savories are accompanied by cabbage and daikon radish, both of which are so just not-boring! I LOVE the flavor and texture of both roasted cabbage and roasted daikon.
Daikon is less used than it should be. Super fun to cut up into great mouthfeel shapes, daikon is a mild radish that becomes richer when roasted, and loves the slather of a little glaze or sauce on it.
For a fresh, cold side, add the Marinated Salad I mention above, and choose between cauliflower rice for grain-free or white Basmati rice for gluten-free and VAD.
In the photos, I garnished the whole dish with fresh Mint-Lemon Pistou. (Cilantro or basil may also be used.) See Recipe Notes for the recipe if you want to include it.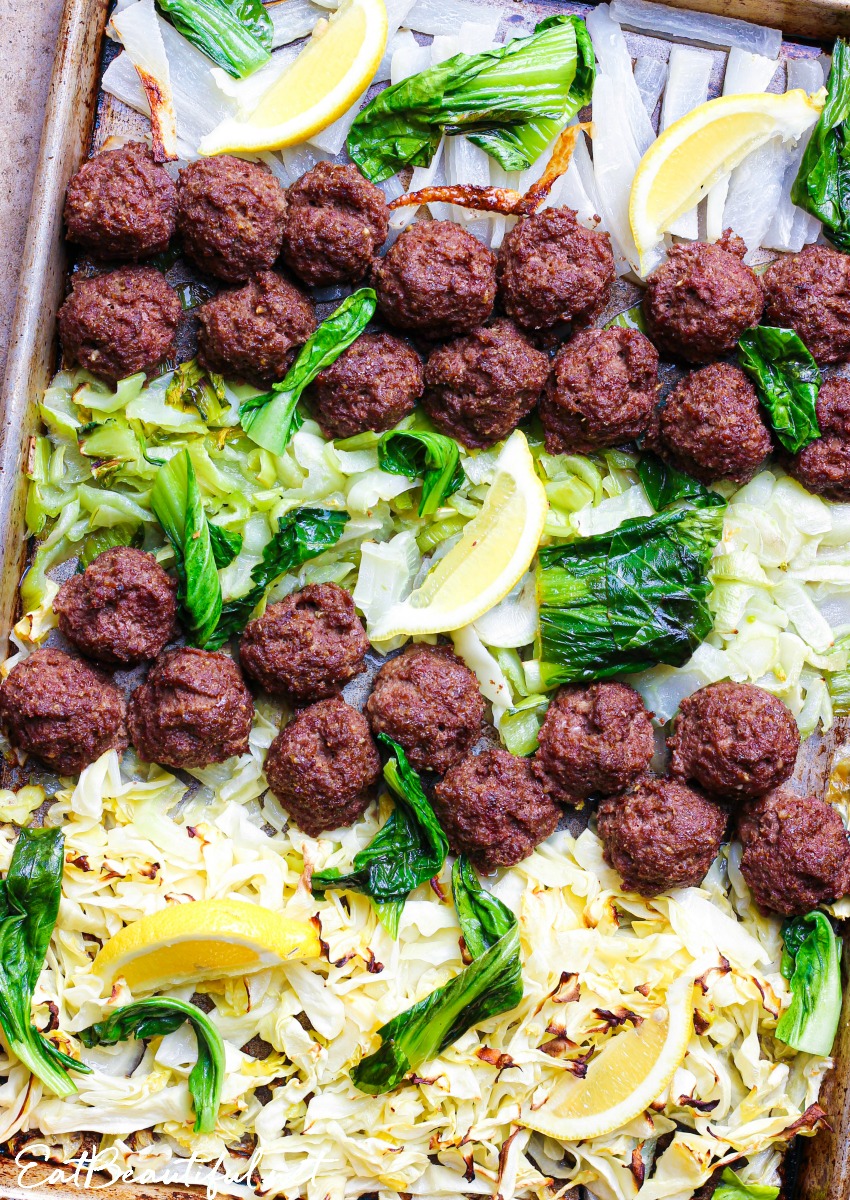 Tips when making AIP and Paleo Asian Meatballs Sheet Pan Dinner
Depending on your temperament, you may or may not like rolling meatballs. I don't mind it too much, but I don't make little teeny ones (ever) because they take too long. And if there's a shortcut, I'm all ears.
For this recipe, you can roll 1-1/2″ meatballs with your hands.
Or if you feel hurried, lazy etc, I have a tip for you! You can actually use a cookie scoop! (This one's the right size.)
Cookie scoops work great for meatballs, if you don't mind one side of your meatballs being a little flat on one side. Actually, the flat side gets pretty round when the meatballs bake. Or, use the scoop to start shaping each meatball, and finish the ball with your hands. This method works great and does speed things up.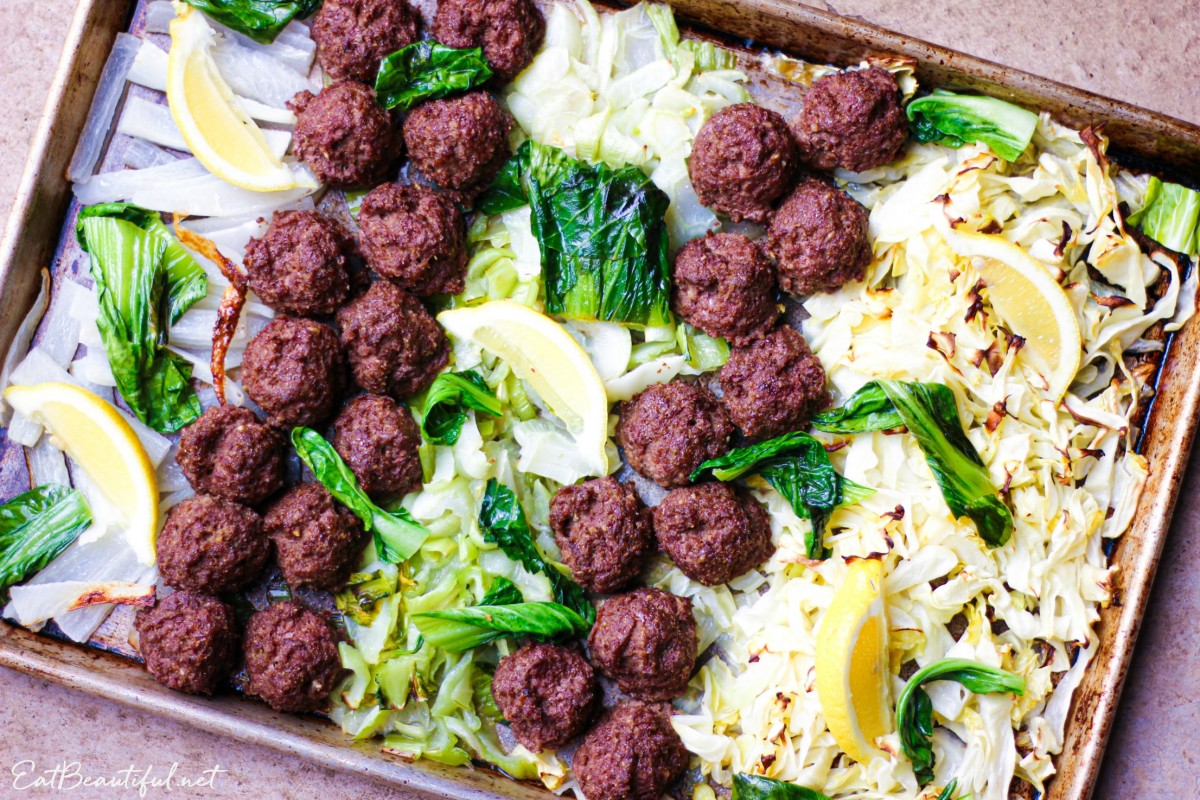 How to cut and prep daikon radish
Since many are new to daikon, it's helpful to outline the quick prep steps. Daikon radishes can also be replaced with regular radishes and simply sliced, if you prefer.
But most markets and all Asian markets do carry daikon, and they're delicious, as well as providing nice variety in one's diet. Look for organic ones.
Daikon are often cut into sections, because whole daikons can be quite long. Buy a 6″ length of daikon, or a little longer.
Then follow these steps (and see process photos below):
Peel daikon and wash.
Cut off both ends and compost.
Cut 6″ length in half. (So you have two 3″ lengths.)
Place flat end on cutting board (like a tree trunk). Slice thinly down (1/2″ thick or thinner), creating large flat pieces.
Stack these flat, and cut into "boards" (like wood). (Matchsticks may also be used.)
Now use in the recipe below.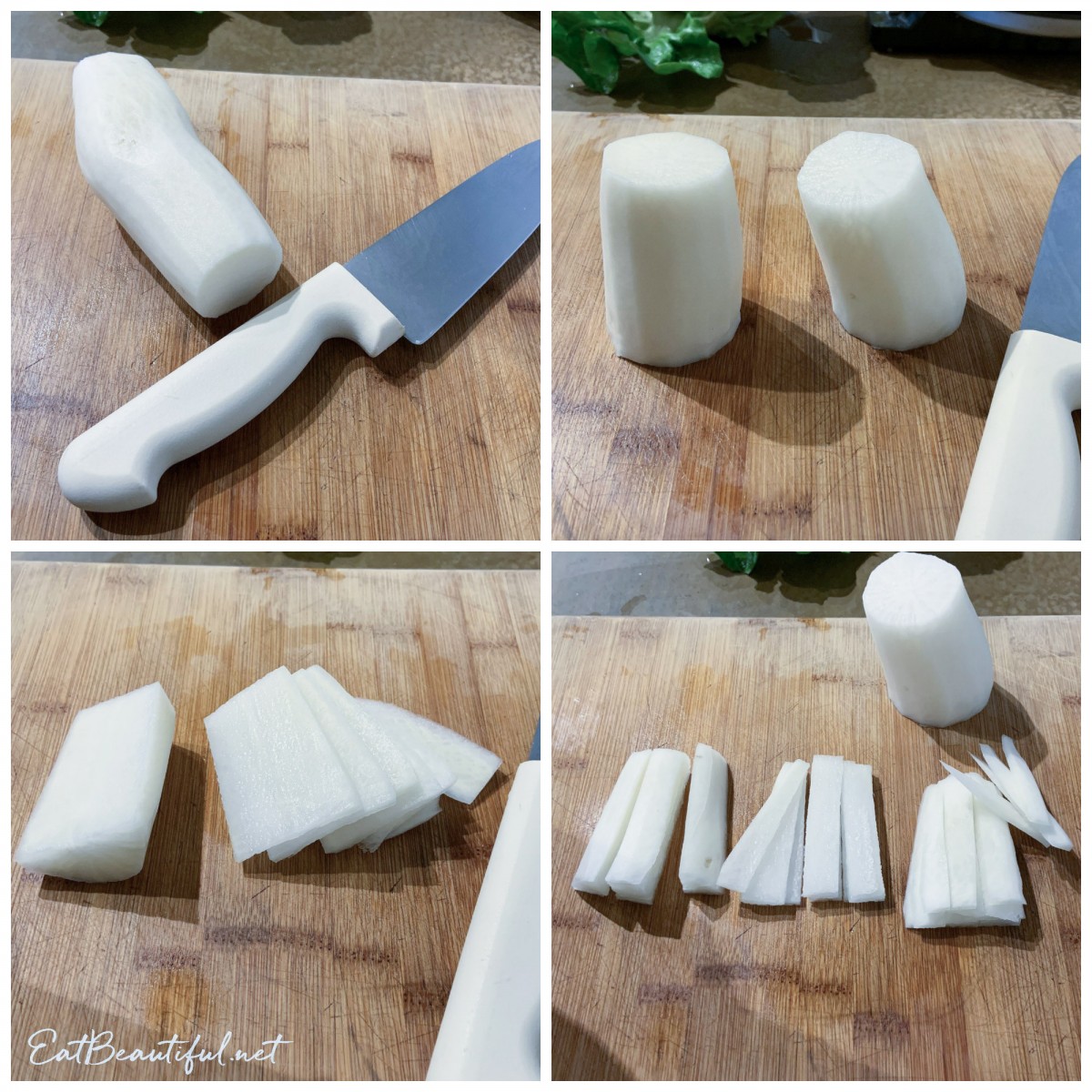 Leftovers of Asian Meatballs
Leftovers keep and reheat well.
Simply store in the fridge in a covered container. To reheat, place in covered oven-proof dish, and heat gently in low temperature oven until hot through, about 15 minutes at 325 degrees F. Or place on stove top in covered frying pan with a little fat, and re-heat over low heat.
Meal prep: You can also freeze AIP and Paleo Asian Meatballs (not the veggies).
To freeze, store in a single layer on top of parchment paper, in an airtight container for up to 2 months. Defrost overnight in the fridge, or place on counter at room temperature for up to 4 hours before reheating. You can also pop the frozen meatballs off the parchment paper to re-heat them immediately.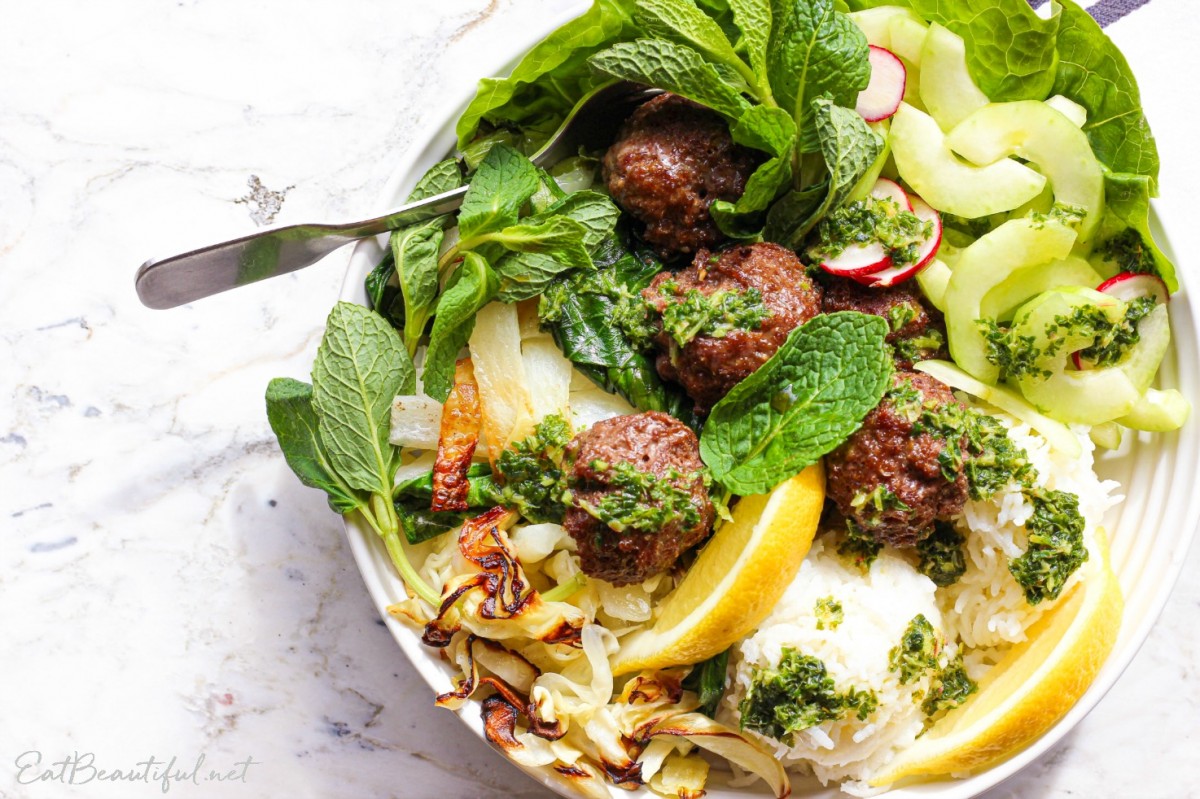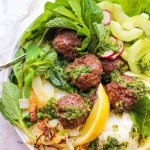 Print Recipe
AIP and Paleo Asian Meatballs Sheet Pan Dinner (with cabbage and daikon)
This easy, flavorful, delicious dinner comes together quickly! Serve Asian Meatballs Sheet Pan Dinner in bowls with optional (cauli) rice.
Ingredients
Vegetables
2

Tablespoons

avocado oil

or melted bacon fat

1-

½

cabbages

thinly sliced, or use part green cabbage, part bok choy

½

pound

daikon radish

peeled, cut in half and sliced lengthwise (start with a 6" piece, see photos)
Instructions
Preheat the oven to 425 Fahrenheit. Prepare 2 sheet pans: Line 1 large sheet pan with parchment paper. Have a second sheet pan ready without parchment paper.

In a small bowl, mix together coconut flour, baking soda and sea salt.

While the oven preheats, add the meat to a large bowl. Add the other meatball ingredients: coconut aminos, lemon juice, sweetener of choice, molasses, ginger powder, garlic and coconut flour mixture.

Use handheld beaters on low to easily mix together the ingredients, or use a fork to stir them together well. (The baking soda and lemon juice will react, and you'll visibly see the meat become somewhat light and aerated as you mix.) Do not over-mix.

Add the cabbages and radishes in two separate piles (or a third pile, too, with sliced bok choy) to the center of the unlined pan, and pour over all the 2 Tablespoons avocado oil. Toss each with tongs to coat. Spread out each pile somewhat so the pan is covered with a layer of veggies.

Shape meatballs with your hands, or use a small scoop, forming each into about 1-1/2" balls. Line up balls on the parchment-lined baking sheet.

When the oven has come to temperature, bake vegetables for 15 to 20 minutes or until slightly tinged with brown. After 10 minutes, add meatballs to oven.

Bake meatballs 10 minutes. (Do not over-bake, or they will dry out.)

Serve veggies in bowls topped with meatballs. Add optional Marinated Cucumber and Radish Salad, and drizzle with optional Pistou (see recipe below in Recipe Notes).

Note: If you want to make cauliflower rice (or Basmati for gluten-free and VAD), that can be added to the bowls first. And/or lettuce greens.
Notes
Process photos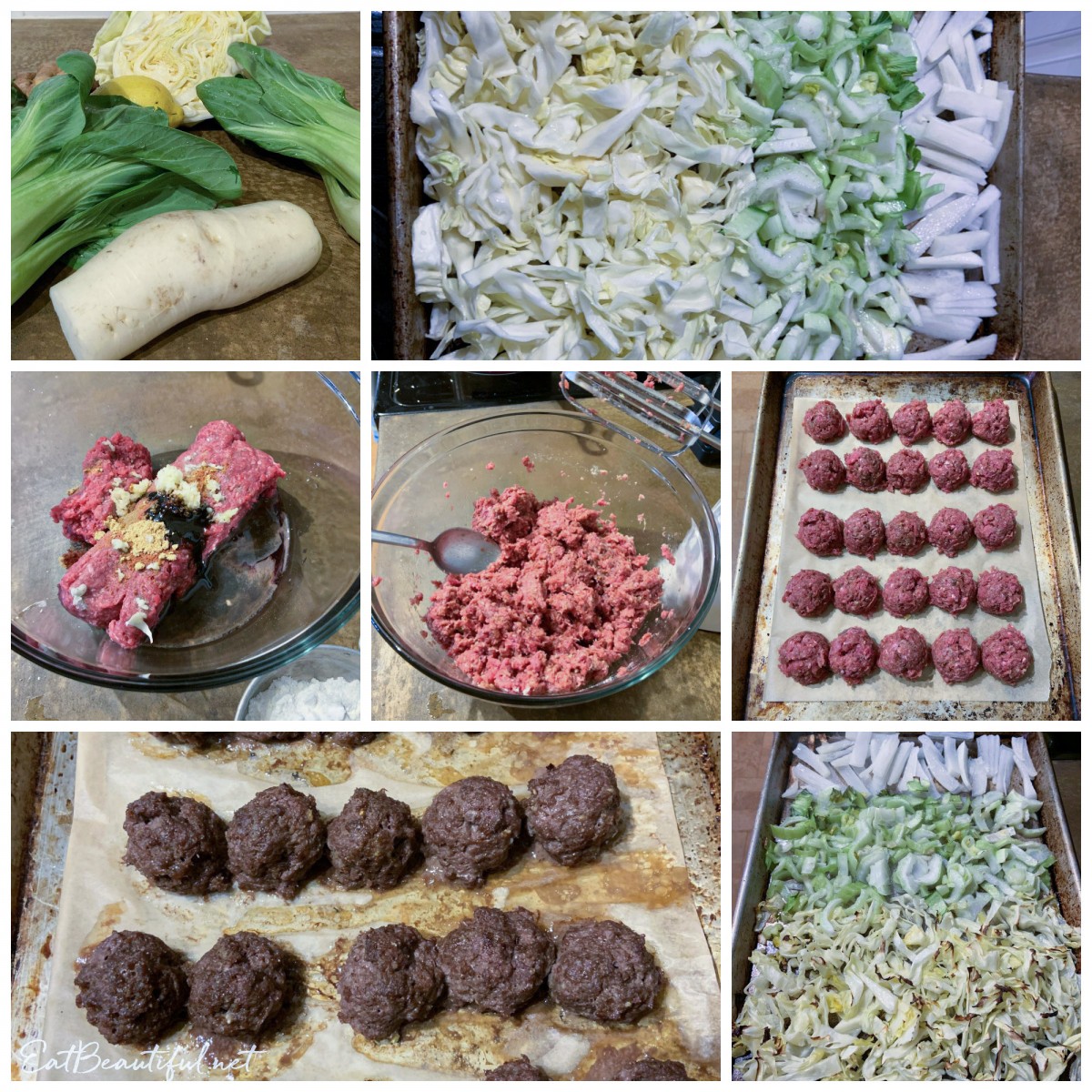 Optional Mint-Lemon Pistou
In the photos, I drizzled a fresh herb pistou over the bowl. If you want this lovely garnish, the flavors further heighten the exciting, fresh, Asian flavors. You can use fresh mint, cilantro or basil. Combine: 1 cup fresh herb, juice of 1 lemon, 1 clove chopped garlic and enough olive oil to create a just-pourable texture, similar to pesto. Pulse in food processor. This simple 4-ingredient condiment is a lovely addition.
Nutrition
Calories:
234
kcal
|
Carbohydrates:
8
g
|
Protein:
10
g
|
Fat:
15
g
|
Saturated Fat:
5
g
|
Cholesterol:
32
mg
|
Sodium:
679
mg
|
Potassium:
408
mg
|
Fiber:
5
g
|
Sugar:
5
g
|
Vitamin A:
89
IU
|
Vitamin C:
45
mg
|
Calcium:
63
mg
|
Iron:
2
mg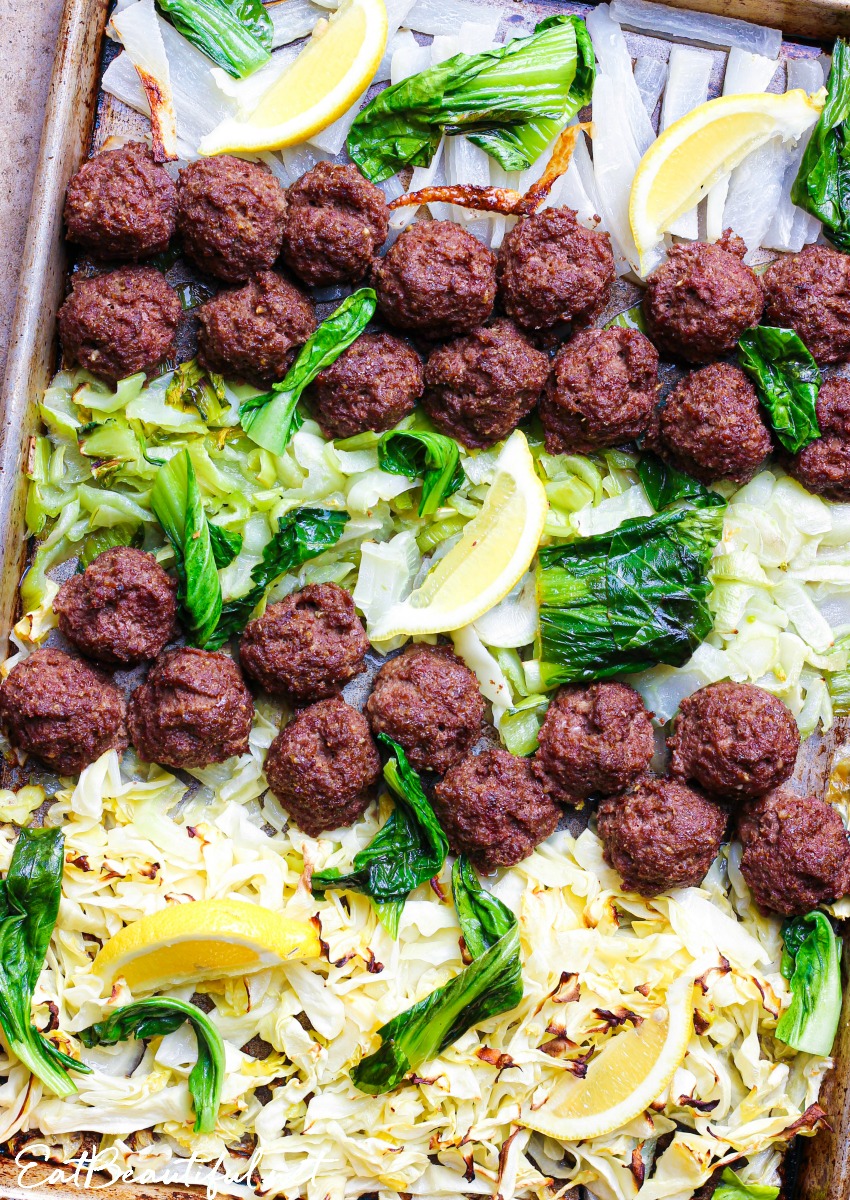 Love Paleo and AIP sheet pan dinners? You'll love this round-up of 30+ Paleo and AIP one-pan meals.