I may receive a commission if you purchase through links in this post. I am not a doctor; please consult your practitioner before changing your supplement or healthcare regimen.
Daikon Noodles are spiralized veggie noodles that make an incredible substitution for fettuccine or spaghetti. They're beefy enough to take on any sauce, but light enough to be great in Asian recipes and soups.
Made from daikon radish, Daikon Noodles are Keto, Paleo, AIP, Gluten-free, Whole30, Vegan and GAPS-diet friendly.
Daikon Noodles are my favorite spiralized veggie pasta!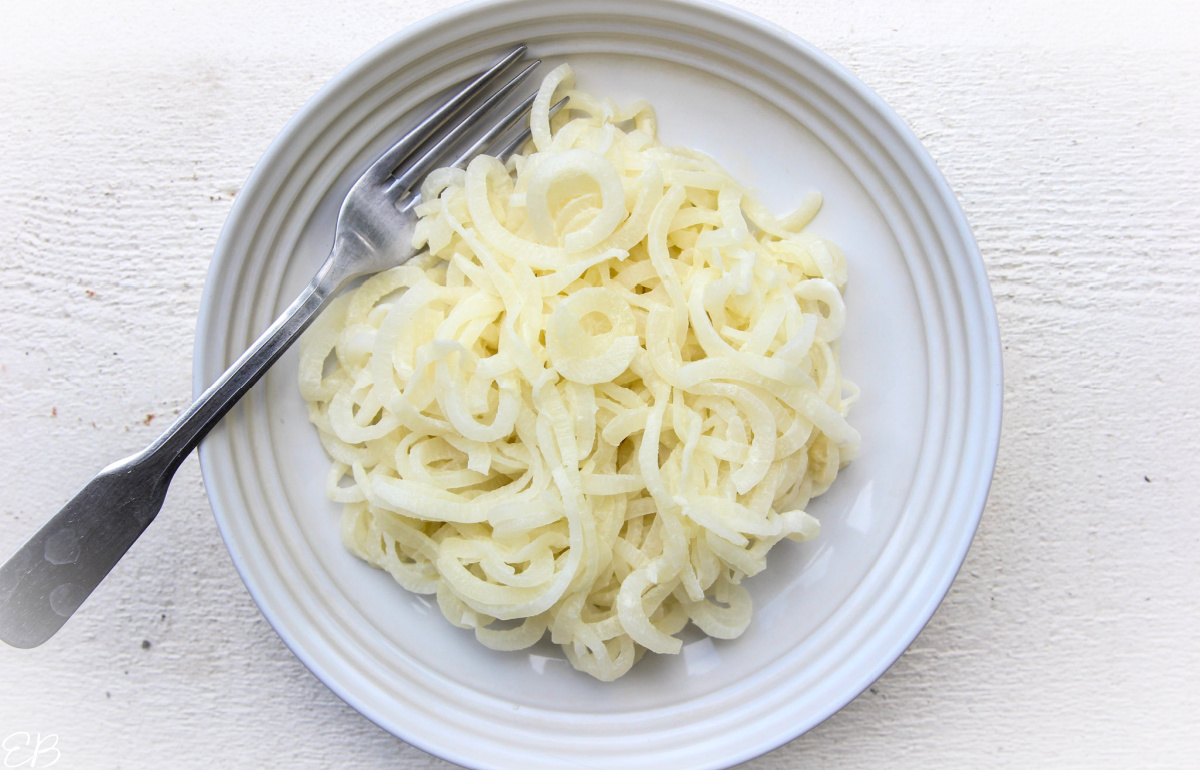 Jump to Recipe
Daikon Noodles as pasta
What's your favorite replacement for pasta?
I have long loved zucchini noodles ("zoodles") with tomato sauce and sausage, as well as other toppings.
But I also have a unique love affair with the often-overlooked radish family. Perhaps you do, too!
Daikon radish makes the best pasta!
The subtle spice of radish pasta is earthy and rich and compliments most toppings.
Prepare to swoon and feel deeply satisfied with Daikon Noodles!
Afraid of the radish flavor?
I hope you don't feel afraid of radishes!
I'm a big proponent of cultivating an enjoyment of all the tastes, including bitter and spicy. More depth of emotion and experience awaits us when we dare to acquire new likes.
How to choose and buy daikon radishes
Daikon radishes are big, long and white, with a thin skin that's dirty-white.
Choose daikon that are crisp and fresh, not rubbery or old looking, with no visible mold and not too many dings. Sometimes quality markets will cut their daikon in half or in thirds, which is fine.
Asian markets often sell big fresh daikon, but they are usually not organic. It's best to choose organic radishes.
How to prepare Daikon Noodles
Daikon Noodles can be cooked one of two ways: boil briefly or pan fry.
Here's each step to make Daikon Noodles:
Peel daikon.
Cut in half or in thirds, depending on how long they are, so each section fits easily in your spiralizer. Cut off both ends.
Insert daikon section into spiralizer, and make noodles.
Choose to simmer or pan fry your noodles. For the best flavor, I prefer to pan-fry. See the main recipe below for pan fry directions and the Notes section below for blanching details, which is great for use in soups.
Serve tossed with or topped with your favorite pasta accompaniments.
Tips when making Daikon Noodles
Unlike zoodles and other veggie noodles, pan-fried Daikon Noodles can stand up to a bit of cooking. You don't need to worry as much about overcooking them.
Pan fry noodles for the best flavor, for plated dishes or to increase good fats in the diet.
Simmer noodles for use in soups. Do not overcook boiled Daikon Noodles.
Which spiralizer to buy
If you don't already have a spiralizer, I tried out three before finding the one I have and love.
This is the one I recommend. It is very inexpensive but works super well.
Are daikon radishes low carb
For Keto, Daikon Noodles are a great pasta substitute. Not only are they satisfying and delicious, they have just 1 gram net carbs per serving.
Daikon are also a low-calorie food and easy to digest for most people.
I like best to make Daikon Noodles with butter and cream, a great way to add healthy fats to the diet.
Print Recipe
How to Make Daikon Noodles (Keto, Paleo, Gluten-free)
Daikon Noodles are a spiralized veggie noodle that makes an incredible substitution for fettuccine or spaghetti. It's beefy enough to take on any sauce, but light enough to be great in Asian recipes and soups. Daikon radish noodles are Keto, Paleo, AIP, Gluten-free, Whole30, Vegan and GAPS diet friendly.
Equipment
spiralizer

large saute pan or wok

OR a big pot if you prefer to boil your noodles to cook them
Ingredients
18 to 24

inches

daikon radish

2-3 inches in girth, just over a pound; this might be two foot-long pieces of daikon or 3 to 4 pieces, depending on how your market processes and displays the vegetable

2

Tablespoons

butter

or preferred non-dairy fat for Paleo and AIP, such as bacon fat, coconut oil or olive oil

¾

teaspoon

sea salt

optional: ¼

cup

heavy cream

, coconut cream or bone broth/meat stock (only the latter two for AIP and GAPS)
Instructions
Peel the radish.

Use a spiralizer or vegetable peeler to create long noodles from the radish, rotating it as you go. Leave a core or stub behind when it gets too hard to create more noodles, depending on what kind of spiralizer you are using.

Melt the butter in a large skillet, wok or broad-based Dutch oven. Add the noodles and sea salt.

Sauté over medium heat, tossing them gently to evenly cook the noodles, for 10 minutes, until they are wilted and hot.

Toss the noodles with heavy cream, coconut cream or broth, stirring and folding it in.

Plate the noodles, topping each mounded portion with favorite pasta toppings.
Notes
How to simmer/boil Daikon Noodles
In a large pot over high heat, bring about 10 cups water (or 6 cups broth) to a boil.
Simmer Daikon Noodles exactly 4 minutes (set a timer), not any longer.
If you used water, strain and serve. If you're making soup, proceed with recipe, and serve.
Nutrition
Calories:
156
kcal
|
Carbohydrates:
1
g
|
Protein:
1
g
|
Fat:
17
g
|
Saturated Fat:
10
g
|
Trans Fat:
1
g
|
Cholesterol:
56
mg
|
Sodium:
252
mg
|
Potassium:
59
mg
|
Fiber:
1
g
|
Sugar:
1
g
|
Vitamin A:
612
IU
|
Vitamin C:
4
mg
|
Calcium:
25
mg
|
Iron:
1
mg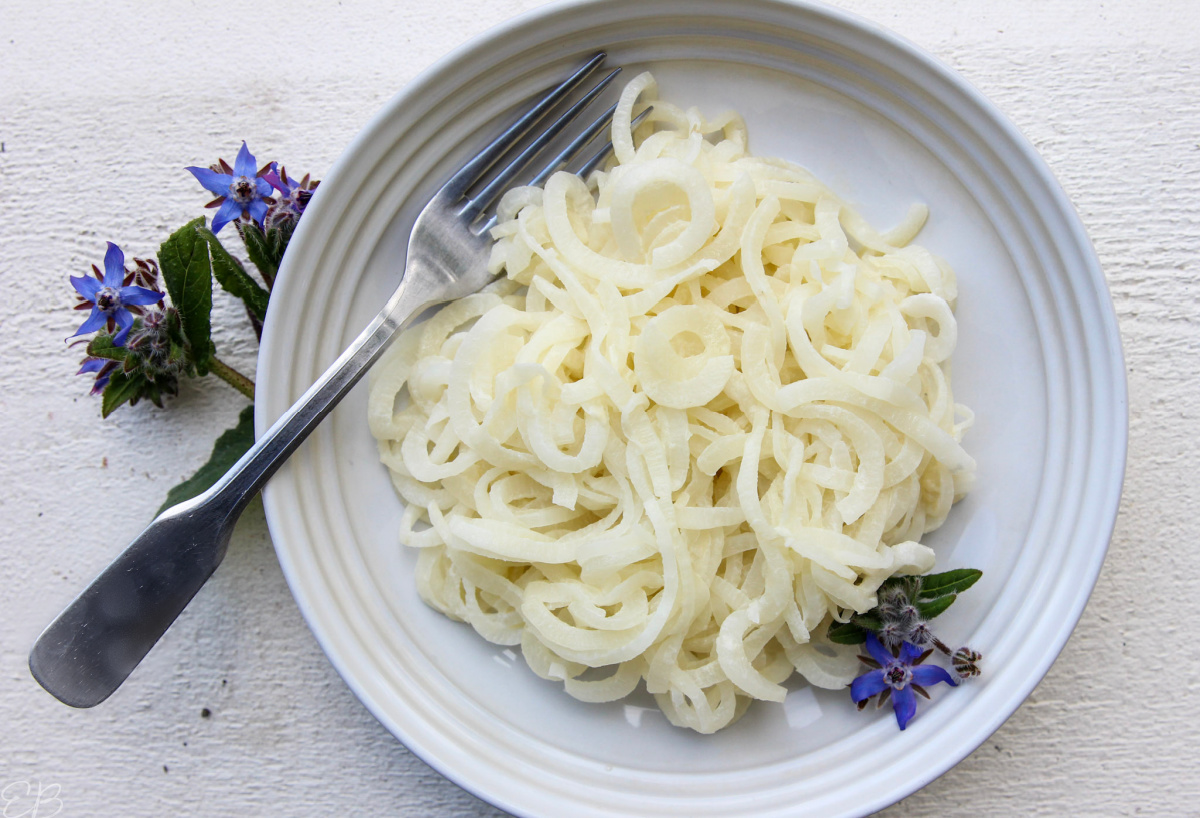 Serving suggestions and sauce recipes for Daikon Noodles
1. Favorite Keto & GAPS Spicy Daikon Noodles pasta recipe
Ingredients
1 pound bulk chorizo sausage
1 red bell pepper, de-seeded and sliced
3 oz blue cheese, crumbled
additional 1/4 cup cream
Instructions
Cook the chorizo over medium heat in a large skillet, breaking up the meat into bite-size pieces as it cooks.
After 5 minutes, add the red bell pepper. Cook over medium-low heat until the pork is cooked through, about 15 minutes longer.
While the pork is cooking, cook the Daikon Noodles, as per the main recipe above. When you toss the cooked noodles with cream, add in the extra 1/4 cup cream listed in the Ingredients here (1/2 cup total).
Serve cooked Daikon Noodles topped with chorizo, red bell peppers and blue cheese. Garnish with chopped walnuts, if desired.
2. Easy Keto Paleo AIP Asian Daikon Noodles pasta recipe
Ingredients
1 lb sliced steak or chicken
3 green onions, cut into 3″ lengths, whites and greens separated (omit whites for Keto)
3 cloves garlic, minced (omit for Keto)
2 Tablespoons coconut aminos
1 Tablespoon cooking fat of choice: coconut oil, avocado oil or sesame oil for non-AIP
1 Tablespoon Red Boat fish sauce
2 inch nub fresh ginger, finely grated or minced
Instructions
Cook Daikon Noodles as per the recipe above, tossing the finished noodles in the broth option at the end. During the 10 minutes of cooking time for the noodles, begin Step 2 below:
Heat large skillet or wok until hot but not yet smoking. Add fat, whites of green onions and meat. Cook over medium high heat until mostly cooked through, stirring often, about 5 to 8 minutes.
Add greens of green onions, garlic, coconut aminos, fish sauce and ginger, and stir to coat. Cook one minute.
Serve hot noodles (tossed with the broth option to finish) in broad bowls, topped or tossed with Asian meat, onions and any pan juices.
3. Nomato Sauce (for AIP and nightshade-free)
More noodle recipes to enjoy:
You can Pin this recipe here: