I may receive a commission if you purchase through links in this post. I am not a doctor; please consult your practitioner before changing your supplement or healthcare regimen.
Paleo AIP Hamburger Macaroni Pasta is made in one pot and is an easy 30 minute meal that the whole family will love. Super creamy, full of ground beef and it's great to have for leftovers too! Plus, it's Low-FODMAP.
For me, this is one of the best comfort food dinners. As the cook, I enjoy making this recipe; it's totally stress-free and easy. When I'm eating it, I'm thinking: Wow, this is SO good, and it's okay for my diet, too! Win, win, win — a yummy, cozy pasta dinner, in addition to being healthy and fun to make!
Nightshade-free and Gluten-free, Hamburger Macaroni Pasta is also VAD-friendly.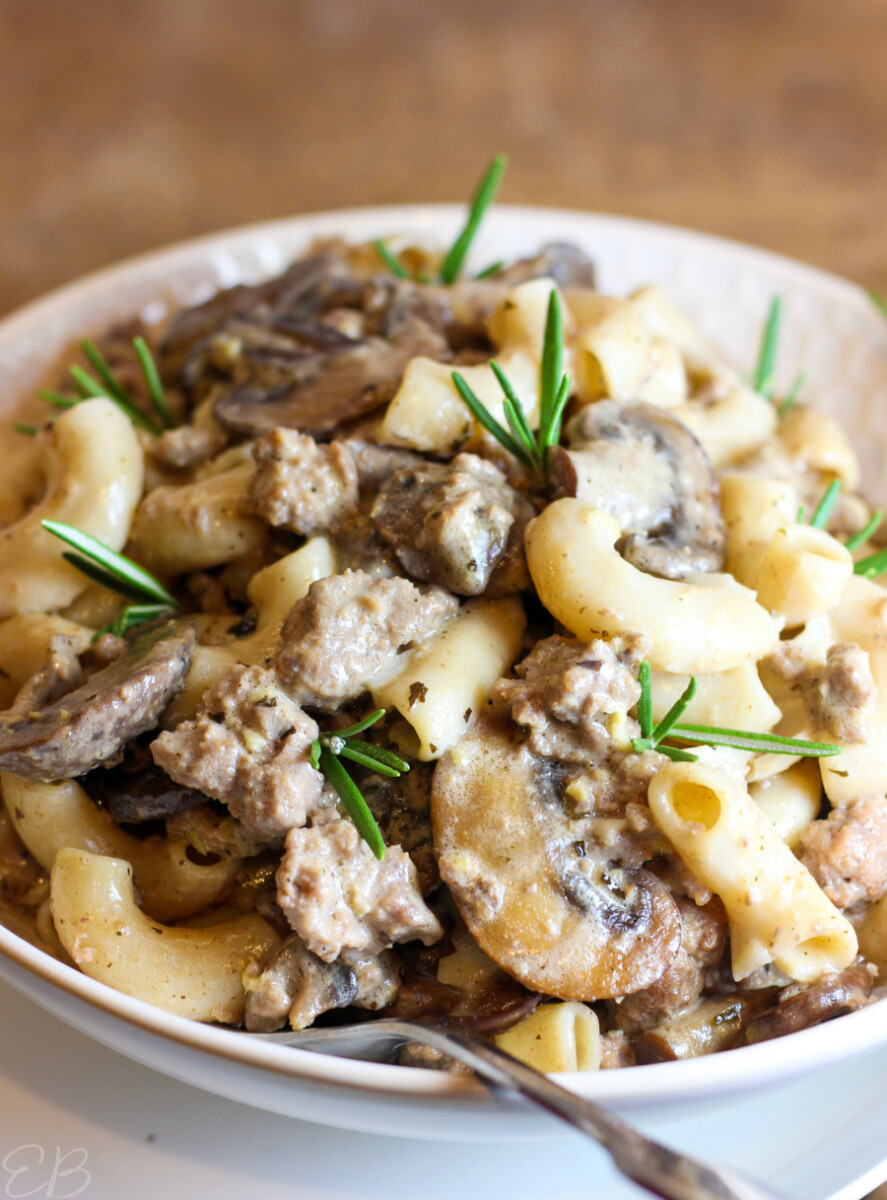 Jump to Recipe
Paleo AIP Hamburger Macaroni is:
Made is one pot
A family loved meal, but great for singles and couples, with leftovers!
Kid-friendly and great for picky eaters (fine to serve it up without the mushrooms for some eaters)
Perfect when you want comfort food
Affordable
Easy to make
Full of pantry and fridge staples
Great for a regular rotation of weekly meals
So much better than the processed versions or those with cheese and tomatoes!
Easy to clean up after dinner (one pot!)
Made with healthy ground beef (try to choose grass-finished, not just grass-fed)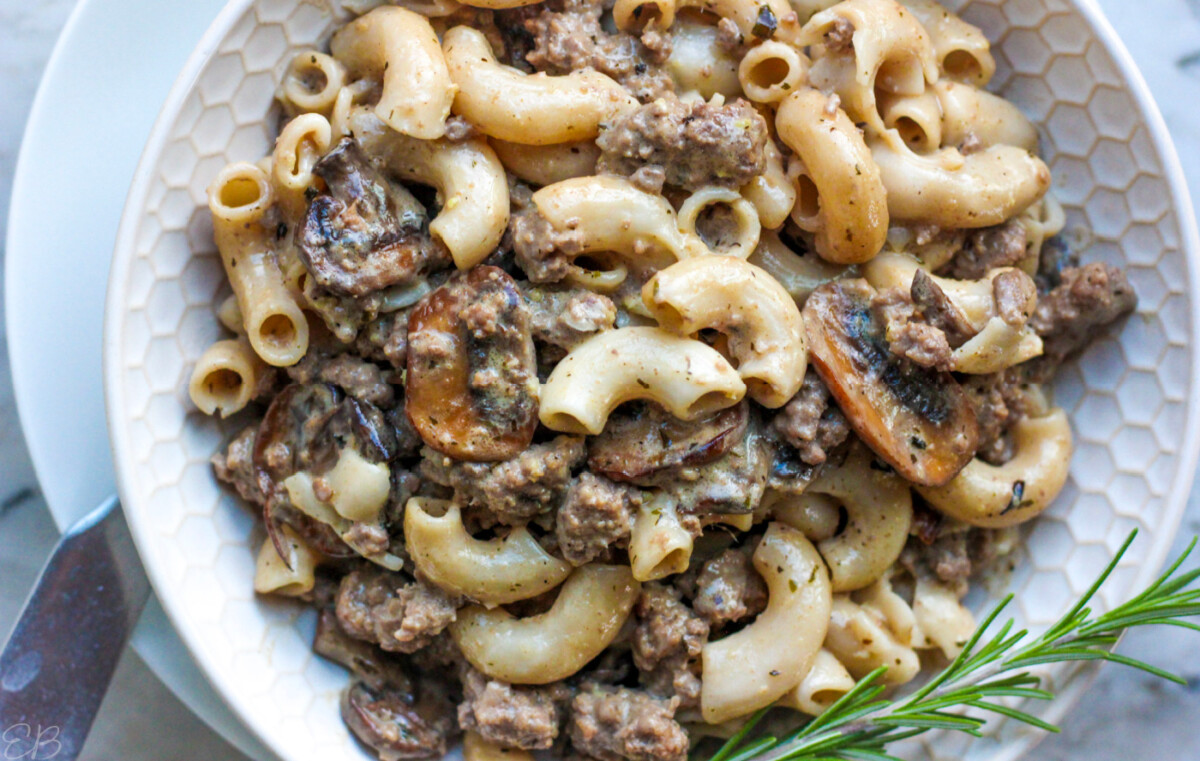 Paleo AIP Hamburger Macaroni ingredients
My favorite thing about making this recipe is that it feels like there are only 4 ingredients! That's because there are only 4 main ingredients, and the rest are just some herbs, cooking fat and sea salt. So, it's REALLY simple.
When people buy boxed pasta mixes to combine with their own ground beef, well, this isn't a whole lot more complicated! Real food, that's SO easy, and yet a little gourmet still. (Because whole foods prepared simply are gourmet!)
When I decided to make this recipe, one thing I didn't want to include in it was a tomato or No-mato Sauce. That's because it's one more ingredient that for AIP folks isn't always on hand. Also, it's really not needed for this creamy sauce!
This Paleo AIP Pasta dish has ground beef and macaroni noodles, mmm, mmm, so delicious!
And also:
mushooms! ~ If you're low-FODMAP, use oyster mushrooms only, or sub the shrooms for zucchini.
coconut milk ~ Use full fat, not Lite. (For VAD, see variation in Notes below the recipe.)
avocado oil ~ or other preferred fat, such as bacon fat or lard
fresh garlic and fresh ginger root ~ omit garlic for low-FODMAP; omit garlic for VAD; the fresh ginger in this recipe is best finely grated. While ginger root is usually used in Asian cooking, and this is not an Asian recipe, when it's finely grated, it does a great job at adding layers of flavor, the same way that peppers do in recipes.
sea salt
dried Italian herbs and dried ginger ~ for VAD version, see notes in recipe; dried ginger is used here similarly to white pepper: It tastes great and is AIP + VAD-compliant.
fresh thyme, sage, rosemary or parsley ~ to garnish. Garnishing with fresh herbs is optional. For some families, it is just one more thing to buy and prepare and not worth it. For others, the whole process of preparing and using fresh herbs is truly life-giving, and perhaps you grow your own. So choose the option that fits you best. Personally, I find that fresh thyme is an incredible herb: its texture and flavor really add to any dish. I also love sprigs of fresh rosemary (great for VAD) and the flavor a sprig gives to every few bites. (See photo below.) Plus, the color of fresh herbs adds a lovely touch. (Only choose rosemary for VAD.)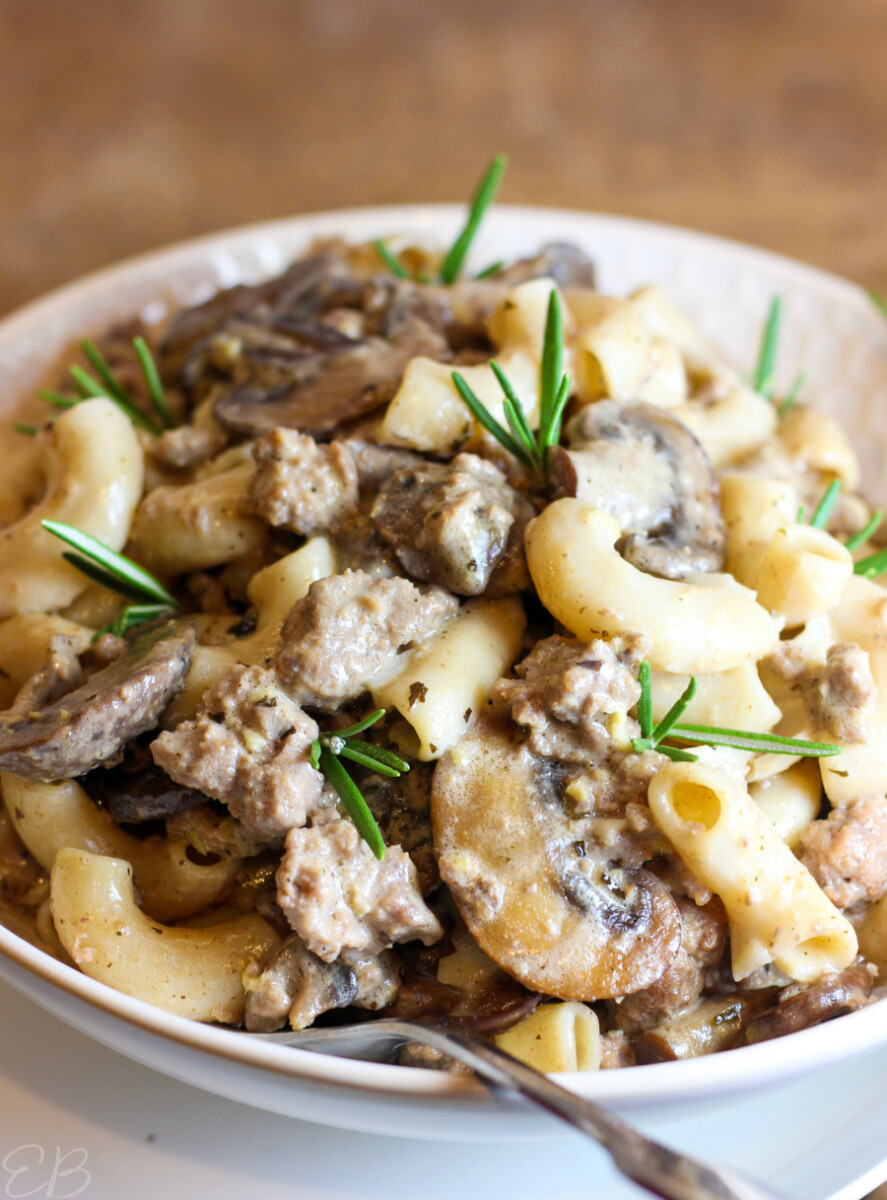 Variation with extra veggies
Add in more veggies to the dish if you don't want to make a separate veggie side dish:
stir in fresh chopped spinach at the end, to wilt, if you'd like more greens
add chopped asparagus in the final 1 minute of cooking the beef (VAD-friendly)
sauté zucchini with the mushrooms (VAD-friendly) (Make sure to use a big enough pan with a wide bottom to get the best flavor, so the veggies sauté instead of steam; or cook the two veggies in two batches, separately. Part of what makes this dish so good is that the mushrooms are first browned on their own. They don't steam to cook.)
If you add in an extra veggie, you'll likely need to adjust the salt: increase it a bit, to taste.
How to make Paleo AIP Hamburger Macaroni
Cook pasta according to package directions, about 10 minutes in boiling water. (Optional: You may also choose to cook your pasta in the Instant Pot like this.) While the pasta cooks …
Sauté the mushrooms in large sauté pan, then remove with a slotted spoon, and set aside.
In same pan, cook up beef. Add spices.
Return mushrooms to the pan. Add milk (or cream), and de-glaze the pan. Simmer briefly.
Gently stir in pasta, tossing to coat.
Garnish with fresh herbs, and serve!
How to reheat leftovers
When reheating leftovers I find it best to do so on the stove, and add in a little broth to make the dish creamy again.
The noodles may break a bit when reheating, so heating them over very low heat with a lid on helps, with not too much stirring.
How long does hamburger macaroni last?
Paleo AIP Hamburger Macaroni keeps in an air-tight container in the fridge for up to 5 days. Or, freeze for up to 3 months.
Print Recipe
Paleo AIP Hamburger Macaroni Pasta
Paleo AIP Hamburger Macaroni Pasta is made in one pot and is an easy 30 minute meal that the whole family will love. Super creamy, full of ground beef and it's great to have for leftovers too! Low-FODMAP and Gluten-free.
Equipment
large bottomed sauté pan or large shallow pot

pot for cooking pasta

or Instant Pot
Ingredients
1

box

macaroni noodles

(Jovial cassava pasta for Paleo/AIP/VAD OR Jovial rice pasta for Gluten-free/VAD)

1

pound

ground beef

OR, it's okay to use 1-½ pounds if you want a bigger meal/more meat (If so, increase sea salt on the meat itself to 1-½ teaspoons.)

1-¼

cups

coconut milk

full fat (not Lite); (For VAD, see variation in Notes below the recipe.)

12

ounces

button mushrooms

or crimini, sliced; for low-FODMAP, use oyster mushrooms, or sub for zucchini

2

Tablespoons

avocado oil

other preferred Paleo or AIP fats may also be used

2

cloves

garlic

crushed or minced (omit for low-FODMAP and VAD versions)

1

inch nub

fresh ginger root

grated or very finely minced

1-½

teaspoons

sea salt

divided

½

teaspoon

each: oregano

and basil, dried; you may also use powdered rosemary (only rosemary for VAD)

¼

teaspoon

dried ginger

¼

cup

fresh thyme

, sage, rosemary or parsley, optional but recommended for a delicious and colorful garnish (only rosemary for VAD)

1

cup

pasta cooking liquid

After you cook the pasta, as it explains below, you'll measure out 1 cup of the cooking liquid, set it aside and then use it in the finished dish.
Instructions
Pasta
Bring a large pot of water to a boil, to cook the macaroni noodles. While it heats proceed with the recipe. (If you have an Instant Pot and want to cook your cassava pasta that way, find those Instructions here.)

When water comes to a boil, cook pasta according to package instructions, stirring occasionally. Both cassava and rice macaroni take about 11 minutes to cook. (Test for doneness by taking out one noodle, allowing it to cool a bit and eating it. It should be al dente, not too soft or mushy, but still tender and pleasant.) Before straining pasta, measure out 1 cup of the cooking water. Set aside briefly. Strain pasta through a colander into the sink. Pour the cup of cooking liquid back into the pot with noodles, cover, and set to the side off the heat while you finish the sauce.
Ground Beef and Mushroom Sauce
Heat (or melt) your fat in a large skillet, over medium heat.

Add the mushrooms and

½

teaspoon sea salt, stirring occasionally until just wilted and starting to brown, 5 to 8 minutes. Reduce the heat to low and cover, stirring every 5 minutes or so, for 10 minutes total.

Remove mushrooms to a bowl, using a slotted spoon. Keep pan hot.

Add ground beef and remaining 1 teaspoon sea salt. Cook over medium heat, breaking meat up with a spatula, until most of the pink is gone, about 6 minutes.

Reduce heat to low. Add the garlic, fresh ginger, dried herbs and dried ginger, and sauté an additional 1 minute, until fragrant.

Return mushrooms to the pan.

Add coconut milk, de-glazing the pan, as needed, as you stir it in.

Simmer, uncovered over medium-low heat, for 2 to 3 minutes more, just to combine and heat well.

To combine the sauce and noodles, choose whichever pot (your pasta pot or your sauté pan) is biggest or easiest to mix in. Pour the noodles into the sauce pan or the sauce into the noodles pan.

Toss gently so the pasta doesn't break, to combine well. Serve, topped with fresh herb of choice: sage, rosemary, thyme or parsley. (Only rosemary for VAD.)
Notes
VAD alternative to coconut milk
In place of 1-

¼

cups coconut milk, use

½

cup heavy cream +

¾

cup beef or chicken broth. I like to use the homemade Meat Stock from this recipe.
Nutrition
Calories:
745
kcal
|
Carbohydrates:
72
g
|
Protein:
31
g
|
Fat:
37
g
|
Saturated Fat:
19
g
|
Trans Fat:
1
g
|
Cholesterol:
64
mg
|
Sodium:
377
mg
|
Potassium:
808
mg
|
Fiber:
4
g
|
Sugar:
4
g
|
Vitamin A:
107
IU
|
Vitamin C:
6
mg
|
Calcium:
59
mg
|
Iron:
6
mg
You can Pin this recipe here: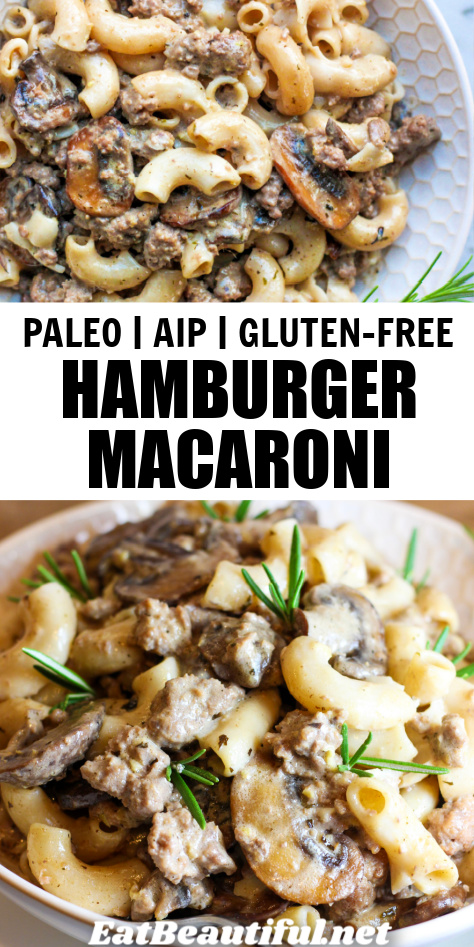 More Paleo AIP Pasta recipes you will love: