I may receive a commission if you purchase through links in this post. I am not a doctor; please consult your practitioner before changing your supplement or healthcare regimen.
Salmon Patties are a great way to enjoy clean healthy protein that's high in calcium and convenient. This is my Granny's recipe, with some updates, and perfect for a variety of wellness diets, with 3 variations. Bake or fry, you choose.
This Salmon Patties recipe is Low FODMAP, so: gentle to digest and great for most Gluten-free and grain-free diets. This version is egg-free, Paleo, AIP, Whole30, Keto, GAPS and made with canned salmon.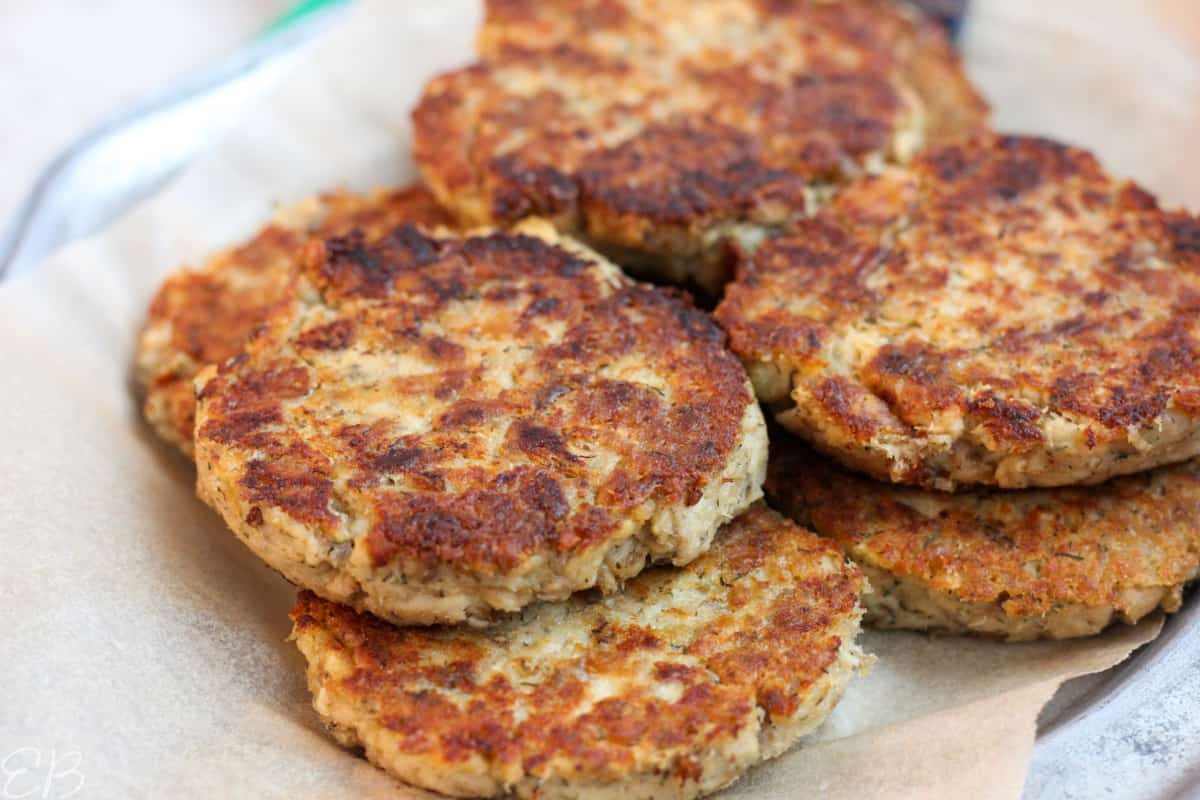 Jump to Recipe
Baked or fried, you choose, these Salmon Patties go back to my Granny! She made the original recipe for us dozens of times during my childhood.
They were and are truly healthy comfort food. Rich in calcium (from using canned salmon that contains tiny bones), good eaten cold or hot, they're as versatile a snack as they are a meal.
Two versions: baked or fried
I give two variations of the recipe below — baked or fried.
Baked salmon patties provide an easier prep and make the patties a bit stronger, sturdier.
Fried patties are more like gourmet salmon cakes, soft inside, crispy outside and more indulgent tasting. I bake ours if we're bringing them along to a picnic and plan to eat them cold. Or to stock the fridge with easy snacks or lunch food.
I fry them if we're eating them fresh and hot, for dinner.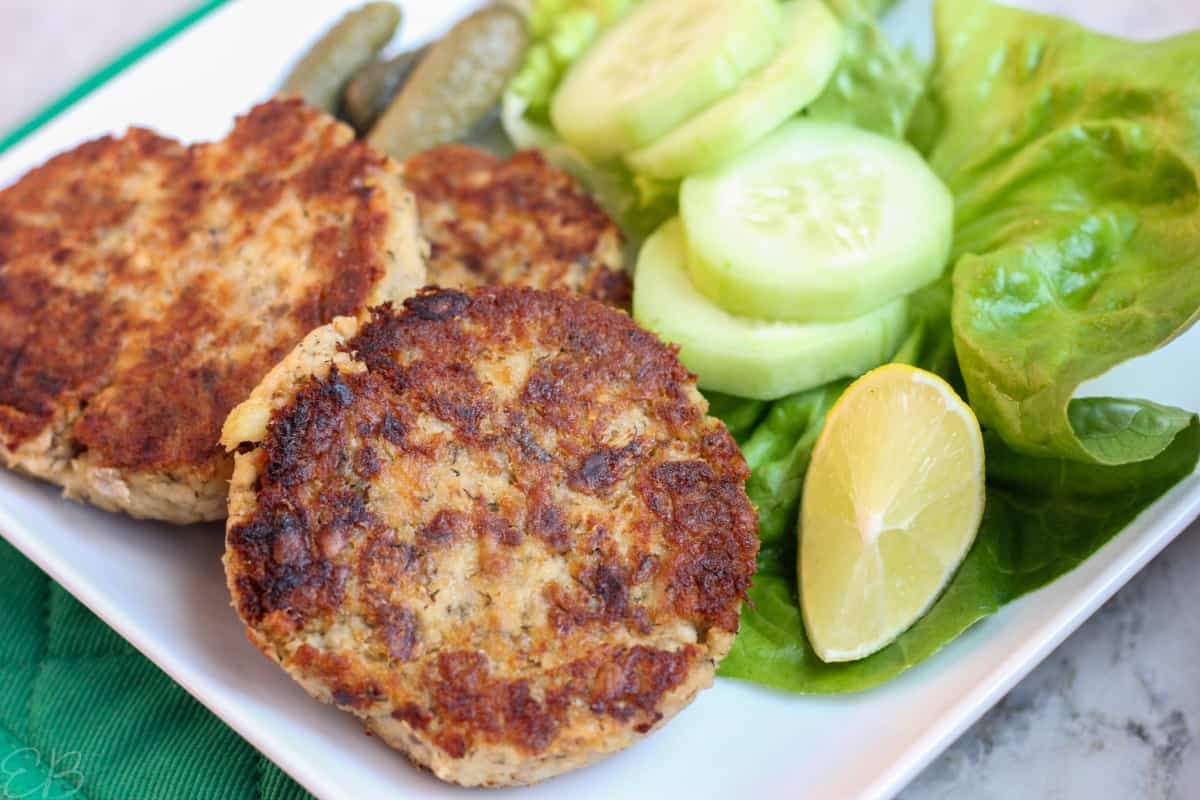 Variations and Serving suggestions for Salmon Patties
I give three variations to the actual recipe below: one Middle Eastern, one Thai-ish, and the third version is the most like my Granny's made with compliant mayo.
How to eat and serve them
I love Salmon Patties best just eaten plain, by themselves, which is how we did it growing up. My Granny brought them over to our house, as a food love gift, all fried up on a plate, and we just dug in: we ate them room temp, cold, or reheated, hot.
But here are some specific serving ideas that make a meal!:
Eat them like a burger ~ on a bun or with your favorite grain-free fixings: avocado, lettuce, sauteed or raw onions. (For non AIP: Serve them with homemade aioli, cheese or mustard.)
Make them bite-size to serve as appetizer finger food with creamy dipping sauce.
Use them as a healthy snack or quick meal: eat them out of hand as casual, easy protein — but with some mezza-like sides: sliced cucumbers, olives, fresh fruit.
Enjoy like fish and chips with cassava fries!
Make a big green salad, Salade Nicoise or pasta salad (AIP or Keto), and put them on top or to one side.
Why canned salmon for Salmon Patties
When you go to buy canned salmon, make sure the packaging says, "with bones", or with bones and skin included.
The bones are very tiny and for the most part not noticeable in the finished recipe. But we choose this option because the bones provide calcium our bodies can easily assimilate and use. And there aren't that many great sources for dietary calcium.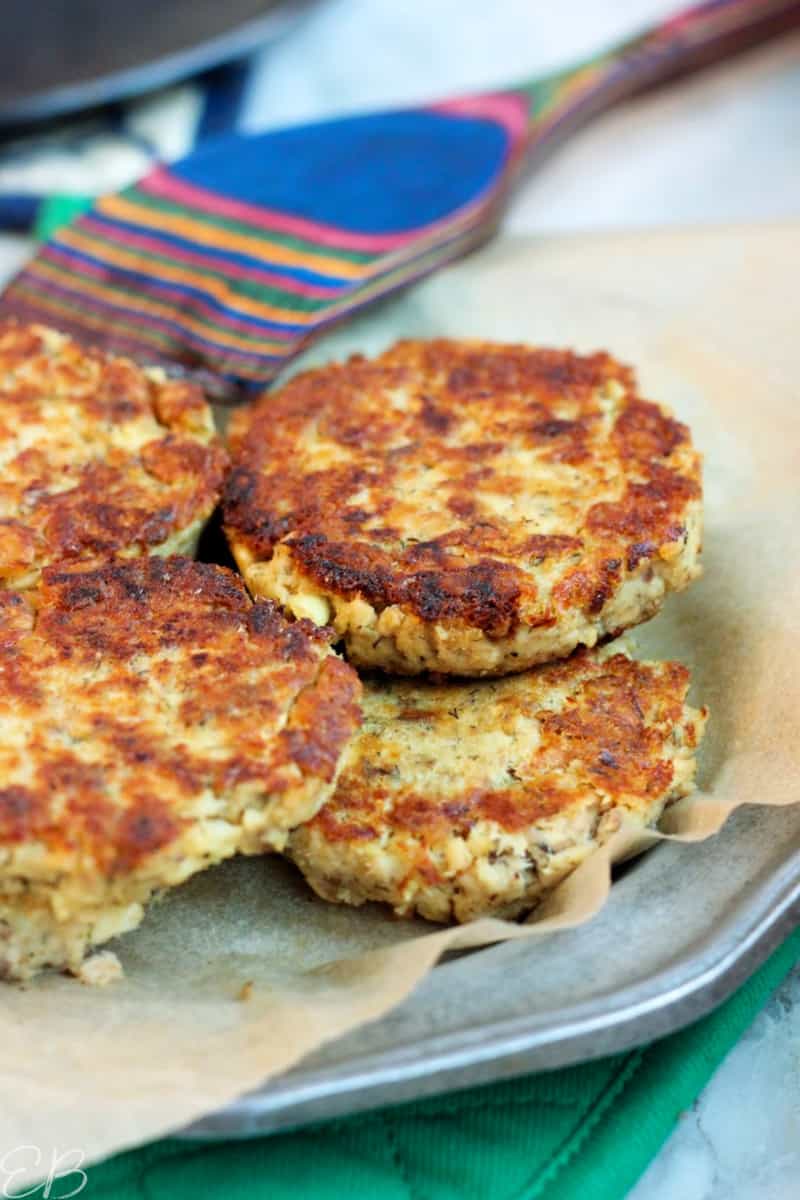 Low FODMAP ingredients
This recipe for Salmon Patties is indeed Low FODMAP. Here are some specifics depending on the version of the recipe you choose:
The peanut butter version of the recipe is compliant as p

eanut butter is classed as low FODMAP within serving sizes of less than 140g.

Tahini is low FODMAP up to 20 grams per person.
Tiger nuts

are low FODMAP in servings up to ⅛ cup.

Canned pumpkin is allowable at 1/3 to 2/3 of a cup, depending on the source.
Both carrots and parsnips are low FODMAP.
For more information on FODMAPS, see the AIP version here, the Keto version here, or the GAPS version here.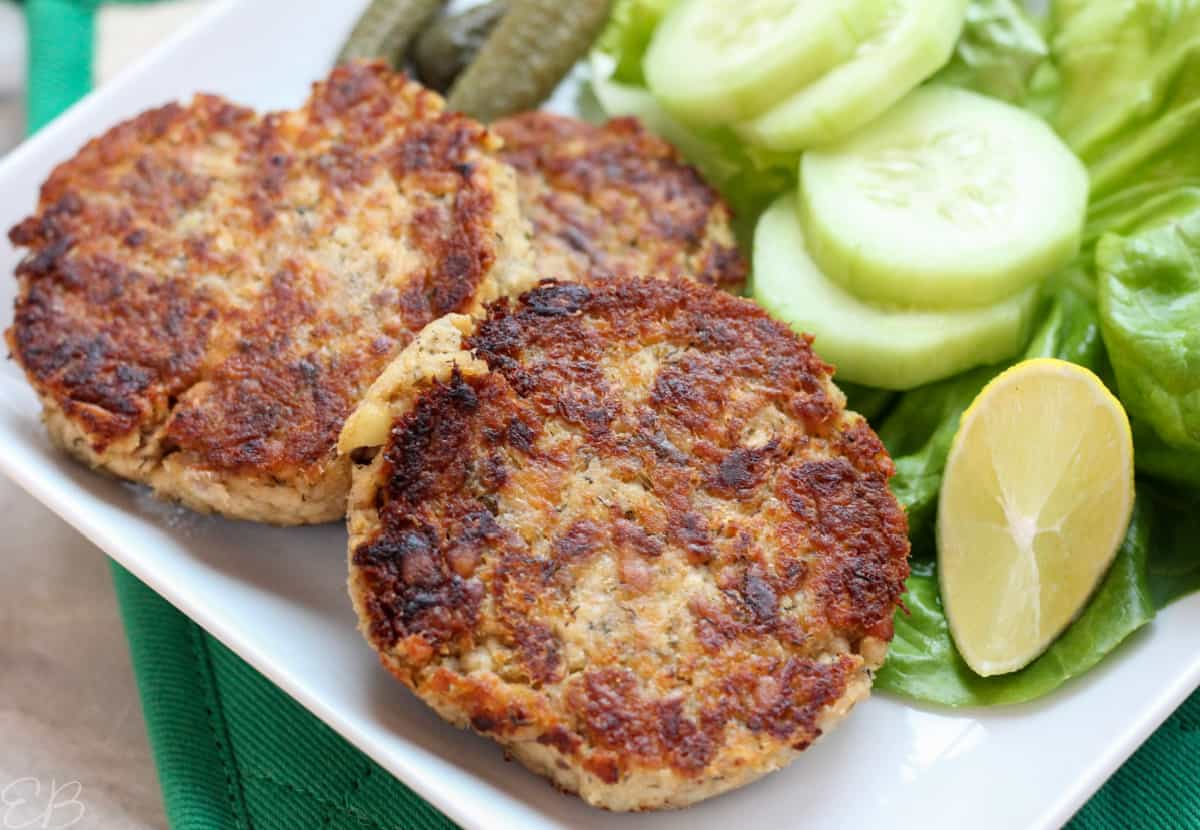 Print Recipe
Salmon Patties (Low FODMAP, Paleo, AIP, Keto, Whole30, GAPS)
Salmon Patties are a great way to enjoy clean healthy protein that's high in calcium and convenient. This is my Granny's recipe, with some updates, and perfect for a variety of wellness diets, with 3 variations. Bake or fry, you choose.
Equipment
frying pan

or large baking sheet
Ingredients
Choose from 3 versions of the recipe. For AIP or nut/seed-free: Use the recipe closest to my Granny's (mayonnaise and bread crumbs, but ours is free of breadcrumbs, nuts, seeds and legumes), made with compliant mayo or homemade aioli. For the other two options, use the combination of tahini and dill OR peanut butter and basil (or tiger nut butter for AIP). All versions are great. The PB version is the subtly Thai version, but it's also just delicious and not super Asian in flavor. The tahini-dill variation is more traditional, a Middle Eastern ingredient combo. I also like to eat the peanut butter version before it is cooked, fresh from the bowl!
1

tall (large 14-ounce) can

salmon

wild, bones included

½

cup

carrot

grated, or parsnips; omit for Keto

¼

cup

tahini or peanut butter; use tiger nut butter for AIP, OR

⅓

cup compliant mayo or aioli

¼

cup

pumpkin

canned (fine for Keto), or smashed cooked parsnips

¼

cup

avocado oil

for frying, or other preferred fat such as duck fat or ghee (AIP re-intro only)

2

teaspoons

gelatin

1

teaspoon

dried dill

or basil: use dill with tahini and basil with peanut butter; your choice for mayo version

½

teaspoon

sea salt
Instructions
Drain water from canned salmon. Place fish in mixing bowl. Add remaining ingredients, except the frying oil. Using the tines of a fork, smash and mix together thoroughly the ingredients.

Decide: to bake or to fry?

To bake, preheat the oven to 350° Fahrenheit. Line a cookie sheet with parchment paper. Using a scoop or 2 spoons, measure out 1 or 2-ounce mounds. With three wetted fingers*, press each mound into a flat patty. Bake until browned slightly all over, and especially around the edges, about 20 minutes.

To fry, cook patties in two batches, in a 6" skillet, dividing the fat in half, 2 T. for each batch. Or use a large skillet and all the fat for one big batch. (The patties are best cooked in a generous amount of fat.)

Heat fat in pan over medium-high heat until fully melted, about 30 seconds. Add mounds of salmon, about 1 to 2 ounces each, and press down slightly to flatten each one, using the back of your spatula. Cook for 5 to 8 minutes on the first side, until crispy and golden brown. Reduce heat during this time, as needed, to medium or low, to prevent burning or smoking. Flip patties using some care; (they are more fragile when fried but using an offset metal spatula and the small patty size makes it quite doable. "Dig deep" with the spatula if they stick a bit). Cook 5 to 8 additional minutes on second side and serve.

Refrigerate any leftovers for easy, quick nourishment.
Notes
*By dipping your index, middle and ring fingers into a bit of water you produce a non-stick surface. Having a little bowl of water in this case is handy for dipping your three fingers in repeatedly between patties.
Nutrition
Calories:
300
kcal
|
Carbohydrates:
4
g
|
Protein:
21
g
|
Fat:
23
g
|
Saturated Fat:
2
g
|
Polyunsaturated Fat:
4
g
|
Monounsaturated Fat:
10
g
|
Sodium:
537
mg
|
Potassium:
123
mg
|
Fiber:
1
g
|
Sugar:
1
g
|
Vitamin A:
2669
IU
|
Vitamin C:
2
mg
|
Calcium:
207
mg
|
Iron:
1
mg
Pin Salmon Patties here:
Similar recipes to try