I may receive a commission if you purchase through links in this post. I am not a doctor; please consult your practitioner before changing your supplement or healthcare regimen.
Paleo & AIP Antipasto Pasta Salad is a classic pasta, meat and veggie favorite! with a delicious creamy dairy-free homemade dressing. It makes a great casual meal, lunch or dinner, can even serve guests without stress and is great for a picnic. Gluten-free & Grain-free.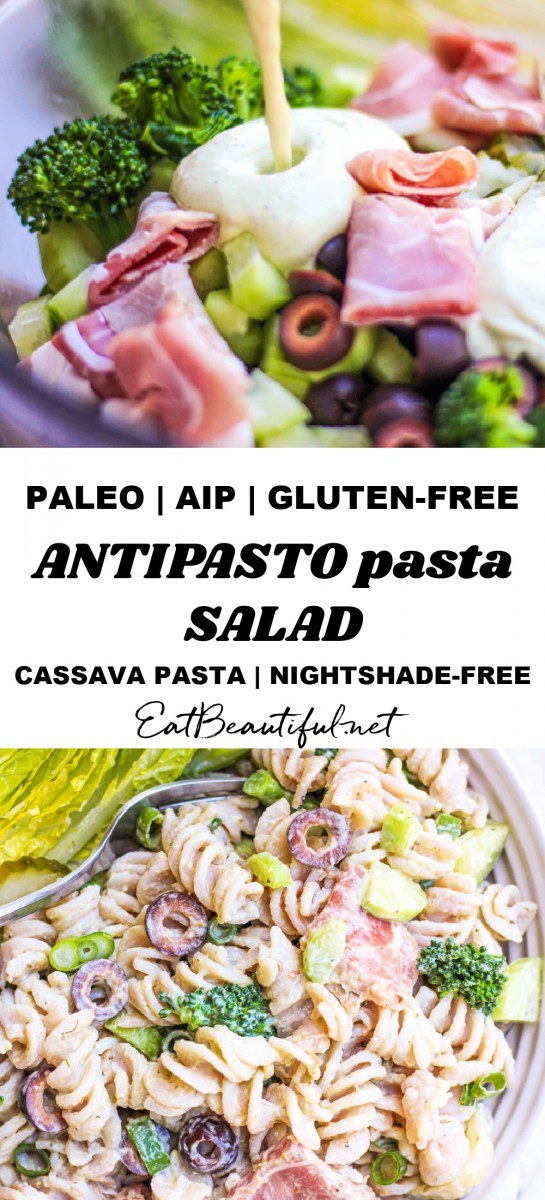 Ingredients in Paleo & AIP Antipasto Pasta Salad
WHICH PASTA TO USE
This grain-free and gluten-free recipe features cassava pasta, which is just excellent, every bit as good as white flour pasta, but healthier.
For this recipe, I've chosen to use the classic fusilli pasta.
But pasta salad is versatile; if you want to use another variety, that's fine too. Orzo, penne and macaroni noodles would also be classic choices.
Find all of Jovial's cassava pasta varieties here.
THE USUALS
What else goes into antipasto pasta salads? The usual ingredients are salami, tomatoes, mozzarella cheese, bell peppers, olives and an herbal vinaigrette.
But, I made this version without nightshades or other inflammatory ingredients for AIP.
For Paleo, if desired, you can certainly add in ingredients like tomatoes.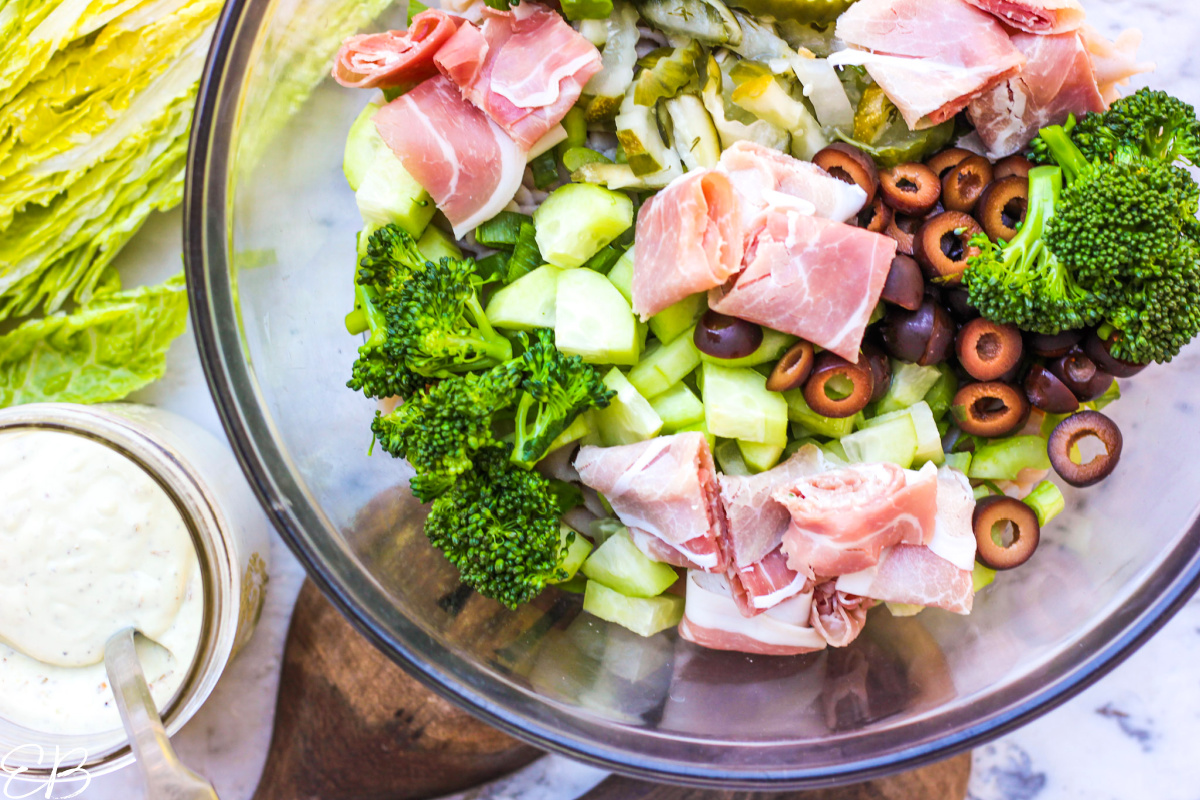 MEAT
So this Paleo & AIP Antipasto Pasta Salad features prosciutto in place of salami. Unlike salami, prosciutto contains only two ingredients: pork and salt.
Be sure to check the label of the brand(s) offered at your market to be sure. Personally, I try to buy Applegate's, because they even pasture-raise their pigs. (You can't beat Applegate for great, clean deli meat!)
VEGGIES
Veggie-wise, I had fun figuring out which classic antipasto ingredients would work in this healthier version. Of course, there are lots of antipasto salads out there that use broccoli, green onions, celery and cucumbers. So that's what I did.
Classic olives are included.
I also wanted to replace the pepperoncini peppers that are often seen in antipastos. So I added awesome, tart dill pickles, sliced and then sliced again, into strips.
For dill pickles, look for natural, probiotic brands in the refrigerator section, or make your own.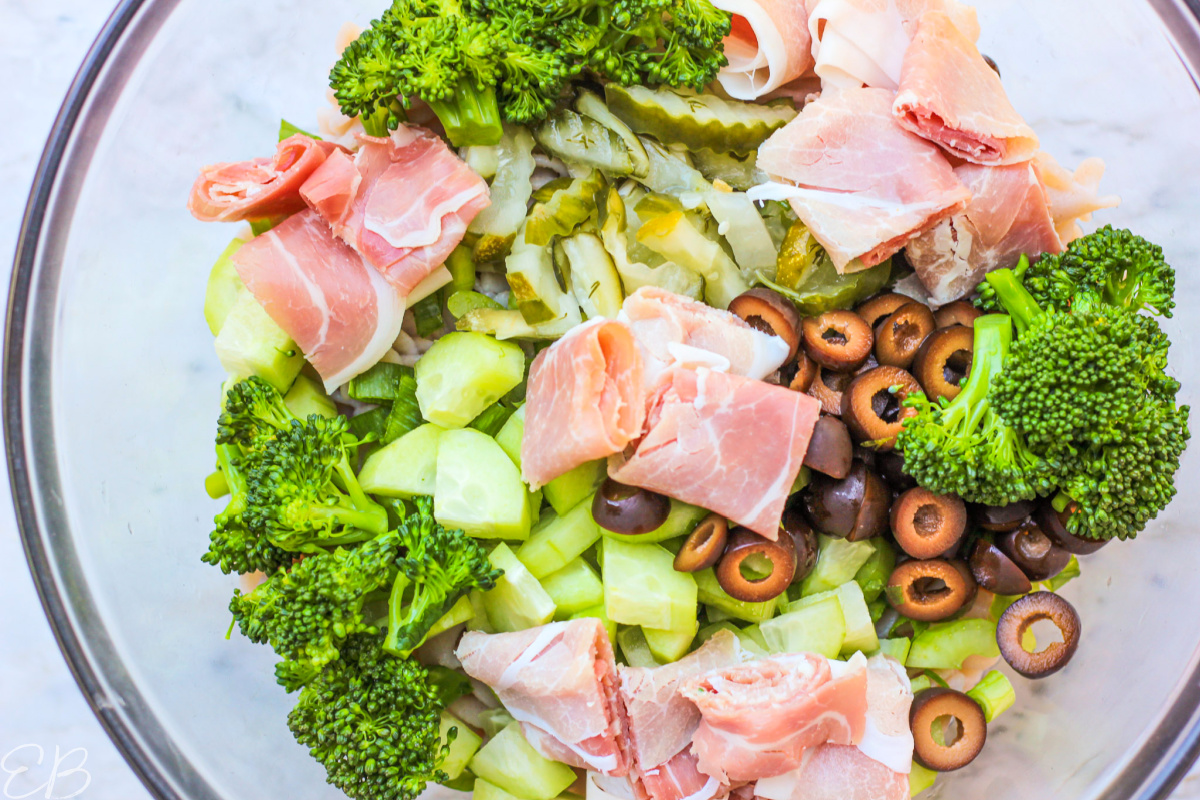 ITALIAN HERB DRESSING
And that's what also inspired our new favorite Pickle Juice Creamy Herb Dressing!
You'll love this dill pickle meets Green Goddess/avocado-ranch dressing — that's dairy-free.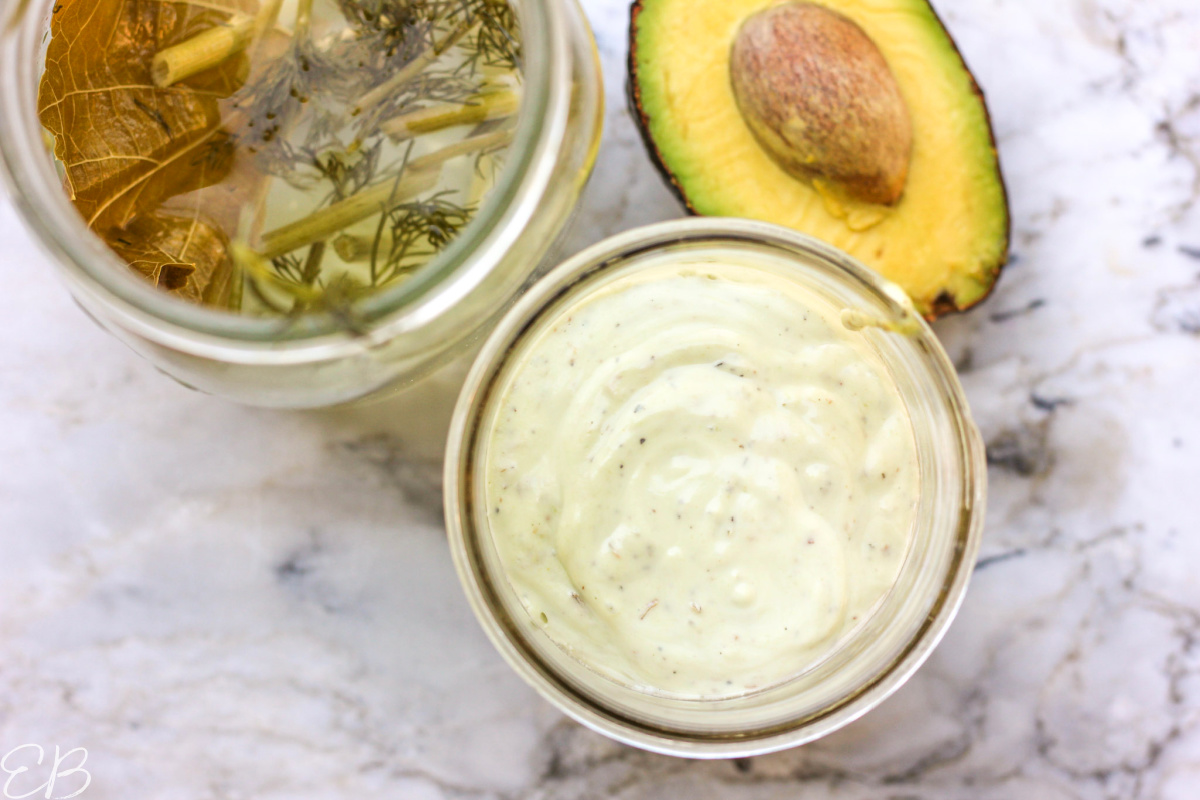 OPTIONAL ADDITIONS
For the Paleo version of this salad, if not sensitive to nightshades, add tomatoes, peppers or even salami. The red color is a beautiful addition to this salad — and homegrown produce will always elevate the fun and delectability of a good salad.
Optionally, if you'd like to add dairy-free mozzarella, you certainly can! I've made a new version of herbed white cheese, using white sweet potatoes, that we really enjoy. It can be chilled and cubed. The recipe takes a total of 10 minutes to make.
I include that recipe in the Notes section below, as it's optional. If you decide to make it, allow time for it to chill after cooking (a few hours minimum to set up).
For Primal, use pasture-raised jack or mozzarella.
Lastly, feel free to garnish the other Italian flavors in this salad with fresh basil! And, artichoke hearts! (Most artichoke hearts are packed in citric acid, so they don't work for AIP.)
How to make Paleo & AIP Antipasto Pasta Salad
The most fun steps in this salad recipe are cooking the pasta and making the dressing.
Jovial's cassava pasta is fun to cook because I figured out how to cook it in the Instant Pot, and it is seriously less than zero work — that fun! For perfectly cooked cassava pasta every time, that's totally hands-off, see: How to Cook Cassava Pasta in Instant Pot. Rinse the cooked pasta with cool water in a strainer, and set aside.
Next up, make the dressing using a blender or hand blender, in order to purée the avocado and nicely emulsify the ingredients. To make Pickle Juice Creamy Herb Dressing, assemble in the blender: egg-free mayo (like this or similar), avocado, pickle juice, coconut milk, dried oregano and a few other herbs/spices with sea salt. Purée, and it's ready.
Lastly, chop your veggies, and toss all the ingredients together in a large mixing bowl!
Serve, garnished with fresh basil and extra dressing for passing, if you wish.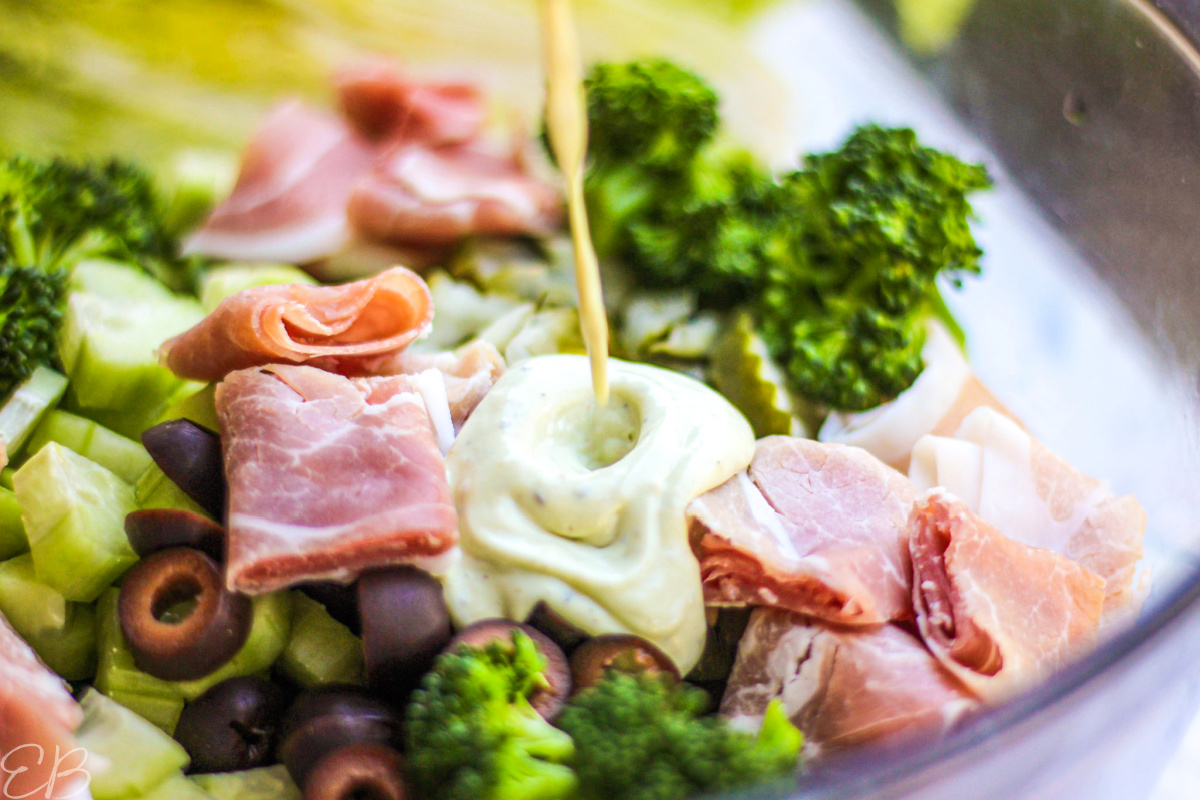 How many it serves and leftovers
Paleo & AIP Antipasto Pasta Salad serves 4 people as a main dish, or 8 people as a side salad.
Leftovers of pasta salad are always welcome, because they keep great in the fridge for a few days. Pack leftovers for lunch at work or a healthy snack on the go.
To store, simply seal, and refrigerate for up to 4 days. Garnish leftovers with other leftovers!, like leftover cooked chicken, sausages or even seafood.
What to serve with Pasta Salad
If you make Paleo & AIP Pasta Salad for a main dish dinner, you can keep the meal as simple as you like. It makes a great meal. My family told me they loved it and that it was amazing. 🙂 I served it with romaine lettuce, sliced, cold sausages (for extra meat) and avocado.
For a picnic, potluck or to make the meal extra special, serve with AIP BBQ Chicken, an easy and delicious recipe!
Accompany with:
extra dill pickles
chips (like pork rinds, cassava chips or plantain chips)
a romaine or butter lettuce salad
fresh watermelon or strawberries (if they're in season)
and maybe even cupcakes.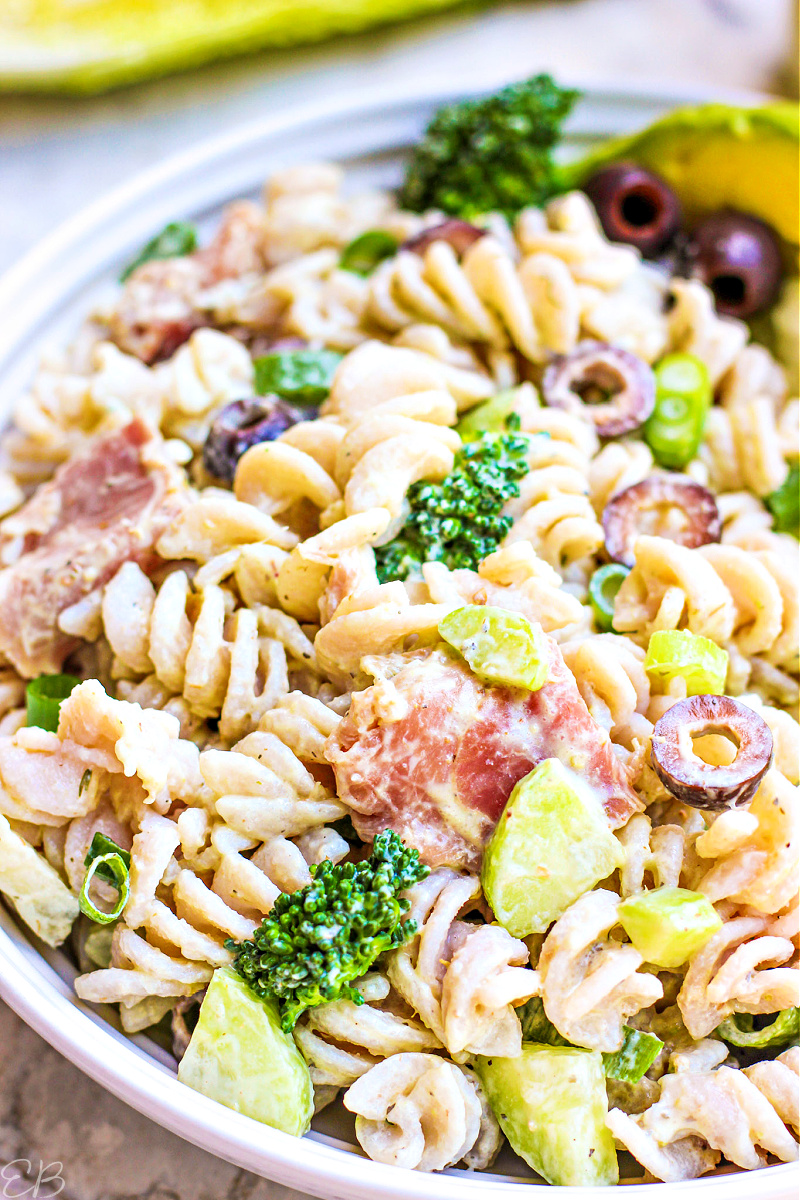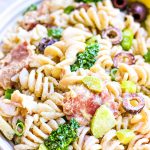 Print Recipe
Paleo & AIP Antipasto Pasta Salad
Paleo & AIP Antipasto Pasta Salad is a delicious pasta, meat and veggie combination with a creamy dairy-free homemade dressing. It makes a great casual meal, lunch or dinner, can serve guests without stress and is great for a picnic.
Servings:
4
main servings (or 6-8 side salads)
Equipment
pot or Instant Pot to cook pasta

salad bowl

blender or immersion blender to make dressing
Ingredients
1

8-ounce package

cassava pasta

1 to 2

packages

prosciutto

3 to 6 ounces, sliced or torn into bite-size pieces

½

lb

broccoli

blanched or steamed

1

cup

cucumbers

peeled, sliced and cut in halves or quarters

½

cup

celery

sliced

½

cup

black olives

sliced

½

cup

dill pickles

(all natural and probiotic) sliced and then sliced into strips

3

green onions

sliced

optional:

Paleo & AIP Sweet Herb White Cheese and fresh basil

see Notes below for dairy-free cheese recipe (This needs to be made 2 to 3 hours ahead of time, minimum, so it has time to chill and set.)
Pickle Juice Creamy Herb Dressing
Instructions
Cook cassava pasta according to package instructions, OR, use your Instant Pot for best results (instructions here). When pasta is done cooking, pour into colander, and rinse with cool water. Transfer strained pasta to large salad bowl.

While pasta is cooking, chop the salad veggies and prosciutto.

To make dressing, combine in blender all ingredients: avocado, Paleo mayo, coconut milk, pickle juice, oregano, parsley or mint, onion powder, garlic powder, sea salt and dried ginger powder. Purée on lowest speed until smooth, about 20 seconds. Set aside.

Add veggies and dressing to salad bowl with pasta. Toss together, using as much salad dressing as you like. I use about 1 cup of dressing and then have it on hand if anyone wants extra.

Serve as a main dish or a side dish. If you wish, garnish salad with cubes of Paleo or Primal cheese and fresh basil. May also serve with fresh lettuce leaves, extra pickles, barbecued chicken, chips and other fun picnic foods.
Notes
Paleo & AIP Sweet Herb White Cheese
INGREDIENTS
1 medium-large white sweet potato (8 to 12 ounces), cooked and peeled
water (see Step 2 below for how much)

⅓

cup coconut milk

¼

cup cassava flour
2 Tablespoons tapioca flour
1 Tablespoon gelatin 
2 teaspoons apple cider vinegar
1 teaspoon each: onion powder and garlic powder
1 teaspoon dried oregano

½

teaspoon sea salt
Optional: non-fortified nutritional yeast, to taste (if no food sensitivity to it and you want the cheese to taste cheesier)
INSTRUCTIONS
Place pieces of cooked white sweet potato into 2-cup or larger measuring cup. Add coconut milk.
Add enough water to bring the level to 1-

⅔

cup. Add this to the blender.
Add the remaining ingredients. Blend on lowest speed until smooth, about 20 seconds.
Transfer to small saucepan.
Over medium-high heat, cook and whisk constantly until mixture starts to simmer and thicken. Turn heat down to medium. Continue to cook until the cheese starts to come away from the sides occasionally while whisking.
Pour into parchment lined square dish. Chill 2 to 3 hours minimum, depending on thickness, before slicing or cutting into cubes.
Nutrition
Calories:
195
kcal
|
Carbohydrates:
24
g
|
Protein:
4
g
|
Fat:
11
g
|
Saturated Fat:
5
g
|
Cholesterol:
1
mg
|
Sodium:
877
mg
|
Potassium:
495
mg
|
Fiber:
6
g
|
Sugar:
3
g
|
Vitamin A:
683
IU
|
Vitamin C:
57
mg
|
Calcium:
96
mg
|
Iron:
3
mg