I may receive a commission if you purchase through links in this post. I am not a doctor; please consult your practitioner before changing your supplement or healthcare regimen.
Keto Chinese Noodle Salad is made with hearts of palm noodles and a delicious Asian dressing. (Have you tried Palmini noodles yet?) Affordable, low carb and tempting, this salad comes together so fast. You'll love the creamy Asian dressing and having an easy, no-cook, satisfying dinner or lunch during the hot weather months!
Because this recipe is no-cook, you'll really get to see how good and how easy Palmini are to enjoy. In addition to Low Carb, Keto Chinese Noodle Salad is Gluten-free, Primal and Ancestral.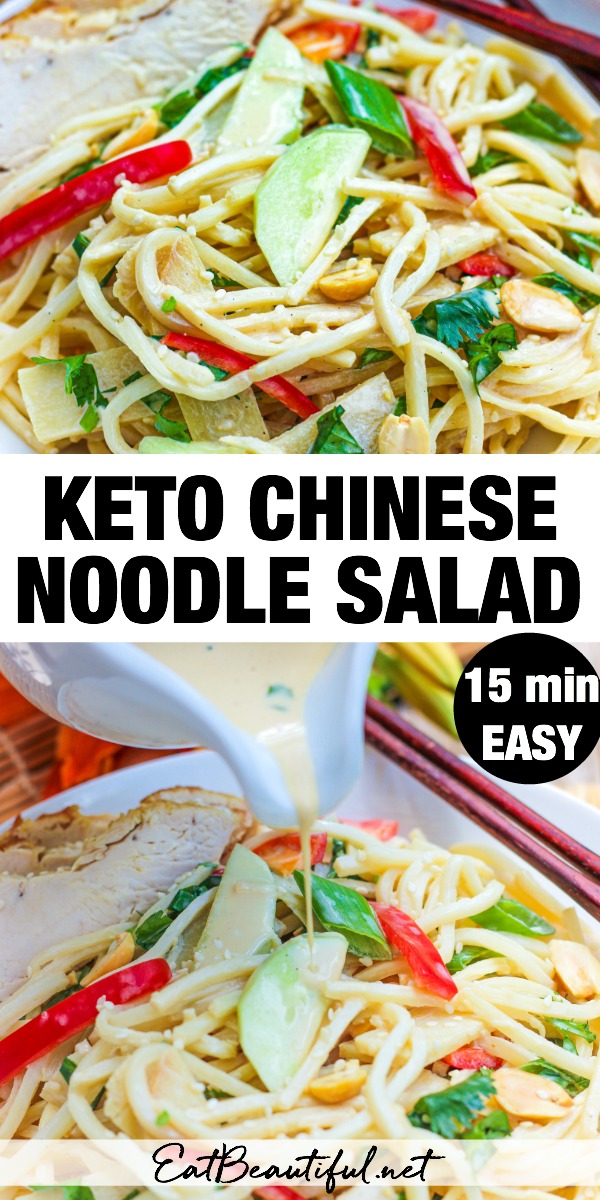 Jump to Recipe
How to make Keto Chinese Noodle Salad
One of the best parts of this salad is the prep! There is very little work involved.
To prepare Palmini noodles, you simply pour two cans into a fine mesh colander, rinse them well (they're packed in water and citric acid to keep them fresh), and drain. Palmini are already cooked, so super easy! I recommend draining them well so they don't make your dressing watery.
Next, you prep the veggies: simply a bit of slicing and chopping.
And, the protein. You simply cook or use leftover chicken. Or use prawns/large shrimp. I give tips for the quick cooking of both of these below, depending on your preference.
The dressing is next and last. Whisk together a simple creamy dressing. Pour over all, toss, and serve with protein.
Easy and simple for any night of the week or a special lunch meal.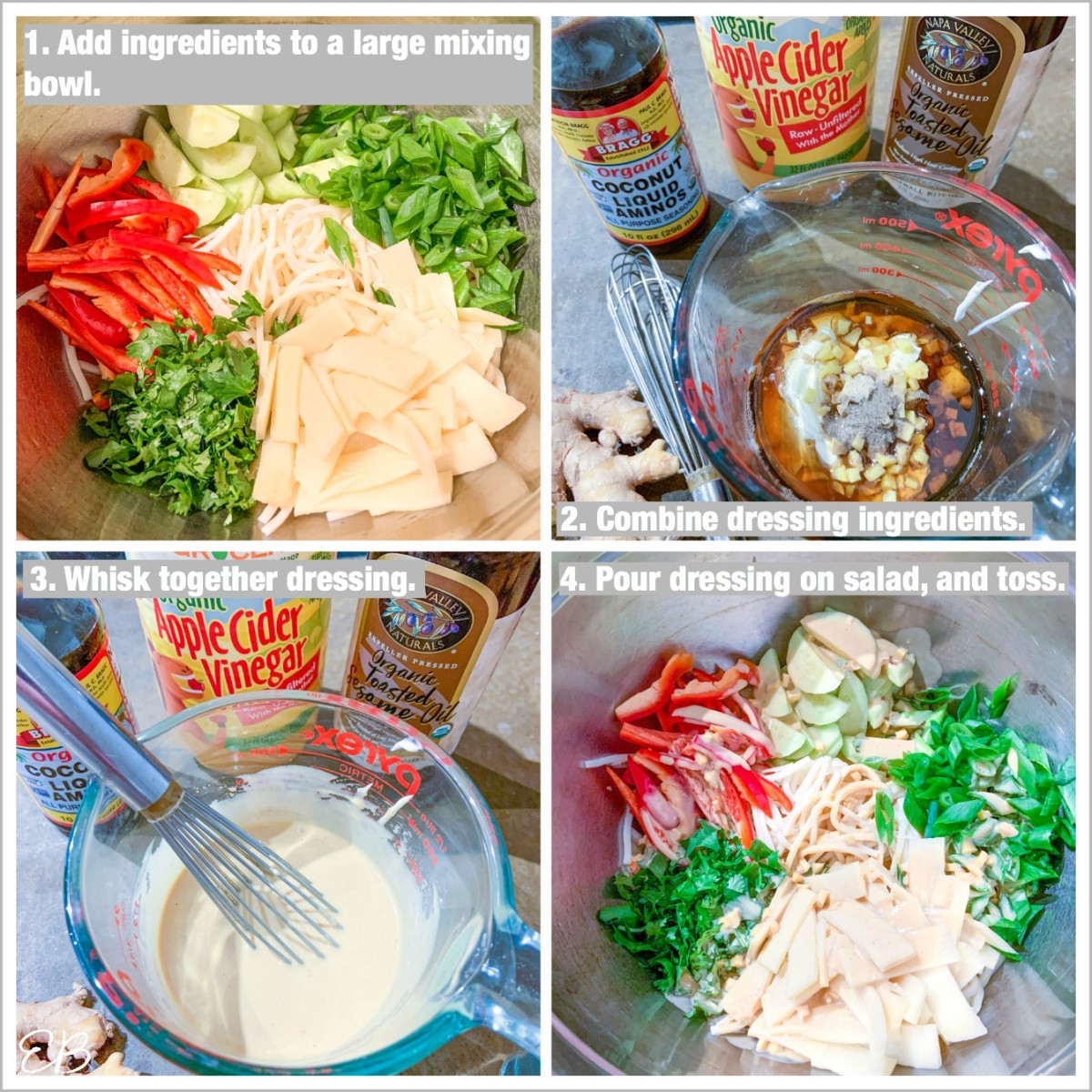 Ingredients in creamy Chinese Noodle Salad
This recipe uses:
2 cans of Palmini noodles
red bell pepper, cucumber and green onions
bamboo shoots
fresh cilantro
protein of choice: either chicken or shrimp
The creamy Asian dressing contains:
sour cream
real fermented soy sauce, or for Gluten-free, Tamari (like this), for Primal, coconut aminos
toasted sesame oil
apple cider vinegar
fresh cilantro
fresh ginger
black or white pepper and sea salt
optional — You may also add a tiny bit of xanthan if you'd like to thicken the dressing a little, so it best coats the salad. See the Notes section for these instructions. I do recommend this ingredient.
Substitutions
Below, I talk a lot more about Palmini, but if you don't have them, you can certainly use daikon noodles, cabbage noodles or briefly cooked zoodles in this recipe.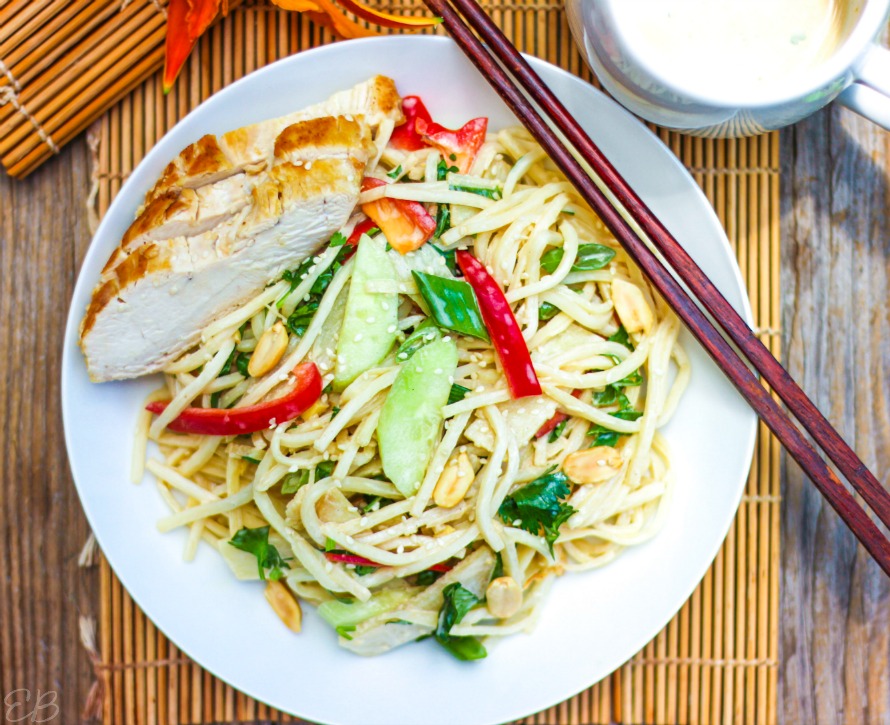 What is the texture of Palmini noodles?
Palmini noodles are a little firm but tender. They don't get soggy, and they're not so hard as to be crunchy.
Flexible and versatile, I would say the only drawback of Palmini noodles is that they aren't very absorbent. As a result, I like to use the small amount of xanthan gum, which completely solves any issues — you have a thick creamy dressing that coats the salad perfectly.
If you can't have xanthan: Toss this salad with half of the thick creamy dressing, and then pass a pitcher at the table for those who want more. This prevents the dressing from pooling and allows eaters to put a fresh topping of dressing on their protein or noodles if desired. The dressing does coat the noodles nicely (but better with the xanthan added).
I really like what Palmini's website says about the noodles: "The first thing that you need to know is that Palmini is not pasta and
will never taste exactly like pasta. Palmini is made 100% out of Hearts of Palm. Therefore, if you eat it straight out of the can, it will taste like Hearts of Palm with a softer texture. That being said, when properly rinsed and prepared with a regular pasta sauce, the resemblance to genuine pasta is undeniable. So much so, that some people actually believe they are eating pasta." Honest and true. 🙂
Are Palmini noodles healthy?
Palmini noodles are made from hearts of palm, the inner core of a bud from a certain kind of palm tree. The heart of palm is trimmed and cooked, so it resembles lasagna or linguini, but with only 3 to 4 net grams of carbs for a large serving.
More specifically, an 8 ounce can of Palmini contains 3 servings – but each serving only has a net carb count of 2 grams. You can actually eat a whole can of noodles, and still have a low carb meal. Palmini are high in fiber and low in calories.
Happily, Palmini harvesting practices are sustainable. Similar to cutting a stem from an herb plant, their method allows the same domesticated palm to be used continuously for over a decade. Palmini are non-GMO.
Where to buy Palmini
Palmini are available at Whole Foods, Sprouts, Publix, Walmart, Safeway, Kroger, Price Chopper, Market of Choice, Amazon.com and a host of other stores.
What to serve with Keto Chinese Noodle Salad
This noodle dish doesn't need anything else but protein, to make it a complete meal. Here are the best options:
Grilled chicken or shrimp
Pan fried chicken or shrimp
Baked chicken thighs, skin on, or boneless, skinless
Leftover chicken, chopped or shredded
Pre-cooked (blanched) shrimp
To fry up chicken breasts: Simply heat a pan till hot over medium heat. Add butter, toasted sesame oil or avocado oil. Add chicken breast and season top side with sea salt. Cover and cook for 5 minutes. Flip, salt second side, and cook again for five minutes, covered. Turn off heat. Allow to sit in covered pan for 10 additional minutes. This simple method creates plump, juicy chicken breast, and it's so little work.
When you're ready to serve, transfer chicken to a cutting board, and slice at an angle. Serve chicken on top of, to one side or toss into noodle salad.
To sauté shrimp: With raw shrimp, you can make a quick Asian scampi by sautéing the shrimp over medium high heat in toasted sesame oil, olive oil or butter. Sprinkle with sea salt while cooking. Add fresh garlic if you like. Lovely. They're done when fully pink.
Tips for making Keto Chinese Noodle Salad
You'll have extra dressing. Toss your noodle salad with half of the dressing, then put the rest in a small pitcher. Eaters can add more to their protein or noodles as needed.
As mentioned above, I do recommend using the tiny bit of optional xanthan gum. It thickens the dressing nicely, which allows the dressing to fully coat the veggies and noodles — so good.
How to store and serve leftovers of Chinese Noodle Salad
Because Keto Chinese Noodle Salad is made with hearts of palm noodles, leftovers don't get soggy.
Simply cover well, and store in the fridge for up to 4 days.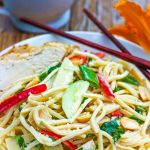 Print Recipe
Keto Chinese Noodle Salad (Low Carb, Primal, Gluten-free)
Creamy Keto Chinese Noodle Salad makes a great no-cook dinner or lunch, with delicious low carb and grain-free noodles and Asian dressing. Super fast and easy!
Ingredients
2

cans

Palmini "noodles"

(Linguine style)

2

large

chicken breasts

optional, you can also use large cooked shrimp (or sliced omelette etc.)

1

small

red bell pepper

sliced

½

large

cucumber

, peeled, sliced in half, and sliced diagonally

1

cup

bamboo shoots

, drained and rinsed

3

greens of green onions

, sliced at an angle

½

cup

sour cream

¼

cup

real fermented soy sauce

OR for Gluten-free, use Organic Tamari, like this; for Primal: coconut aminos (you may need a bit more salt with this option, to taste)

¼

cup

fresh cilantro

, divided: chop 3 T. for the salad, and mince 1 T. for the dressing

2

Tablespoons

sesame oil

, toasted

2

Tablespoons

fresh ginger

, grated or minced

1

Tablespoon

apple cider vinegar

½

teaspoon

black or white pepper

½

teaspoon

sea salt

Optional garnishes:

peanuts and/or sesame seeds

Optional: 1/16th

teaspoon

xanthan gum

This may be blended into the dressing, so it best coats the salad ingredients. See Notes for Instructions. (I do personally like to thicken my dressing, and recommend it.)
Instructions
Place Palmini noodles in fine mesh colander. Rinse and drain well. Add them to a large mixing bowl.

Add to bowl: red bell peppers, cucumber, bamboo shoots, green onions and chopped fresh cilantro.

Use a whisk and small mixing bowl to assemble the dressing. Add to bowl: sour cream, soy sauce (or coconut aminos), toasted sesame oil, apple cider vinegar, fresh ginger, minced fresh cilantro, pepper and sea salt. Whisk to combine.

Pour half the dressing over the noodles. Toss well to coat. Serve individual salads or spoon into a large serving bowl. Pour remaining dressing into small pitcher, to pass with the salad, for those who want more dressing.

Top salads with protein of choice. (You can also toss the protein in with the salad, if preferred.) Garnish with optional peanuts and/or sesame seeds.
Notes
How to thicken the dressing
This delicious creamy dressing can be thickened so it best coats the salad. To do this, you can whisk xanthan gum in really thoroughly (which works great), or use a blender (or small food processor. Small blenders work best, because the dressing recipe is small).
By hand
Follow the Instructions from Step 3 above. Before whisking together, sprinkle xanthan over the surface, then quickly and vigorously whisk it in, until you see the dressing thicken. About 30 seconds of vigorous whisking. If you see any tiny bits of xanthan, whisk a bit more.
Pour over salad, and toss to coat.
Blender
Place all salad dressing ingredients (except the fresh cilantro and xanthan) into the blender. Right before blending, sprinkle xanthan over the surface. Put on lid, and purée until smooth, about 20 seconds.
Pour over salad, adding the fresh cilantro, and toss to coat.
Nutrition
Calories:
287
kcal
|
Carbohydrates:
6
g
|
Protein:
26
g
|
Fat:
16
g
|
Saturated Fat:
5
g
|
Cholesterol:
87
mg
|
Sodium:
791
mg
|
Potassium:
588
mg
|
Fiber:
2
g
|
Sugar:
3
g
|
Vitamin A:
1212
IU
|
Vitamin C:
41
mg
|
Calcium:
43
mg
|
Iron:
1
mg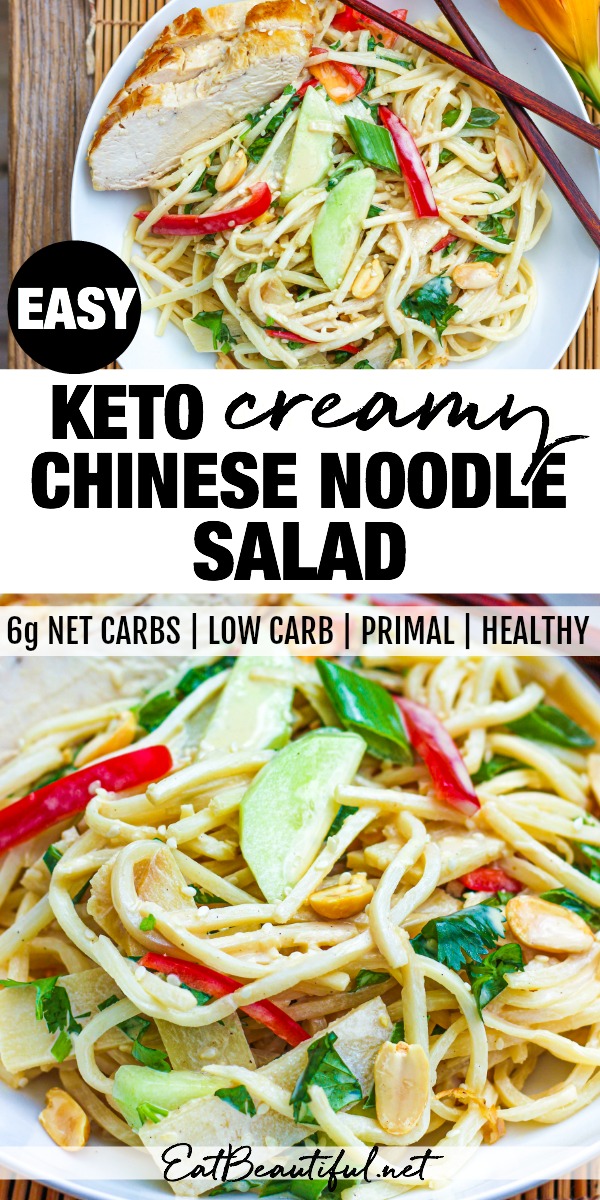 If you love Keto and Primal Asian meals, enjoy these too: