I may receive a commission if you purchase through links in this post. I am not a doctor; please consult your practitioner before changing your supplement or healthcare regimen.
Ginger-Lime Salmon is stupendously quick to make and universally delicious to eat! Simple, flavorful ingredients and tips to cook your salmon just right make this a no-fail recipe you'll come back to again and again. Keto, Paleo, Whole30, AIP and GAPS-friendly.
Also, see the Low-FODMAP notes for the recipe.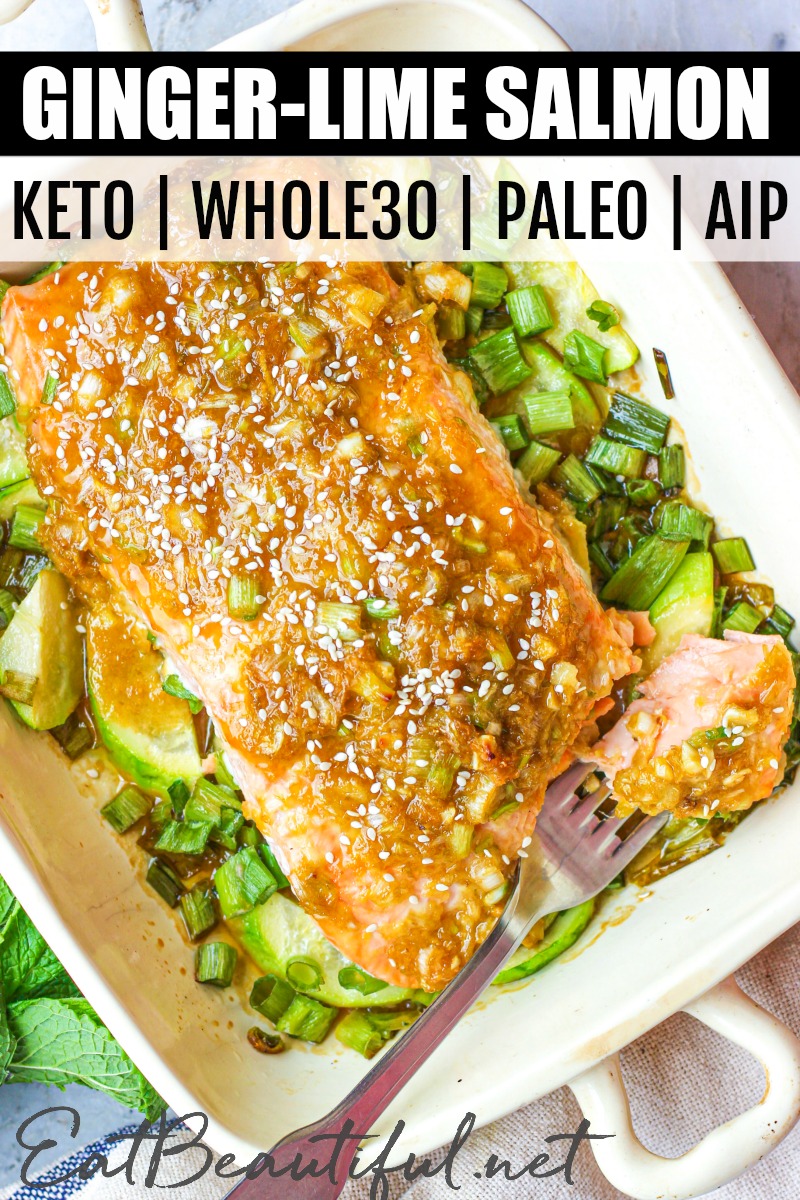 In general, fresh salmon doesn't need a lot of loving. It's so good with a simple preparation: lots of fat (my mom always used a generous amount of olive oil), sea salt and garlic. Served with sautéed or roasted veggies, simple never tasted so good.
This Ginger-Lime Salmon dials the flavors up a few notches! — great and exciting for any delicious weeknight meal — or even to serve to company. The recipe is suitable for Keto, Paleo, Whole30, AIP and GAPS diets.
You can actually use fresh or frozen salmon for this recipe (more on that below!).
Recipe variations
A few substitutions are made in the recipe below, depending on diet:
For Keto and Low Carb, 1 teaspoon of honey in the recipe is replaced by 1 teaspoon low carb liquid sweetener.
Keto and Low Carb also uses only the greens of green onions for this recipe. So you'll need to buy two bunches of green onions (and compost or give the whites away).
AIP subs olive oil for the toasted sesame oil.
For Low-FODMAP, see the recipe itself, and the few notes you'll need next to each ingredient.
That's it! Everything else stays the same.
Ingredients in Ginger-Lime Salmon
The popular and universally delicious Asian ingredients that go into making Ginger-Lime Salmon are: ginger, fresh lime juice, lime zest, garlic and coconut aminos.
All these ingredients add a punch of flavor and get blended with green onions, flavorful oil and a touch of sweetener.
The result is a chunky marinade that tops the salmon, marinating for a bit before baking. The marinade keeps the salmon moist during baking and makes the finished dish so special.
Extra veggies — I like to bake the salmon fillet on top of zucchini and green onions, tossed with a bit of oil. This makes the meal complete when it's time to serve. And the veggies turn out deliciously, tender but bright, full of flavor and not overcooked.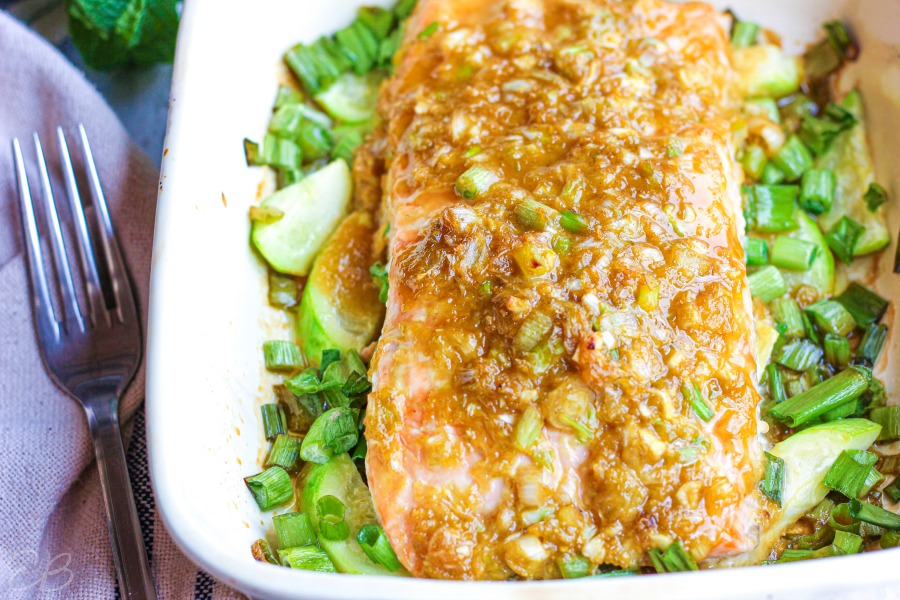 How to buy salmon for Ginger-Lime Salmon
Over the past few years, a friend has given us salmon who fishes in Alaska. The fish are frozen directly on the boats and brought down to the Lower 48 to sell.
Having worked at a sushi restaurant in Seattle, I know that frozen fish can be excellent. All salmon eaten raw must be frozen for a minimum of three weeks to kill potential bacteria.
But cooking frozen salmon that I'd defrosted myself intimidated me. If it wasn't fresh from a good fish market, would it taste as good? For those on a budget, who may buy frozen salmon from the grocery market, will it turn out well?
This Ginger-Lime Salmon recipe is bound to assure you. Whether you have perfectly fresh salmon from a great fish monger or sustainably-caught wild frozen salmon from the grocery store, these Asian flavors please and deliver.
How to properly defrost frozen salmon for Ginger-Lime Salmon
Unwrap salmon while it's still frozen; then defrost it in the fridge on a large plate or platter. This process may take 6 to 8 hours, so plan ahead.
How long to cook salmon for Ginger-Lime Salmon
Please note with particular interest how long to cook salmon. 🙂
Most Americans overcook salmon. This is a crying shame. Remember, any bacteria have been killed. Just like with red meat, rare-medium-rare is the goal for optimum nutrition and flavor, not to mention the texture.
This fact is especially true for salmon you buy frozen. Overcooking fish will make it dry and unpalatable.
In the Recipe Notes below the Ginger-Lime Salmon recipe, I share specific tips on how to determine when your salmon is done. Prevent overcooking. Be a hedonist. Loosen up. 🙂 Eat a bit of warm, moist meat. It tastes better.
Enzymes and vitamins perish upon cooking. From Weston A. Price to Joseph Mercola to the latest Paleo authority, raw meat and meat cooked to medium rare are espoused as the nutrient-dense ideals. Leave overcooked salmon in the past. 😉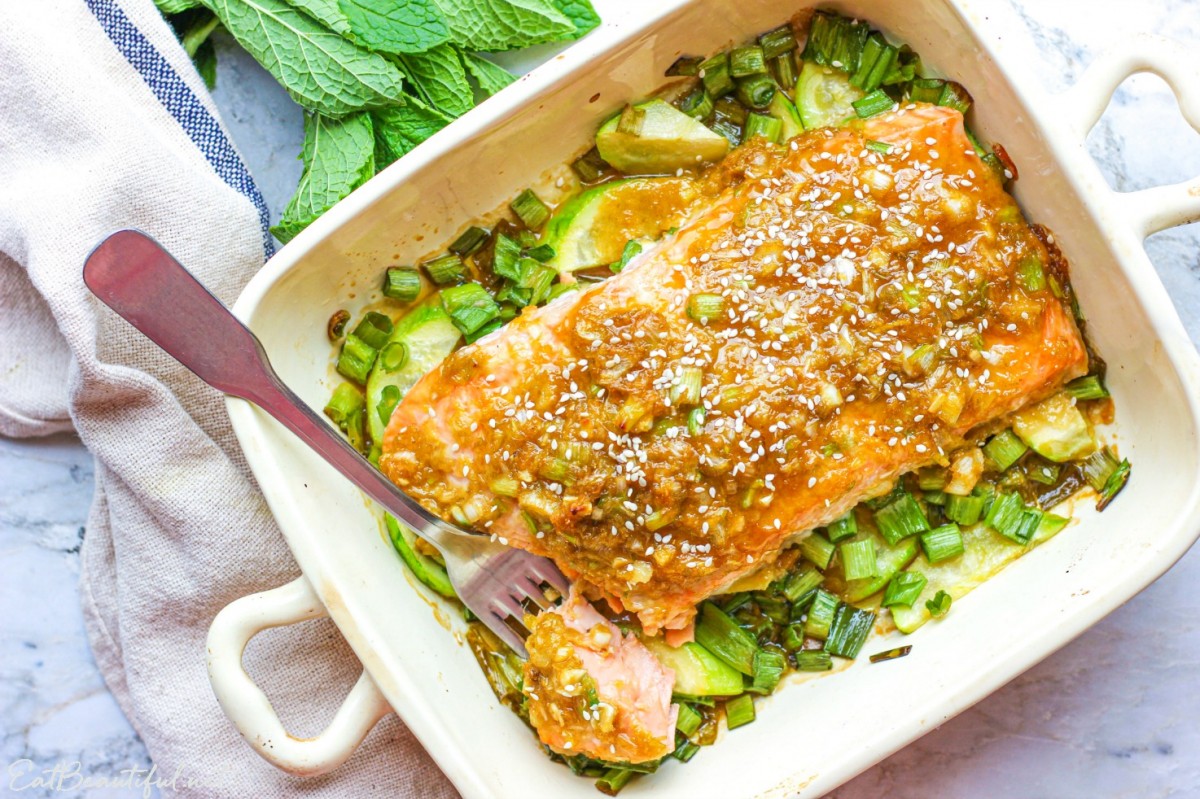 How to store and reheat leftovers
Most fish recipes aren't that great the next day. But Ginger-Lime Salmon manages to be great Day 2 (and even Day 3, if you use fresh salmon).
I put our leftovers in a glass dish with rubber snap-on lid (like these), and my husband gets to take them to work for lunch. Super good cold. 🙂
I don't recommend reheating leftover Ginger-Lime Salmon, because it will overcook the fish, unless you're careful: You can gently warm it in a low-temperature oven or covered sauté pan; just don't overdo it.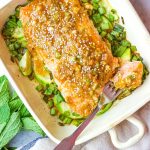 Print Recipe
Ginger-Lime Salmon (Keto, Whole30, Paleo, GAPS, AIP)
This Ginger-Lime Salmon recipe is easy to make and super delicious! It's one of the best ways to make salmon! 15 minutes prep time and 3g net carbs. Use fresh or frozen salmon.
Ingredients
1-

½

pounds

salmon

, fresh or frozen, approximately ~ enough to feed 5 people

1

bunch

green onions

whites and greens separated, then diced; only use the greens for Keto and Low-FODMAP, so you'll need 2 bunches

¼

cup

sesame oil

OR olive oil: *use olive oil for the AIP and Low-FODMAP versions

2 to 3

inch nub

fresh ginger

, grated

2

cloves

fresh garlic

crushed; only use 1 clove for Low-FODMAP

2

Tablespoons

coconut aminos

1

Tablespoon

lime juice

, fresh, or lemon juice is fine

1

teaspoon

lime zest

from an organic lime (or lemon zest)

1

teaspoon

raw honey

OR low carb liquid sweetener for Keto and Low Carb; omit for Low-FODMAP

¼

teaspoon

sea salt
Veggies
2 to 5

zucchini (depending on how many veggies you want or how many people you're serving; allow 1 zucchini per person)

, sliced at an angle (and peeled first for low-lectin)

1

bunch

green onions' greens

leftover from above ingredients (or use an extra bunch for Keto and Low Carb)
Instructions
Preheat oven to 375 degrees. Grease a casserole dish that fits the size of your salmon fillet(s) and how many veggies you're cooking. See Veggies steps below.

In the blender combine whites of onions (*or 1 bunch greens of green onions for low carb), oil, ginger, garlic, coconut aminos, lime juice, zest, sweetener and sea salt. Pulse to combine, until whites are cut into small pieces, but not fully pureed.

Place cold salmon fillet(s) directly on Veggies (see Veggies Step below). Pour marinade over salmon and allow to sit out (or in fridge) for 20 minutes.

Bake for 10 to 13 minutes, without overcooking. If white proteins begin to emerge to the surface you may have cooked it too long. (Some proteins on the sides are fine.) The center should still be bright pink and be tender when pushed down with an index finger, not too firm.* (*see Recipe notes)

Garnish with lime slices, green onion's greens and optional sesame seeds (not for AIP).
Veggies
Place sliced zucchini and green onions' greens in casserole dish. Toss with 1 Tablespoon olive oil or avocado oil.

Place salmon fillet directly on top of veggies (Step 3 above) before proceeding with marinating salmon or baking.
Notes
*How to know when your salmon is done
Touch your thumb to your index finger, very lightly; don't tense the muscle. The fleshy part of your lower thumb on your palm is the firmness you're looking for, soft enough to push down into, but with a little resistance.
When salmon is overcooked it is opaque inside, a dull pink, and dry. You want it wet and glossy, very moist and not too flaky. It will be hot and cooked, but it will still be bright pink. The edges may be more cooked with some of the white proteins having surfaced; that's fine. But don't overcook the center.
If you're not familiar with coconut aminos, it's an excellent alternative to soy sauce.

Nutrition
Calories:
168
kcal
|
Carbohydrates:
3
g
|
Protein:
25
g
|
Fat:
18
g
Looking for more quick and healthy dinner recipes? I think you'll enjoy these: