I may receive a commission if you purchase through links in this post. I am not a doctor; please consult your practitioner before changing your supplement or healthcare regimen.
Whether you're using copious garden tomatoes each summer, or canned/jarred tomatoes, Shakshuka is a great family meal that pairs abundant tomatoes and peppers with humble but delicious eggs and herbs. If your bounty comes from the garden or the market, this Paleo, Keto, Low Carb, GAPS, Whole30, one-pan meal is super affordable but big on flavor and its ability to satisfy.
An Israeli Staple
If you know or love an Israeli, or love the country, you're already familiar with hummus, falafel … and possibly shakshuka! Shakshuka means "shaken" or "mixed up", which denotes the casual nature of a familiar, easy and filling skillet meal. Shakshuka is basically a thick tomato sauce with eggs cooked into it, and the yolks left runny.
Much of Israel is Kosher, which means that meat and dairy are not eaten together, so vegetarian foods with dairy and eggs are common, while meat dishes without dairy are also common. Shakshuka is a staple in Israel, often for breakfast, but also for dinner. Frugal ingredients are appreciated for any meal. Shakshuka uses crops that grow well in the warm weather of this tiny country: tomatoes, peppers and Middle Eastern spices like paprika and cumin.
Cumin wins the hearts of my family members repeatedly. Individuals might forget the name of that flavor, but they love it again and again as they taste it, as if they are loving it again for the first time. Cumin, in my opinion, is what makes shakshuka taste so good, even though the ingredients are very simple.
Paprika adds depth and smokiness. Thyme adds thankfulness. Eggs add comfort.
I recently returned from a visit to my daughter in Israel. I am Jewish, half-so, technically. When I had my 23-and-me blood work done, I learned that my earliest ancestry traces back to Northeastern Africa, pretty much Israel. Well, the same is true of shakshuka! While some say Yemen and others say the Ottoman Empire, everyone agrees that shakshuka comes from somewhere in North Africa, near Israel, and was brought over by immigrants. (1, 2)
Keto and other variations
Shakshuka is a recipe well-suited to any gluten-free, grain-free diet:
For Keto, feel free to add more fat (like Kerrygold butter or ghee) to this dish, and eat it with a spoon!
Additionally for Keto, to reduce carbs further in this recipe, start by sautéing a low-carb veggie: cabbage, extra bell peppers, mushrooms or zucchini. This will add bulk and fiber and reduce the overall carbs in the dish.
Cheese can top this meal, although cheese can just as easily be omitted for Whole30 or any dairy-free needs. Feta and chèvre are both great choices.
Regarding meat, although this meal is GREAT for Kosher, Meatless Monday type dinners or vegetarian needs, ground meat can also be added for a non-Kosher swing (if the cheese is included). This option is great for someone who needs more protein (my 15-year-old son, for example!). I actually include the ground meat version in the recipe below, because the meat step can so easily be excluded or included based on your dietary needs.
If egg-free, like my youngest son, shakshuka can be made with just the meat, while the eggs get omitted. Optionally, top with white slices of feta to emulate the traditional look of eggs on top.
If not Keto, add one big diced yellow onion to your pepper sauté. Or add green onions for Keto.
For a non-Kosher variation, use chorizo. This spicy, high-fat meat makes any dish delicious! Extra good with runny egg yolks.
SO — super versatile.
Soft-cooked Eggs and Bread
Whole30 folks, you can just breeze on by this mention of bread, and go straight to the recipe below and soft-cooked eggs!
For Paleo, Keto, Low Carb and GAPS, you may like to use a grain-free bread for dipping into your soft-cooked eggs, which is what tradition sometimes dictates:
For a lighter approach and either way, I recommend sautéing some lovely greens for the side of this dish: spinach, kale or something wilder and more bitter if you're daring, like (foraged) dandelion greens or broccoli rabe.
Garnishes
Accent your Shakshuka with fresh herbs! You can also sprinkle on chili powder if you like your eggs and tomatoes spicy. Or if you want to accentuate Shakshuka's Middle Eastern origins, you can sprinkle on za'atar. Other traditional toppings include:
olives
hulled tahini or tahini sauce
sumac (find it here)
diced, garden-ripened, fresh summer tomatoes
chèvre or feta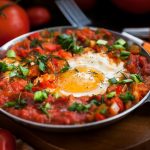 Print Recipe
Best Shakshuka — Keto, Paleo, Whole30, GAPS
Ingredients
28

ounces

tomatoes

, jarred (I prefer BioNaturae brand)

2

red bell peppers

, cored, de-seeded and sliced

1

pound

ground meat

of choice, grass-finished preferred (optional)

4

whole

eggs

pasture-raised preferred

¼

cup

fresh parsley

or cilantro, fresh and minced

2

Tablespoons

ghee

or extra-virgin olive oil (or use butter if tolerated and not Whole30)

4

cloves

garlic

, minced or crushed

2

teaspoons

cumin

2

teaspoons

paprika
1-

½

teaspoons

sea salt

1

teaspoon

thyme

(dried)
Instructions
Heat the fat in large skillet over medium-high heat. Add peppers and

½

teaspoon sea salt. Sauté 5 minutes, until wilted and beginning to brown.


Add cumin, paprika and thyme, and sauté 1-2 minutes more, until fragrant.


Add beef, tomatoes and remaining sea salt, breaking up meat with your spatula. Stir in garlic. Simmer 15 minutes over medium-low heat.


Create four indentations in sauce. Crack an egg into each spot. Cover the pan for about 5 minutes, allowing the eggs to cook gently. Use the sauce to baste the top of each egg (especially the whites) if needed.


Serve topped with fresh herbs. If not Whole30 and cheese is tolerated, also garnish with creamy chèvre, feta or even grated white cheddar. May also serve with a side of sautéed greens for added nutrition.

Nutrition
Calories:
422
kcal
|
Carbohydrates:
13
g
|
Protein:
22
g
|
Fat:
31
g
|
Saturated Fat:
13
g
|
Cholesterol:
103
mg
|
Sodium:
94
mg
|
Potassium:
975
mg
|
Fiber:
4
g
|
Sugar:
7
g
|
Vitamin A:
4360
IU
|
Vitamin C:
109.9
mg
|
Calcium:
64
mg
|
Iron:
4.2
mg
Have you eaten Shakshuka? I'd love to hear about where you ate it or any memories you have of this dish.