I may receive a commission if you purchase through links in this post. I am not a doctor; please consult your practitioner before changing your supplement or healthcare regimen.
Boneless, skinless chicken thighs make a great weekly dinner, with an easy prep, and everyone loves them! Flavorful and easy to pair with a side dish or two, Spicy Honey Lime Chicken Thighs are perfect for Keto, Low Carb, Paleo, AIP, GAPS and VAD diets, as well as gluten-free and just about everyone.
See the slight recipe variations below for your dietary needs.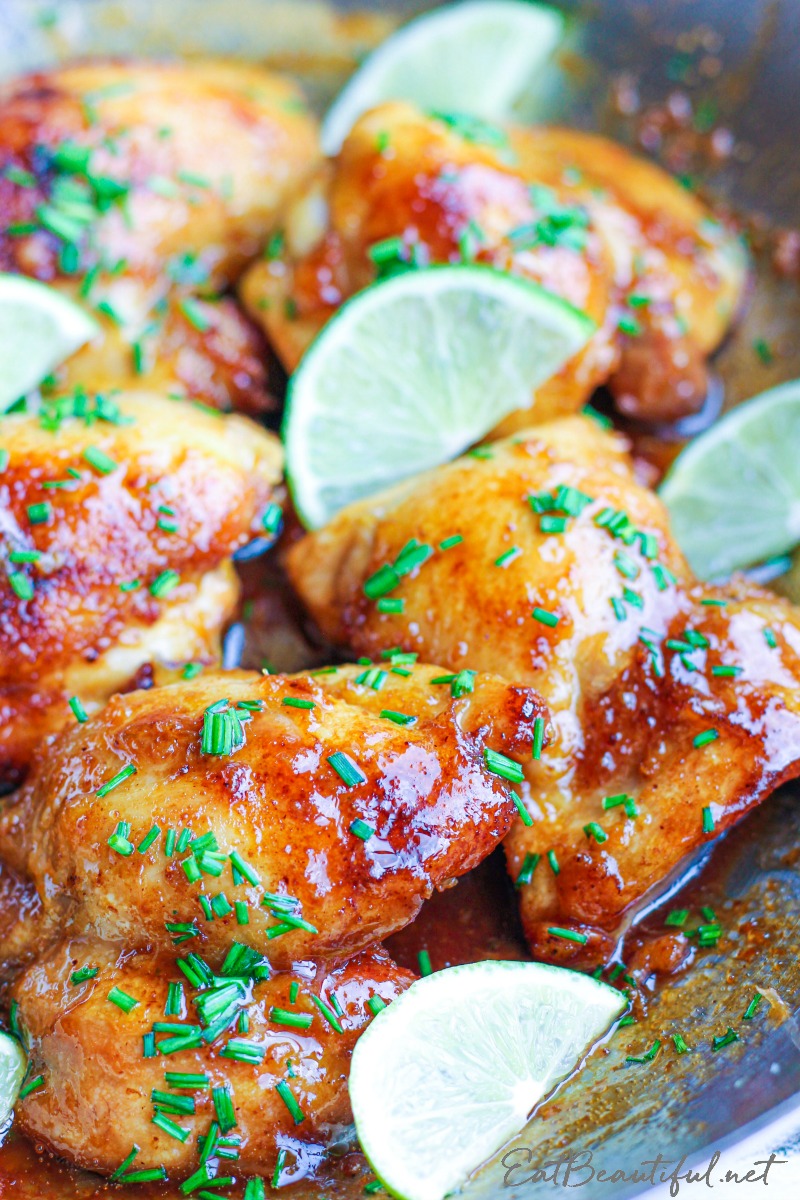 Jump to Recipe
What are the dietary variations for the sweet and spicy ingredients?
The Keto and Low Carb version of this recipe uses your favorite liquid low carb sweetener (I recommend this one or this one) in place of honey. (But, do not use concentrated sweeteners like stevia in this recipe or Splenda's Stevia Liquid.)
The AIP version of this recipe uses a spice blend that's free of nightshades and other potentially inflammatory spices.
A nightshade-free version of this recipe is perfect for the VAD diet or anyone who doesn't tolerate the pepper spices.
The main recipe with honey is perfect for Paleo and GAPS folks. Maple syrup may also be used in place of honey and is also delicious.
What makes Spicy Chicken Thighs spicy?
It depends on your diet.
If you enjoy and can tolerate nightshades (like chili peppers!), then an easy-to-combine spice blend gets rubbed on the chicken thighs. It mimics the well-loved Sriracha sauce flavors.
For those who avoid nightshades (like me, those on the AIP or VAD diets etc.), then you'll see in the Recipe Notes below, your easy-to-combine spice blends, which get their spice from dried ginger (my favorite spice!)
What's the spicy honey lime sauce taste like?
This sauce is incredibly delicious! The chicken thighs first get dipped into a dry spice mixture and fried.
Then the honey-lime sauce gets added to the pan and immediately starts to bubble like a sweet and savory homemade caramel sauce — with thousands of tiny bubbles. The sauce coats the chicken thighs as it cooks … and is visually appealing as well as yum at first bite. 🙂
All my family members say, YUM, when they first eat this meal. What's not to love about a sweet, spicy and citrus-y sauce that coats the chicken like a gooey caramel saucy glaze?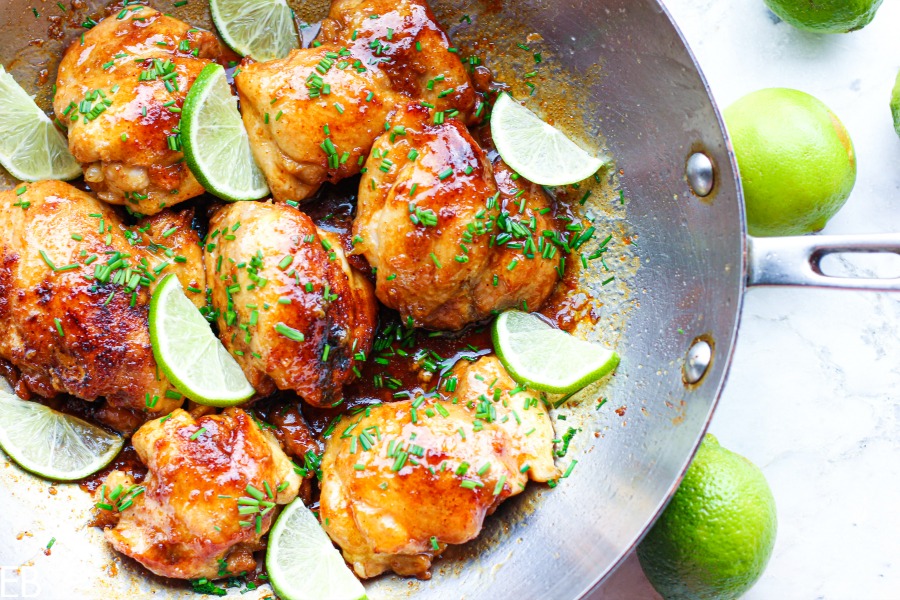 How long do Spicy Honey Lime Chicken Thighs take to make?
Just 30 minutes total. You'll do about 10 minutes of prep, and the Spicy Honey Lime Chicken Thighs take about 20 minutes (or less) to cook.
Boneless skinless chicken thighs are so fast to cook that this is a super no-stress meal — a bit like making a stir fry because we use fairly high heat, and everything cooks quickly. Just have your pot of cauli or white rice ready, and a side salad is nice.
Any tips for the cooking process?
In this recipe, I use a cooking method for creating a non-stick pan out of an ordinary stainless steel or other large frying pan.
The trick is to heat the pan while it's empty and dry over medium-high heat. Heating the pan can take a full two to three minutes (depending on your pan and heat source). Secondly, add fat to the hot pan, and give the pan a quick swirl. Then add the meat.
This method (which I demonstrate in this video) keeps the chicken thighs, which are dipped in a spice rub, from sticking.
Just follow the recipe below for detailed instructions, but it's nice to know ahead of them why we heat the pan first.
If you're looking for a great new large frying pan, I recommend the All-Clad Stainless Steel 14-Inch (find it here), which has an aluminum core for even heat conduction.
If you don't have one large frying pan, you can make this dish in two smaller pans.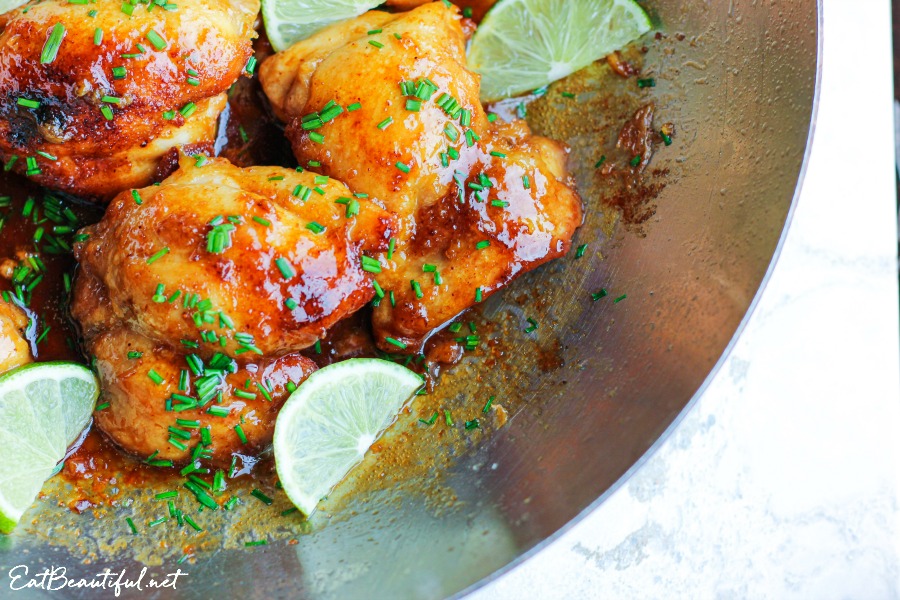 How to store and reheat leftovers?
Spicy Honey Lime Chicken Thighs leftovers can be refrigerated or frozen. Simply store in an airtight container (like these).
Refrigerate for up to 4 days.
HOW TO REHEAT FROZEN LEFTOVERS

Freeze leftovers or freshly baked and cooled Spicy Honey Lime Chicken Thighs for up to 3 months (if you like to batch cook).
This dish is great for make-ahead meals.
For batch cooking, begin by greasing a glass storage dish (because it will become your baking dish when you reheat).
Defrost by leaving at room temperature for 4 hours.
Place glass dish in the oven at 300 degrees Fahrenheit. Cover loosely with a piece of parchment paper to keep chicken thighs and sauce moist. Heat until warm and chicken thighs are heated through to the center, about 35 minutes. Then turn oven heat off, but allow dish to sit in warm oven for 10 minutes more before serving.
Print Recipe
Spicy Honey Lime Chicken Thighs (Keto, Paleo, AIP, GAPS, VAD)
You'll love the sweet, spicy and citrusy sauce that caramelizes on these easy-to-cook chicken thighs. Perfect for a weekly delicious dinner entrée!
Ingredients
2

pounds

chicken thighs

: boneless, skinless (about 8 thighs)

¼

cup

liquid sweetener

: honey for Paleo, AIP, GAPS and VAD (maple syrup may also be used if preferred) For Keto, use one that replaces honey 1:1 (like this or this but not stevia or Splenda's Stevia Sweetener).

2

Tablespoons

coconut aminos

2

Tablespoons

lime juice

, fresh, from one whole lime

2

Tablespoons

avocado oil

4

cloves

garlic

minced or crushed (omit for VAD)

½

teaspoon

sea salt

¼

teaspoon

EACH: cayenne

, paprika, cumin, garlic powder, white or black pepper, and chili powder (These spices create a Sriracha Spice Blend.); for the AIP, VAD, nightshade-free and less-spicy version of this spice blend, see Recipe Notes below
Instructions
Combine low carb sweetener or honey, coconut aminos, lime juice, garlic and sea salt in a small bowl. Stir to combine, and set aside.

In a medium size bowl, combine the Sriracha Spice Blend spices. Stir together. Dip one side of the chicken thighs into the dish of Sriracha Spice Blend (or nightshade-free, less-spicy variation).

Heat large dry skillet over medium-high heat until very hot but not yet smoking (this will take 1 to 3 minutes). Add the avocado oil and swirl to coat briefly. Add the chicken thighs in a single layer. Cook the chicken until browned on both sides: about 5 to 6 minutes on the first side, then reduce the heat to medium and 4 minutes on the second side.

Add the honey-lime sauce. Cook the chicken, turning over occasionally (I use tongs), until cooked through, about 10 minutes. The sauce will thicken, caramelize (expect lots of tiny bubbles as the sauce caramelizes) and reduce slightly. (Note: The Keto version of this recipe does not caramelize. You'll end up with a delicious sauce! that's not quite as thick.)

Sprinkle the chicken with chives or greens of green onions, if desired (omit for VAD). Serve with optional lime slices over cooked cauliflower rice, or Basmati rice for GF and VAD.
Notes
AIP Spice Blend
In small bowl, stir together

½

teaspoon of each: dried ginger, onion powder and garlic powder. Add

¼

teaspoon turmeric and stir again.
Nightshade-free, Less-Spicy Spice Blend (VAD)
In small bowl, stir together:

½

teaspoon each: dried ginger powder, cumin, white or black pepper, garlic powder and onion powder.
For VAD: 1 teaspoon of each: dried ginger and cumin.
Nutrition
Calories:
382
kcal
|
Carbohydrates:
2
g
|
Protein:
25
g
|
Fat:
30
g
|
Saturated Fat:
7
g
|
Cholesterol:
148
mg
|
Sodium:
230
mg
|
Potassium:
318
mg
|
Fiber:
1
g
|
Sugar:
1
g
|
Vitamin A:
118
IU
|
Vitamin C:
2
mg
|
Calcium:
16
mg
|
Iron:
1
mg
What are your favorite go-to weekly dinner recipes? Here are some exciting, flavorful and easy dishes you may like: