I may receive a commission if you purchase through links in this post. I am not a doctor; please consult your practitioner before changing your supplement or healthcare regimen.
Paleo Fried Chicken creates the perfect golden brown crispy coating and juicy interior — yet without too much hovering over the stove top! Enjoy this awesome comfort food with less work but all the yum!
This great classic comfort food is also Gluten-free, Low FODMAP, Whole30, and VAD for some.
Plus, see the AIP variation in the Notes section below the main recipe.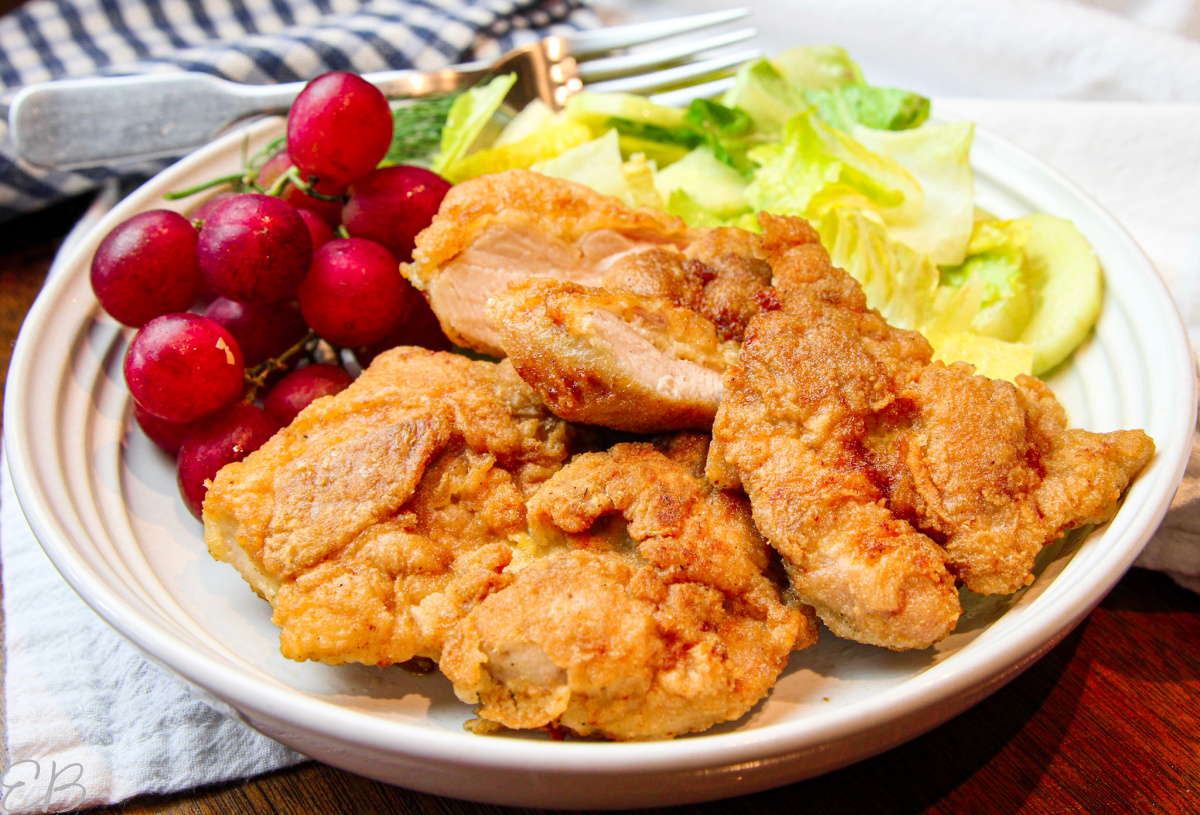 Jump to Recipe
Ingredients in Paleo Fried Chicken
Only 6 simple (Low FODMAP) ingredients make up this recipe, and the pepper is optional if you don't prefer it:

boneless skinless chicken thighs — I know, this is different, right?! Most fried chicken uses bone-in, skin-on. But the key to this recipe uses an easier cut of chicken, to cook, and method; I promise, you'll love it! (And I do love chicken skin.)
egg — (see AIP variation)
cassava flour
salt and white pepper, or black, if you prefer (omit pepper for VAD and AIP)
fat — This recipe uses only 6 tablespoons of fat. Compare that to the usual expense, mess and too-much-fat situation of most fried chicken. We use a combination of avocado oil + duck fat, tallow or lard. (Use the duck fat option for VAD.)
How to make Paleo Fried Chicken
Prepare two bowls: one with the cassava flour and salt + pepper, the other with the beaten egg and salt + pepper.
Heat your skillet with fat.
Dip the thighs (splayed out, not rolled up) into: first the egg, then the flour.
Fry all the thighs until crispy golden brown on the first side. Flip, repeat, and serve!
Easy and straightforward!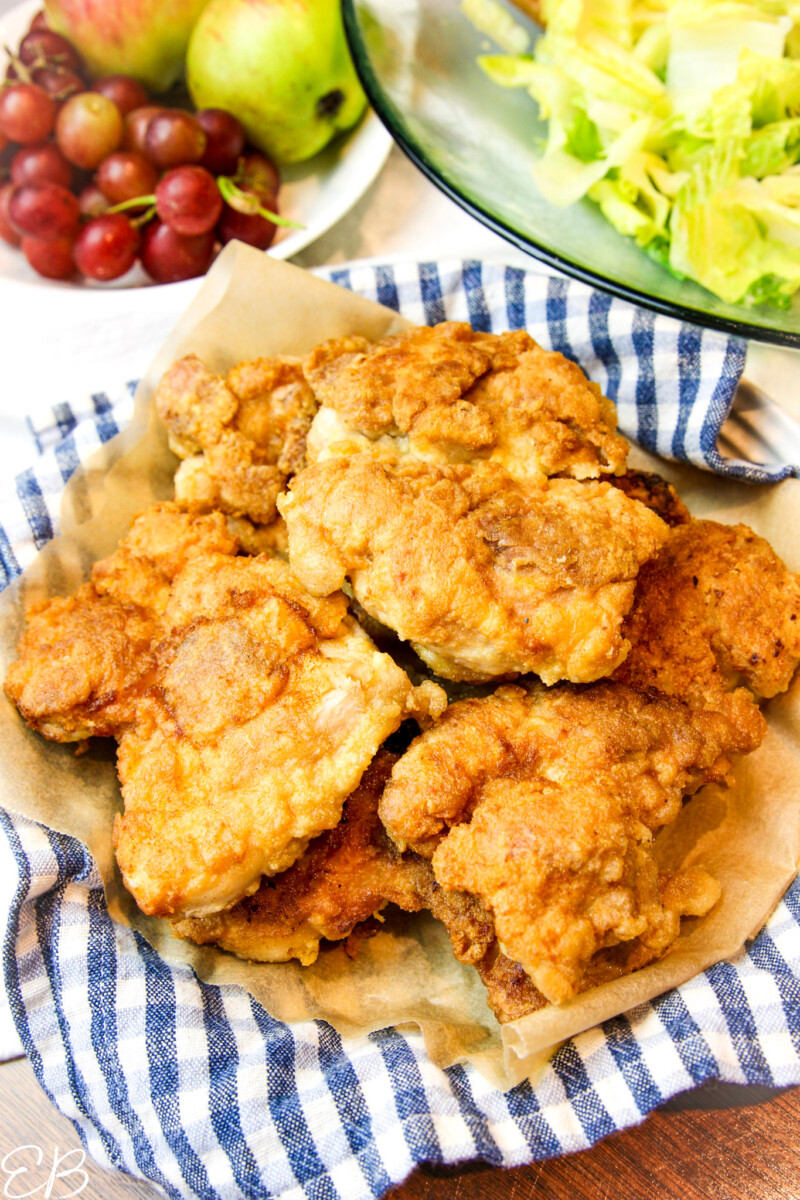 Boneless skinless chicken thighs
By not using bone-in, skin-on chicken, and by opening up the de-boned thighs, the meat stays tender and juicy, while quickly cooking through to the middle.
With most fried chicken, the challenge is fully cooking the interior of the meat, before the coating gets too dark.
Most people use vegetable oil and huge amounts of fat to accomplish this feat. Those options are out for us, so this is the way!
How to reheat leftovers
Enjoying leftover fried chicken cold has always been a good idea.
But if you prefer it hot, and want to re-crisp the outside, preheat your oven to 325 degrees F.
Place chicken on a cooling rack (or something similar), nested over a baking sheet. Heat for up to 15 minutes until the exterior is sizzling and the meat is heated through. Don't overheat, or the chicken will dry out.
Print Recipe
Paleo Fried Chicken (AIP, Low FODMAP)
You'll love the crispy fried chicken exterior, yet the ease of cooking this comfort food Paleo Fried Chicken. A simple egg and grain-free flour dip makes the best outcome, with a moist juicy chicken interior. (See AIP version in Notes below recipe.)
Ingredients
1-½

pounds

chicken thighs

skinless, boneless

1

egg

⅓

cup

cassava flour

<-- This brand is best and offers free shipping.

1-

¼

teaspoons

sea salt

divided

⅛

+

¼

teaspoon

white pepper

divided (or more, to taste, if you like it spicier)

6

Tablespoons

fat:

4 Tablespoons avocado oil + 2 Tablespoons duck fat, tallow or lard
Instructions
Set out two medium size bowls. In one, place the egg,

½

+

⅛

teaspoon sea salt and

⅛

teaspoon white pepper. In the second, place the cassava flour, remaining sea salt and remaining

¼

teaspoon white pepper. Whisk the flour mixture to combine. Then whisk the egg mixture until the whites and yolks are well mixed.

Place avocado oil + 1 Tablespoon solid fat into large cast iron skillet. Heat over medium-high heat for 2 minutes, until fat is hot and animal fat is melted. Dip chicken pieces one at a time into first egg mixture, then cassava flour mixture. You want to dredge the chicken well, opening up each piece so the inside is totally wet first with egg and then well coated in flour. Place each consecutive piece of chicken into the hot fat, working moderately quickly. Take note of the time when you place the first piece of chicken in the fat.

After 5 minutes, reduce the heat to medium. Cook an additional 5 minutes.

Flip chicken pieces using tongs or 2 forks. Add additional 1 Tablespoon of fat. Cook chicken on its second side about 8 minutes, until both sides are crispy golden brown and chicken is cooked through. (You can poke it through to the center; the juices will run clear when done; or cut one open to be sure.)

Remove chicken to a plate or cooling rack to cool slightly, or serve immediately.
Notes
Not for AIP: If you like your fried chicken a bit on the extra spicy side, you can either add hot sauce to the egg mixture or you can add cayenne pepper to the flour mixture, to taste. (You can even marinate the chicken ahead of time in hot sauce, or hot sauce and buttermilk, if you eat dairy.)
Here's

where to get Otto's Cassava Flour. This is a lovely, family-owned company. Buying directly from their website ensures the lowest price and free shipping.
AIP or egg-free variation
Yes, you can make this recipe using a gelatin egg. The fried chicken does not turn out the same, but you do get crispy edges and yummy juicy chicken. We all enjoy this variation.
Ingredients
4 Tablespoons water, room temp.
1 Tablespoon gelatin
Instructions
In medium size broad bowl, sprinkle gelatin over water, then stir to mix. Add

½

+

⅛

teaspoon sea salt (same as in the main egg recipe above), and stir again.
Dip opened-up chicken thighs into gelatin egg, coating well, then into flour mixture, coating well. The gelatin egg is thick, so it's okay to wipe off really thick parts so there's enough for the whole amount of chicken.
Fry as in main recipe above, except: be aware that the gelatin will melt as it cooks. Let the melted gelatin sizzle and fry; this will become your crispy edges. Cook over medium heat for about 10 minutes total, on the first side, until the fried gelatin lifts off the pan easily, to flip and cook the second side.
Proceed as the main recipe above describes.
Nutrition
Calories:
433
kcal
|
Carbohydrates:
7
g
|
Protein:
20
g
|
Fat:
35
g
|
Saturated Fat:
11
g
|
Cholesterol:
154
mg
|
Sodium:
218
mg
|
Potassium:
256
mg
|
Fiber:
1
g
|
Sugar:
1
g
|
Vitamin A:
136
IU
|
Vitamin C:
1
mg
|
Calcium:
26
mg
|
Iron:
1
mg
You can Pin this recipe here:
You may also enjoy Paleo Fried Chicken with:
Similar Paleo recipes you may enjoy:
Other methods of making Paleo Fried chicken
Crushed pork rinds, plantain chips or cassava chips can make a good crispy chicken coating.
Add garlic and onion powders to the mix.
Coat with egg, dip in crushed mixture, then oven-bake.
The reason I prefer this recipe for Paleo Fried Chicken is: it tastes the most authentic and classic, it's easy, and it's not hard to cook the chicken through, while maintaining the perfect outer golden brown color of the coating. The result is excellent and creates something close to traditional fried chicken.
But if you can't have cassava flour for some reason, these above options may allow you to have a similar meal experience.