I may receive a commission if you purchase through links in this post. I am not a doctor; please consult your practitioner before changing your supplement or healthcare regimen.
Meal Prep Sheet Pan Chicken Thighs are perfect to make ahead and then use in various dishes as needed. Serve them for dinner as-is (my family loves them!), or have juicy chunks of chicken ready for salads, pastas, wraps, sandwiches, casseroles, soups, appetizers, lunches and more.
This recipe is great for most diets and perfect for Paleo, Keto, AIP, Whole30, Gluten-free, Ancestral, GAPS and other whole food diets.
Why to batch cook chicken thighs
Years ago, my husband and I owned a soup, sandwich and ice cream café. We made huge batches of bone broth soups. And we made trays of roasted chicken thighs for the soups.
By making Meal Prep Sheet Pan Chicken Thighs, we could create a delicious soup base and then add deliciously spiced, perfectly cooked, chopped up chicken at the end (instead of simmering the chicken in the broth to cook it).
The same principle applies to sandwiches, salads, pastas and more …
ROASTING
Roasting adds an extra layer of flavor and gives you complete control over the moistness and flavor of the meat.
By baking a bunch of chicken thighs ahead of time, you have them ready when you need them.
Having easy-to-grab protein reduces stress in the kitchen and makes nutritious food available conveniently.
In the hot summer months, it makes sense to turn on the oven less often too! Bake the chicken just once every week or two, and then have protein ready for meals.
Jump to Recipe
How much does this recipe make
This recipe allows you to make up to 7 pounds of boneless skinless chicken thighs. But you can easily half that recipe (or double it!).
Anyone feeding a whole family will likely be glad to cook 7 pounds of chicken thighs at a time. This is the same as 4 average size packages of Organic Chicken Thighs that most markets sell — enough for 4 meals, or less if you have teenage athletes like I do! 😉
If you have a smaller family, please feel free to half this recipe! Of course, the recipe is an easy one and very easy to adapt to your household's needs.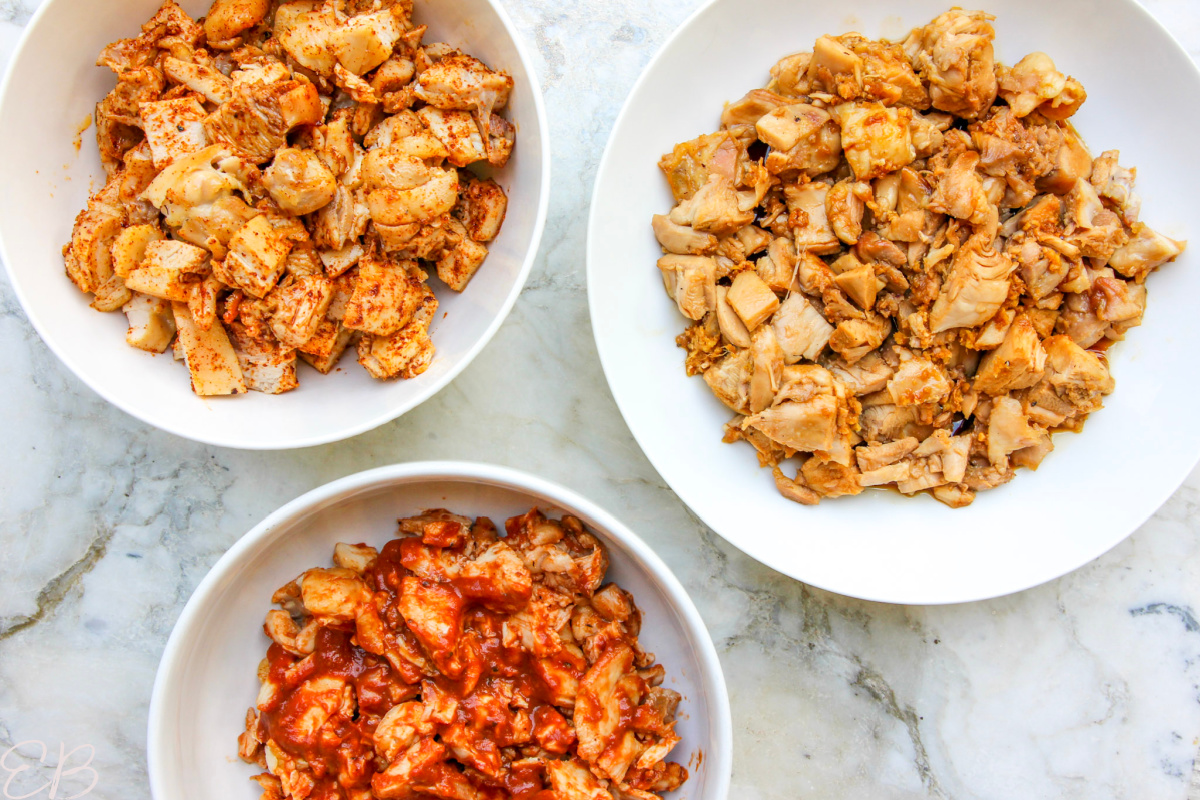 Why boneless skinless thighs
I've chosen boneless skinless thighs because of their versatility … and how well they stay moist when baked.
This cut of chicken is really easy to slice or chop into chunks — and then, top Salads, Bowls or fill Wraps!
Boneless skinless chicken thighs are also juicy, and they absorb whatever spices, marinades or sauces you may want to use. To that end, please see the nifty section I include in the Notes section below the recipe, with a few great ways to flavor these thighs!
If you prefer to use bone-in, skin-on chicken legs, great. You can still use this recipe. You may prefer to reheat leftovers to get the chicken skin crispy again! If that's the case, simply reheat at 325 degrees Fahrenheit for about 15 to 20 minutes.
What to make with Meal Prep Sheet Pan Chicken Thighs
You can serve baked chicken thighs directly from the oven with rice or cauliflower rice, pan juices and a salad.
But, assuming you've made a lot … you'll likely want to store some of them for future uses! So … what to make with the stored chicken thighs when it's dinner time?
With that in mind, let's first talk about how to store them for future dinners … because various spices can be used … and you can cut up the thighs or keep them whole …
HOW TO STORE CHICKEN THIGHS PLAIN FOR FUTURE USES
You may freeze thighs: whole, sliced or chopped into bite-size pieces — all depending on your intended future use for them.
If you're not sure how you'll use them, feel free to freeze the thighs whole. Once they're defrosted, you can easily slice or chop them.
Sliced thighs may be frozen, and then once defrosted are great for topping dinner or lunch salads. Sliced chicken thighs are also great inside wraps or on sandwiches.
Bite-size chopped chicken thighs are great for adding to Bowls, soups, wraps and for topping salads.
HOW TO SPICE CHICKEN THIGHS FOR EASY ETHNIC DISHES
Or, if you've batch cooked these thighs for future uses, there are a few ways to spice the thighs before storing them:
Add easy Teriyaki Sauce and fresh ginger — OR — coconut aminos, fresh garlic and ginger — for various Asian dishes.
Stir in dried Mexican spices:

AIP: dried oregano, garlic, onion, cinnamon, ginger, fenugreek, mace and turmeric
Keto, Paleo, Whole30 and other real food diets: chili powder (like this)

Combine with BBQ sauce:

For Keto or Paleo, use a good real food store-bought product, for easy meal prep.

See more spice options in the Notes section below the recipe.
WHAT TO MAKE
Here are some of the dishes you can make with Meal Prep Sheet Pan Chicken Thighs:
HOT MEALS
Simple Chicken and Rice Dinner (including cauliflower rice) — Just serve the baked chicken thighs on the rice, with pan juices poured over all. Serve with marinated cucumbers or a simple green salad.
Toss sliced or cubed chicken with hot noodles of your choosing. If you wish, first sauté some asparagus and mushrooms (or other favorite veggies) and stir together all, with the pan juices. This makes a great and easy weeknight meal.
Top Bowls: use lettuce or rice (including cauliflower rice), chicken slices or cubes, fresh avocado or homemade guacamole, optional salsa, fresh cilantro, olives and optional beans (omit for AIP).
Add to soups or stews. Make any complimentary soup or stew base, and then add the chicken at the end, so it doesn't over-cook.
Make Ramen bowls with homemade broth, noodles of choice (including zoodles or cabbage noodles), then top with chicken slices. Garnish with bean sprouts and fried egg (omit for AIP), optional sautéed shiitake mushrooms, fresh cilantro, grated fresh ginger and coconut aminos.
Stir small chopped chicken pieces into savory Korean Pancake batter before frying pancakes, to add extra protein (not AIP).
Bake into waffle batter for savory waffles. (Find waffles here for your diet: Paleo & AIP Waffles, Keto & GAPS Waffles, GF & VAD Waffles.)
COLD MEALS
Fold big lettuce leaves around chicken slices or cubes. Add your other favorite sandwich fillings, like avocado and sea salt, roll and eat as a sandwich.
Fill sandwich bread or tortillas with lettuce, chicken, avocado and other favorites. (Find bread and tortillas here for your diet: Paleo & AIP Sandwich Bread, Paleo & AIP Tortillas, Keto, Paleo & GAPS Sourdough Bread, Keto, Paleo & GAPS Tortillas, GF & VAD Oat Bread.)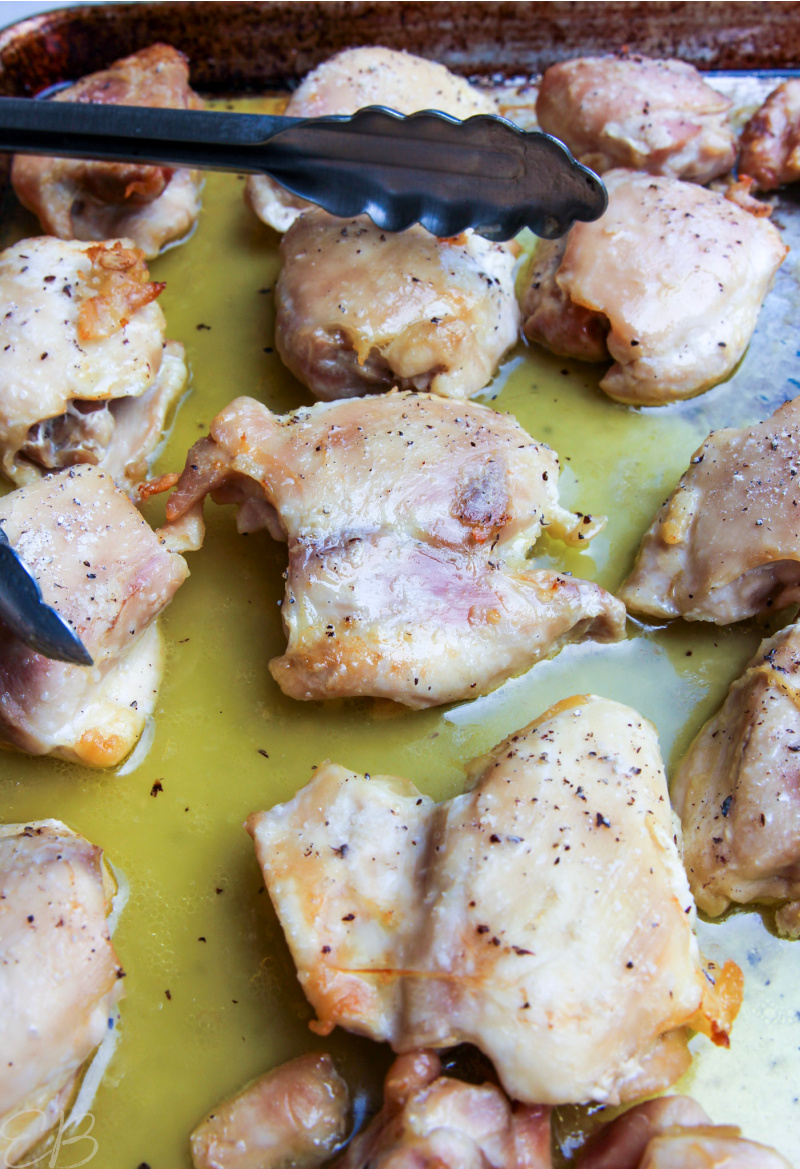 How to freeze and defrost Meal Prep Chicken Thighs
Store Meal Prep Sheet Pan Chicken Thighs in glass containers with rubber lids (like these), portioned out for single meals.
Refrigerate for up to 5 days.
Freeze for up to 3 months.
To defrost, place in the fridge overnight, or for up to 3 days.
Then, use cold on salads or in sandwiches, add to soups or casseroles, or warm gently to top Bowls.
To warm, simply remove lid, and cover the surface of the chicken with a piece of parchment paper or an oven-proof lid.
Reheat gently in a 325 degree Fahrenheit oven for 20 minutes, optionally stirring once during the reheating.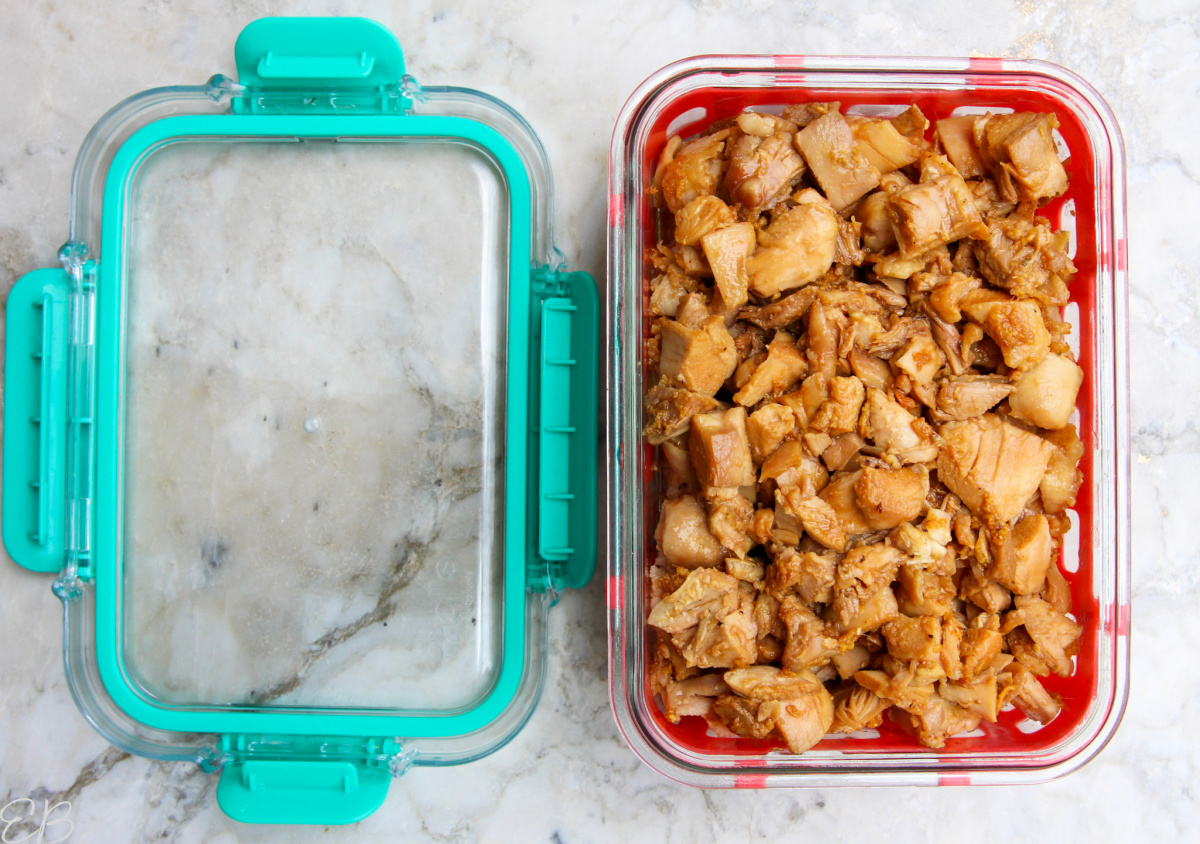 What to do with the pan juices
This is a really good problem to have …
Pan juices from roasted chicken are one of my favorite things!
You know how people buy bouillon or concentrated flavor enhancers? Well, chicken juices are the real thing — that those products are trying to imitate.
There is nothing more valuable to a gourmet cook than leftover pan drippings!
My kids think it's gross, but I even love the aspic that forms from chilled chicken pan juices. I love it. Savory gelatin!
You may also do all kinds of wonderful things with these riches, and this is the side benefit of roasting a lot of chicken: You get a lot of very flavorful pan juices.
Here are the best ways to use it:
Use it directly on your warm Bowls: Drizzle it over rice or cauli rice, veggies and meat.
Save it in the fridge, and then add it to a soup that needs more flavor.
Make gravy with it: Whisk in a bit of tapioca flour (or xanthan for keto), heat until it thickens, add a little water if it's too thick, and serve. (Comment in the Comments section below if you need exact measurements and instructions.)
Add to any stew.
Stir into pasta for an easy dinner with simple meat and veggies. (I do this a lot, actually.) Various pasta options include Cabbage Noodles, Cassava Pasta (not for Keto) or organic rice noodles for VAD and Gluten-free.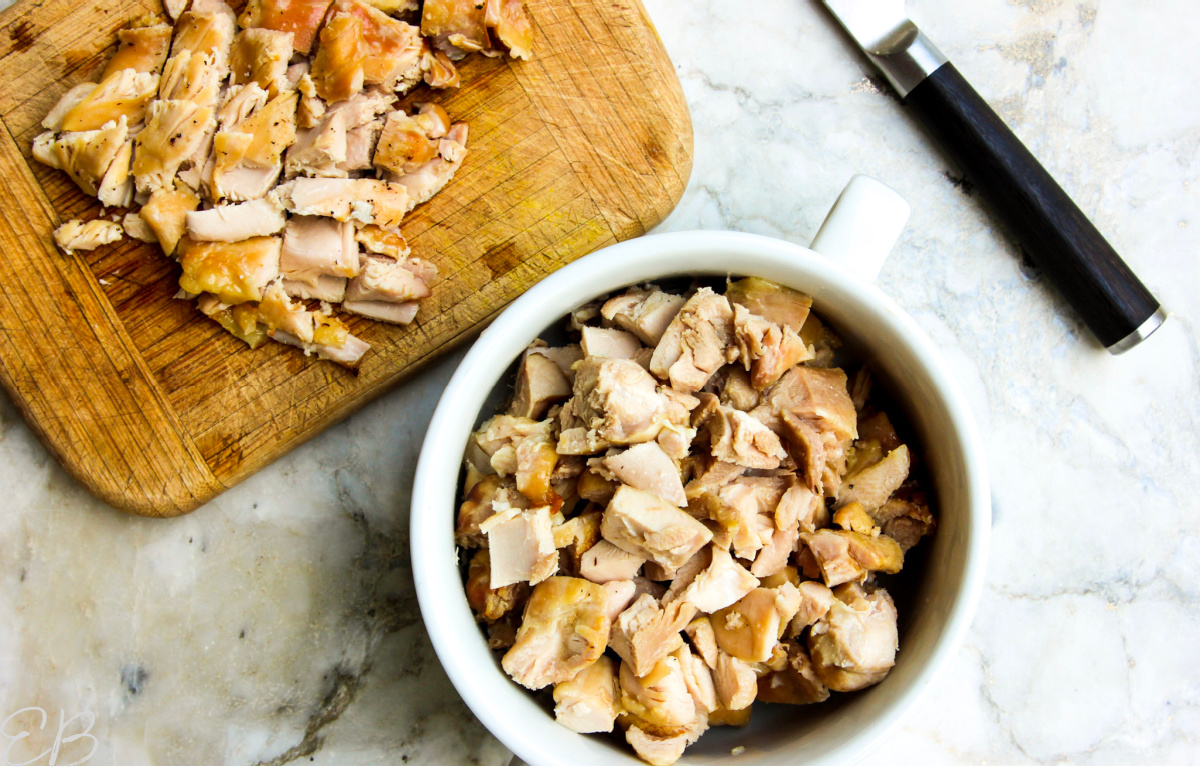 Print Recipe
Meal Prep Sheet Pan Chicken Thighs
Meal Prep Sheet Pan Chicken Thighs are perfect to make once every week or two and then use in various dishes as needed. Serve them for dinner as-is (my family loves them!), or have juicy chunks of chicken for salads, pastas, casseroles, soups, appetizers, lunches and more.
Equipment
sheet pan (also called a half sheet)

oven
Ingredients
6 to 7

pounds

chicken thighs

boneless skinless

4

Tablespoons

fat of choice:

butter, or avocado oil for dairy-free (coconut oil or lard are also fine if you prefer)

4

teaspoons

sea salt

freshly ground pepper

to taste, optional (omit for AIP)
Instructions
Preheat oven to 375° Fahrenheit. Add 4 Tablespoons fat of choice to large sheet pan (like this).

Lay chicken thighs upside down on the pan. (The fat can be anywhere on the pan. It will soon melt and spread out.)

Sprinkle 2 teaspoons sea salt evenly over the chicken thighs.

Bake thighs 25 minutes, then remove pan from the oven. They will be swimming in pan juices.

Use tongs to flip over all the thighs. Sprinkle the remaining 2 teaspoons sea salt on the top sides of the thighs. Move any fatter/thicker thighs to the outer edges of the pan, where they'll cook hotter, and move smaller thighs to the center of the pan where they'll be protected from over-cooking. Add optional black pepper (omit for AIP).

Return pan to the oven, and bake 25 additional minutes. Large thighs will be extra juicy but fully cooked through. (Just cut one open if you wish, to be sure.)

Thighs may now be used in a variety of ways. To use immediately, use tongs to transfer thighs to a cutting board. Slice into strips, or cut into cubes. If you wish, transfer cubes to a mixing bowl, add some of the hot pan juices from sheet pan, and add spice mix of choice from Notes section below. Or, see post for more ideas: to make Teriyaki Chicken or BBQ Chicken. Top Bowls, Salads or fill Wraps with warm chicken.

To refrigerate: Cool fully, then store in glass storage containers with rubber lids for up to 5 days. When ready to use, slice or chop for easy lunches, to top Salads, fill Wraps, or warm gently to top Bowls. To freeze: Cool fully, then store in glass storage containers with rubber lids for up to 3 months.
Notes
Spice and herb mixes to stir into chopped chicken thighs:
Use 2 teaspoons total of any spice or dried herb mixture. Use up to

¼

cup chopped fresh herbs. Stir into 2 cups warm chicken, with

¼

cup or more of hot pan juices.
MEXICAN
AIP: dried oregano, garlic, onion, cinnamon, ginger, fenugreek, mace and turmeric
Keto, Paleo, Whole30 and other real food diets: chili powder (like this)
GREEK
marjoram, oregano, spearmint, parsley, sage, powdered dried rosemary, tarragon, thyme
ITALIAN
basil, marjoram, oregano, rosemary, thyme
MORE IDEAS HERE FOR POPULAR SPICE MIXES YOU MIGHT ENJOY
Nutrition
Calories:
537
kcal
|
Carbohydrates:
1
g
|
Protein:
37
g
|
Fat:
42
g
|
Saturated Fat:
14
g
|
Trans Fat:
1
g
|
Cholesterol:
222
mg
|
Sodium:
508
mg
|
Potassium:
465
mg
|
Vitamin A:
177
IU
|
Calcium:
18
mg
|
Iron:
2
mg
What kind of chicken to buy
Chicken's omega-3 and omega-6 content is strongly affected by what the chickens are fed. Commercially raised chickens are higher in omega-6 fatty acids and have relatively low levels of omega-3s.
Most commercial operations rely on corn and soy for their chickens' feed. Corn and soy are high in omega-6s, so the chickens' meat is too.
Eating more omega-6s than omega-3s is linked to inflammation and likely contributes to poor health.
Look for pasture-raised chicken thighs (not just organic) to ensure your birds are grazing on grass and bugs. Find a local farmer, or shop at websites like Farm Foods that offer pasture-raised birds in various cuts for affordable prices — all through the mail.
Nutrition side note
Humans should not eat lots of chicken. Batch cooking allows you to cook it once and then space it out to just 1 to 2 servings a week (or whatever you decide is right for your body).
Beef, lamb, wild game (such as deer, elk and moose) and certain fatty fish offer the best nutrition. Pasture-raised red meat has an omega-6 : omega-3 ratio of about 3:1 and lower overall levels of polyunsaturated fatty acids in general. Beef, lamb and wild game are also full of nutrients.
If you do eat a lot of chicken, increasing your fatty fish intake can help create a better balance of omegas … but lower omega-fat intake is actually better. Our bodies need very little "essential" fatty acids to prevent deficiency (1-2% of the calories in our diet). (source)