I may receive a commission if you purchase through links in this post. I am not a doctor; please consult your practitioner before changing your supplement or healthcare regimen.
AIP BBQ Sauce is a nightshade-free revelation! And the salad — Satisfying roasted veggies, chlorophyll-vibrant romaine lettuce, cauli rice, probiotic dill pickles and avocado all get blessed with a heaping scoop of homemade BBQ shredded chicken! This salad bowl is Paleo, AIP & GAPS-compliant, with a savory-tart-sweet BBQ sauce that can be used in various ways to make lunches and dinners easy and delicious.
The Ultra-Healthy AIP Diet
I was honored recently to be interviewed about the AIP diet by a traditional food blog that wishes to share healing and wellness diets with those looking for reprieve from autoimmune conditions. The main point that struck me again as I shared the key tenets of the AIP diet is Sarah Ballantyne's emphasis on nutrient dense foods.
Ultimately the AIP diet isn't just a list of No and Yes foods, but rather: When we remove inflammatory foods, the focus shifts to nutrient dense foods. We're not only removing the offenders, but offering our guts the gentle nourishment they need to be restored. 🙂
Lots of cruciferous veggies, leafy greens, good-fat-avocados, oily seafood, pasture-raised meats and organ meats, the right amount of starchy roots and healthy fats all come together to provide macro and micro nutrients that our bodies use to reverse autoimmunity.
Chicken is one meat that we're directed to not eat too much of, because it is high in omega-6s. Thighs are healthier than breasts in this respect, which is why I prefer them (but I also prefer their taste and texture). If you've reached your unofficial chicken quota for the week 😉 you can certainly make this recipe, too, with leftover slow-cooked pork or beef.
The BBQ sauce is scrumptious used in various ways and with various meats, and yes, it's nutrient dense, full of fiber for increasing one's microbiome diversity.
The main theme of this dish, though, is that it's healthy AND delicious — sure to satisfy and nourish — and leave you feeling good inside and out!
GAPS
For GAPS, there are just a couple of small variations to follow in the recipe below. How wonderful to have a big, gentle, delicious! salad while on the GAPS diet. It really changes things up, offering variety, fun and excitement for dinner!
The Components
This salad bowl features roasted sweet potatoes (with GAPS variation) and yellow beets. These two sweethearts provide rich complex carbs and excellent fiber. (Beets are terrific if you struggle at all with having regular bowel movements. I think they're great to eat everyday if you have this struggle!)
Nearby in your dish, enjoy that ubiquitous cruciferous side: cauli rice. Both can be garnished with that FAB BBQ sauce we're getting to, or a drizzle of balsamic! (although not for GAPS).
Then romaine (known to be disease-fighting, anti-aging, energy-enhancing, and immune-boosting!), avocados and probiotic dill pickles (do you already eat these regularly?? If not, I think you should; they're SO good! Or learn more about making your own here).
Wow, right?: Like we talked about above, everything is nutrient dense AND delicious, just like Paleo, AIP and GAPS can and should be.
The BBQ Sauce
Lastly, the focus of this recipe: I've created an AIP compliant BBQ sauce that's fun and delicious! If you ever want to speed up the recipe, although it's already pretty fast and easy, you can even use leftover Nomato Sauce as the base!
(Here's my Instant Pot Nomato Sauce, and here's my stove top Nomato Sauce recipe, if you'd like to use them.) At least in our home, we often keep it on hand (one of my favorite foods!). I give that variation below.
This Paleo, AIP and GAPS BBQ sauce is high in fiber, super tangy, a little sweet and refreshingly different than what we eat other days of the week, a welcome and zippy change! 🙂 Plus, it's comfort food that most folks can't help but like!
Paleo and AIP folks, feel free to add a few plantain chips to your plate if you want to use the BBQ meat as a dip … with the pickles too. See, now we're having some serious meal fun. 😉
Make Ahead
If you enjoy the convenience of meal planning and batch cooking, you can prep the veggies that get roasted a day or two ahead.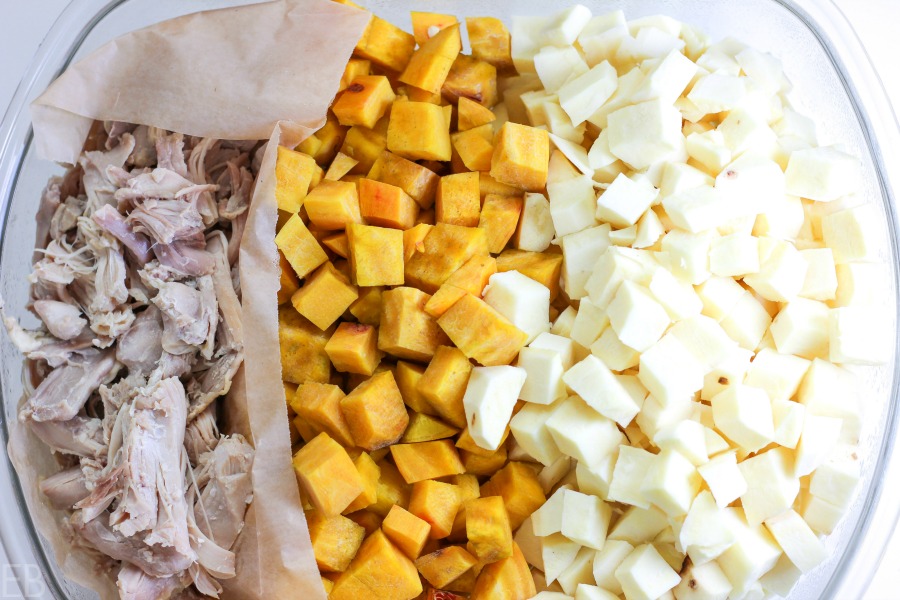 You can cook the chicken up to several days ahead, or use leftover chicken. And you can make the BBQ sauce up to 5 days ahead. See the photo above of my shredded chicken, cubed yellow beets and cubed sweet potatoes, which I prepped the day before — which makes this dinner come together very quickly and with ease.
BBQ Chicken Salad Bowl
Variations — You can make this dish just a bowl or just a salad if you like. Easily leave off the lettuce and serve everything hot for a nourishing, warming bowl.
Or, in warmer months, pile the lettuce underneath and emphasize the salad with all the cold toppings: the BBQ chicken salad can be served cold, with lots of avocado, dill pickle slices, and cold cooked beets fanned to one side.
Print Recipe
BBQ Chicken Salad Bowl (Paleo & AIP)
If you love zippy, tangy-sweet, a little spicy BBQ sauce but miss it while avoiding nightshades, you'll love this wonderful sauce and fresh comfort food salad.
Ingredients
2

pounds

chicken thighs

cooked: See Recipe Notes; or use leftover chicken

2

cups

BBQ sauce

see BBQ Sauce recipe just below

1

large head

romaine lettuce

or 2 small heads, chopped into bite-size pieces

2

large

sweet potato

or 5-6 small, peeled and cut into 3/4" bite-size cubes; use winter squash for GAPS

2

large

beets

yellow, peeled and in 3/4" cubes, or 1 large head cauliflower, chopped into bite-size pieces

¼

cup

extra-virgin olive oil

or preferred fat of choice such as avocado oil or melted lard

1

Tablespoon

balsamic vinegar

optional, omit for GAPS

2

cloves

garlic

peeled and sliced

½

teaspoon

sea salt

1-2

avocados

chopped

3

cups

cauliflower rice

about, cooked
Paleo, AIP and GAPS BBQ Sauce (can be made ahead for quick assembly of dinner)
Instructions
Preheat oven to 425 degrees Fahrenheit. Place sweet potatoes and cauliflower in large mixing bowl. Add olive oil, garlic and sea salt, stirring to coat. Spread veggies out onto one to two shallow baking pans, depending on their size. Roast until sweet potatoes are fork-tender, about 30-35 minutes; stir and turn over vegetables occasionally during cooking so dark bottoms get flipped. Drizzle with optional balsamic vinegar and keep warm in oven at lowest temperature until ready to serve.


Place chicken in medium-size bowl and shred using two forks. Add 1-

½

cups BBQ sauce and lightly stir to coat. Use remaining BBQ Sauce to drizzle over bowls.


Assembly of BBQ Chicken Salad Bowls~ Place each ingredient in serving bowls separately, side-by-side, to create a composed salad bowl: romaine lettuce, roasted veggies with any pan drippings, cauli rice, BBQ shredded chicken, chopped avocado; garnish with probiotic dill pickles and/or plantain chips.

BBQ Sauce
Place carrots, beets and onion in steamer basket over boiling water. Cover and cook until very tender, about 15 minutes.

Place steamed veggies in high powered blender with the remaining ingredients (OR if using the Nomato Sauce option, use 2 cups Nomato Sauce in place of the steamed veggies and bone broth): bone broth (omit if using Nomato Sauce shortcut), apple cider vinegar, optional bacon fat, maple syrup, coconut amino acids, fresh ginger and garlic, sea salt and optional fish sauce and molasses. Blend on lowest speed, and increase as motor moves with ease. Blend on medium to medium-high speed for about 45 seconds until sauce is smooth.

Notes
Best ways to cook chicken thighs~
How to Cook Shredded Chicken (The instructions in this recipe are for breasts, but the exact same rules apply to chicken thighs. If you use boneless, skinless thighs, they'll take less time to cook. If you use bone-in thighs, they'll take longer.)
Nutrition
Calories:
1139
kcal
|
Carbohydrates:
112
g
|
Protein:
40
g
|
Fat:
60
g
|
Saturated Fat:
15
g
|
Cholesterol:
189
mg
|
Sodium:
2208
mg
|
Potassium:
2357
mg
|
Fiber:
16
g
|
Sugar:
64
g
|
Vitamin A:
30825
IU
|
Vitamin C:
67
mg
|
Calcium:
201
mg
|
Iron:
6
mg
You can also smother chicken pieces with this BBQ Sauce before baking, delicious!