I may receive a commission if you purchase through links in this post. I am not a doctor; please consult your practitioner before changing your supplement or healthcare regimen.
Cauliflower Pickles are my favorite vegetable ferment. I love their texture. And I love how they compliment the flavor of turmeric and/or curry. You'll love this healthy condiment too — that's full of probiotics, fun to make and anti-inflammatory!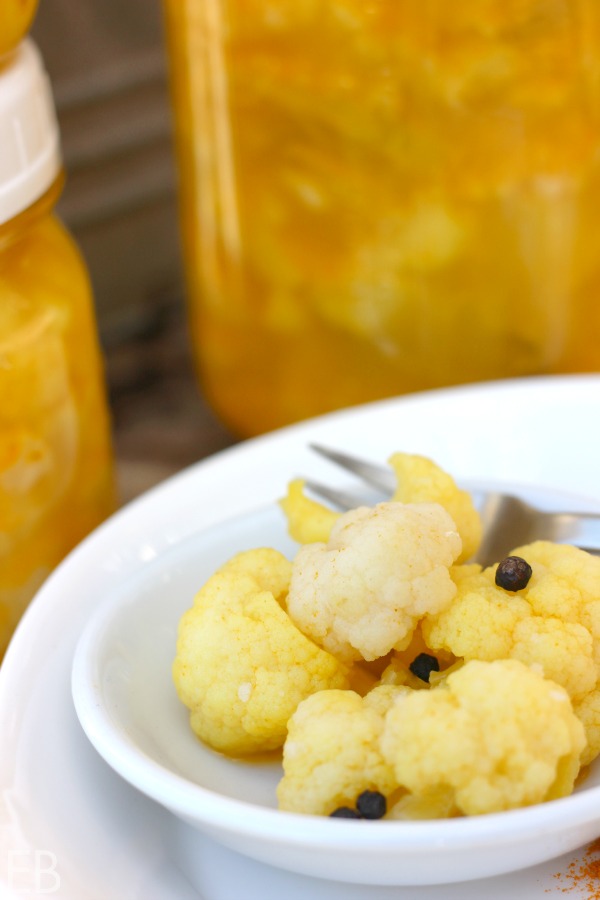 Anti-Inflammatory
This recipe can have just 5 ingredients: warm water, sea salt, cauliflower, turmeric and black pepper. The black pepper makes the active ingredient in turmeric, curcumin, more bio-available. Small, regular amounts of bioavailable curcumin in the diet have an anti-inflammatory effect. (AIP folks can leave the black pepper out.)
Pickles with turmeric
Curcumin is magnified through fermentation! And condiment portions of fermented foods are the perfect ratio for curcumin to be effective. It's odd but true: turmeric must be eaten with black pepper, fat, often, and in small amounts to work!
So yes, eat this beautiful ferment regularly with the lovely meals you make, meals that contain fat. Then you have all the necessary components for it to be anti-inflammatory.
And, of course, homemade fermented pickles contain probiotics, which are also anti-inflammatory.
In Recipe Notes below I give links to my two favorite fermentation tools, to make the process easy, successful, and therefore, rewarding and fun!
Variations on Cauliflower Pickles with Turmeric
If you like, I give a few additional ingredients below that can be added in; I love these: curry powder, raisins, lemon zest, cayenne, garlic and ginger. Choose just one of them or all of them. They make cauliflower shine. SUCH an exciting arena of flavors.
Print Recipe
Cauliflower Pickles with Turmeric and Black Pepper {Fermented Cauliflower, Anti-Inflammatory}
Ingredients
4

cups

warm water

filtered (not tap water or chlorinated water)

2

heads

cauliflower

chopped into small florets

4

Tablespoons

sea salt

1

teaspoon

turmeric

½

teaspoon

black peppercorns

or freshly ground black pepper

½

teaspoon

curry powder

optional

to taste

Additional optional ingredients include:

mustard seeds, unwaxed lemon rind, raisins, cayenne, fresh ginger and garlic
Instructions
In large dish with pour spout whisk together the turmeric powder, optional curry and a small portion of the warm water (about 2 tablespoons), to create a kind of runny paste. Add remaining water and sea salt, stir to dissolve. Set aside.

Place cauliflower florets into preferred fermenting container(s). Pack pieces in tightly (to the neck if using canning jars). Add peppercorns.

Pour spiced, salted water over cauliflower. Press firmly on solids, so water rises above and air bubbles are released. You want the brine to come about 1/2-1 inch above the cauliflower pieces but still leave 1 inch headspace if using jars.

Weight with fermenting weights (see link below in Recipe notes) or preferred weight.

Lightly seal lid(s), and place in warmest location possible for 7-14 days, depending on warmth of location. Check the veggies every 2 days or so to make sure they're staying below the brine.

They're done when the liquid is no longer very bubbly, when the cauliflower is nicely tart/vinegary, to your taste.

Transfer to refrigerator, and serve as a condiment. The flavor will continue to improve and develop. Any extra brine you don't wish to drink can be used to ferment in other recipes. (See my Sourdough Grain-free Waffle recipe. The brine is used to reduce phytates in cassava flour. It's great to have extra brine on hand!)
Have you made or eaten fermented cauliflower before? Sooo good! 🙂