I may receive a commission if you purchase through links in this post. I am not a doctor; please consult your practitioner before changing your supplement or healthcare regimen.
You'll love the soft, flexible texture of Keto Low Carb Sourdough Bread! Almost like a whole grain sandwich bread, but grain-free. Make sandwiches again, or toast, with this easy to digest treat. Just 3g net carbs per big slice and also Paleo and Gluten-free.
If you're low-lectin, also look for the lectin-free substitution.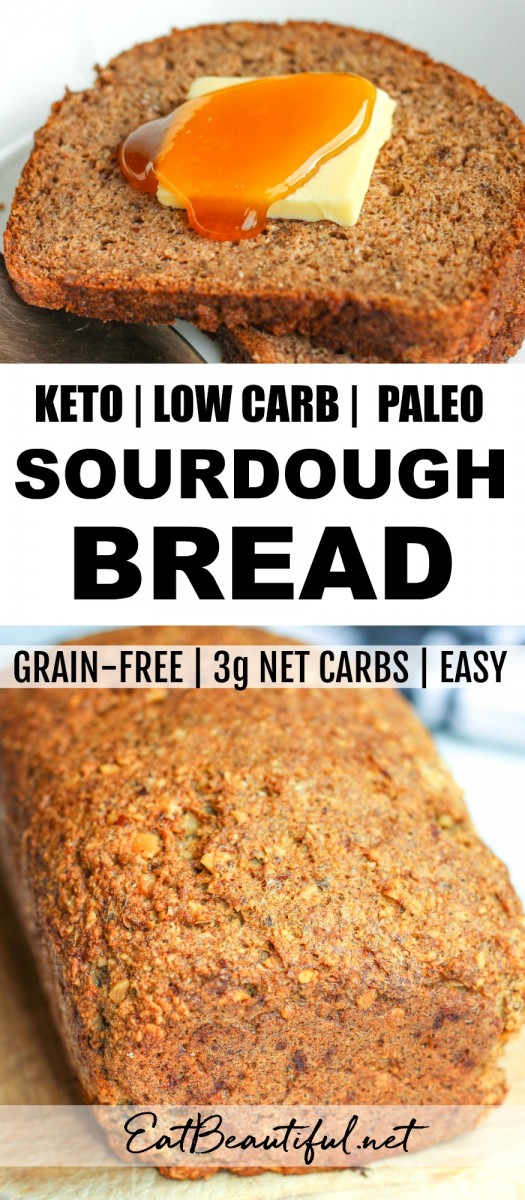 Using your choice of low carb nut or seed (we'll talk more about this), this recipe starts with raw nuts: like pecans or Brazil nuts, but you can also use sunflower seeds for a low-cost, nut-free option. After the nuts or seeds soak (so they purée smoothly), the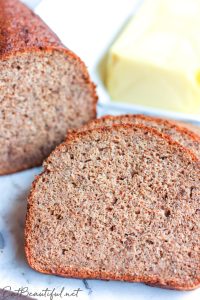 purée ferments, gets mixed with the final ingredients, then bakes! Super easy bread-making! 🙂
Let's get started with some tips and insights!
How to make Keto Low Carb Sourdough Bread
You might be wondering how does one make a sourdough from low carb ingredients!
The answer is: We don't use flour in this recipe. Instead we use raw nuts or seeds that get an easy ferment.
You can actually choose which nut or seed you want to use based on a few things: budget, availability and what you like!
Have you eaten probiotic sauerkraut before? Or maybe you've made it? The sauerkraut juice is what ferments this bread! And the fermented batter not only gives a subtle sourdough flavor and tender texture, but also makes this bread more gentle, digestible and nutritious.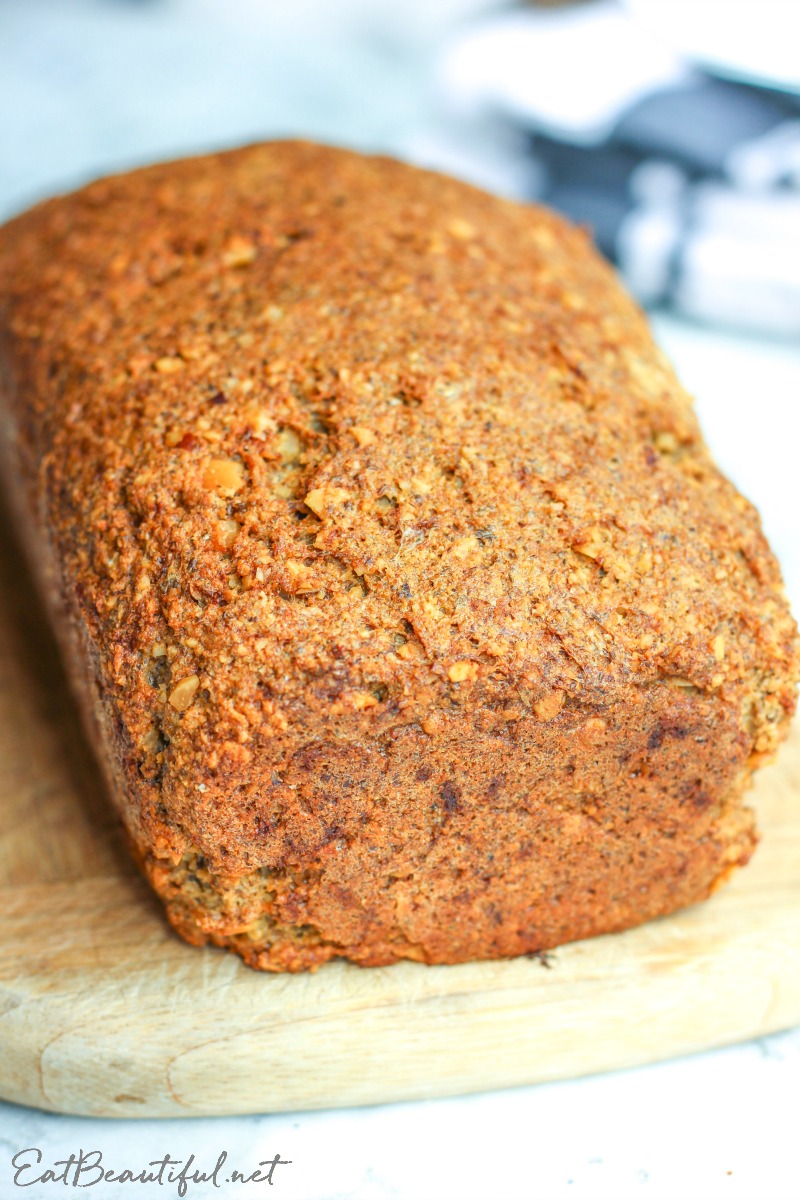 Which nut to use in Keto Low Carb Sourdough Bread
I love making this bread with raw pecans or Brazil nuts. But each nut has its own qualities (and cost). So here are some nuts and seeds and considerations:
If you look at the various photos in this post, you can see two different bread loaves:
One set of photos shows a smooth bread dough, with no chunks; this is the pecan-based bread, which sometimes appears with butter and sweetener. You'll also get this smooth dough with macadamia nuts or pine nuts.
The second loaf, which I made meat and veggie sandwiches with, is chunky and nutty in places. This loaf was made with Brazil nuts. It's higher in selenium, and I like the chunky bread, personally. (My kids prefer the smooth dough. 😉 )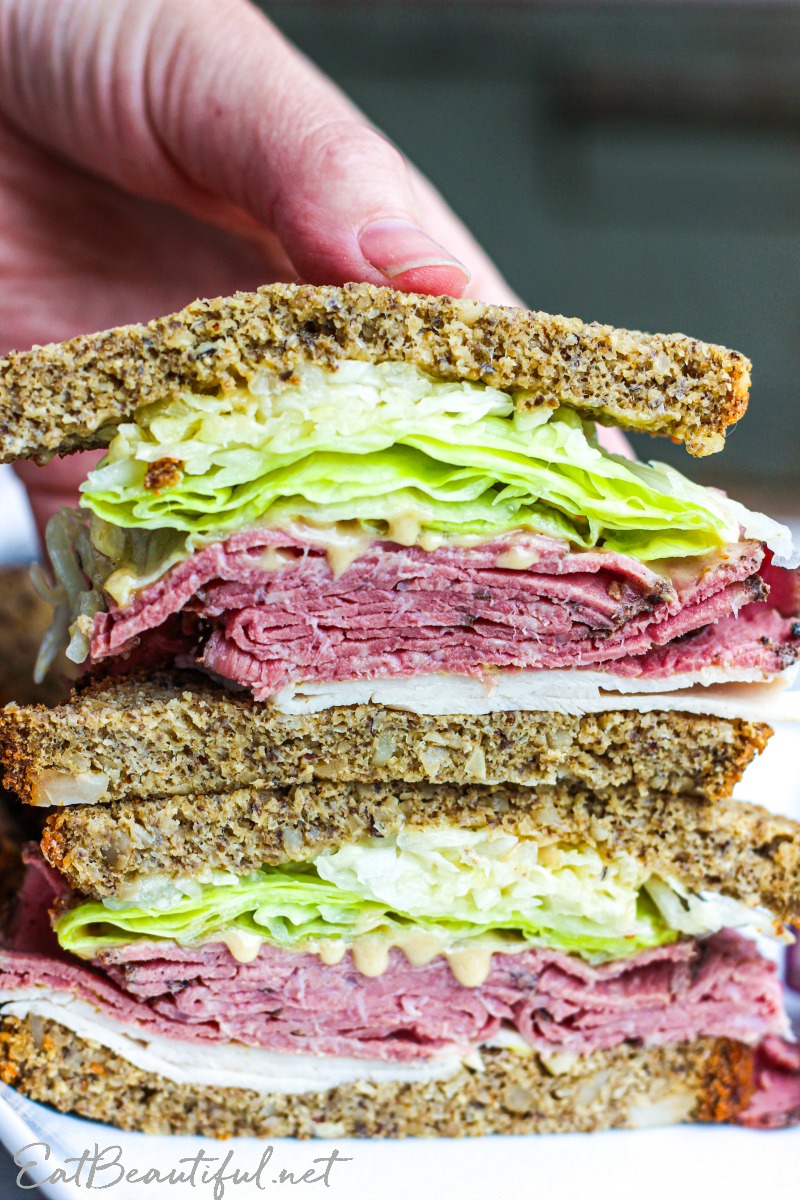 Psyllium husk powder in Keto Low Carb Sourdough Bread
Psyllium husks are used in Keto Sourdough Bread, in small measure, to make the bread spongy, light and springy. Psyllium husk powder also holds baked goods together, like gluten (but it's gluten and grain-free).
This common keto ingredient is high in fiber and super low in net carbs. I also like to use it in egg-free baking because of its binding and leavening properties. I even use it here in my Constipation Smoothie, because psyllium provides soluble fiber that can make all the difference for regularity.
Psyllium, lastly, is prebiotic — which means, it supports the growth and activity of good bacteria in the colon. Psyllium has been found to lower cholesterol levels and help regulate blood sugar levels after eating.
Which psyllium to buy — Try to find Psyllium husk powder, (like this). But if you can only find psyllium husks, you can reduce them to a powder, before using, in your coffee grinder or high powered blender. My doctor reminded me: Psyllium does need to be organic, because while it's growing, it draws any potential toxins to itself.

Other ingredients … and the rest of the bread-making process
Step 1. — The nuts or seeds soak in water to soften. These nuts or seeds get puréed with fresh water, oil and the sauerkraut juice we discussed.
Step 2. — Keto Sourdough Bread also uses chia seeds. We create chia seed flour/meal using a coffee grinder or high-powered blender. (For lectin-free, you may also use basil seeds.)
Step 3. — Chia seed meal gets stirred into the puréed nuts. This mixture then ferments. (Put it in a warm location! A sprouting mat works great and is inexpensive.) Fermenting the nuts and seeds makes them more nutritious and gentler to digest (specifically, fermenting reduces phytic acid and lectins).
Chia seeds contribute to the wonderful tender and spongy texture of Keto Low Carb Sourdough Bread.
Step 4. — After the ferment, we stir in the remaining bread ingredients: eggs, coconut flour, a little sweetener, sea salt and baking soda.
Step 5. — That's it! Then we bake!
How to store leftovers
If you eat your Sourdough Bread within a day or two, you can simply wrap it well and leave it out on the counter.
If longer than two days, wrap well and store in the fridge for up to 5 days.
To freeze, pre-slice Keto Low Carb Sourdough. Place on a plate to freeze, so the slices freeze somewhat separated. Then wrap in an airtight bag or container, and freeze for 1 month or longer. This method allows you to pop off one or more slices at a time without them sticking to each other.
Print Recipe
Keto & Paleo Sourdough Bread
Make sandwiches or toast with this easy to digest Keto and Paleo Sourdough Bread! Just 3g net carbs per big slice!
Ingredients
2

cups

pecans

, Brazil nuts or macadamia nuts or other raw low carb nuts and/or seeds of choice, soaked for 2 hours in warm filtered water, then drained and rinsed (See Recipe Notes)

¾

cup

chia seed meal: pulse about

⅔

cup of chia seeds in coffee grinder or high powered blender to create meal, then measure (or basil seeds for lectin-free)

½

cup

pure water

(no chlorine)

2

whole

eggs + 2 egg whites

¼

cup

coconut flour

¼

cup

psyllium husk powder

¼

cup

low carb granulated sweetener

OR for Paleo: use coconut sugar or maple sugar

¼

cup

avocado oil

or olive oil

¼

cup

sauerkraut liquid

(from probiotic, "living" kraut)

1

teaspoon

sea salt

½

teaspoon

baking soda

, sifted
Instructions
Use a food processor, OR purée soaked nuts in a high-powered blender, with filtered water and oil until mostly smooth (about 1 minute [or longer for blender]). Add sauerkraut juice. Pulse again until just combined (about 10 seconds). Scrape into a glass or ceramic bowl. Stir in chia seed meal well. (Note: If you use a blender, you'll need to stop and start and use a tamper or wooden spoon to get the purée going. I use a blender personally, but it's a bit more work. See Recipe Notes for process photos.)

Cover loosely with a towel or plate. Place in a very warm location (ideally 95 to 105 degrees Fahrenheit) for 10 hours or overnight. I like to use a warming mat or nest my bowl over my Instant Pot on the Yogurt setting. Fermentation in a cool kitchen can still occur but it will take longer, about 24 hours.

Once nuts and seeds are soured (fermented), preheat the oven to 350 degrees Fahrenheit. Grease just the ends of a loaf pan and line with one strip of parchment paper (which allows you to pull it out easily).

Sift together coconut flour, psyllium, sweetener, baking soda and sea salt. Set aside.

Add eggs to soured nut and seed mixture.

Add flour mixture. Mix with handheld electric beaters until thoroughly combined. With your hands or a rubber spatula, form into loose loaf shape. Place into greased loaf pan. Gently pat and smooth the loaf so it's slightly mounded in the middle.

Bake until a sharp knife inserted into the center comes out clean (about 55 minutes) or until it looks done (start checking at 45 minutes). Loaf will be well browned, more so with some nuts than others.
Notes
Soaking Nuts or Seeds
The purpose of soaking nuts or seeds for this recipe is to soften them before puréeing.
Simply cover nuts or seeds with room temperature or warm water, and leave on the counter to expand and soften for 2 hours or overnight.
When ready to use, strain and rinse.
Larger nuts, like Brazil nuts or hazelnuts, should be roughly chopped before puréeing to avoid large pieces in the bread (unless you want it chunky). Or use a food processor to get the nut pieces smaller.
Process photos:
(#1 below also includes oil.)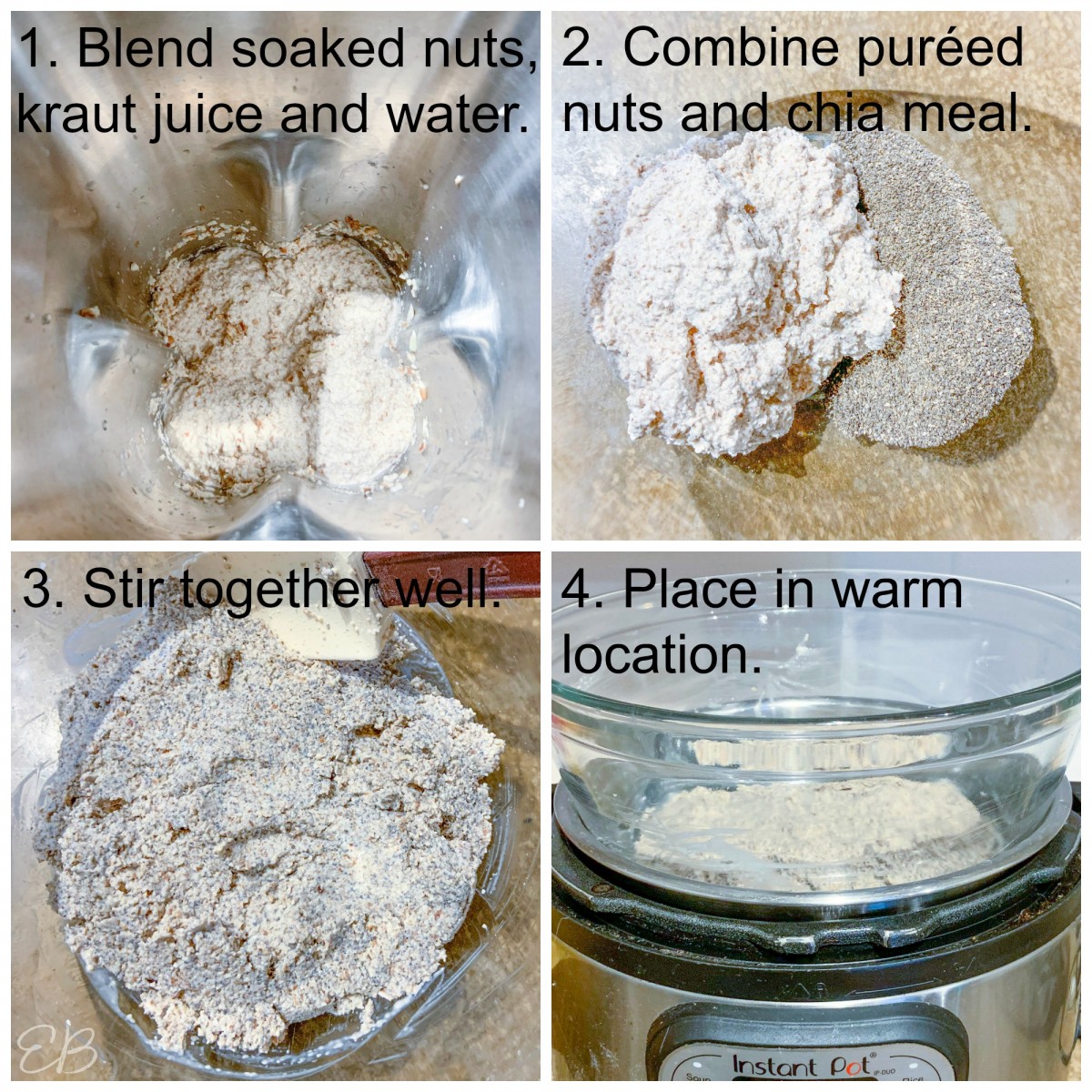 Nutrition
Calories:
263
kcal
|
Carbohydrates:
3
g
|
Protein:
6
g
|
Fat:
29
g
|
Saturated Fat:
5
g
|
Cholesterol:
45
mg
|
Sodium:
232
mg
|
Potassium:
47
mg
|
Fiber:
11
g
|
Sugar:
1
g
|
Vitamin A:
189
IU
|
Vitamin C:
1
mg
|
Calcium:
62
mg
|
Iron:
4
mg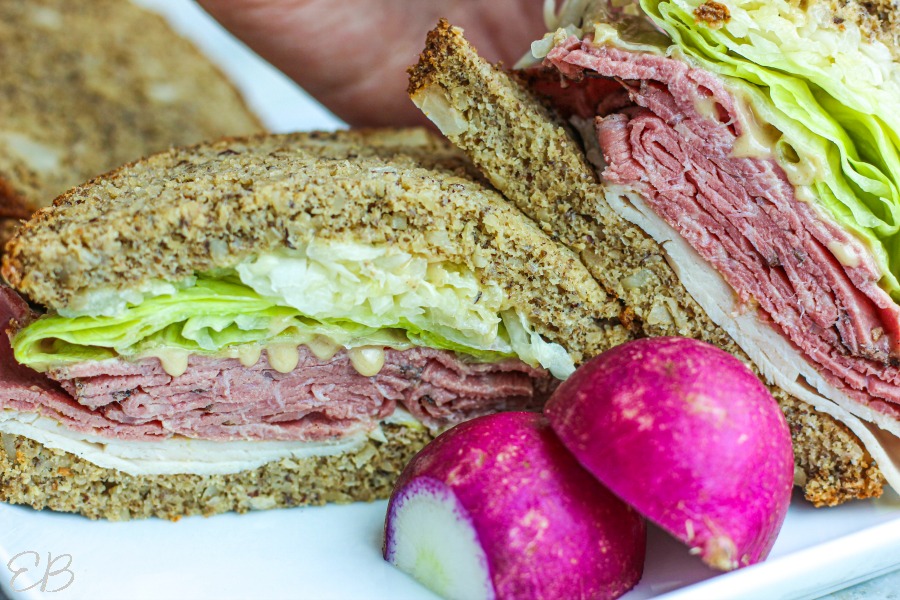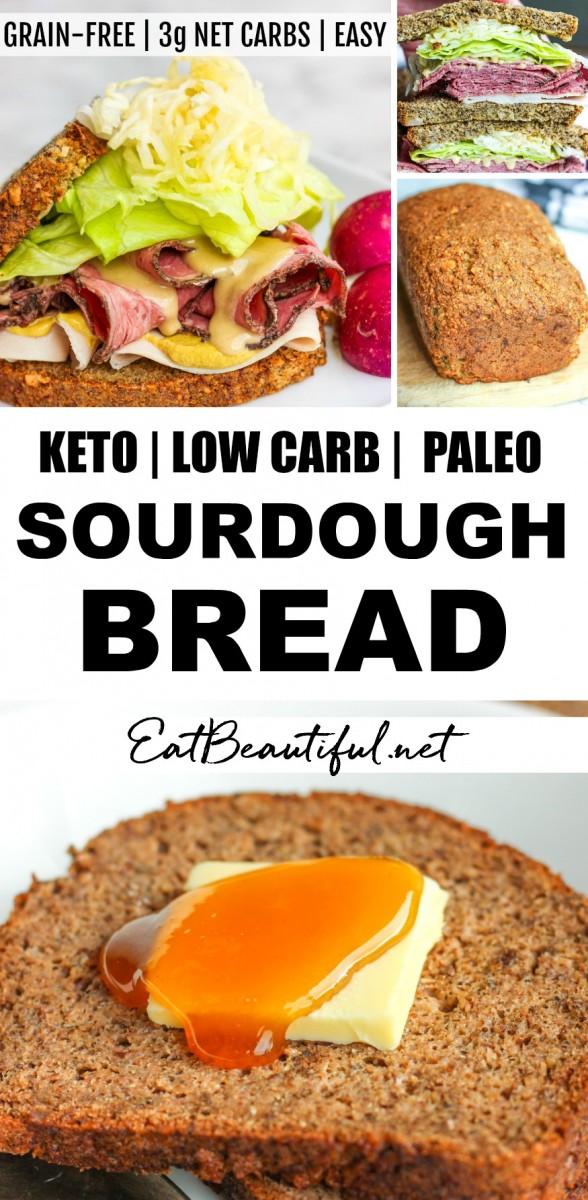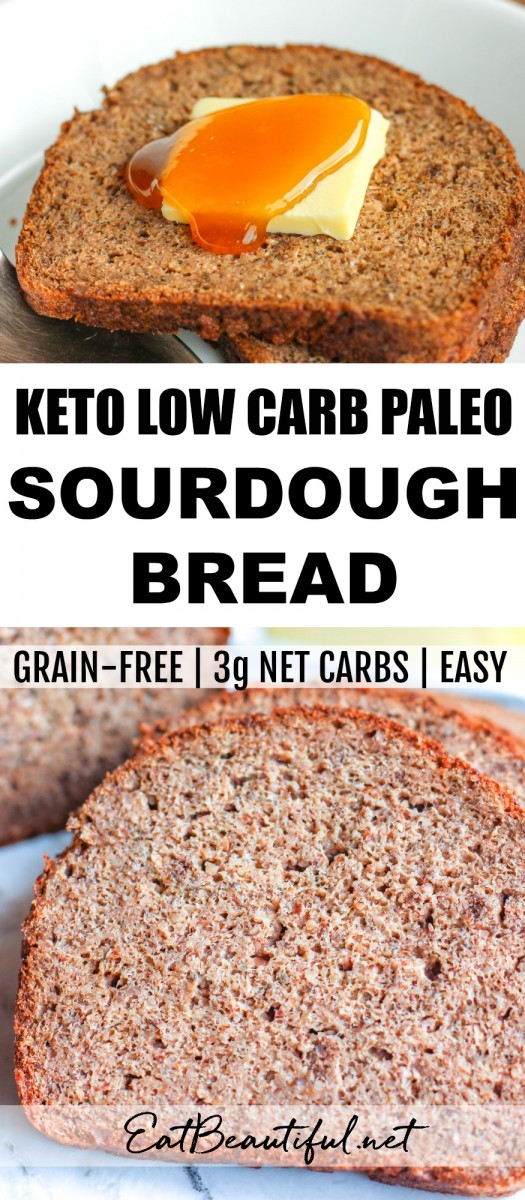 Looking for more Keto Low Carb Paleo Breads? Try these: