I may receive a commission if you purchase through links in this post. I am not a doctor; please consult your practitioner before changing your supplement or healthcare regimen.
Keto Paleo Sausage Biscuits are delicious comfort food — and a meal in your hand! Low carb, but high in protein and good fats, this savory treat will be a new favorite.
Perfect for breakfast, snack, lunch and even dinner, Keto Paleo Sausage Biscuits are also GAPS diet friendly, VAD and Gluten-free.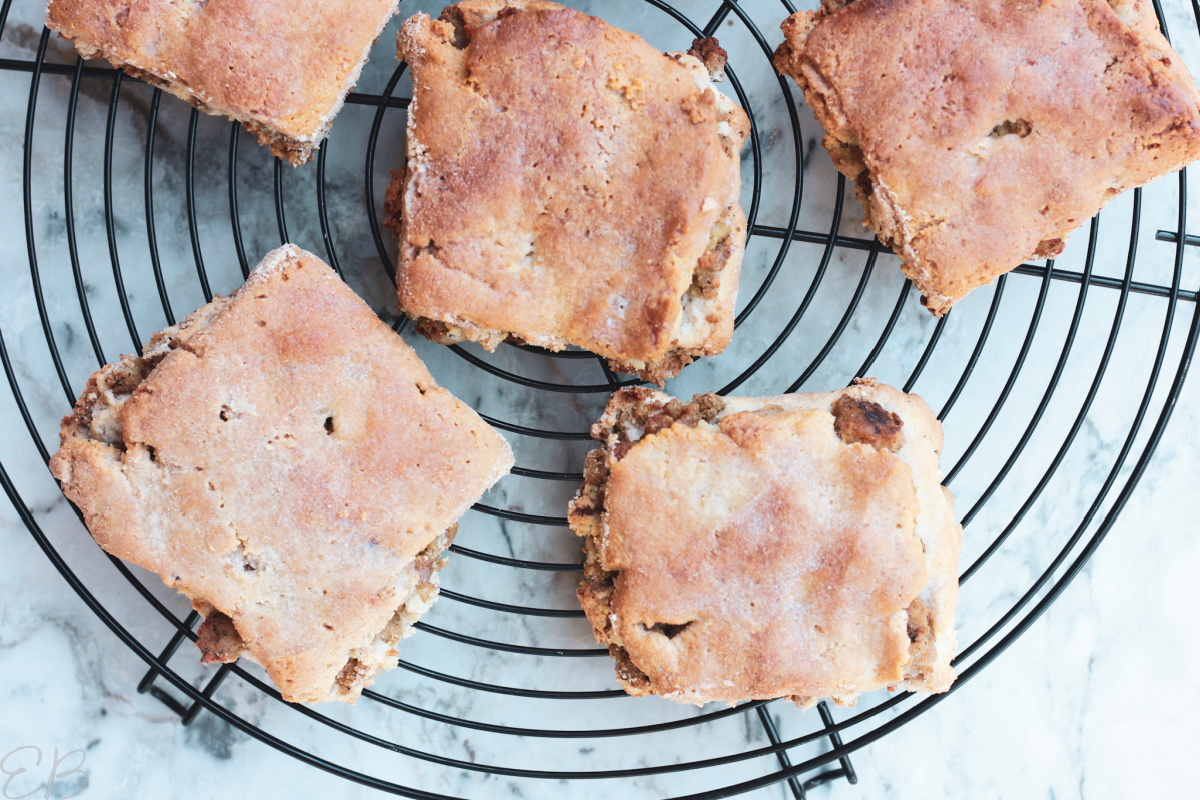 Jump to Recipe
Ingredients in Keto Paleo Sausage Biscuits
Bulk ground meat — Use turkey thigh or ground pork. Both are great. Or, you can even use beef or lamb, although they won't be as traditional; it's a different angle to take with the recipe. (For VAD, use turkey or beef.) If you like spicy meat, you may also use bulk chorizo.
Blanched almond flour — I like this one best!
Eggs
Milk of choice
Butter
Dried herbs and pepper — For this recipe, you don't need a lot of seasoning. Just 1 to 2 herbs create a nicely flavored meat. You may choose from sage, rosemary and thyme, all mentioned below in the recipe. A little pepper is nice too. I like white pepper best with sausage meat, but black is fine too. (For VAD, dried ginger may be used in place of pepper.)
Baking powder, baking soda and sea salt — Omit the baking powder for GAPS.
You may also add cheese, if you like. I leave it out for our family, but if you love it, great. That variation is given in the recipe below.
How to make Keto Paleo Sausage Biscuits
Heat large skillet. Cook up the ground meat with dried herbs and sea salt. Set aside.
In large mixing bowl or food processor, stir together dry ingredients for biscuit dough. Add and blend in butter (using a pastry cutter or food processor). Add milk and egg (and optional cheese), and blend until just combined.

Dump half of the dough out onto a parchment lined cookie sheet. Gently form into a 3/4-inch thick rough square or rectangle. Add cooled meat, spreading out pieces evenly. Dump second half of dough on top of meat. Spread out top biscuit dough evenly.

With wetted fingers, smooth the edges and surface of the dough, and cut into squares.

Bake until golden brown all over and cooked through, about 20 minutes.
Cool slightly and serve. Or cool completely, and enjoy at room temperature as a savory pastry.
Tips when making Keto Paleo Sausage Biscuits
For the best buttery and flaky texture, do not over-mix the dough. After adding the wet ingredients, stir until just combined. However, I find this biscuit dough to be more forgiving than most, so also don't over-worry on this.
When it's time to spread out the dough to form the biscuits, keep the process casual. There's no need to make perfectly shaped biscuits. Let them look a little rustic.
See several process photos in the Recipe Notes section below the recipe.
Have fun with the process. While making biscuits feels like something could go wrong, this recipe is actually really easy and reliable.
How to store Keto Paleo Sausage Biscuits
Refrigerate or freeze these savory biscuits.
To refrigerate, store in an airtight container, and eat within 5 days. When you're ready to refresh or reheat, pop them in your toaster oven or low heat oven for 5 to 10 minutes.
To freeze biscuits, seal well in an airtight container. Enjoy within 3 months. To defrost, place on the counter for 4 hours.
You can also place Keto Paleo Biscuits into a lunchbox in the morning, and let them defrost on their own before lunch time.
Print Recipe
Keto Paleo Sausage Biscuits (Low Carb, Gluten-free, GAPS)
Nothing compares to a rich biscuit with sausage for a hearty, healthy, high protein breakfast (or snack), lunch (or dinner) with "comfort food" written all over it!
Equipment
baking sheet

pastry cutter and bowl OR food processor

oven
Ingredients
¾

pound

ground meat

pork, turkey, chorizo for spicy, or even beef or lamb, if preferred (If using turkey, see Notes section below recipe for how-to.)

2-

½

cups

almond flour , blanched (this one is best)

1

large

egg

room temperature (or 2 egg whites for VAD)

¼

cup

milk

almond, coconut (or oat for Gluten-free, VAD)

3

Tablespoons

butter

unsalted and chopped, cold, but soft; for dairy-free, use leaf lard or palm oil like this (not Spectrum)

2

teaspoons

baking powder

1

teaspoon

dried herb

sage, thyme or powdered rosemary + ¼ teaspoon white or black pepper (omit pepper for VAD, use rosemary option for VAD)

¾

teaspoon

sea salt

(omit for pre-seasoned meats like chorizo)

½

teaspoon

baking soda

sifted

Optional:

¼

cup

cheddar cheese

grated (I make mine dairy-free for our family, or sometimes with cheese for guests. For Paleo & VAD, omit cheese.)
Instructions
Heat large skillet over medium-high heat. Add pork sausage (or ground turkey thigh), sage, thyme or rosemary and

¾

teaspoon sea salt. Cook, breaking up meat with a spatula, until all pink is gone, about 8 to 10 minutes. Remove meat with a slotted spoon to a bowl to fully cool.

Preheat the oven to 350 Fahrenheit. Line a large cookie sheet with parchment paper and set aside.

In a large mixing bowl, mix together almond flour, baking soda, baking powder and sea salt.

Add chopped butter and using a pastry cutter or 2 knives, blend butter into the flour mixture, until a crumbly texture remains. Alternately, use a food processor to cut the butter in (see photo). Add milk, egg and optional cheese, and mix until just combined.

Dump half of the dough out onto parchment lined cookie sheet. Loosely form into a ¾-inch thick (about) rough square or rectangle. Do not pat it down more than needed to shape it. Add cooled meat, spreading out pieces evenly. Dump second half of dough on top of meat. Use wetted fingers to spread out top biscuit dough evenly. (See process photos below.) Variation 1: If you'd like and eat dairy, you may add grated or sliced cheese on top of the meat before adding the top layer of biscuit dough.

Use a sharp, long knife dipped in flour to cut straight down into dough. (This dough will make 6 biscuits if you create a rectangle of dough, or 9 smaller biscuits if you make a square.) Dip knife in flour after each cut, until you have all biscuits cut. Spread out biscuits just slightly from each other, so they have room to cook and expand slightly. Variation 2: You may also sprinkle cheese on top of the biscuits if you'd like, either now if you like it browned and crispy, or 10 minutes before they're done baking.

Bake in preheated oven 20 minutes.

After pulling biscuits from the oven, brush each with extra melted butter on top. (I just hold and then run the stick of butter over each biscuit and the heat of the pastry melts the butter as I run it over the surface; saves time.)
Notes
Variation: How to use ground turkey in this recipe
The main difference when cooking up ground turkey is we add two tablespoons of fat to the pan: one tablespoon facilitates the cooking of the turkey and the second tablespoon gets added at the end to add moistness.
Heat pan. Use 1 Tablespoon fat to cook turkey (with herb and sea salt). (Use bacon fat, lard or avocado oil, for example.)
After cooking ground turkey (follow Step 1 above in the main recipe), add 1 additional Tablespoon solid fat of choice, to the pan, and stir it in well. The meat will absorb this additional fat, creating a perfect and moist outcome.
Nutrition
Calories:
265
kcal
|
Carbohydrates:
3
g
|
Protein:
14
g
|
Fat:
22
g
|
Saturated Fat:
8
g
|
Trans Fat:
1
g
|
Cholesterol:
91
mg
|
Sodium:
389
mg
|
Potassium:
166
mg
|
Fiber:
1
g
|
Sugar:
1
g
|
Vitamin A:
223
IU
|
Vitamin C:
1
mg
|
Calcium:
127
mg
|
Iron:
2
mg
You can Pin Keto Paleo Sausage Biscuits here:
Other similar Keto recipes you'll enjoy:
Similar easy Paleo recipes: