I may receive a commission if you purchase through links in this post. I am not a doctor; please consult your practitioner before changing your supplement or healthcare regimen.
Keto Morning Glory Muffins are simply bursting with fun, moist ingredients! But instead of lots of grated carrots and raisins, look for great low carb ingredients with a similar outcome! This recipe can even be made nut-free. High protein, low carb and Paleo, enjoy a new favorite breakfast recipe.
Jump to Recipe
Ingredients in Keto Morning Glory Muffins
The concept of Morning Glory Muffins is to throw together all kinds of fruits and vegetables in a wholesome muffin base — to create a super moist and sweet breakfast treat, or snack. Morning Glory Muffins often include grated carrots and raisins, but don't have to. One source said that the 1960s backyard garden was a great inspiration for these muffins.
I've included a bit of grated carrot in my low carb muffin, but this does not even add 1 net carb per muffin. You'll also use some basic Keto baking ingredients + several fun mix-ins!
Eggs — This basic ingredients helps to create the rise in Morning Glory Muffins, and also provides great protein and fat.
Coconut flour — I love making low carb baked goods with coconut flour. It provides a little fiber, has no negatives … and usually requires eggs, which means more protein in baked goods.
Protein Powder — I wanted to make a high protein muffin recipe for my family that tasted like the big, sweet, wheat-based Morning Glory Muffins of my youth. So I found a protein powder that gave this muffin that super healthy, a little hippie/earthy flavor that I have always loved (formerly from whole wheat flour).
It's hard to find the perfect protein powder for everyone's needs, and I've never found one until now that works well for my body. The powder I've chosen for this recipe is organic seed-based (nut-free); so it's also dairy-free. And it has only 3 seeds as the 3 ingredients! No fillers, emulsifiers etc. Made by Perfect Supplements, per scoop this protein powder has a whopping 17 grams of protein! That's on the higher side. This product is Keto, Paleo and Vegan … and it tastes simply lovely in these muffins! (Find it HERE. Use code BEAUTIFUL10 at check out for 10% off your entire order.)
Or, you can use finely ground pumpkin seeds. Grind them in your coffee grinder, or wherever you can get the fine grind. I give this option in the recipe below.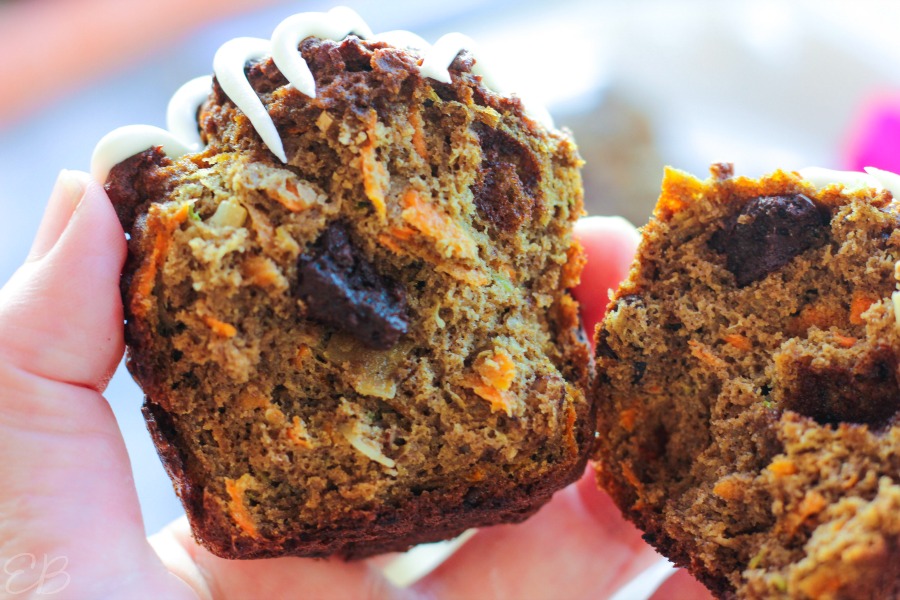 Grated zucchini and carrot — I use 1/2 cup grated carrot in this recipe, and this does not even add one net carb per muffin. But if you want to omit the carrot to reduce net carbs a little (or maybe you never buy them), you can sub in extra zucchini for the carrot. There's a 1/2 cup of each in this recipe. They add nice moistness and are classic spice cake-like veggies when grated into baked goods.
Mix-ins — Pecans and shredded coconut are both classic Morning Glory Muffin ingredients. If you wish to omit either, you can! (For nut-free, omit pecans. If you don't like shredded coconut in baked goods, omit the coconut.) If you keep them both in, Keto Morning Glory Muffins are a trail mix kind of a muffin, studded with nubby-textured treats.
Chocolate chips — Because I love chocolate, and I know most of you do too, I've subbed the raisins (you'll find in traditional Morning Glory muffins) for chocolate chips. I didn't think you'd mind … but omit them, if you prefer. Or for Paleo, sub back in raisins. Chocolate chips actually go great in a spice cake setting, right at home. (Omit for GAPS, unless homemade.)
Avocado oil — Avocado oil is a convenient, pourable fat that works great in muffins. You could also use melted butter or coconut oil, if you prefer.
Sweetener — For Keto, this recipe uses low carb granulated sweetener. For Paleo, choose between maple sugar and coconut sugar. (For GAPS or Paleo, use honey.) The sweetener not only makes this muffin sweet, it also contributes moistness to the muffin and the right texture.
Spices — Ginger, cinnamon, allspice and nutmeg create a kind of traditional spice-cake flavor for Morning Glory Muffins. Leave one or two of them out if you don't have them all in your pantry. But I do love the flavor each adds.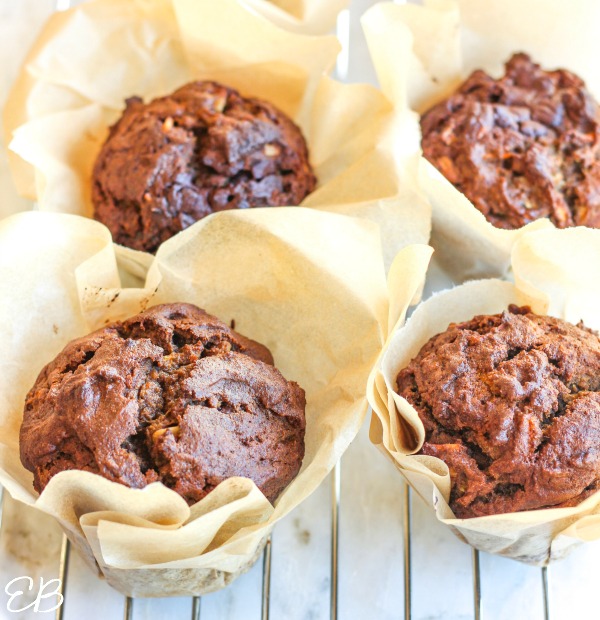 How to make Keto Morning Glory Muffins
This is a one-bowl recipe, so super easy!
We simply stir the dry ingredients together in a big bowl. Add the wet ingredients, and stir well.
Makes 6 plump muffins. I use a muffin pan that has slightly taller cavities and line my pan with squares of parchment paper.
This batter is nice and thick, so it won't be runny when you're filling the muffin pan.
I bake these muffins at a lower temperature than most baked goods, 325 degrees Fahrenheit, to keep the tops from darkening too much while the inside cooks fully.
Soaked version of Keto Morning Glory Muffins
If you like to pre-digest your seeds and nuts for gentler digestion, see that version in the Recipe Notes below. I create a kind of yogurt with the protein powder (we ferment it overnight), which adds tang to the muffins and makes the protein powder that much more nutritious.
How to store Muffins
If you plan to eat Keto Morning Glory Muffins the next day after baking, just wrap them and leave on the counter at room temperature.
For storing 2 days or longer — wrap, and refrigerate or freeze.
To garnish …
If you like the idea of icing these muffins, I used my Keto Orange Creamsicle Frosting. It's a citrusy cream cheese frosting, that tastes great at breakfast time.
Now that's a fun topping that you can also smear on the insides of the muffin if you want a real treat.
But these muffins don't need any garnish. Just make the frosting if — you want a little something extra special.
Print Recipe
Keto Morning Glory Muffins (high protein, low carb, Paleo)
Keto Morning Glory Muffins are simply bursting with fun, moist ingredients! High protein, low carb and Paleo. Nut-free.
Instructions
Line muffin pan with liners. Preheat oven to 325 degrees Fahrenheit.

Stir together dry ingredients in large mixing bowl: coconut flour, seed-based protein powder, optional chocolate chips, walnuts, shredded coconut, sweetener (if using Keto/Low Carb or Paleo granulated option), cinnamon, allspice, baking soda, sea salt and nutmeg.

Add to same bowl the wet ingredients: eggs, (honey if making GAPS version), fat of choice, grated zucchini, optional grated carrot and fresh ginger.

Stir together until fully combined, without over-mixing.

Scoop batter into prepared muffin pan, making six muffins. Bake in preheated oven until toothpick inserted in the center comes out clean and edges are brown, about 25 to 30 minutes. Cool and enjoy.
Notes
How to make this recipe a "soaked" muffin (a sourdough of sorts)
I know many of my readers like sour doughs and pre-digesting/fermenting batters as much as I do! So here's how you do it with this recipe:
You'll need three extra ingredients: 
½

cup probiotic sour cream (or yogurt)
1 Tablespoon + 2 teaspoons psyllium husk powder

½

teaspoon inulin for low carb OR 1 teaspoon coconut or maple sugar
The day before you intend to bake the muffins, stir

½

cup probiotic sour cream (for Low Carb) or yogurt (dairy-free is fine too) into the Perfect Supplements Plant Protein Powder. Also: Add

½

teaspoon inulin OR for Paleo 1 teaspoon of some kind of unrefined sweetener (the probiotics will eat this). Mix well in smallish ceramic bowl. You'll get a thick dark green paste-yogurt of sorts. Cover loosely, and place in warm location, such as a yogurt maker, overnight.
In the morning, your seed "yogurt" will be added to all of the wet ingredients.
To the dry ingredients, stir in the psyllium husk powder. Mix all well (electric beaters work best with this version), and bake, according to recipe above. 🙂 
Soaked muffin process photos
(I used white carrots in the muffins below.)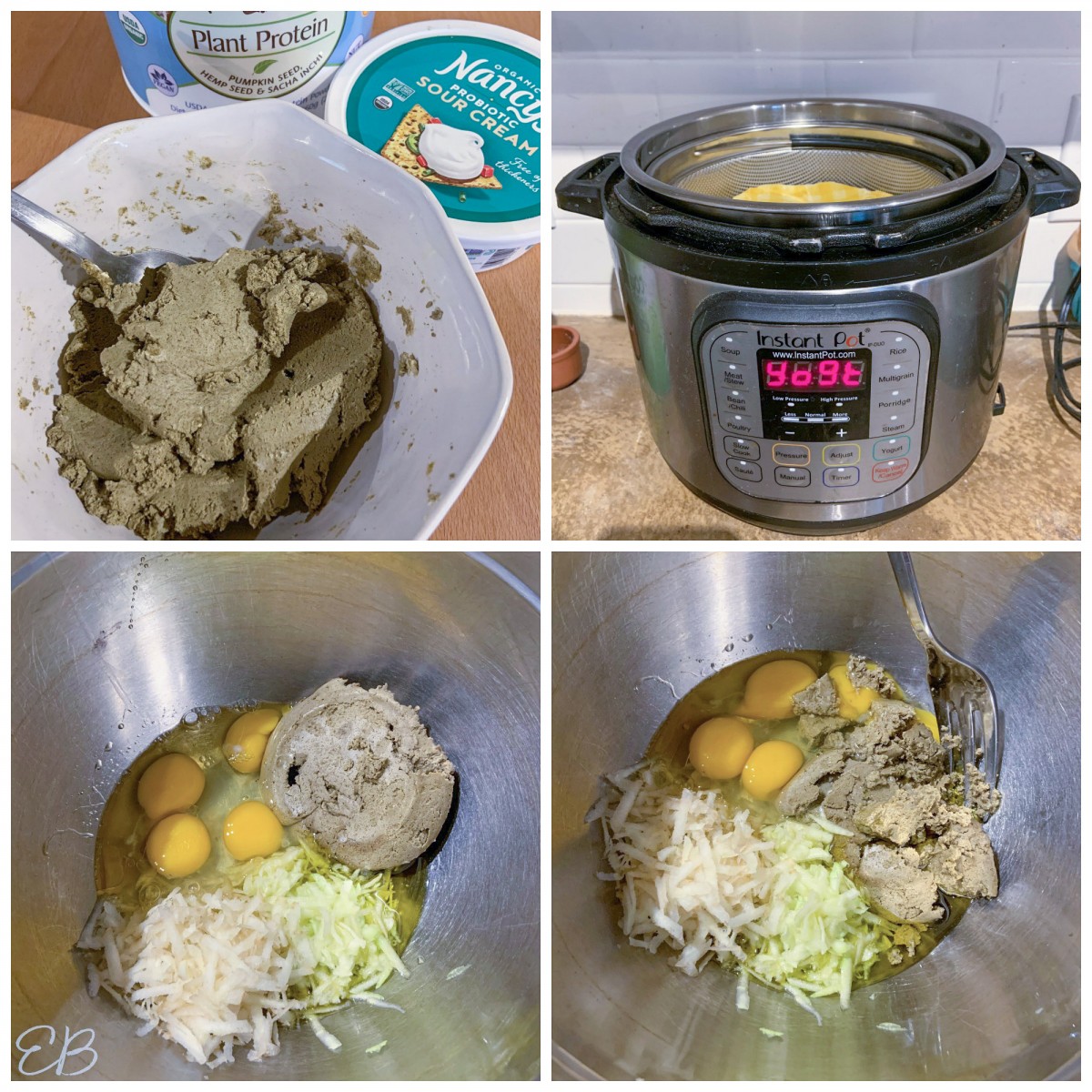 Nutrition
Calories:
437
kcal
|
Carbohydrates:
5
g
|
Protein:
13
g
|
Fat:
34
g
|
Saturated Fat:
8
g
|
Trans Fat:
1
g
|
Cholesterol:
111
mg
|
Sodium:
257
mg
|
Potassium:
156
mg
|
Fiber:
6
g
|
Vitamin A:
2001
IU
|
Vitamin C:
3
mg
|
Calcium:
50
mg
|
Iron:
1
mg