I may receive a commission if you purchase through links in this post. I am not a doctor; please consult your practitioner before changing your supplement or healthcare regimen.
Whole30 Mediterranean Potato & Olive Crustless Quiche shows off brined olives, roasted peppers, (Yukon Gold) potatoes and za'atar! This dairy-free quiche is oh so creamy and satisfying! It's Paleo, Gluten-free and has an easy variation to be GAPS-legal too.
You'll love the spices and herbs … and the beautiful outcome. (And you'll never miss the crust.) Serve for brunch or dinner — to family or friends. Lovely for casual holiday food or for everyday!

What is za'atar, and what does it taste like …
First things first: I want to talk about za'atar. It's the beautiful herb and spice combination native to the Mediterranean and Middle East.
Za'atar can be purchased already blended, but it's more expensive and often less fresh. Yet it's easy and fun to make your own!
Za'atar only has one (wonderful) exotic spice that you may not yet have in your pantry. But once you get it, you'll find yourself sprinkling it on all your salads and everywhere else too! It's: SUMAC!
I first had sumac 21 years ago on our honeymoon in Canada! A lovely restaurant sprinkled it on our salad. I was SO excited, having no idea what it was. Excited? Yes, because it tasted of lemons and tangy berries and pomegranate molasses, earthy mysterious goodness, with a little crunch. (Find sumac HERE.)
Za'atar deconstructed …
Za'atar is just this: sumac, oregano, sesame seeds, cumin and s & p. (There are other variations as well.) What a wonderful, strange and exotic spice combination it is, too!
You'll love this special Whole30 crustless quiche recipe, where I've taken the parts of za'atar, deconstructed them and created something new: The sesame seeds border the beautiful pie and create a lovely edge (almost like a crust). The sumac, oregano and cumin perfume the custard of the quiche.
Brined Olives & Peppers in Whole30 Crustless Quiche
The whole quiche is speckled with lovely brined, marinated olives and rich, roasted peppers. Be sure your olives and peppers are pure brands, so they're truly Whole30.
Brined olives simply mean that they're cured in salt water and then steeped in olive oil. Many good markets have a bulk olive bar where you can check the ingredients and weigh out the amount you'll need for the recipe.
Yukon Gold Potatoes in this quiche
If you can get Yukon Gold potatoes they're worth it, often smaller and always creamy. But any potato will be good. If you allow them to cool a bit, or the baked quiche to cool, they will form something (very, very good) called resistant starch. Specifically called RS 3, the prebiotic quality develops in cooled potatoes (yes, even potato salad contains RS3) and is excellent for colon health and one's microbiome.
(Did you know: Potatoes are also high in Vitamin C?!)
Love the idea of resistant starch YUMMY potatoes? You'll also love this Smashed Potatoes recipe.
GAPS variation
To make this recipe GAPS Diet-legal there is only one change you'll need to make, and that's switching the potatoes for winter squash (or cauliflower). Easy.
It's always SO nice to have a lovely brunch or dinner casserole on GAPS that's good enough to serve to friends.
Whole30
With recipes like this one, Whole30 is a delight. In general, I find that to be true: beautiful, often gourmet, fairly simple recipes that are delicious and fresh to eat and not difficult to prepare. Whole foods and good feelings in the body as a result. 🙂
Mediterranean Potato & Olive Crustless Quiche (Whole30)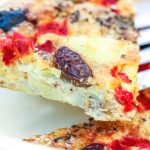 Print Recipe
Mediterranean Potato & Olive Crustless Quiche (Whole30)
Mediterranean Potato & Olive Crustless Quiche with Brined Olives, Roasted Peppers, Yukon Gold Potatoes and Za'atar is dairy-free, but oh so creamy and satisfying! You'll love the spices and herbs and the beautiful outcome. Serve for brunch or dinner, to family or friends. Lovely for casual holiday food or for everyday. Paleo & Gluten-free.
Ingredients
1

pound

potatoes

Yukon Gold preferred, or use winter squash for GAPS Diet variation or if sensitive to nightshades

6

eggs

¼

pound

olives

(about

¾

cup), in herbs and olive oil

½

cup

roasted red peppers

chopped

½

cup

coconut cream

spooned from the top half of the can of full-fat coconut milk

3-4

Tablespoons

hulled sesame seeds

½

teaspoon

sea salt

½

teaspoon

dried oregano

plus a bit more for garnish

½

teaspoon

sumac

(see source below in Recipe Notes)

¼

teaspoon

cumin
black pepper

freshly ground, about 10 grinds, to taste
Instructions
Place potatoes in small-medium size pot. Cover with water, and add a few pinches of sea salt. Bring to boil. Reduce heat and simmer until they're fork-tender through to the center, about 15 minutes for small potatoes. Remove from heat, drain the water and set aside to cool slightly. When cool enough to handle, cut potatoes into eighths, so they'll blend evenly in step 4.

Grease medium size casserole dish (any shape). Preheat oven to 375 degrees Fahrenheit.

Place the following ingredients in blender: eggs, coconut cream, sea salt and pepper. Puree on medium speed until mixed, about 15 seconds.

Add potatoes, oregano, sumac and cumin. Pulse about 5 times: do not puree the potatoes; you want small chunks evenly distributed in the egg custard.

Pour egg-potato mixture into greased casserole dish. Evenly distribute olives and roasted peppers over the surface. Garnish with extra bit of dried oregano.

Sprinkle sesame seeds around the edge of the "quiche": go around once sprinkling them on; then go around a second time repeating the motion so the layer is thick and won't sink; the custard is pretty thick, but you want a nice bit to form a noticeable crust or edge to the pie.

Bake in preheated oven 30 minutes. (Cooking times may vary a bit depending on size of casserole dish. The custard is cooked through when it's golden brown all over and slightly puffed in the center.)
Nutrition
Calories:
217
kcal
|
Carbohydrates:
16
g
|
Protein:
8
g
|
Fat:
14
g
|
Saturated Fat:
8
g
|
Cholesterol:
164
mg
|
Sodium:
716
mg
|
Potassium:
469
mg
|
Fiber:
3
g
|
Sugar:
1
g
|
Vitamin A:
373
IU
|
Vitamin C:
21
mg
|
Calcium:
51
mg
|
Iron:
2
mg
Have you enjoyed sumac or za'atar before?
Looking for recipes similar to Mediterranean Potato & Olive Crustless Quiche? Enjoy these savory Whole30 recipes too: