I may receive a commission if you purchase through links in this post. I am not a doctor; please consult your practitioner before changing your supplement or healthcare regimen.
Paleo Cultured Teriyaki Sauce is fast and easy to make! Perfect for Gluten-free, Ancestral, Keto, AIP, Whole30, GAPS, VAD and Vegan meals, this sauce works great for a quick stir-fry dinner or even as a salad dressing or condiment.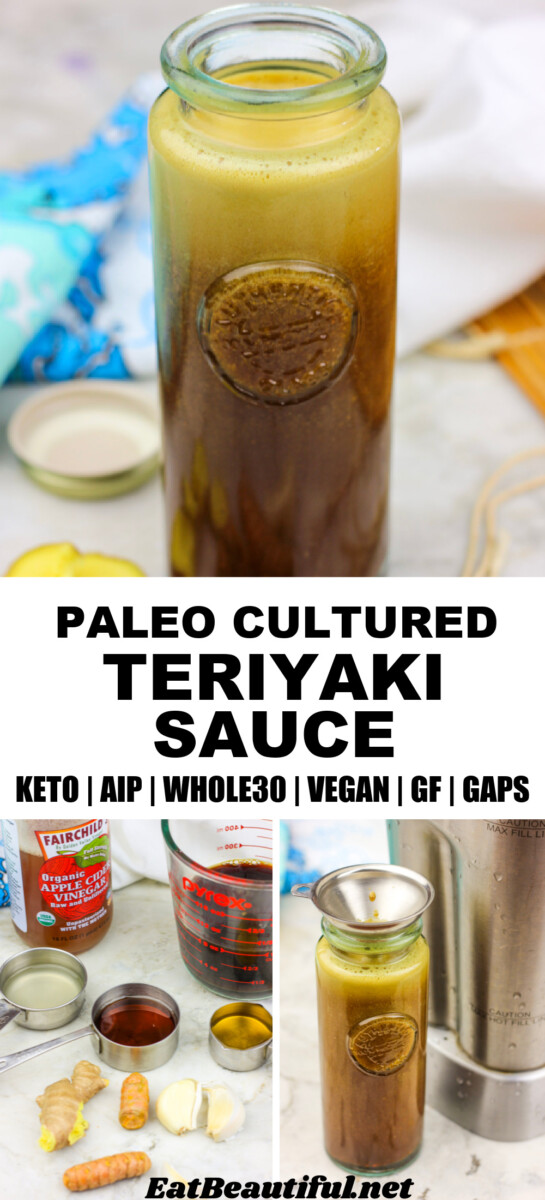 Jump to Recipe
Culturing Teriyaki Sauce is optional. When you culture a sauce, it just means you let it sit out overnight with one special ingredient added to let the flavors and nutrition increase.
Make the whole recipe in just 10 minutes, let it sit out overnight, then use and enjoy! — I'll show you more about how and why!
Whole food, cultured condiments are exciting! They're actually alive with probiotics … which makes mealtime a provocative experience.
You are putting something healthful into your body that also happens to be intensely flavorful.
There is added satisfaction when you used to buy a factory-made version of a product, laden with ingredients that taxed your body. And now you make a real food version that's fast and way healthier.
What ingredients are in store-bought teriyaki sauce?
Teriyaki Sauce is one of those foods that even seemingly nice Asian restaurants do not make homemade. I worked at a high-end sushi restaurant in Seattle where we made almost everything from scratch.
BUT … the exceptions were tempura batter, the pound cake that we wrapped around green tea ice cream and deep fried 😉 and … teriyaki sauce.
Even homemade recipes that you find online contain mostly unfermented soy sauce and white sugar, two of the most dangerous modern foods, not to mention corn starch. Others contain Worchestershire sauce, ketchup and oyster sauce, all factory-made foods with factory-made ingredients.
Here are the ingredients in 3 leading brands of teriyaki sauce, just to give you an idea and points of contrast. I have listed the more gourmet, "healthy" ones first. The third product reflects most teriyaki sauces on the market; but even the first two are laden with disease causing ingredients:
Alas, there is a better way!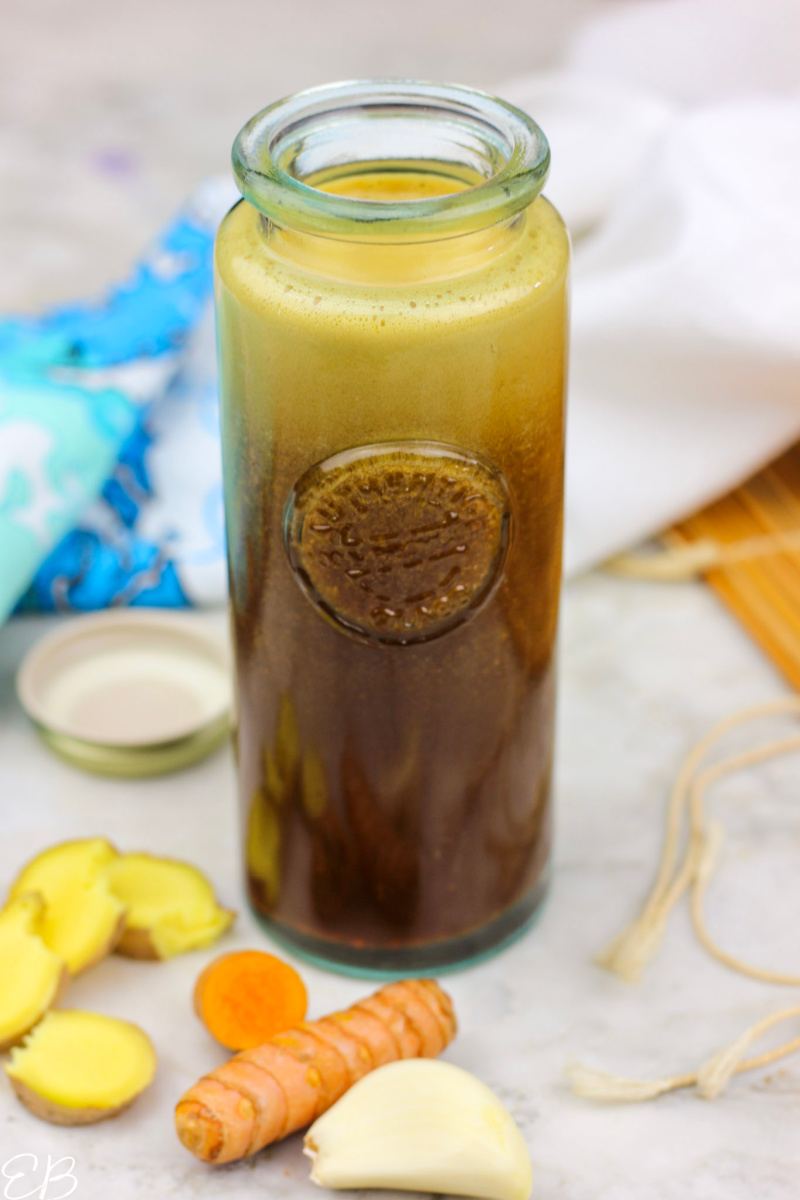 Ingredients in Paleo Teriyaki Sauce
Simple whole foods come together in perfectly balanced proportions to make this savory-sweet treat:
If you don't use the thickener, be sure to serve your stir fry with cauliflower rice or white rice, to sop up all the juices.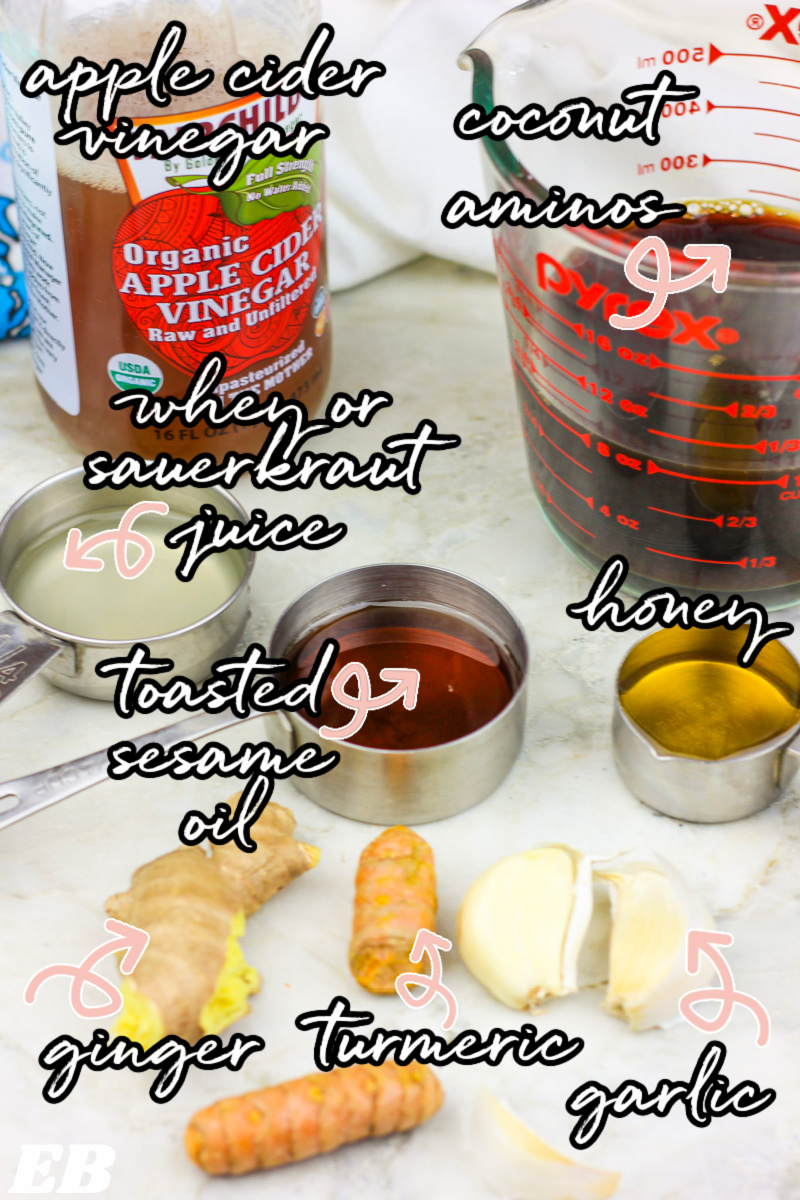 Tips for how to use the sauce and making stir fries
To cook with Paleo Teriyaki Sauce, it gets added at the end of the cooking process. Stir fry your veggies and meat, then add the sauce.
PRO TIP for stir fries: High heat is the key to success. Don't overcrowd your pan, or the ingredients will steam.
Instead, use two pans, or cook in two batches: First cook your veggies. Then remove them to another dish. Then add your meat. It cooks quickly over high heat — yielding a rich, seared flavor. Finally, add your veggies back to the pan, and add the sauce.
Cook for 3 to 5 minutes, until everything's cooked perfectly, and the sauce is slightly thickened.
PRO TIP #2: When cooking the vegetables the first time, don't overcook them. They should be bright and crisp. When you add them back to the pan with the meat and sauce, they'll continue to cook a bit more, and you don't want them mushy or dull in color. (If however, you need your veggies well-cooked so they're easier to digest [for GAPS diet, for example], then obviously, that's fine.)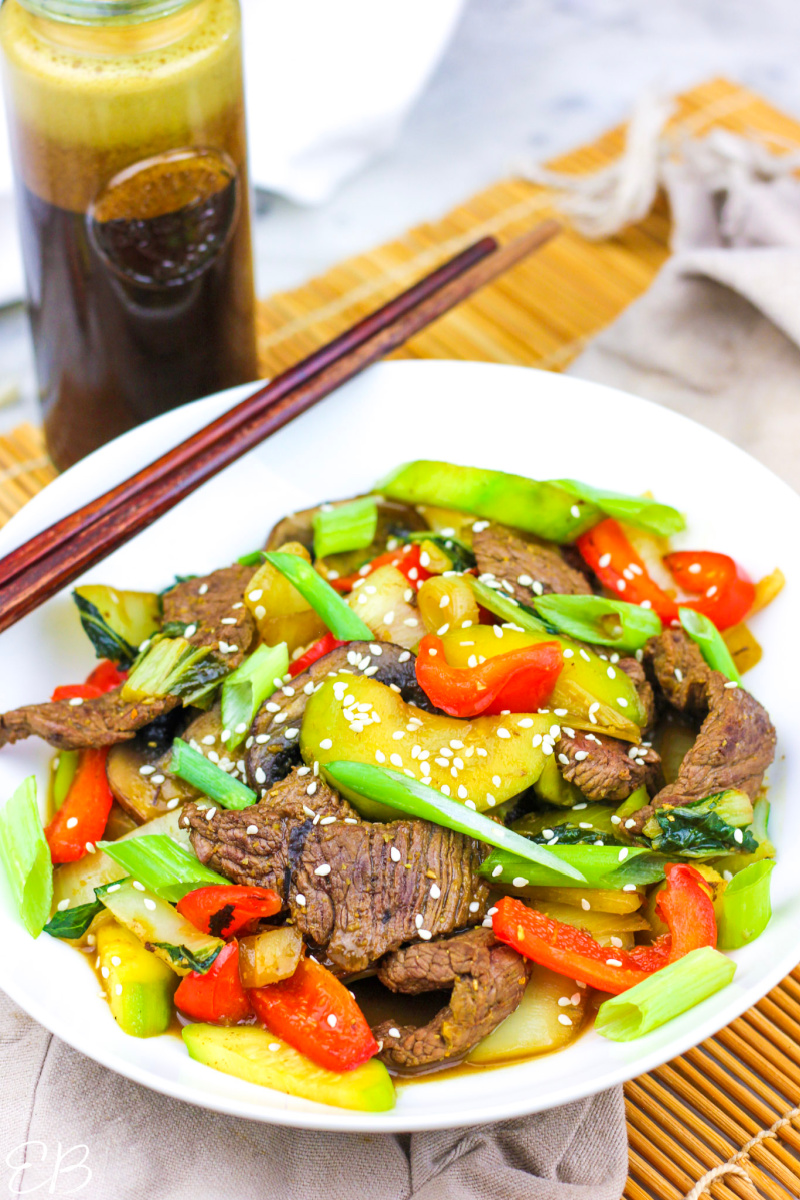 What to cook with Paleo Cultured Teriyaki Sauce
Enjoy Paleo Cultured Teriyaki Sauce with baked, barbecued or stir-fried meats and veggies, like Skirt Steak Stir Fry (pictured above).
Also:
Once you have this easy sauce made up, dinner comes together quickly, with very little leg work.
Why and how to make Traditional Cultured Teriyaki Sauce
Regarding the culturing, it is a simple overnight matter of adding whey (or sauerkraut juice) to the teriyaki sauce.
Super easy, but it boosts the flavor and nutrition in all the ingredients — and extends the shelf-life of the product.
Culturing also adds probiotics — which are preserved if you use this recipe as a raw salad dressing or condiment!
How to store Teriyaki Sauce
Pour completed sauce into a jar with lid.
Refrigerate for up to 3 weeks.
Print Recipe
Paleo Cultured Teriyaki Sauce (Keto, AIP, Whole30, Vegan)
Make your own Teriyaki Sauce! This one takes just 10 minutes to make, has great whole food ingredients, and it optionally cultures overnight (easy!) for great flavor, probiotics and nutrition.
Servings:
12
ounces, approximately
Ingredients
1

cup

coconut aminos , or real fermented soy sauce for Gluten-free, Keto, Vegan, Ancestral or if preferred

2

Tablespoons

sesame oil

, toasted

2

Tablespoons

honey

OR use low carb honey or 1/32 teaspoon monk fruit for Keto version (see link below in Recipe notes); for Vegan, use agave

2

Tablespoons

apple cider vinegar

1"

nub

fresh ginger

chopped into 4 to 6 pieces

1"

nub

fresh turmeric

chopped into 4 pieces (You may add ¼ teaspoon of black pepper to the recipe if you'd like to get turmeric's health benefits [not for AIP].) Use

¼

teaspoon dried turmeric powder if you can't access the fresh root.

1

Tablespoon

whey (optional, if you plan to culture the recipe)

OR probiotic sauerkraut juice for VAD; see Recipe Notes for how to extract whey

1

large clove

garlic

2

teaspoons

optional

tapioca starch (OR

½

teaspoon xanthan gum for Keto), if you want the sauce a little viscous, to thicken; omit this for GAPS
Instructions
Combine all ingredients, except whey and thickener (tapioca or xanthan), in blender. Purée on high speed for 30 seconds.

To culture: Stir in whey. Pour sauce into a jar that fits its quantity, and screw on lid loosely. Leave sauce at room temperature overnight to culture. In the morning, screw lid on tightly and refrigerate. Keeps 3 weeks.

To thicken sauce right before using/cooking a dish: Pour sauce into small bowl. Whisk in tapioca flour or xanthan for Keto. After your meat and veggies are almost done cooking, add sauce to the hot pan. Cook for about 5 minutes, stirring as it simmers, until sauce is thickened and coats the veggies and meat.

To thicken sauce before storing in the fridge (not the same day you plan to cook with it): Pour sauce into small saucepan. Whisk in tapioca flour or xanthan for Keto. Bring to a simmer, and cook up to 5 minutes, until it thickens. Cool slightly, then store in a jar in the fridge until you're ready to use it, up to 3 weeks.
Notes
Monk fruit can be found

here

.
What is Whey and how to use it
Whey is simply the clear liquid that comes off of yogurt or kefir — even non-dairy yogurt.
For non-dairy versions it can be extracted with the same method. Make sure to find a fully cultured, high quality non-dairy yogurt, that is full of probiotics.
Directions to obtain whey (including non-dairy)
Nest a small-medium size bowl beneath a colander.
Line the colander with cheesecloth or a coffee filter. 
Pour 1 cup high quality plain yogurt or kefir into the colander.
Allow the yogurt to sit for several hours or in the fridge overnight. What gathers in the bowl beneath the colander is whey.
Whey is full of probiotics and used to inoculate or culture foods. (The yogurt that remains is delicious. It is now considered yogurt cheese, thick and rich.)
Nutrition
Calories:
41
kcal
|
Carbohydrates:
4
g
|
Protein:
1
g
|
Fat:
2
g
|
Saturated Fat:
1
g
|
Sodium:
452
mg
|
Potassium:
2
mg
|
Sugar:
1
g
Love Asian flavors? Find similar recipes here: