I may receive a commission if you purchase through links in this post. I am not a doctor; please consult your practitioner before changing your supplement or healthcare regimen.
These AIP Cookie Recipes are egg-free, nut-free, dairy-free and Paleo. You'll find in this collection: Gingerbread Cookies, Berry Cookies, Banana Cookies, Pumpkin Cookies, unsweetened Chocolate-Banana Cookies, Chocolate Chip Cookies, Snickerdoodles, Brownies and more. Great for everyday treats and special occasions.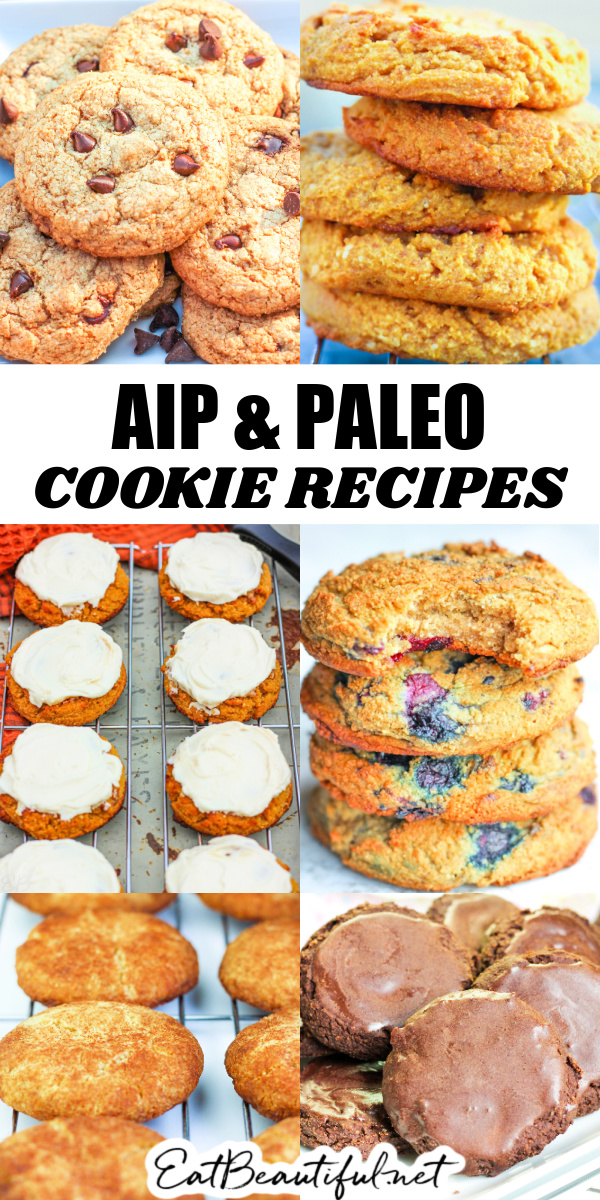 How to bake AIP cookies
AIP stands for the Autoimmune Protocol or Autoimmune Paleo. Inflammatory foods like gluten, grains, eggs, nuts, seeds, legumes, nightshades, sugar and dairy are removed — to allow the body to heal itself.
But holidays and special occasions can still be filled with lovely treats!
There are so many great flours or flour alternatives included in the AIP diet — gentle ingredients like: coconut butter, coconut flour, tiger nut flour, plantains, green banana flour, carob, arrowroot, tapioca and cassava flour.
Plus, many creative ingredients may be incorporated: milks like Avocado, homemade carob chips and dairy-free yogurts. Also: collagen, sweet potatoes, carrots, coconut water, coconut kefir, homemade Caramel Sauce, banana milk and summer squashes.
For fats, the AIP diet allows: lard, coconut oil, avocado oil, olive oil, palm and other animal fats.
And traditional foods like bacon, fruits and berries, cinnamon, ginger, herbal coffee substitutes and molasses.
Instead of sugar, we use dates, coconut sugar, maple sugar, maple syrup or honey.
In place of eggs, we use gelatin or flours and fruits with leavening powers.
If any of this feels overwhelming, the recipes below will walk you through how to make a particular kind of cookie, with information about specific ingredients.
Most cookie recipes are pretty easy to make. I hope you have fun with these and enjoy!
AIP Cookie Recipes
Paleo Chocolate Chip Cookies — A perfect classic.
AIP Gingerbread Cookies — An incredibly delicious and easy recipe!
Pumpkin Cookies (With or without frosting.)
Mixed Berry Cookies (I call these a "breakfast" cookie, but that's just because they're nutrient dense. They're a super treat for any occasion, any time of day.)
Healthy "Chocolate" Banana Cookies with Glaze
Banana Breakfast Cookies (Again, great any time of day!)
Carob Brownie Bites (A dehydrator cookie.)
How to turn AIP cakes into cookies
Pro tip: Serve AIP cake and cupcake recipes as cookies! These treats are super appealing visually and create nice variety on a cookie platter or buffet.
Cut finished cakes into small squares — 1″ by 1″ or slightly bigger. Or bake batter in a mini cupcake pan.
Serve the small bites in mini cupcake paper liners if you want to make them look extra special.
Here are a few great cake recipes to serve with or as cookies:
How to serve AIP Cookie Recipes
I think the best way to serve cookies is with special hot beverages! You can make homemade apple cider, and warm it with cinnamon and ginger. Or make some of the suggestions below, all favorites of mine:
The other great way to serve cookies is brownie-sundae-style — with ice cream. Here are some great dairy-free AIP ice cream recipes to serve on top of or alongside cookies:
Happy cookie making!