I may receive a commission if you purchase through links in this post. I am not a doctor; please consult your practitioner before changing your supplement or healthcare regimen.
Who doesn't love caramel sauce?! But it can be intimidating to make, and time consuming. Not anymore. This Paleo & AIP Caramel Sauce has only 2 ingredients and takes just 10 minutes to make. You'll love the outcome and make it often for all your caramel needs.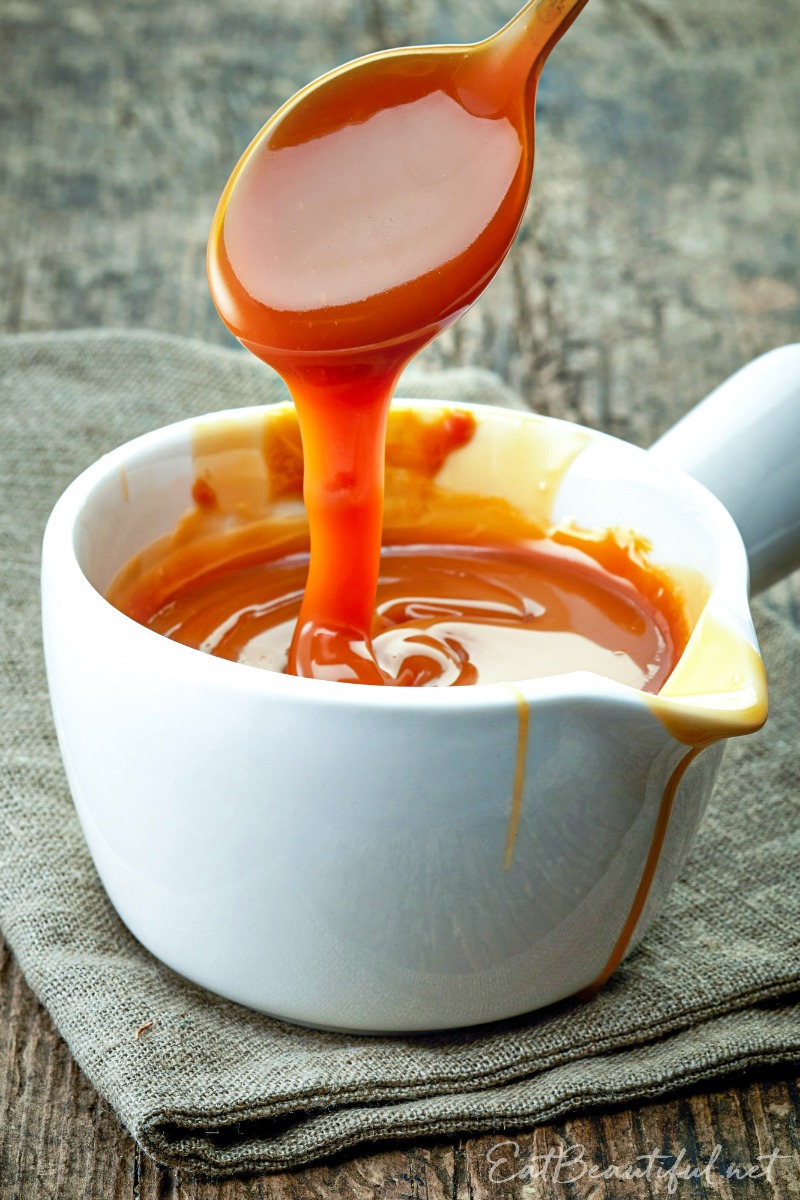 Jump to Recipe
What makes this recipe Paleo and AIP?
Paleo and AIP Caramel Sauce has just two ingredients.
Both are non-dairy and AIP-approved.
This recipe is still a dessert and obviously not intended to be a staple of anyone's diet. But when it comes to treats, these ingredients are natural, non-inflammatory and gentle to digest.
How to use Paleo & AIP Caramel Sauce?
Spread it on a morning Paleo waffle with applesauce.
Tower it with AIP Biscuits, fruit and coconut whipped cream for shortcake.
Dip apple slices into it.
Make caramels —  by chilling little dollops and rolling them in wax paper.
Spread it on cake or between the layers of a layer cake.
Pour it over moist Caramel-Chocolate Mug-Muffins (recipe below).
Make Pear Upside Down Cake.
Paleo & AIP Caramel Sauce is refined sugar-free, dairy-free, and there's a dairy variation if you prefer a Primal version.
Caramel-Chocolate Mug-Muffins
If you want to enjoy this AIP Caramel Sauce recipe with an AIP cake, please enjoy this Pear Cake or these Cinnamon Cupcakes, which can also be baked as a single cake.
For a lavish Paleo alternative, I've provided a chocolate cake option.
Going back to my childhood, I have loved this combination — caramel and chocolate cake fit well together.
The mug-muffin setting makes that combo adorable and accessible: easy to assemble and appealing to eat. We just grab a spoon to eat it!
This mug muffin is baked, not microwaved. While modern microwaves are considered relatively safe, many of us don't own them and prefer to cook in an oven.
Enjoy this decadent use for caramel. And enjoy my classic Paleo Chocolate Cupcake/Muffin recipe below.
Can this sauce be used with ice cream?
The one thing not to use this caramel sauce for is a topping for ice cream. It will get firmer if poured on top of something cold, so it won't stay runny as a topping.
But you can layer it into homemade ice cream; then freeze; then scoop — then you'll get a gorgeous swirl.
What is the shelf life?
We always eat it within 2 days!
I first started making this recipe by luck. I tried the ingredients, and it worked. Then I cooked with it for a dessert I was making, and the next morning we finished it for breakfast.
So in our house it's never lasted long enough for me to be sure. My guess is 5 days minimum, but maybe longer. Typically, coconut cream spoils within about a week, but the coconut sugar cooked into it lengthens that.
I suggest you eat it quickly and share any leftovers!
Print Recipe
Paleo & AIP Caramel Sauce (with Primal variation) and Caramel-Chocolate Mug-Muffin Recipe
Makes 1-

¾

cup Caramel Sauce. If you plan to make the Caramel-Chocolate Mug-Muffins, add an additional 40 minutes to the overall time it will take to make the recipe.

Ingredients
1

cup

coconut cream

(For Primal version, use great quality heavy cream)

¾

cup

coconut sugar

2

pinches

sea salt
Instructions
Place coconut cream and coconut sugar in a small saucepan. Turn heat to medium and bring to simmer, stirring to dissolve sugar.

Once simmering, reduce heat to low and maintain simmer for 8 minutes. Stir occasionally.


Turn off heat and stir in sea salt.

Caramel will continue to thicken as it cools. Keep warm if you want it runny. Or refrigerate to make soft, chewy caramels.


See Recipe Notes for Caramel-Chocolate Mug-Muffins.

Notes
Find coconut sugar

here

.
And here's my basic Chocolate Cupcake/Muffin Recipe that's great!
Chocolate Cupcake batter (dairy-free) for Caramel-Chocolate Mug-Muffins!
Ingredients
¾

cup coconut butter, warm

⅔

cup Paleo sweetener of choice: maple syrup, honey or coconut sugar

½

cup liquid fat of choice: melted coconut oil, melted lard, melted butter or avocado oil

½

cup Fair Trade cocoa powder (

here's

a great one)
2 eggs, room temperature (not cold); you can do this by placing cold eggs in a glass with hot tap water for 30 minutes

¼

cup coconut flour

¼

cup full-fat milk of choice, room temperature or warm
1 teaspoon gelatin (best one

here

; use code BEAUTIFUL10 at checkout for 10% off your entire order)

½

teaspoon baking soda, sifted

¼

teaspoon sea salt
Instructions

Lightly grease oven-proof mugs. Preheat oven to 325 degrees Fahrenheit.
Combine all wet, room-temperature/warm ingredients in large bowl. Combine all dry ingredients in medium bowl. Add dry ingredients to wet ingredients. Stir to combine; do not over-mix.
Scoop about 2 ounces batter into each mug. Place mugs on cookie sheet. Bake in preheated oven 25 minutes, or less. Test for done-ness with a toothpick (look for moist crumbs adhering). Remove from oven. Cool slightly.
Top with warm caramel sauce! Chill or eat immediately.
Nutrition
Calories:
197
kcal
|
Carbohydrates:
20
g
|
Protein:
1
g
|
Fat:
14
g
|
Saturated Fat:
12
g
|
Sodium:
170
mg
|
Potassium:
130
mg
|
Fiber:
1
g
|
Sugar:
13
g
|
Vitamin C:
1
mg
|
Calcium:
4
mg
|
Iron:
1
mg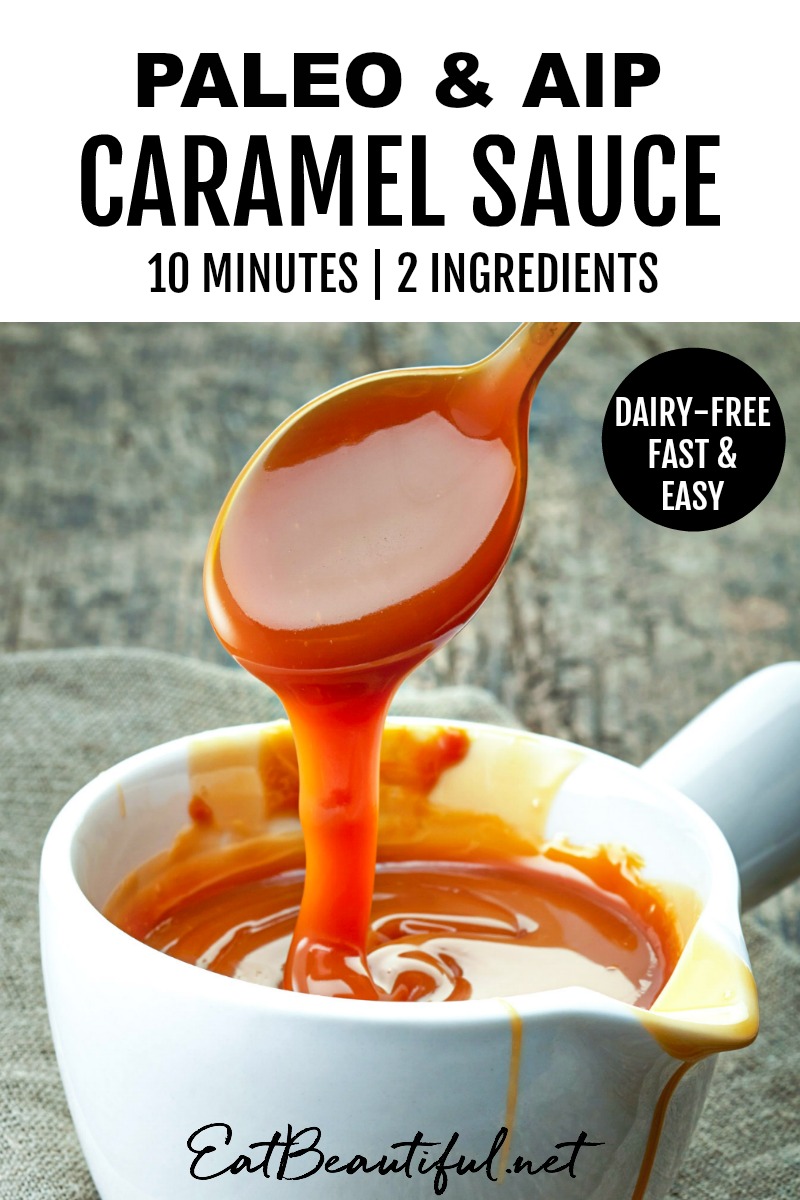 How will you use Paleo & AIP Caramel Sauce?
More recipes that could go great with it? Try these: