I may receive a commission if you purchase through links in this post. I am not a doctor; please consult your practitioner before changing your supplement or healthcare regimen.
If you love ginger, ice cream, swirls, gingersnap type desserts, rich but not too sweet of caramel … well then, you're going to LOVE Spicy Ginger Swirl Ice Cream. Get ready for the yummiest ice cream flavor to enjoy during the Christmas months, the hot summers or whenever you need a super awesome ice cream flavor!
This recipe is Paleo, AIP, Vegan and Keto. Also Gluten-free, nut-free, dairy and egg-free. (Yet, there is a dairy version, for Keto or others who prefer.)
If you'd like to make Gingerbread Cookie Ice Cream, I give those instructions below!; it's a slight variation on the original recipe.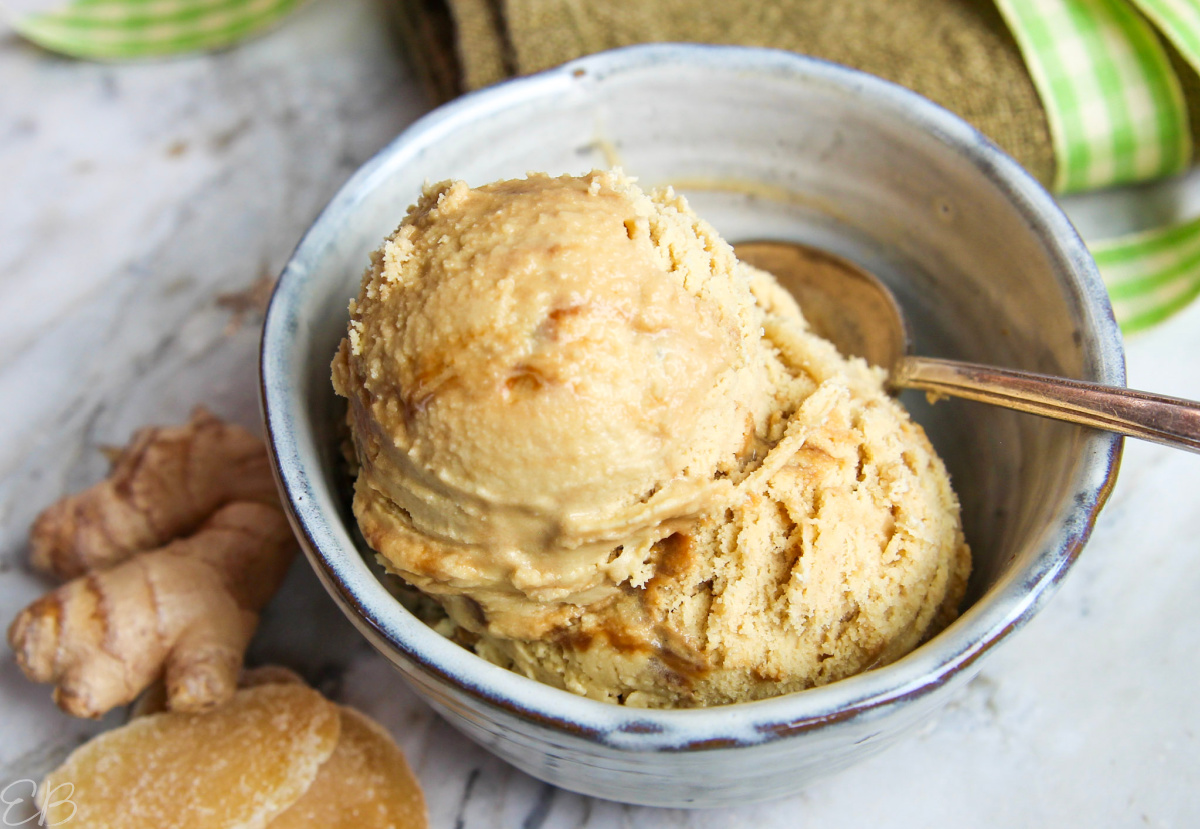 Jump to Recipe
Ingredients in Spicy Ginger Swirl Ice Cream
If you love ginger, or if you just love great ice cream, once you've tasted this flavor, it will become one of your favorites!
The Spicy Ginger Ice Cream is only heightened in goodness by the rich, creamy, deeply flavored ribbon of Easy Gingered-Caramel Sauce running throughout.
So you'll be making two easy recipes: first the Easy Caramel Sauce, then the base Spicy Ginger Ice cream, and you'll end up layering these two in your freezer container, for swirls throughout when scooped!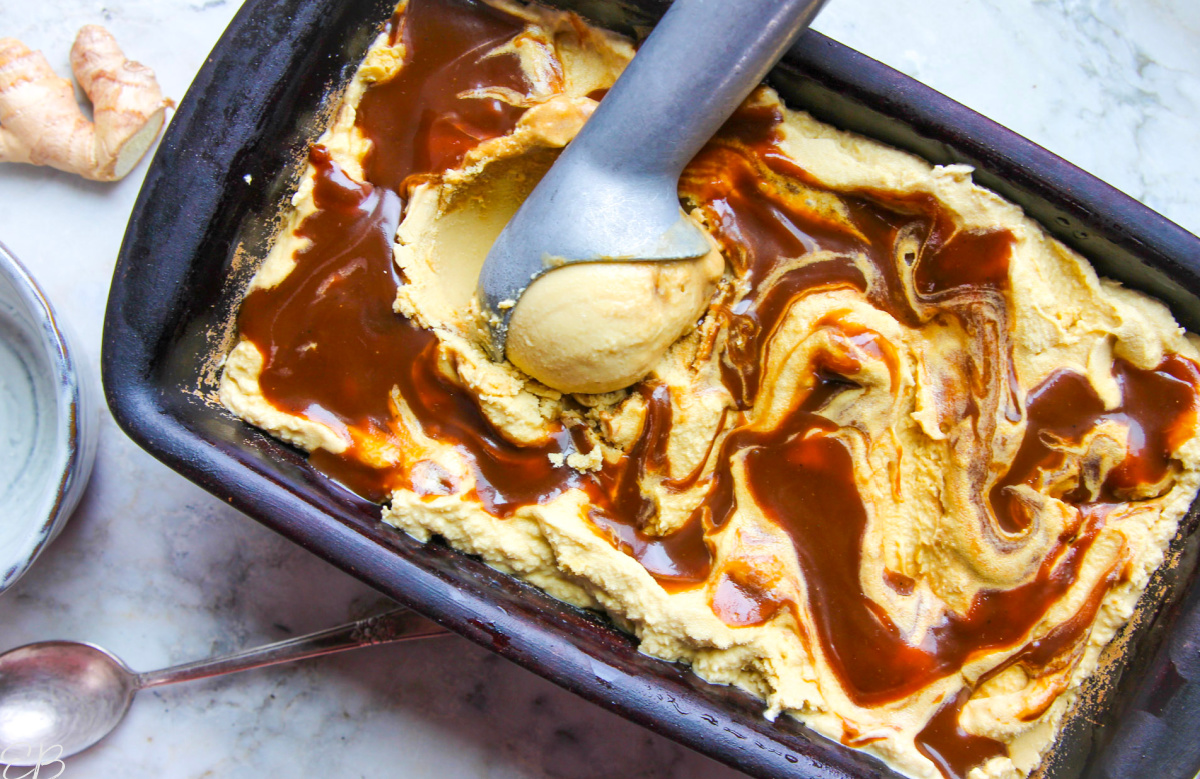 For just the ice cream base recipe, you'll need:
16 ounces coconut milk — I recommend Aroy-D brand, especially for making ice cream. It is very creamy and reliable, and it doesn't separate into a hardened top layer, which can present problems for some people when making ice cream. 16 ounces is just slightly less than 2 cartons of Aroy-D (here). KETO/other: If you prefer to use dairy, see that variation in the Notes section of the Recipe.
water — Is blended with fresh ginger root in the recipe to create a strong delicious ginger juice. In addition to flavor, this juice helps to create a great mouthfeel in the frozen product.
maple syrup — or for Keto, low carb liquid sweetener; allulose is best.
fresh ginger root — The recipe uses a giant 1/2 cup of chopped fresh ginger root for the perfect spicy flavor! (Not too spicy, but definitely what you want from a ginger ice cream.)
molasses — During recipe testing, we found molasses really solidified the perfection of this recipe; don't omit it, because it helps to create the full bodied depth of flavor in the ice cream. For Keto, it's okay to omit; if left in, it adds 3 grams net carbs per serving.
real vanilla extract — This full bodied, floral flavor compliments ginger, and the little bit of alcohol base in vanilla extract lowers the freezing point of ice cream, making the texture extra creamy.
sea salt – Good salt is great in ice cream, heightening all the flavors.
For the Easy Caramel Sauce, you'll need:
coconut cream — What's scooped from the top half of the can, like with this product.
coconut sugar
dried ginger powder
sea salt
How to make Spicy Ginger Swirl Ice Cream
This recipe has 3 steps:
Make Easy Caramel Sauce. It simmers for 8 minutes, so it's a fast recipe. Set aside so it can cool while you make the ice cream base.
Ice Cream Base: Purée fresh ginger root and water in high powered blender. Strain, pressing on ginger solids, to get all the lovely ginger juice. Combine all ingredients in blender to dissolve molasses and sweetener.
Freeze in ice cream maker. When ice cream is churned and frozen, layer it with Easy Caramel Sauce in pre-chilled loaf pan or freezer storage container. Freeze for a minimum of one hour, or overnight, before scooping.
Gingerbread Cookie Ice Cream variation
For Gingerbread Cookie Ice Cream, layer in broken pieces of gingerbread cookies, with the layers of ice cream and caramel sauce (see recipe Instruction details below).
Cookie options:
For Paleo, AIP and Gluten-free, use this Gingerbread Cookie recipe.
Keto gingerbread cookie options include these, or homemade.
How to store and serve ice cream
Use a glass or ceramic storage dish. If it comes with a lid, to store in freshness, great. Either way, it's great to top homemade ice cream with a piece of parchment paper, to keep air out.
Spicy Ginger Swirl Ice Cream is at its freshest and best enjoyed within 5 days of making it.
To serve, defrost it briefly, for best scooping: Leave out on the counter for about 10 to 15 minutes, or even longer if your freezer is extra cold (like ours is).
Print Recipe
Spicy Ginger Swirl Ice Cream (Gingerbread Ice Cream!, Paleo, AIP, Keto)
Spicy Ginger Swirl Ice Cream offers the luxurious and deep rich experience of creamy, spicy ginger ice cream plus a not-too-sweet ribbon of luscious gingered Caramel Sauce. This treat is perfect for the winter months and Christmas season AND the summer with hot weather and its need for new best ice cream flavors. The best for ginger lovers everywhere! Paleo, AIP, Keto and Vegan.
Ingredients
Ginger Swirl Caramel Sauce (Make this first, at least 30 minutes before you make the ice cream, so it has time to cool.)
Ginger Ice Cream
16

ounces

coconut milk <-- I highly recommend Aroy-D brand. 16 ounces is just slightly less than 2 of their cartons. For Keto/other: If you prefer to use dairy, see Notes section below.

1

cup

water

⅔

cup

maple syrup ; For Keto: use allulose

½

cup

fresh ginger root

mostly peeled and chopped roughly

1

Tablespoon

molasses

blackstrap (optional for Keto version; otherwise don't omit this ingredient)

1

Tablespoon

vanilla extract

⅛ to ¼

teaspoon

sea salt , to taste, or Potassium Lite Salt
Instructions
First, make sure your freezer is set to the coldest setting. Your freezer bowl needs to be in the freezer for 16 to 24 hours at the coldest setting before being used. Use the freezer bowl immediately upon removing it from the freezer, because it starts defrosting immediately.

Put loaf pan or other ice cream storage container in the freezer to chill while you make the recipe.
Ginger Swirl Caramel Sauce
When Easy Caramel Sauce is done cooking, whisk in dried ginger well, so it's fully incorporated. It helps to sift it in while whisking, so it doesn't clump. Set aside to cool.
Spicy Ginger Ice Cream base
Place water and ginger root in high-powered blender. Purée on lowest speed to start, and then increase to high speed, for a total of 50 seconds. Pour through a fine mesh strainer into a bowl. Press on the solids to extract all the ginger juice. (Yum!)

(See photo below of measured coconut milk and cup of ginger "juice".)

Place coconut milk, ginger water, maple syrup (or other sweetener), molasses, vanilla extract and salt in blender. Purée until sweetener dissolves, scraping down sides, if necessary, about 30 seconds.

Freeze in ice cream maker, according to manufacturer's instructions. When the ice cream is frozen, pull out your storage container (from the freezer), and get ready to layer the Ginger Ice Cream and Easy Caramel Sauce.
Assemble Swirl Ice Cream
Scoop ⅓ of the Ginger Ice Cream into storage container. Roughly smooth and spread it out. Add ¼ to ⅓ of the total amount of Caramel Sauce in big drizzles, roughly spreading them out. (For extra-great flavor and texture, swirl the caramel into the ice cream a bit.) Add second ⅓ of ice cream and portion of Caramel Sauce for the second layer. Finally add remaining ice cream, smoothing the top evenly. Drizzle desired amount of remaining caramel over the surface, and swirl it into the ice cream a bit (it's okay to have some left over for another use).

Freeze at least one hour or up to overnight. If overnight, cover surface with piece of parchment or wax paper pressed directly onto the surface.

To scoop, remove from the freezer for about 10 minutes (or up to 20 if you keep your freezer really cold), to soften so it's scoopable. Scoop, getting swirls of caramel in each scoop.
Notes
Keto/dairy variation
Sub 2 cups heavy cream for the 2 cups coconut milk.
Instead of using a blender to dissolve the sweetener and optional molasses (Step 2 above), use a large bowl and whisk to dissolve and fully mix the ingredients. (We do not want to blend heavy cream, or it risks partially turning to butter.)
The rest of the recipe stays the same! 🙂
The nutritional data below is for the Keto version of the recipe, with the molasses omitted.
Nutrition
Calories:
198
kcal
|
Carbohydrates:
5
g
|
Protein:
2
g
|
Fat:
19
g
|
Saturated Fat:
17
g
|
Polyunsaturated Fat:
0.2
g
|
Monounsaturated Fat:
1
g
|
Sodium:
41
mg
|
Potassium:
265
mg
|
Vitamin C:
1
mg
|
Calcium:
26
mg
|
Iron:
3
mg
You can Pin this recipe here:
More favorite Paleo, AIP and Keto ice cream recipes
More ginger recipes