I may receive a commission if you purchase through links in this post. I am not a doctor; please consult your practitioner before changing your supplement or healthcare regimen.
A veggie smoothie never tasted this good. NO fruit. NO green. This one's bright pink and so. much. fun. Let me tell you all about this BEET-GINGER Smoothie/Milkshake … that's Paleo/Primal, AIP, GAPS and Vegan. And definitely gluten-free.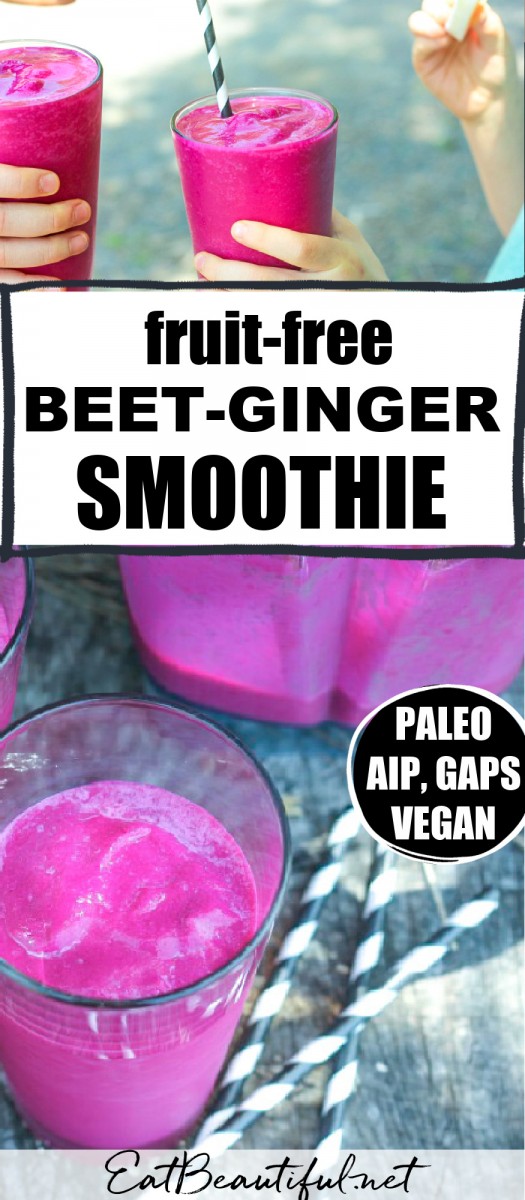 Beets
Beets are full of fiber and good carbs. They're excellent for detoxification and for getting the bowels going. They're great for heart health, high in minerals and B-complex vitamins. Beets are low in calories yet provide a gentle yield of energy.
You'll see in the recipe below that they're cooked. This makes them easy on one's digestion … and delicious texturally, when they're frozen and blended — slushy and creamy!
And if you like pretty food, this smoothie begs. you. to make it. So pretty.
Ginger
Fresh ginger! Add more for an exciting kick, or less if kids are drinking it.
Ginger boosts the immune system, helps with detoxing and is great for digestion; it's anti-viral, fights inflammation, relieves congestion, is anti-parasitic, and more! I say, the more ginger, the better.
Beet-Ginger Smoothie for different diets
This recipe is fruit-free in the sense that no chunks of fruit are used in the smoothie! BUT, the easiest milk and cream for the dairy-free version of this recipe IS coconut. Other dairy-free milks are super easy to substitute in, but no dairy-free cream is AS creamy as coconut cream. So coconut cream is the best choice for a milkshake-y version of this smoothie.
If you don't do dairy or coconut, just use more of the dairy-free milk you choose, in place of cream. See the specific tips below about this:
Paleo/Primal
To make the Paleo version of this recipe, use your favorite creamy dairy-free milk, such as Avocado Milk, Macadamia Nut Milk, tiger nut milk, another nut or seed milk, or if you don't mind abandoning the "fruit-free" part of this smoothie, coconut milk.
In addition to milk, this recipe also features "cream"; so for Paleo, the easiest choice is coconut cream. But if you need fruit-free, use more of the creamy milk you used already, instead of cream.
For Primal, I recommend raw milk and raw cream.
AIP
If not fruit-free, use coconut milk and coconut cream. Or you can use Avocado Milk or tiger nut milk in place of both the milk and cream.
GAPS
If you're making this on the GAPS diet, substitute honey for the maple syrup! You can also use freshly pressed juice as the liquid. I love using raw milk or coconut milk for a creamy base. But freshly pressed carrot or apple juice is also lovely and allows you to even omit the sweetener, if preferred. Lastly, if dairy is tolerated, you may use fully fermented sour cream in place of the cream in this recipe.
Vegan
Use your favorite dairy-free milk: such as, Avocado, Macadamia, or another nut or seed. Use coconut cream for the cream option, or for fruit-free, use more of your milk of choice. You can also use freshly pressed carrot or apple juice in place of the milk and cream and omit the sweetener, if preferred.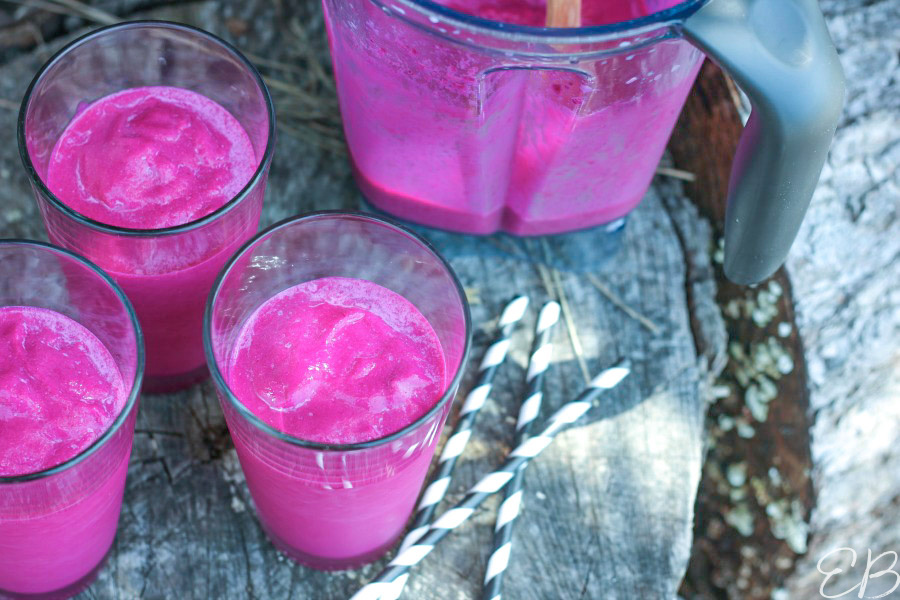 How to make this Beet-Ginger Smoothie
After years of eating raw beets, I realized that they're actually easier to digest when eaten cooked! You don't lose out on nutrients; you just get a gentler food.
So what we do is: quickly steam the beets, cube them … and then freeze them. We spread them on a parchment lined cookie sheet or plate, freeze for a minimum of 6 hours, and then they're ready to make this treat. It's easy to cook beets just for this recipe (small batch) or make them ahead of time (batch cook), so you always have them ready.
Frozen beets are placed in the blender with your milk and cream of choice, pure maple syrup (mmm!), just the right amount of fresh ginger and vanilla extract. And we blend.
The result is super creamy, slushy and delicious. Sweet and spicy. Refreshing, high in fiber and satisfying.
Print Recipe
Beet-Ginger Milkshake/Smoothie
A veggie smoothie never tasted this good. NO fruit. NO green. This one's bright pink and so. much. fun. BEET-GINGER Smoothie is Paleo/Primal, AIP, GAPS and Vegan.
Ingredients
2

large whole

beets

unpeeled

1

cup

cream

: coconut cream/high fat coconut milk or other creamy or high fat veggie milk OR raw for Primal

3

Tablespoons

pure maple syrup

1-2 inch

nub

ginger

fresh, chopped roughly, unpeeled

1

teaspoon

vanilla extract
Instructions
Cook beets by steaming them or boiling slowly until they're fork-tender through to their centers (about 15 minutes). Allow to cool. Run under cool water and rub off the peel. Cube into approximately 3/4" cubes. Spread beets onto parchment lined cookie sheet and freeze, 6 hours minimum or overnight. (If making ahead, gather up frozen cubes and place in freezer storage container until you're ready to use.)

Place frozen beets into high-powered blender. Add maple syrup, fresh ginger, and vanilla. Add 2 cups milk of choice. Process on medium speed until the chunks are smaller and blender stops because it needs more liquid.

Add cream, release air bubble by blade, and process again on high speed until milkshake/smoothie is totally smooth, about 25 seconds.
Nutrition
Calories:
431
kcal
|
Carbohydrates:
24
g
|
Protein:
7
g
|
Fat:
35
g
|
Saturated Fat:
21
g
|
Cholesterol:
125
mg
|
Sodium:
103
mg
|
Potassium:
319
mg
|
Sugar:
21
g
|
Vitamin A:
1430
IU
|
Vitamin C:
1
mg
|
Calcium:
257
mg
If you love this Beet-Ginger Smoothie, try my other veggie smoothies too: