I may receive a commission if you purchase through links in this post. I am not a doctor; please consult your practitioner before changing your supplement or healthcare regimen.
AIP Gingerbread Cookies are a classic recipe and easy! These simply perfect holiday cookies are so much fun to make and delicious to eat! Egg-free, nut-free, Paleo and Gluten-free.
This recipe is made in part with tiger nut flour. You'll have two options, described below: Make soft, chewy round cookies OR cut-out shapes!
If you make the cut-out shapes, you may also use the recipe to make a Gingerbread House. My son and I did this last year, and it turned out great!!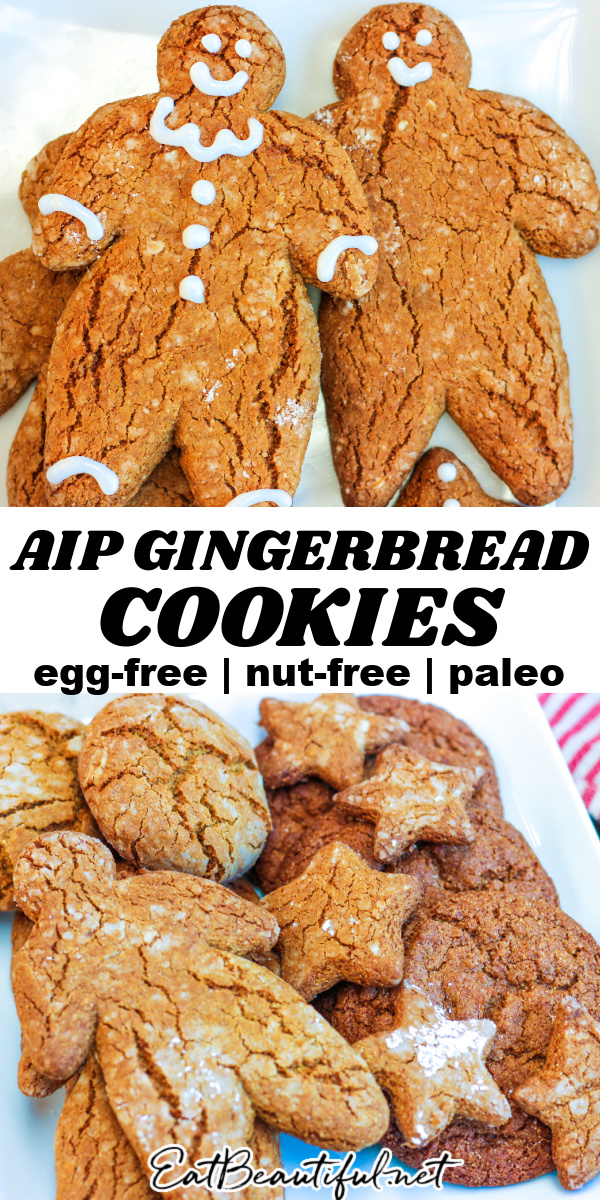 Ingredients in AIP Gingerbread Cookies
The dry ingredients in AIP Gingerbread Cookies are tiger nut flour, cassava flour, coconut sugar, gelatin, AIP spices (see below*), baking soda and sea salt. Plus, optionally, arrowroot.
There are two options when making this recipe:
Arrowroot is added to the cookie dough if you're making shaped, cut-out cookies — like gingerbread men! (or a house!)
Omit the arrowroot if you're making soft, tender, chewy, traditional, round cookies.
You choose! Both are SO good! My family loves, loves this recipe, both ways! So make a batch of each, or make your preferred recipe — super easy to include or exclude the arrowroot.
The remaining wet ingredients in AIP Gingerbread Cookies are avocado or olive oil, maple syrup and molasses.
*Lastly, the ginger! You can choose between using fresh ginger root, finely grated, or dried ginger, which is a little more convenient for some of you. Both are great. The recipe also uses a little cinnamon.
How to make AIP Gingerbread Cookies
This simple recipe is just: stir together the dry ingredients, add the wet ingredients!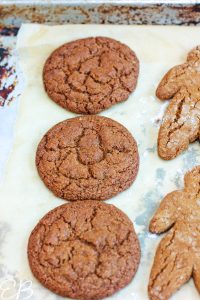 If you're making the drop cookies, you'll just place mounds of cookie dough on the prepared cookie sheet and bake — couldn't be easier or simpler!
For shaped, cut-out cookies: Sprinkle arrowroot powder (additional after what's used in the recipe) on your work space. Place the mound of dough down and press it flat with your fingers and hands. Top with another sprinkling of arrowroot, then roll to about 1/4″ thickness.
AIP Gingerbread Cookie dough is not finicky! You can roll it out a little thicker or thinner, use a little less or more arrowroot when rolling out, and they'll still turn out great!
I LOVE that this recipe behaves so well, because it means that you can stay relaxed and jolly the whole time you're making cookies — no worries, just restful holiday fun!
Once the dough is rolled out, simply use cookie cutters, and transfer shapes to your prepared cookie sheet.
See the process photos below in the Recipe itself, too, for a little added aid in what it looks like to make the cookies.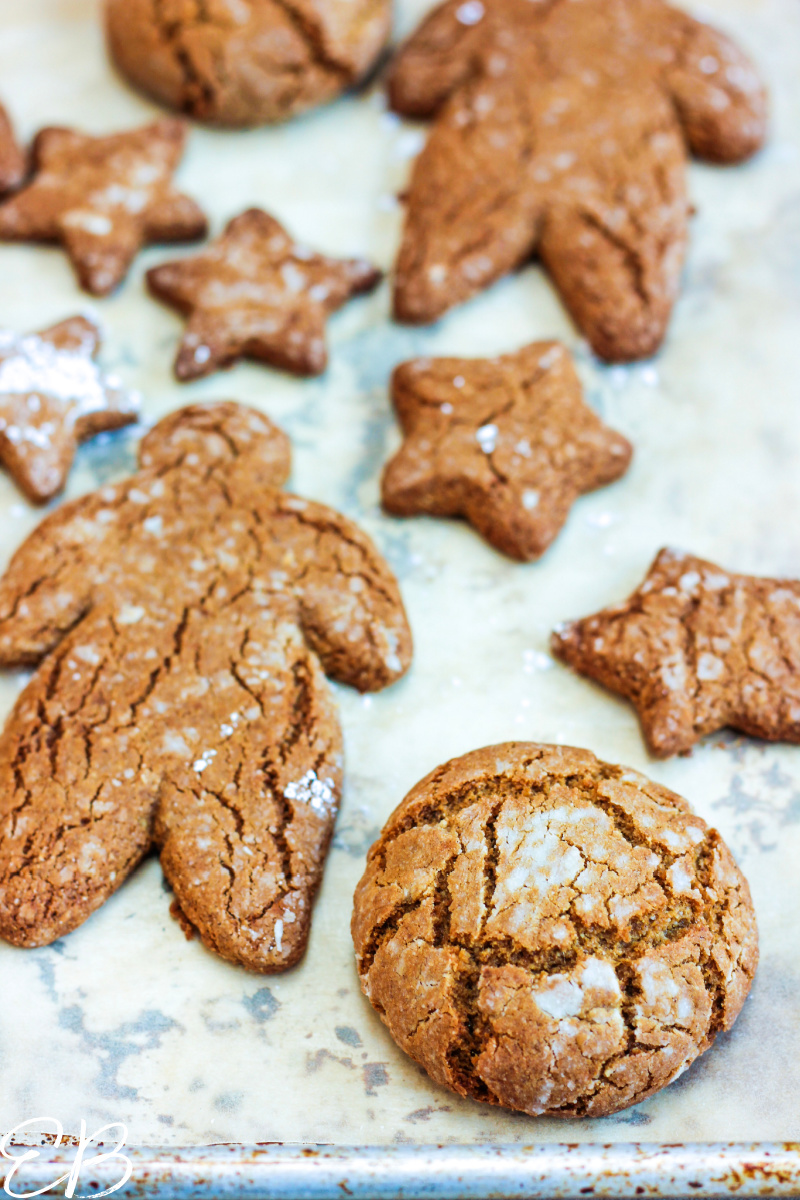 Tips when making AIP Gingerbread Cookies
If you're making the shaped cookies, here are a few tips:
Use a toothpick, chopstick tip or straw to gently remove the dough from the cookie cutters.
The toothpick and straw can also be used to create circles or dashes on the cookies before baking — to decorate rustically if you do or don't want to ice the cookies.
Use AIP Buttercream and a small pastry tip to decorate cooled cookies. Or, you can make homemade powdered sugar icing from coconut sugar, HERE.
If the dough is whitened by extra arrowroot powder before baking, don't fret. It looks pretty cool when baked, like powdered sugar.
After you've cut out as many shapes as you can with the rolled out dough: You'll have scraps! Just roll these between the palms of your hands. Flatten the balls slightly, and place on cookie sheet. They make great cookies! You'll never know they were the scraps.
To make the Gingerbread House
See the Notes section directly below the recipe for photos of our Gingerbread House.
Use all the dough to create the cut out pieces. I don't have formal dimensions for the house pieces, but here's a photo of the shapes we used last year, to give you an idea.
If you'd like to have a template, use a cardboard box to cut out the shapes first.
Or, we just winged it, and ours turned out well.
Print Recipe
AIP Gingerbread Cookies (Paleo, GF)
AIP Gingerbread Cookies are made with tiger nut flour. These simply perfect holiday cookies are so much fun to make and delicious to eat! Egg-free, nut-free, Paleo and Gluten-free.
Equipment
cookie sheet

mixing bowl

oven
Instructions
Preheat oven to 325 degrees Fahrenheit. Line a cookie sheet with parchment paper. Set aside.

In a large mixing bowl, stir together dry ingredients (only use the

½

cup arrowroot if making shaped, cut-out cookies. Omit the arrowroot completely if you're making simple flat round cookies.)

In 2-cup glass measuring cup or small bowl, combine wet ingredients. Pour wet ingredients into dry ingredients. Combine. (If you included arrowroot, it will be easier to combine by using an electric mixer.)

If you're making shaped, cut-out cookies, sprinkle 2 Tablespoons arrowroot on a work surface. Top with finished cookie dough. Use your hands to flatten and spread out the dough. Sprinkle with remaining arrowroot and roll out to about 1/4" thickness. (You don't need to be finicky or worried about doing any of this perfectly. The dough is easy to work with.)

Cut out shapes and transfer them to your prepared cookie sheet, leaving about 1" between dough edges.

If you're not making shaped, cut-out cookies. Simply scoop batter into mounds on prepared cookie sheet. Space dough apart by about 2".

Bake 10 to 12 minutes, until puffed all over and set looking, especially around the edges.

Cool completely on rack. Then decorate if desired.
Notes
To make a Gingerbread House
Here are the two photos I took last year when we made a Gingerbread House with this recipe. My 11-year-old son made the house, and I just let him have fun, so it's not a fancy photo, but I hope it helps you if you decide to go this route with the recipe.
And he used the AIP Buttercream Frosting to hold the house together.
Nutrition
Calories:
153
kcal
|
Carbohydrates:
21
g
|
Protein:
1
g
|
Fat:
8
g
|
Saturated Fat:
3
g
|
Sodium:
117
mg
|
Potassium:
28
mg
|
Fiber:
2
g
|
Sugar:
6
g
|
Vitamin A:
1
IU
|
Vitamin C:
1
mg
|
Calcium:
17
mg
|
Iron:
1
mg
Have any questions or love the recipe? Please comment below! I love helping and hearing your feedback!❤