I may receive a commission if you purchase through links in this post. I am not a doctor; please consult your practitioner before changing your supplement or healthcare regimen.
These AIP treats have no added sweetener, but you'd never know it (my kids didn't!). Even if you're not AIP, you'll love these egg-free, nut-free, dairy-free, grain-free Paleo cookies — whether for a holiday cookie party, snacks or throwing into lunches.
You'll love how fast and easily this batter comes together — and then you'll have cookies!
Jump to Recipe
Healthy enough to eat anytime of day, AIP Chocolate Banana Cookies can be made with or without the glaze. AND, to top it all off, these brownie-banana gems contain resistant starch.
We like these autoimmune protocol cookies throughout the day, for a healthy snack, a quick breakfast, with lunch or after dinner.
Coconut Butter & Tiger Nut Flour
AIP "Chocolate" Banana Cookies contain a couple very healthy ingredients: coconut butter and tiger nut flour.
Coconut butter can be made homemade to save money (find Coconut Butter recipe here), or purchased if you want a really smoothly textured butter (here).
Coconut butter is full of good fats and provides great energy.
To make homemade coconut butter, you simply process unsweetened dried coconut in your food processor until it's runny, about eight minutes for most machines. I use five cups shredded coconut for the best outcome. A high-speed blender also works great for this job; just be sure to use the low speed, and you may need the tamper.
Tiger nut flour is this cookie's source of resistant starch.
If you eat tiger nut flour regularly you'll love how it blesses your digestion and colon health. If you've never had it before, it's best to start slowly, with just a bit (maybe half a cookie? 🙂 ) to see how you do. While everyone needs resistant starch in their diet (read more about what it is and how it works here), it may cause gas if your gut isn't fully thriving. Starting slowly is the way to introduce it, as opposed to avoiding it altogether.
Tiger nut flour is AIP-friendly, offers terrific prebiotics, and it tastes like graham cracker crumbs if you get this brand.
(Another way to get great prebiotics in cookie form, especially if you can't eat tiger nuts, is with these green plantain Carob Brownie Bites, totally AIP and super delicious!!)
Tiger nuts also offer magnesium, iron, tons of other vitamins and minerals and oleic acid, a monounsaturated fat. (source)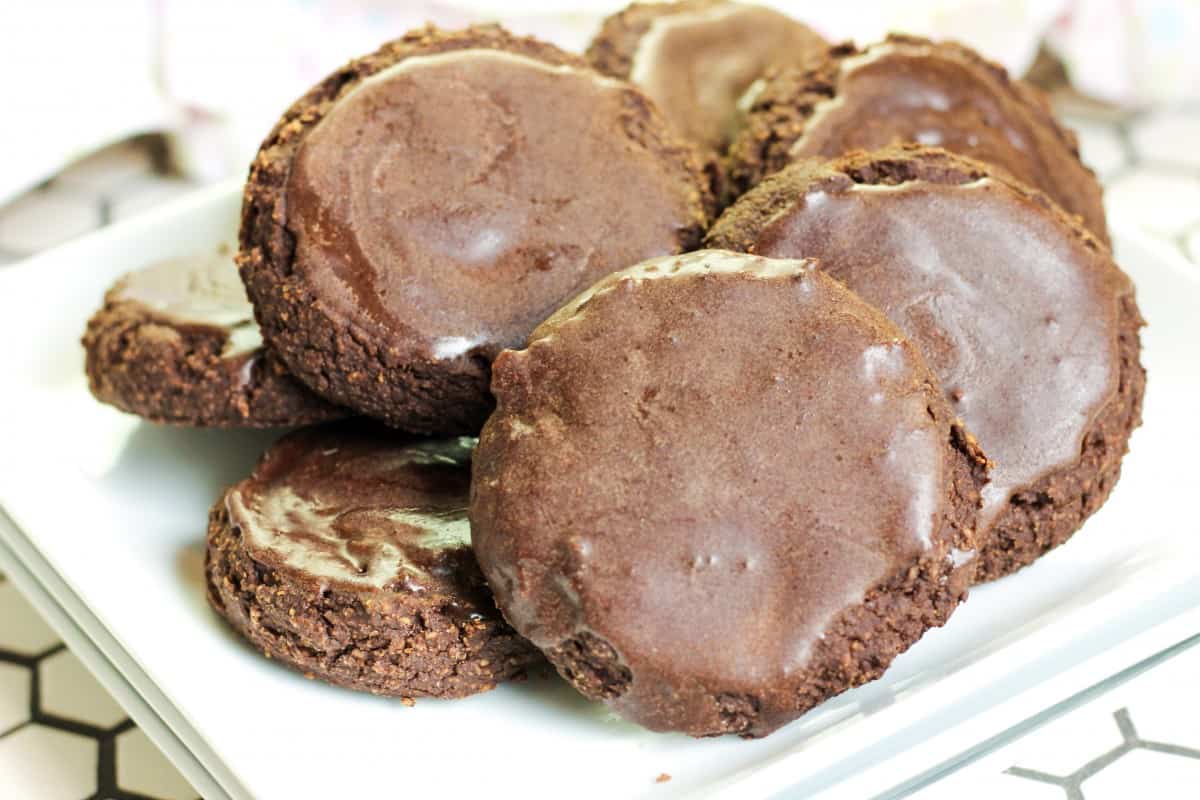 Fat & Sweetener
Two more reasons this recipe is wonderfully easy: It has no added fat OR sweetener. This makes the dough fast to assemble!
This unique cookie contains only nutrient-dense bananas, roasted carob, coconut butter, tiger nuts, sea salt (and baking soda)! That's it! How sweet to get dessert type coziness from foods that provide energy and fiber. Kind of like a health food bar, but in cookie form.
Therefore, grab these on the go! If you can swing a sausage and a cookie, you're set with your macronutrients even when you don't have long for a meal.
Alternately, sit down with a glass of non-dairy milk or a hot cup of tea or herbal coffee, and savor your cookies.
These AIP cookies also make a healthy snack! Maybe have a beef jerky stick in one hand and a cookie in the other? 🙂 (Plus, I'm really enjoying celery lately LOL! 😉 Grab a stalk of celery too, seriously: so good!)
Glaze
The carob glaze is optional! The carob glaze if fun, pretty, easy and fast to assemble, delicious — but definitely optional. 🙂
Either way, once your cookies are cooked and cooled, you can store them stacked in a mason jar in the fridge. Wide mouth jars (like these) are the perfect size to allow in these cookies if you use this two-ounce scoop to make the cookies.
I put a small piece of parchment between each cookie, but if you stack them when they're already chilled this may not be necessary.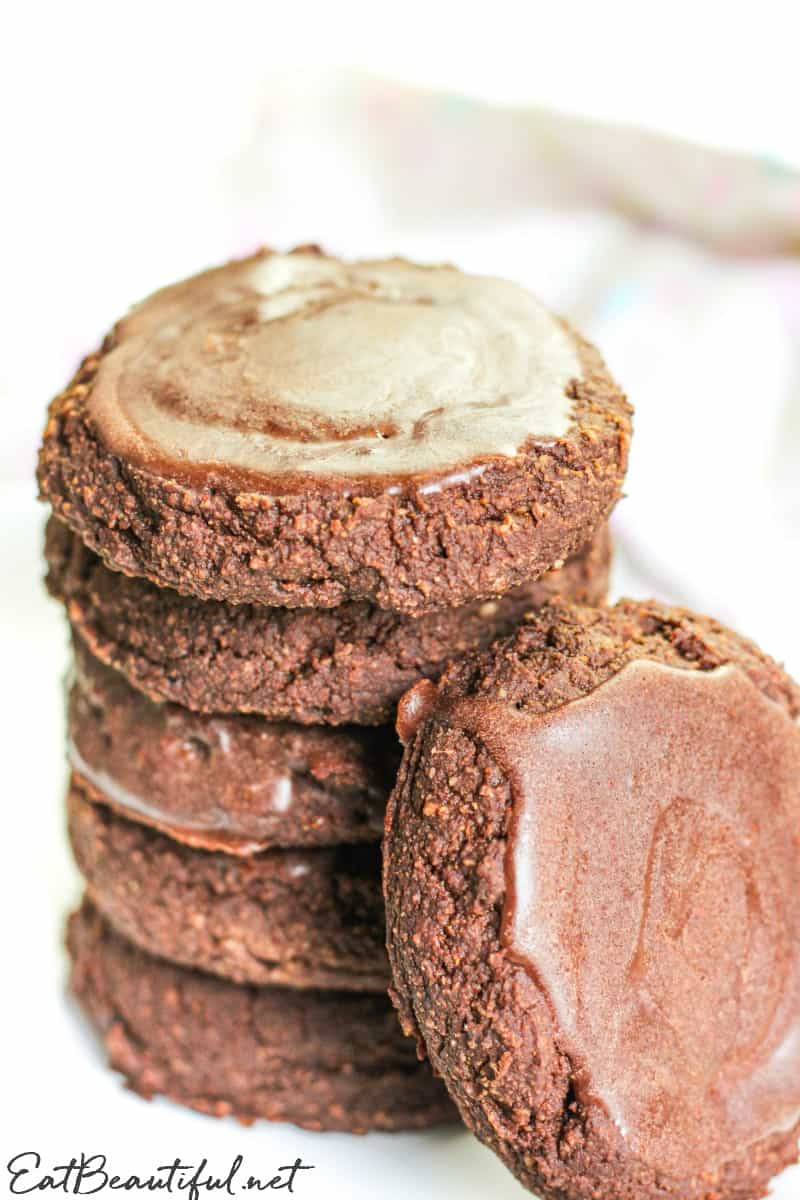 Print Recipe
AIP "Chocolate" Banana Cookies with Glaze (Fast & Easy Prep!, No Added Sweetener)
15 minute prep time and no added sweetener, these delicious and pretty Paleo cookies are egg-free, nut-free and great for snacks or treats!
Servings:
8
large cookies (or more if smaller)
Instructions
Preheat oven to 350 degrees Fahrenheit. Grease a large cookie sheet, or line it with parchment paper.


In large bowl combine dry ingredients: carob powder, tiger nut flour, baking soda and sea salt.


In blender combine banana, coconut butter and warm water. Start motor with lowest speed for 15 seconds and increase to medium low speed for 15 more seconds, scraping down the sides once.


Pour wet ingredients into dry ingredients. Combine with handheld mixer at medium speed.


Use large cookie scoop to portion cookie batter onto prepared cookie sheet. Wet three fingers to slightly flatten each cookie: Dip three fingers into warm water. Press down mounded top of each cookie (about halfway). Dip fingers in water again and smooth tops.


Bake in preheated oven about 20 minutes, until tops and sides are cracked in places, slightly firm but still a little soft in the center when touched gently.


Remove from oven and cool completely. Chill cookies in fridge or freezer if you plan to glaze them.

Glaze
In small bowl combine all ingredients: coconut oil, carob, maple syrup and sea salt. Whisk together until smooth.


Pour 1-2 teaspoons glaze in the center of each cookie. Use the back of a spoon or your finger tip to spread the glaze out over the circumference of each cookie. Chilled cookie will quickly "dry" and set up glaze. Put a second layer of glaze once the first one has solidified if you want the glaze thicker. Serve or store for later.

Nutrition
Calories:
181
kcal
|
Carbohydrates:
21
g
|
Protein:
1
g
|
Fat:
12
g
|
Saturated Fat:
8
g
|
Sodium:
196
mg
|
Potassium:
230
mg
|
Fiber:
6
g
|
Sugar:
11
g
|
Vitamin A:
30
IU
|
Vitamin C:
4
mg
|
Calcium:
36
mg
|
Iron:
0.6
mg
Do you love the fast and easy prep, and the no added sweetener? I love the convenience of healthy AIP cookies! … and providing treats for my family! 🙂
If you love tiger nuts and AIP recipes that use them, I also highly recommend this Tiger Nut Tortillas recipe. We make them weekly, there's no rolling them out, and they taste terrific.
We also love this AIP Copycat Cream of Wheat Porridge that utilizes tiger nut flour. (Find the best tiger nut flour here.)