I may receive a commission if you purchase through links in this post. I am not a doctor; please consult your practitioner before changing your supplement or healthcare regimen.
Carob Brownie Bites are the perfect, healthy treat for Paleo, AIP and egg-free eaters! They contain something great for colon health, called resistant starch, and we'll talk a bit more about that … Green plantains are the secret ingredient in this cookie-meets-brownie that just couldn't be yummier.
Jump to Recipe
Carob Brownie Bites are healthy brownies!
I got great reactions the first time I served these cookies. My husband kind of swooned, catching me off guard. 🙂
"These bring me back. I wish you could have known Grandma Pat," he said nostalgically. She was the grandma who cooked with carob instead of chocolate, and juiced for the grandkids. 😉 "You would have loved her."
When my oldest son had his first bite, his eyes got big. "These are the best brownies I've ever had. You know how much I like brownies." I had perceived them as cookies. But my other kids agreed emphatically: They are brownies. And my youngest wanted to know what was in them and when I'd make more.
I hadn't tasted them yet myself and didn't expect such rave reviews. I was hoping they'd turned out, but yay! Eureka! This recipe was my first go at dehydrator cookies; so they were an experiment. So happy they were great!
What make Carob Brownie Bites healthy
Resistant starch! I have mentioned it to you before, but now I offer it to you in cookie form! Because the green plantains in the cookies are dehydrated instead of being baked at a higher temperature, the resistant starch remains and becomes food for flora in our guts, a prebiotic. Here's more information about resistant starch if you're interested.
Also, Carob Brownie Bites are egg-free, safe for the AIP diet, and sweetened with honey — a perfect Paleo or Gluten-free treat.
If you've never worked with plantains before, be sure to buy green ones, and then the recipe below shares how to peel them. Also, here's a video that shows how.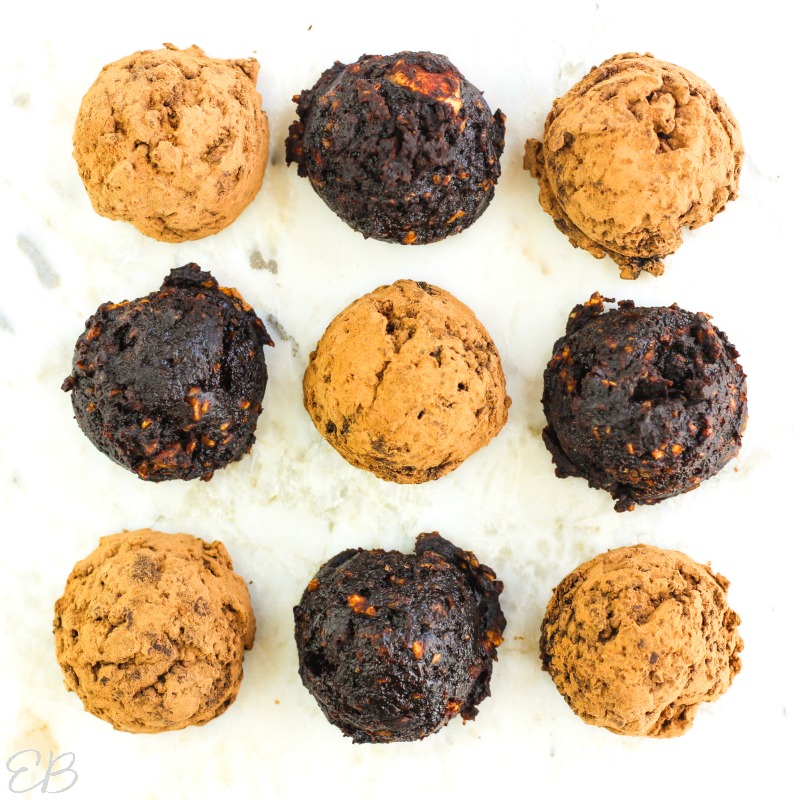 How to store Carob Brownie Bites
Carob Brownie Bites are best kept in the refrigerator. Simply store them in any airtight container, and Brownie Bites will last for months!
Ingredients and variations
A handful of simple ingredients make Carob Brownie Bites: green plantains, carob powder, olive oil or coconut oil, honey (or maple syrup), gelatin, cinnamon and sea salt.
If you have dietary restrictions, please feel free to ask in the comments below about substitutions. This recipe is already very allergy-friendly, but I know we each have unique needs.
While nothing can replace the green plantains, most of the other ingredients can be subbed for a similar ingredient.
Most importantly, if you're not on the AIP diet and want to sub the carob for Fair Trade cocoa, yes, you can do that.
How to make Carob Brownie Bites
Blend
After peeling and chopping the plantains, all of the ingredients get added to your high-powered blender and puréed.
If you have a less powerful blender, I outline below in the recipe: You'll purée just the wet ingredients. Then mix everything in a bowl. A less powerful blender will leave tiny chunks of green plantain in your brownies, like you see in my photos, which is totally fine. I've made mine both ways, and they're equally good (indistinguishable when you eat them).
Scoop or "Bites" shape
If you have a scoop, great. Scoop small (about 1-ounce) portions onto a lined sheet that fits into your dehydrator. And then dehydrate for about 10 hours.
(If you don't have a scoop, you can improvise with two spoons, roll with your hands or pipe with a pastry bag and large tip.)
Square Brownies shape
To get the square brownie shape, use a small square pan lined with parchment paper, or I used this pan (which I also make Easy AIP Bread with), and it worked well. With these pan options, dehydrate for half the time in the pan, then cut into desired size squares, and place on lined sheet to continue dehydrating.
Dehydrate
Carob Brownie Bites dehydrate for about 10 hours total, depending on your machine. I dehydrate at 130 degrees Fahrenheit. But you can go as low as 115 degrees Fahrenheit and dehydrate for longer if you want your bites to be technically "raw".
That's it! Cool to room temperature and store. If you wish, roll or dip your Brownie Bites in carob (and then dust off any extra) before serving — which gives them a pretty truffle-like appearance.
You might want to double the recipe if you have a lot of hungry eaters in your house — so these last for lots of future snacks and treats.
Enjoy, and let me know how you like them.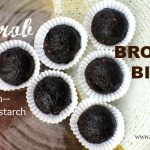 Print Recipe
Carob Brownie Bites (Paleo & AIP)
Carob Brownie Bites are the perfect, healthy treat for Paleo, AIP and egg-free eaters!
Servings:
20
brownie bites
Equipment
A 1-ounce scoop with an automatic release mechanism is helpful when scooping cookie batter (but not necessary).

dehydrator or low-temperature oven
Ingredients
2

whole

plantains

, green and peeled*, cut into 1/2" slices; or okay to use plantains that are riper, too: yellow with black spots, but you'll just have less resistant starch

⅔

cup

carob powder

, roasted

½

cup

extra virgin olive oil

or melted coconut oil

½

cup

raw honey

or pure maple syrup

2

teaspoons

gelatin

Use code BEAUTIFUL10 at check out for 10% off your entire order

2

tsp.

cinnamon

¼

tsp.

sea salt
Instructions
Place all ingredients in high-powered blender, blending on low speed for about 1 minute, until plantain is puréed. (If your blender is less powerful: Purée just your wet ingredients. Small pieces of plantain will be speckled throughout if your blender isn't as powerful. Then pour purée into bowl, add dry ingredients, and mix all together well.)

Scoop 1-ounce portions onto lined dehydrator tray or greased cookie sheet (if using a low-temperature oven). (Or use lined small brownie pan or this pan if you want square brownies. With these pan options, dehydrate for half the time in the pan, then cut into desired size squares, and place on lined sheet to continue dehydrating.)

Dehydrate Brownie Bites at 130 degrees for about 10 hours, depending on the dehydrator, until bites are brownie-like in texture: soft and chewy. (If you want your brownies to be "raw", dehydrate at 115 degrees.)

Cool brownies, and refrigerate for storage.
Notes
*How to peel green plantains — Have plantains at room temperature.
Cut off both ends.
Cut in half length-wise.
Cut each half in half again, width-wise.
Insert thumb between flesh and peel and unwrap sticky peel.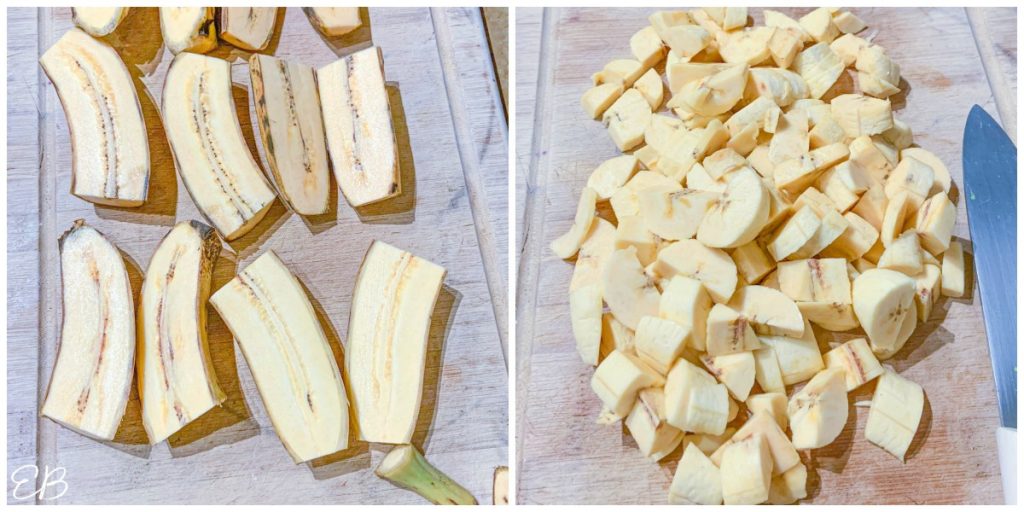 Nutrition
Calories:
100
kcal
|
Carbohydrates:
11
g
|
Protein:
1
g
|
Fat:
7
g
|
Saturated Fat:
1
g
|
Sodium:
34
mg
|
Potassium:
61
mg
|
Fiber:
2
g
|
Sugar:
8
g
|
Calcium:
32
mg
|
Iron:
1
mg
You can Pin this recipe here:
Similar recipes? I think you'll enjoy these: