I may receive a commission if you purchase through links in this post. I am not a doctor; please consult your practitioner before changing your supplement or healthcare regimen.
Keto Tahini Brownies are moist and fudgy, but take very little work to make. With ingredients you probably have in your pantry, you can have a rich chocolatey treat in just 30 minutes! This recipe is also perfect for Paleo, Low Carb and Gluten-free.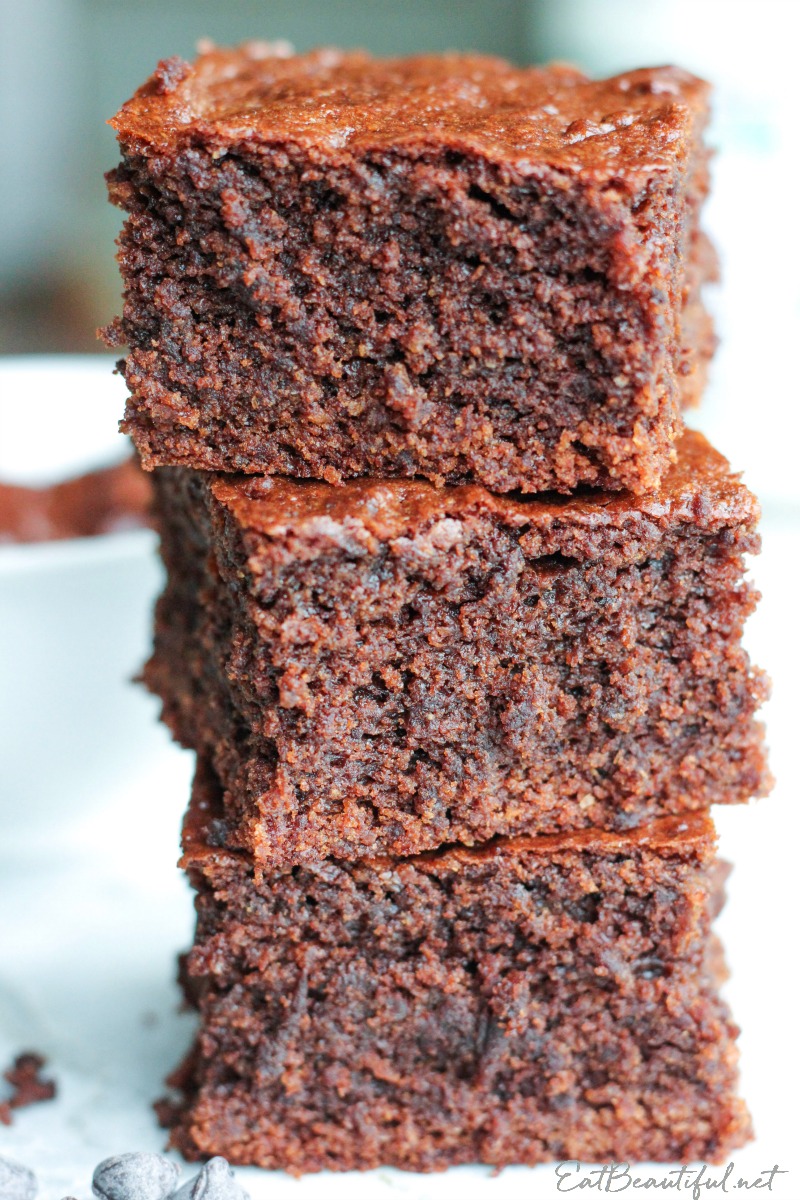 Jump to Recipe
What makes a great brownie (fudgy!)?
How do you get the right fudgy texture in a brownie?
Unfortunately, in most brownie recipes, the answer is sugar, and LOTS of it. That's why I seldom make brownies. Sugar is one ingredient we all need a lot less of.
However, all is not lost. By using tahini in this recipe, we're adding a healthy food that is fudgy on its own — super gooey, rich and densely textured. (Tahini is a great ingredient for nut-free baking.)
The other trick to great brownies is combining a granulated sweetener with a liquid sweetener. Together, the right crystallization occurs during baking.
For the Keto and Low Carb version of this recipe, I designate below which two sweeteners to use. For Paleo, same thing: we combine a granulated and liquid sweetener to create the right crumb.
Do you frost these brownies?
It's up to you! These brownies stand on their own perfectly: moist, fudgy and deliciously satisfying!
But brownies with frosting are super decadent and fun, so it's up to you!
If you go with frosting, here's my Chocolate Ganache recipe. It takes literally 10 minutes to make, or less, super fast. So if you want to add the extra indulgence, do. 😉
You can also sprinkle sea salt on top of the ganache.
Variation: Some brownie recipes rely on chocolate chips to make them good. This recipe does not need chocolate chips. But you can add them if you want to. Sprinkle the batter with chocolate chips, or fold them in, before baking.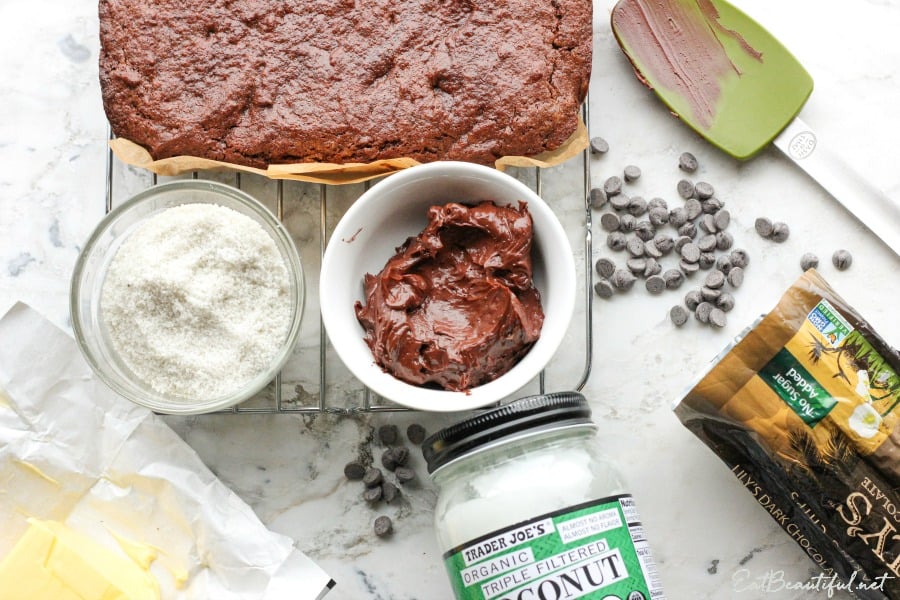 What main ingredients do I need to make Keto Tahini Brownies?
You'll need these:
Good quality cocoa powder: If you're not already buying Fair Trade, here's a great one to start buying. I put ours on Subscribe and Save and get it every 1 to 2 months in the mail.
Tahini: Ideally look for one that says, "hulled". This just means that the outer husk of each tiny seed is removed, which makes sesame seed butter easier to digest. 🙂 Here's a great one.
Eggs
For keto and low carb, use Monkfruit Sweetener: I like a new brand, called Besti. This product combines erythritol and pure monk fruit, so it's as sweet as sugar. Get 10% off Besti HERE with my code BEAUTIFUL10.
For paleo and gluten-free, use maple sugar. I love this brand for affordability and flavor. (You can also use coconut sugar.)
Liquid sweetener: For keto and low carb, use a low carb maple syrup, like this one. (Fun Fact: Lakanto's Maple Flavored Syrup no longer contains erythritol. So for those who get bloating from polyols, this syrup is now only sweetened with monk fruit.) For paleo and gluten-free, pure maple syrup.
A tiny bit of coconut flour: which helps to create the perfect texture in these Keto Tahini Brownies.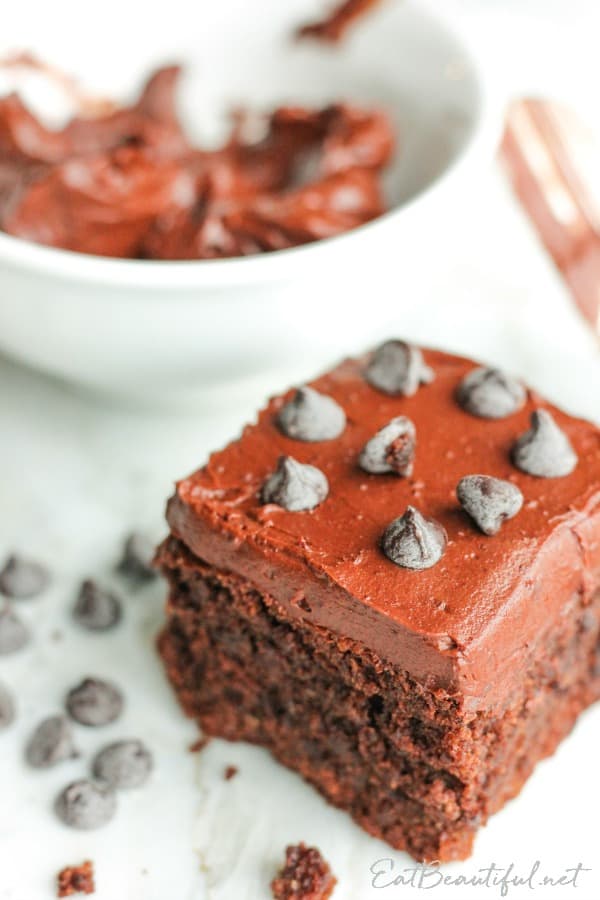 How many brownies does this recipe make and what size?
This recipe makes 12 brownies.
I bake mine in a 6″ by 8″ baking dish (find it here), which makes mine a little taller than some brownies.
I designate in the recipe below to use an 8″ by 8″ pan, simply because that pan size is more common. The 8″ by 8″ pan will turn out a more traditional-height brownie, a little thinner than what you see in the photos.
If you want your brownies as tall as the ones in the photos, be sure to use the smaller pan size.
Either way, this recipe makes 12 brownies, and size will vary depending on your pan.
Baking time will vary by just a few minutes, depending on what pan size you choose.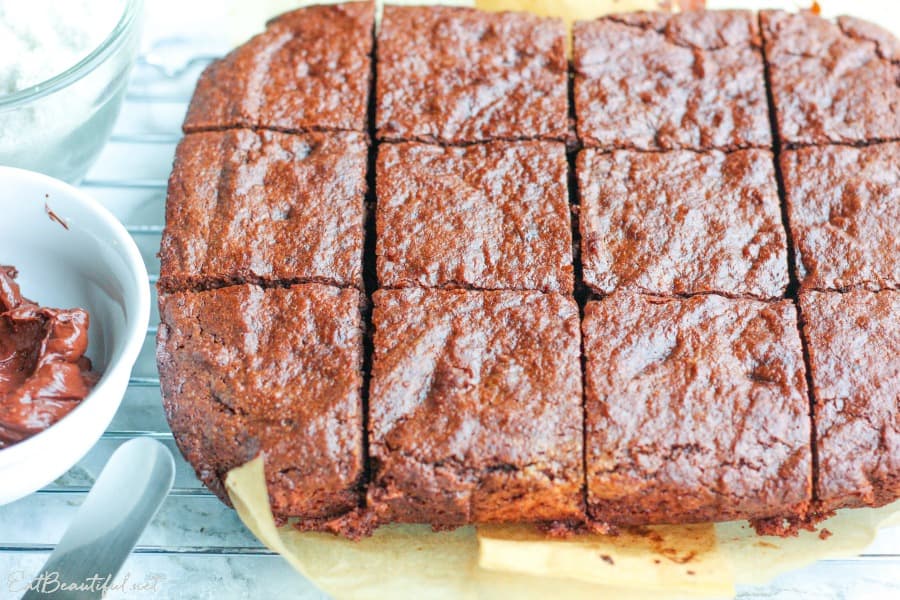 Print Recipe
Keto Tahini Brownies (Moist and Fudgy, Paleo)
Keto and Paleo Tahini Brownies are moist and fudgy, but take very little work to make. With ingredients you probably already have in your pantry, you can have a chocolately treat in just 30 minutes!
Equipment
8" square cake pan or 6" by 8" baking dish for taller brownies

oven
Instructions
Preheat oven to 325° Fahrenheit.

Grease and then line an 8" inch square baking pan with parchment paper. Set aside.

Add the wet ingredients to a large bowl: tahini, eggs, liquid low carb sweetener OR maple syrup and vanilla extract. Whisk to combine (they don't need to be mixed super well).

In a separate bowl, stir together granulated sweetener, cacao powder, coconut flour, baking soda and sea salt. Add dry ingredients to wet ingredients and fold together until fully combined, about 40 strokes with a spatula, or use an electric beater on its lowest speed.

Pour the batter into prepared pan and smooth the top with a spatula.

Bake in preheated oven for about 25 minutes or until fully puffed, with a cracked surface in some places and around the edges (edges just beginning to get darker than the middle).

Cool fully if you intend to frost. Cut into 12 equal pieces.
Notes
Find Chocolate Ganache Frosting recipe HERE.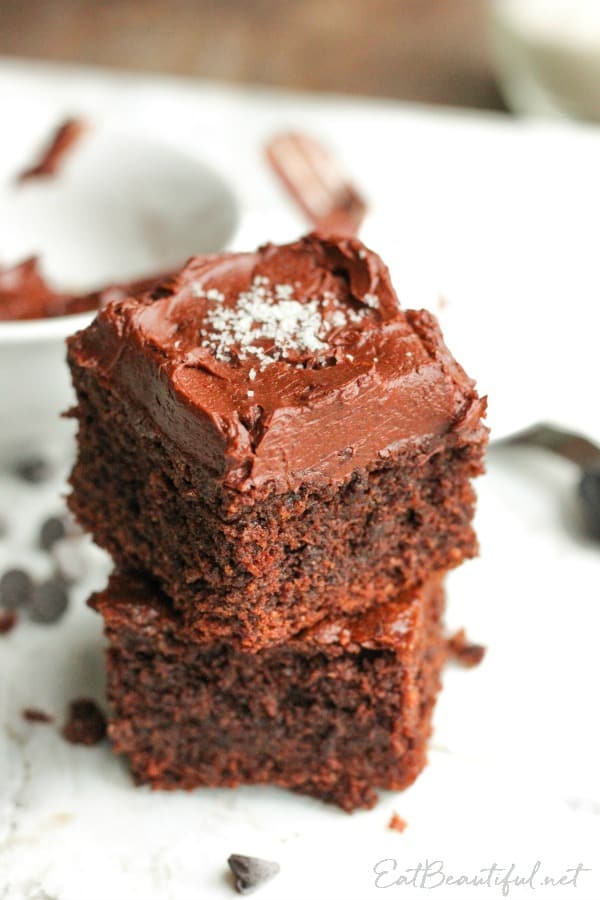 Nutrition
Calories:
138
kcal
|
Carbohydrates:
4
g
|
Protein:
5
g
|
Fat:
12
g
|
Saturated Fat:
2
g
|
Cholesterol:
27
mg
|
Sodium:
113
mg
|
Potassium:
138
mg
|
Fiber:
2
g
|
Sugar:
1
g
|
Vitamin A:
53
IU
|
Vitamin C:
1
mg
|
Calcium:
35
mg
|
Iron:
1
mg
Can substitutions be made in this recipe?
In addition to using your choice of sweetener in this recipe, you can also sub cocoa with carob, a 1:1 replacement.
Carob is not a low carb ingredient, but may be ideal for paleo or gluten-free diets when cocoa causes an undesirable response in the body.
Lightly roasted carob has the best flavor. (Here's a good organic product.)
How to store leftovers?
Store brownies in an airtight container at room temperature.
In you live in a warm weather area, store your brownies in the fridge for 2 to 3 days (for best texture). Use parchment paper directly on the brownies to reduce their exposure to air and keep them extra-fresh.
Tahini Brownies also freeze really well. Simply cover and seal brownies. Defrost by leaving out at room temperature for 3 to 4 hours.
Looking for more great Keto, Low Carb and Paleo chocolate desserts? Try these favorites: