I may receive a commission if you purchase through links in this post. I am not a doctor; please consult your practitioner before changing your supplement or healthcare regimen.
Keto No-Bake Chocolate Chip Cheesecake features a super creamy filling of sweet mascarpone and whipped cream + shaved chocolate! Texture and flavor sublimity!
This recipe is also Gluten-free and Primal.
What makes the texture of the filling so good…
Ever so creamy, light, billowy-pillowy, soft and PERFECT, like a dream, but still rich and delicious, without being dense because: that little bit of gelatin, freshly whipped cream and mascarpone!
This no-bake recipe is possible thanks to sustainably-sourced gelatin! It's my favorite cooking ingredient, and you'll find I use it everywhere (like in these Keto/Paleo Cupcakes and in this Panna Cotta recipe). Gelatin isn't just gut-healing; it also performs wonderful feats in recipes of many kinds. (Find the best gelatin here.)
So gelatin's the first trick for the amazing pleasure-texture of this cheesecake filling.
Second key? The whipped cream! Oh my, it's SO good: Whipped cream is folded into the whipped-cream cheese/mascarpone mixture, and you'll not want to wait for it to chill when you see this dairy marriage.
Finally, mascarpone or cream cheese: You get to choose. I LOVE the texture mascarpone creates, so that's what I make it with for our family. But if you prefer cream cheese, that'll work great. (Chèvre also works great if you'd like to use soft goat cheese, which is gentler for some and has a great flavor.)
(By the way, I might have hurried the chilling stage of this cheesecake the day I photographed it … because I couldn't wait to eat it! That texture, pure sublimity. I dove in with a fork >immediately< when the photos were done.) 😉
Chocolate! in Keto No-Bake Chocolate Chip Cheesecake
Oh, and the chocolate! — I used my favorite presentation of it, and that's shaved.
Going WAY back to my childhood when some ice cream shops used big chips and others shaved their chocolate, in Mint Chocolate Chip Ice Cream, I am a shaved girl all the way.
Shaving chocolate allows it to crackle-smash in your mouth, instead of getting in your teeth. It also heightens the chocolate-availability, which is a thing: More surface area is exposed, thus you get more chocolate flavor.
Personally, I like the way shaved chocolate compliments the soft texture of this cheesecake. And it's pretty, and dainty, with a bold punch.
Shaving chocolate also allows us to choose the chocolate bar that's right for our Keto or Paleo lifestyle! I give a couple of options in the recipe and Recipe Notes below, both of which I like.
Lastly, if you like, I give a link below to my own homemade chocolate chips. They're lovely because you get to choose your sweetener. They make a great garnish for this cheesecake, or you can use them in the filling. Great to buy chocolate chips too, because that's easier.
How to shave chocolate
Just use a veggie peeler, shaving toward yourself; or a sharp knife, cutting down toward your cutting board, like you're slicing cheddar cheese, but really thinly. Both work great.
The sweetness in Keto No-Bake Chocolate Chip Cheesecake
After many years of healing (6+ years on the GAPS Diet!) I don't have much of a sweet tooth anymore (AMEN!). But I do love creamy dairy; and I do love fat. So for me, with this dessert, I just use stevia to sweeten the filling. I believe most palates will like it a little sweeter than I do; and so the recipe includes the option of adding additional sweetener, both a Keto option and a Paleo option.
The crust also includes these sweetener options: You can choose between your preferred Keto sweetener (find Monk Fruit Sweetener here) or Paleo (find my favorite maple sugar here).
The crust for Keto No-Bake Chocolate Chip Cheesecake
I am super pleased about this crust! It has only 3 ingredients and it's fabulous and flaky! You'll love how fast it mixes up, bakes and is ready to fill. Just 7 minutes in the oven!! So it won't heat up your house during hotter months, and it makes this whole recipe no-fuss-fast. I guess I should say, this is the only part of the recipe that does bake; but you'll hardly notice.
You can make the crust from blanched almond flour, for the easiest option and what you probably have in your pantry/fridge.
If you choose to make your crust from sprouted nuts for better digestion (that option is below), find the how-to here or below in the Recipe Notes. The best Keto nuts to choose from (meaning, low-carb) are macadamia nuts and pecans. Both make a lovely crust.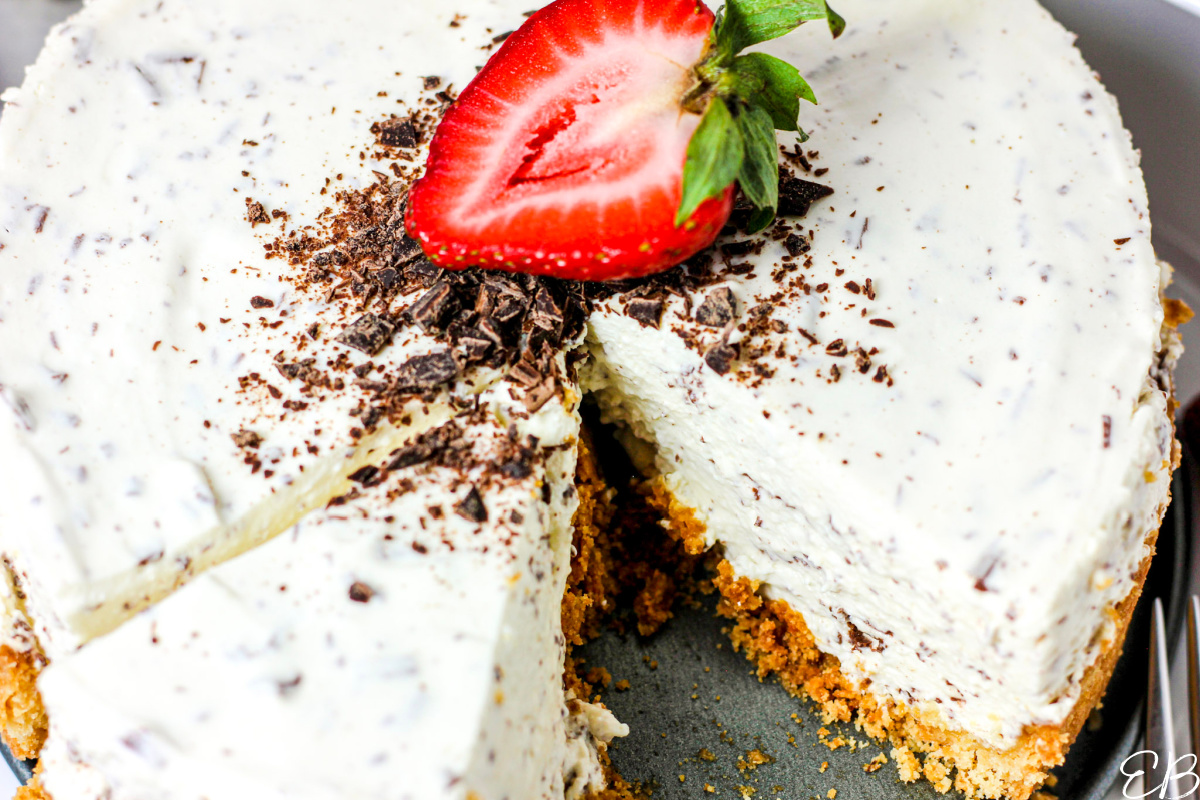 Print Recipe
KETO Chocolate Chip Cheesecake (Paleo/Primal variation)
Keto No-Bake Chocolate Chip Cheesecake is also Paleo/Primal. The shaved chocolate provides the perfect subtle crunch and extra chocolate flavor. The filling is utterly creamy, sweet, rich and cheese-tangy. You'll love this No-Bake recipe and how beautifully it comes together!
Equipment
7" cheesecake pan for taller, smaller cheesecake, or bigger pan for lower cheesecake

oven
Ingredients
3-ingredient Cheesecake Crust
1-

½

cups

blanched almond flour

OR flour from sprouted nuts (see Recipe Notes)

½

cup

butter

melted

¼

cup

low-carb sweetener

like Monk Fruit Sweetener for Keto; or use maple sugar for Paleo (see Recipe Notes for links)
Chocolate Chip Cheesecake Filling
9

ounces

mascarpone

, cream cheese or chevre, room temp.

1

cup

heavy cream

(raw cream is great, if you can get it)

2

Tablespoons

water

2

teaspoons

gelatin

(see link and DISCOUNT code below in Recipe Notes)

1

teaspoon

real vanilla extract

(or vanilla specks, if you don't want the little bit of alcohol; vanilla specks are also more affordable- see link below in Recipe Notes)

⅛

teaspoon

stevia

, to taste, because brands vary considerably

2

Tablespoons

additional sweetener of choice

optional (I like mine with just stevia, but it's not super sweet. If you want it sweeter, add 2 Tablespoons powdered monk fruit sweetener for Keto, or pure maple syrup for Paleo/Primal)

⅓

cup

shaved Keto-friendly chocolate bar

like Lily's brand OR unsweetened fair-trade cocoa for either Keto or Paleo/Primal version: see links below in Recipe Notes

Garnish

homemade chocolate chips

optional (see link below in Recipe Notes)
Instructions
Preheat oven to 350 degrees Fahrenheit.

Mix together crust ingredients well. Press into cheesecake pan, and up the sides about 1 inch. (Use a 7" cheesecake pan for a taller cheesecake that's smaller in diameter, or a bigger cheesecake pan for a lower cheesecake that's bigger in diameter. I used a 7" for the photos.)

Bake about 7 minutes, until golden brown. Remove from oven and place in fridge while you prepare the filling.

In large metal bowl with beaters, whip the cream until stiff peaks form. Set aside.

Place water in small saucepan. Sprinkle gelatin over its surface. Allow to bloom, stirring in with a fork. Heat over medium heat, stirring constantly, until gelatin dissolves and is foamy on the top, about 1 minute. Set aside.

In another large metal bowl with same beaters (no need to clean them after whipping the cream), place chevre or room temperature cream cheese. Beat on high for 30 seconds until lighter and looser. Add stevia, optional additional sweetener and vanilla. Beat. Taste. (Add more sweetener, if needed.)

While beating, drizzle in gelatin water and mix well.

Fold in whipped cream thoroughly.

Add shaved chocolate and fold again.

Pour filling into crust and smooth top surface. Refrigerate 4 to 6 hours.

Serve! Garnish with additional chocolate chips, more shaved chocolate and/or fresh strawberries. (But, really, it doesn't need anything, in my book!)
Notes
Here's

how to make Sprouted Nut Flour.
Find Monk Fruit Sweetener (for Keto/low-carb)

here

.
Find (for Paleo/Primal version) maple sugar

here

.
Find sustainably-sourced gelatin

here

. (Enter code BEAUTIFUL10 for 10% off your entire order.)
Find Vanilla Bean Powder

here

.
Find Lily's Chocolate

here

.
Please always buy Fair Trade chocolate. 🙂

Here's

a great Fair Trade Certified, Unsweetened Chocolate Bar. By shaving this bar, you get great chocolate flavor without any sweetener!
Find my homemade chocolate chips

here

. This recipe allows you to use any sweetener you prefer.
Nutrition
Calories:
361
kcal
|
Carbohydrates:
3
g
|
Protein:
4
g
|
Fat:
38
g
|
Saturated Fat:
21
g
|
Cholesterol:
106
mg
|
Sodium:
217
mg
|
Potassium:
66
mg
|
Fiber:
1
g
|
Sugar:
1
g
|
Vitamin A:
1220
IU
|
Vitamin C:
0.5
mg
|
Calcium:
64
mg
|
Iron:
0.5
mg
No-Bake Cheesecakes …
If you love no-bake cheesecakes as much as I do, you'll also love these: Peppermint, Eggnog, Saffron-Vanilla, and dairy-free, probiotic Fermented!
Pin No-Bake Chocolate Chip Cheesecake here: