I may receive a commission if you purchase through links in this post. I am not a doctor; please consult your practitioner before changing your supplement or healthcare regimen.
25 Easy Paleo Dinner Recipes are the ones I make again and again. When we're having friends for dinner, they're the quick, no-stress recipes I can count on to be super good. I also make these recipes regularly for just my own family, because I know we all like them, + they're simple, fast and healthy.
I've separated these dinner recipes into beef, chicken and various other proteins — so you can find what you're looking for easily.
All of the recipes below (except one, which is marked), in addition to being Paleo, are Whole30 (dairy-free), Gluten-free, and most are AIP and GAPS-compliant as well. Many are Keto and Low Carb.
I created this recipe round-up because I noticed that other similar articles were filled with recipes that weren't easy or quick! ALL of the following recipes were designed to be easy and fast, less than 30 minutes of prep time!

Enjoy making great dinners with less work — in less time! 🙂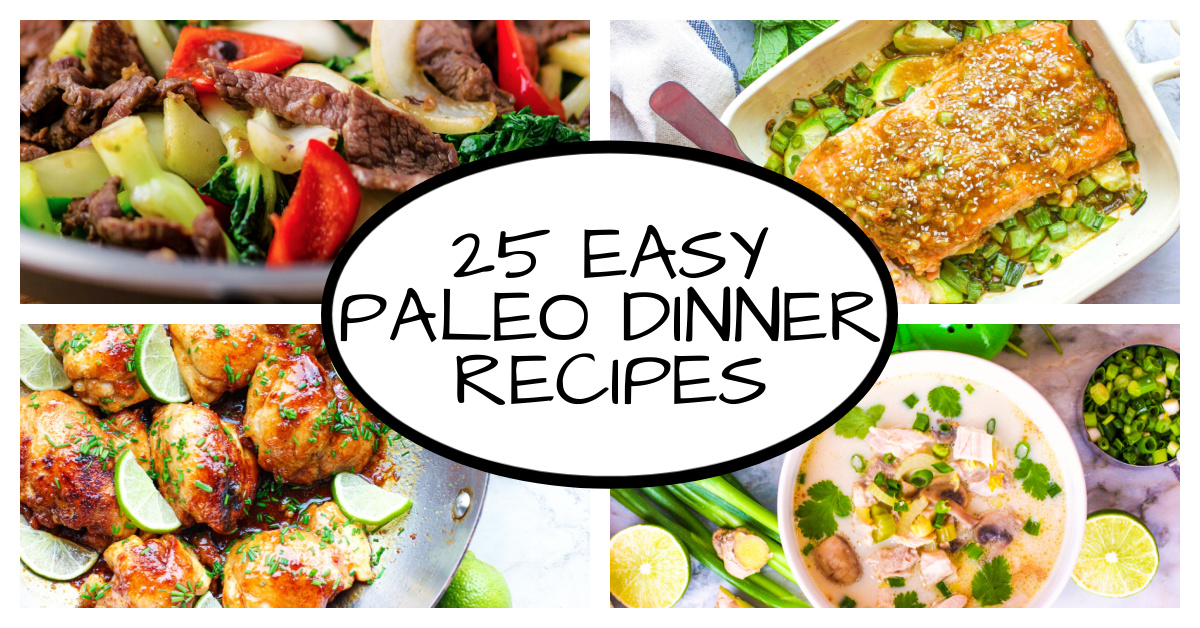 What is the Paleo diet
The Paleo diet is also a lifestyle choice for anyone wanting to eat healthier, source their ingredients better or reduce inflammation.
Paleo simply means removing all processed foods, including refined sugar and grains. The benefits may also include weight loss, increased energy levels, a boost to the immune system and a longer life.
Yes, eating a Paleo diet can be a great way to reverse disease in the body.
The word Paleo comes from the word Paleolithic, meaning: what our ancestors ate before processed foods were introduced.
What to eat on the Paleo diet
Most people who enjoy Paleo lifestyles still indulge in foods like coffee and chocolate. But the spirit of the diet is one of whole foods that are easy to digest, nutritious and delicious because they're from nature, not a factory.
On the Paleo diet, eat: meat, fish, eggs, vegetables and fruits, plus healthy baked goods made with grain-free flours.
When shopping, look for grass-finished and pasture-raised meats. (Learn more about why here.) Buy organic and non-GMO veggies.
And … enjoy these quick and easy Paleo recipes that make cooking dinner no. big. deal. AND delicious! 🙂
Easy Beef Paleo dinner recipes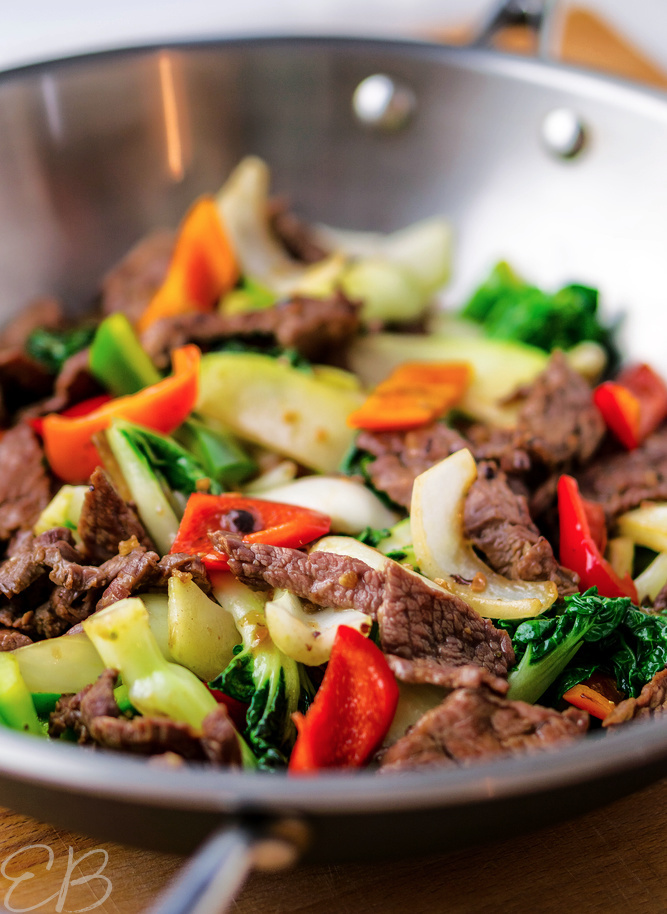 15-Minute Keto Asian Beef Bowl — A super simple sauté of ground meat that's uber-flavorful and sure to please. Serve on cauli or white rice (some Paleo practitioners advocate for a small amount of white rice on the diet). (Keto & GAPS. For AIP, use another oil than sesame, and use honey to sweeten.)
Mexican Lazy Cabbage Roll Casserole — This recipe is also low carb. There's no prep before sliding the casserole dish into the oven. Just stir together and bake, and out comes a flavorful, lovely meal. Paleo, but can be made Primal, if you eat/enjoy dairy. (Keto & GAPS.)
Thai Beef Curry Stew — This recipe is also Low-FODMAP, but you'd never know it. The flavors are incredible. This recipe is a "dump and go" Instant Pot recipe, so almost no work involved. (AIP & Keto.)
Keto Greek Bowls — The best thing about this bowl, other than the fast prep time, is the crazy-good strong Greek flavors, of the spiced meat and of the Spearmint Cream Sauce that gets poured over all. Also low carb and may be made with lamb, too. This recipe is actually Primal, which means it includes well-sourced dairy. (It's the only recipe here that's not Whole30, because of the sauce. Keto & GAPS.)
Thai Beef and Pineapple Kabobs — In the oven or on the BBQ, these are fast and fun. (AIP & GAPS.)
Beef Stir Fry — With just a few choice veggies and an easy homemade Teriyaki Sauce, everyone loves this economical steak dinner. (AIP, Keto & GAPS.)
Asian Meatballs Sheet Pan Dinner — Everything cooks on one pan, and then dinner's ready. Just form the flavorful meatballs with a scoop, so it's extra low-fuss. (AIP, Keto & GAPS.)
Chinese Beef Short Ribs — Just 10 minutes of prep for this one, and your guests will be asking you for the recipe. (Keto & GAPS.)
Easy Chicken Paleo dinner recipes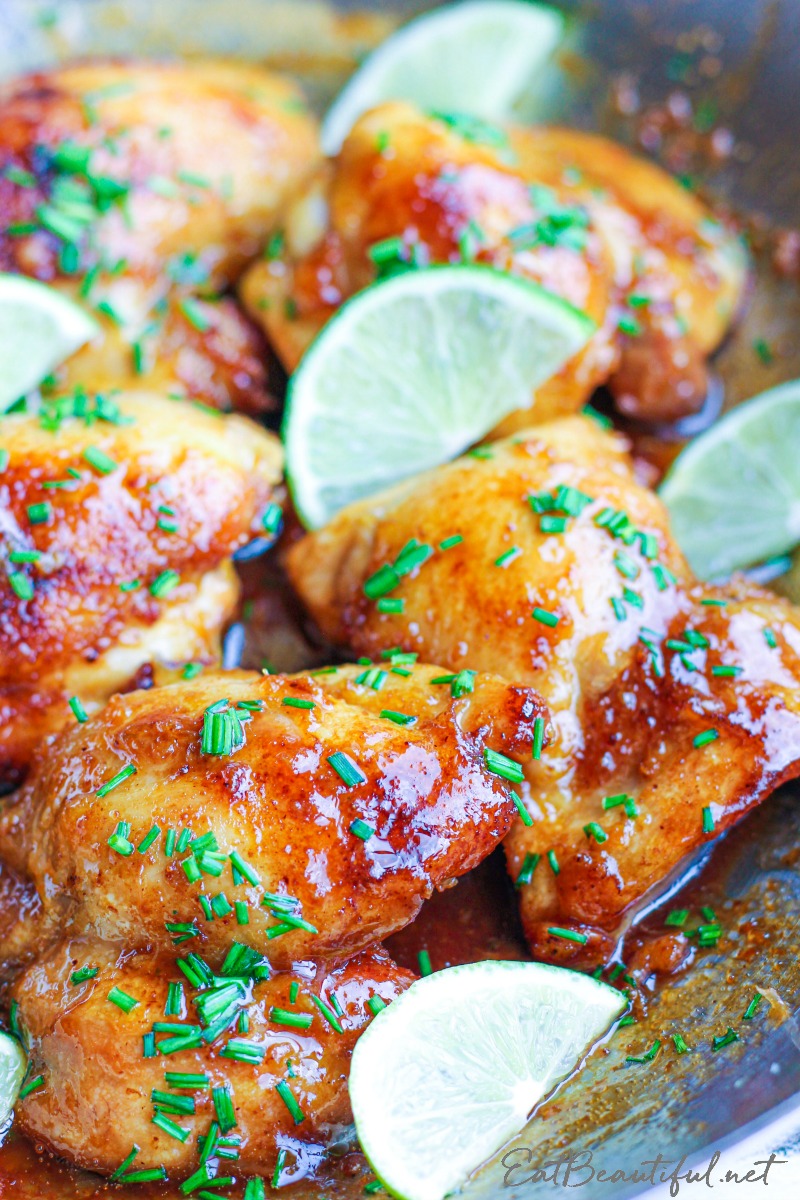 Spicy Honey Lime Chicken Thighs — A super popular recipe on the blog for good reason, and comes with a low carb option. (AIP, Keto & GAPS.)
Easy Dump & Bake General Tso's Chicken — A simple sauce that coats meat and veggies with an appealing glaze, pieces of tender chicken and broccoli all get baked together briefly. Very little work. (AIP.)
Maple Rosemary Chicken — Maple Rosemary Chicken is a delicious 1-pan dinner that only takes 10 minutes of prep time. (AIP, Keto & GAPS.)
Tom Kha Gai — Tom Kha Gai is that Thai coconut chicken soup everyone loves — with the comfort food flavors of coconut milk, fresh lime juice, ginger, lemongrass and a buttery chicken stock. (AIP & Keto.)
Instant Pot Chicken & Sweet Potato Stew — A lovely yellow cream base, chicken, broccoli and sweet potatoes. This recipe is also low histamine, but everyone loves it, low allergy or not. (AIP.)
Meal Prep Sheet Pan Chicken Thighs — Inside this recipe post, I give lots of ways to eat this simple yummy preparation of baked chicken thighs: salads, bowls and wraps, all perfect for easy Paleo chicken dinners. (AIP, Keto & GAPS.)
Rosemary-Honey Chicken with Smashed Cauliflower — An infused rosemary-honey simple syrup (although it sounds fancy, it's almost no work) and chicken pan juices make this recipe taste complex. (AIP & GAPS.)
And one recipe with turkey … Turkey, Apples and Onions Hash — I love hashes, especially with sautéed onions and apples. Everyone loves this recipe. Makes a lovely casual dinner. (AIP & GAPS.)
Easy Egg, Pork or Seafood Paleo dinner recipes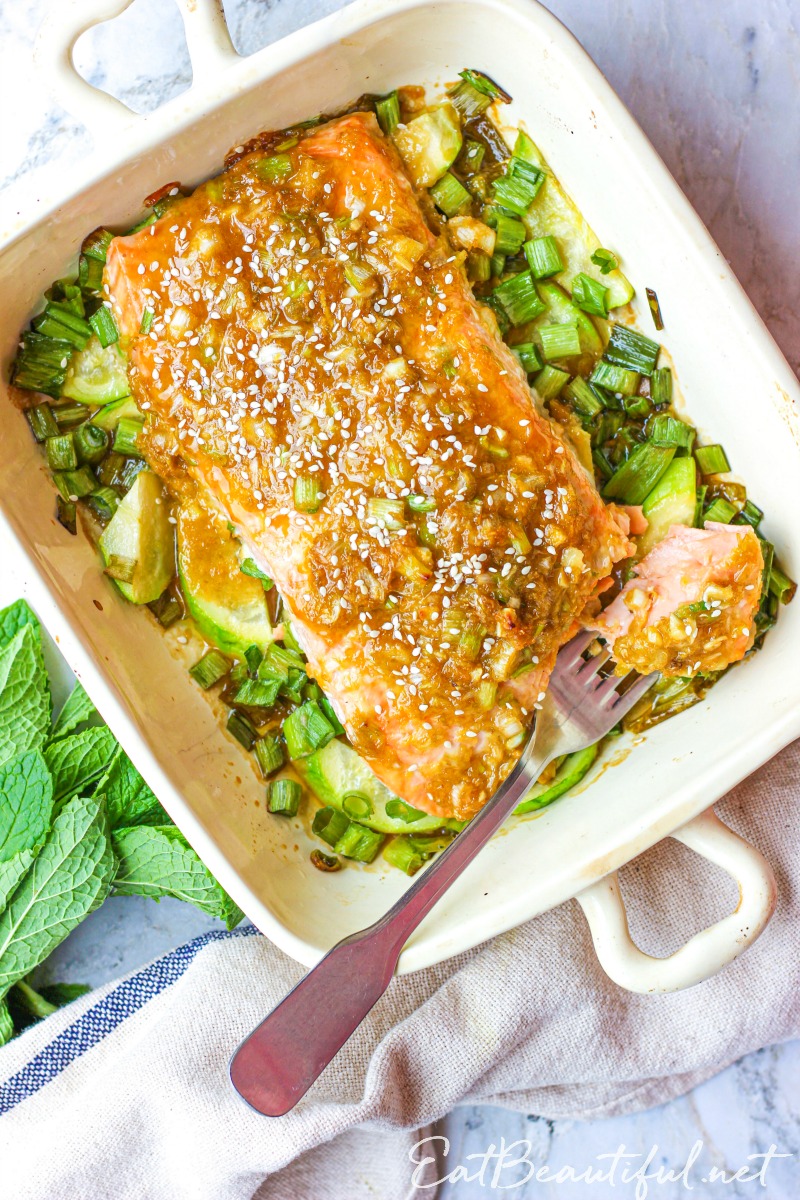 Ginger-Lime Salmon — One of the best and simplest recipes, great even to serve to guests. Lovely. (AIP, Keto & GAPS.)
Korean Pancakes with Scallions — Choose to add shrimp or another seafood protein to the batter before frying. Or keep it vegetarian Paleo (eggs are the protein). Super yum and casual, with an easy optional dipping sauce.
Best Shakshuka — I love this hearty Israeli staple, as do so many. Make this year round with pantry and fridge staples, or in the summer with fresh garden produce. Either way, fast and homey. (Keto & GAPS.)
Zucchini Chorizo Butter Stew — Only 5 ingredients come together to make this amazing stew that's cooking magic. If you're Paleo and don't eat butter, you can make this recipe with coconut oil instead. (Keto & GAPS.)
Spaghetti Squash Fried Rice — A favorite-flavored Asian dinner everyone will love. (AIP, Keto & GAPS.)
Scallop Scampi with Zucchini Noodles — If you can source good scallops, this dish won't disappoint. It's healthy, pretty and fast. (AIP, Keto & GAPS.)
Chinese Hot and Sour Stir Fry — A fast one-pan dinner. With 20 minutes or less of prep time. I love the easy sauce with stir-fried pork and fresh veggies. (AIP & GAPS.)

Mediterranean Potato & Olive Crustless Quiche — This dairy-free quiche is oh so creamy and satisfying! (GAPS.)
Roasted "Loaded" Cauliflower Sheet Pan Dinner — Featuring bacon and caramelized oven-roasted cauliflower. One pan. (AIP, Keto & GAPS.)
Pin this recipe round-up here: