I may receive a commission if you purchase through links in this post. I am not a doctor; please consult your practitioner before changing your supplement or healthcare regimen.
Low Histamine Instant Pot Chicken & Sweet Potato Stew is a delicious Gluten-free, Paleo, Whole30 and AIP dinner — so the side benefit is that this beautiful recipe also happens to be a wonderful choice for low histamine needs. The Instant Pot is an added bonus for making this dinner a dump and cook recipe that's easy and fast to make.
(GAPS diet and low oxalate variations too.)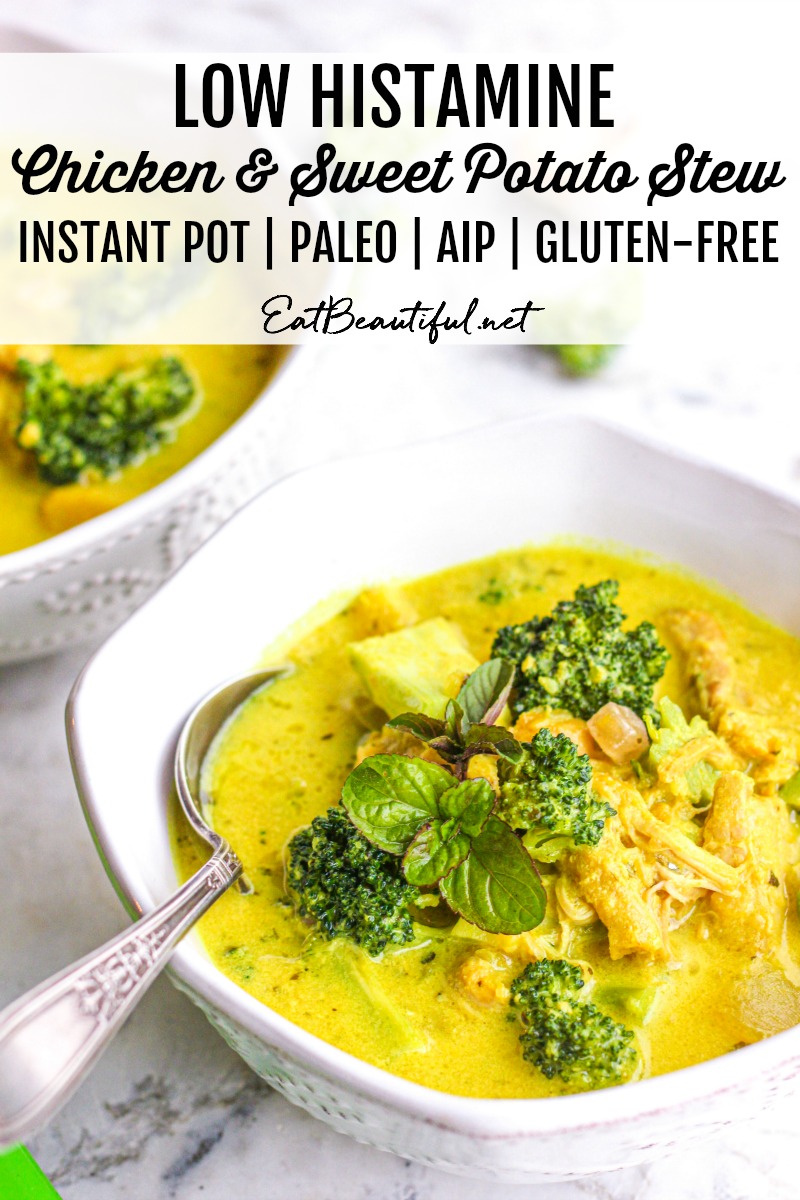 Jump to Recipe
Low Histamine Instant Pot Chicken & Sweet Potato Stew Ingredients
Chicken thighs — Boneless, skinless chicken thighs are so great to pop into the Instant Pot! No work, and they come out moist, plump, juicy, flavorful. In this recipe, you can place them into the IP whole if you don't like cutting raw poultry (I don't) and then chop 'em up after they're cooked (or break them up easily with the serving spoon). Or chop each one into 6 pieces before cooking. (Be sure to use nice, fresh meat for low histamine needs.)
Coconut milk — This creamy staple makes the rich, delicious stew base that's then flavored with lots of garlic, ginger, turmeric and umami chicken.
Coconut butter — A dense, sweet condiment, coconut butter adds thickness, sweetness, depth and richness to the stew. (If you're Paleo or Gluten-free, and not AIP, you can also use tahini instead.)
Coconut oil — We start this recipe using the "Sauté" button on the Instant Pot. We throw in the spices with the coconut oil to heighten their flavors. Coconut oil is a low histamine food — as well as being antimicrobial and antifungal.
Herbs and spices — Parsley adds a nice fresh flavor to stew. It also — inhibits the production of histamines. Turmeric is anti-inflammatory and a classic rich curry flavor base. Ginger is spicy but gentle … and it's great for digestion, safe for low histamine and AIP-friendly.
Lime juice — We add the fresh juice of one lime after the stew cooks, which makes a great fresh flavor in this stew — such an ambrosial base. Note: This ingredient is optional for low histamine. Citrus has histamine releasing qualities, but some people do not react to it, and many find lemon juice to be more problematic than lime juice.
Veggies — This recipe uses sweet potatoes and broccoli. I like to use white sweet potatoes, and I cut my broccoli pretty small so it cooks quickly. (I give some great alternatives to these two veggies below if you can't eat either one for some reason.)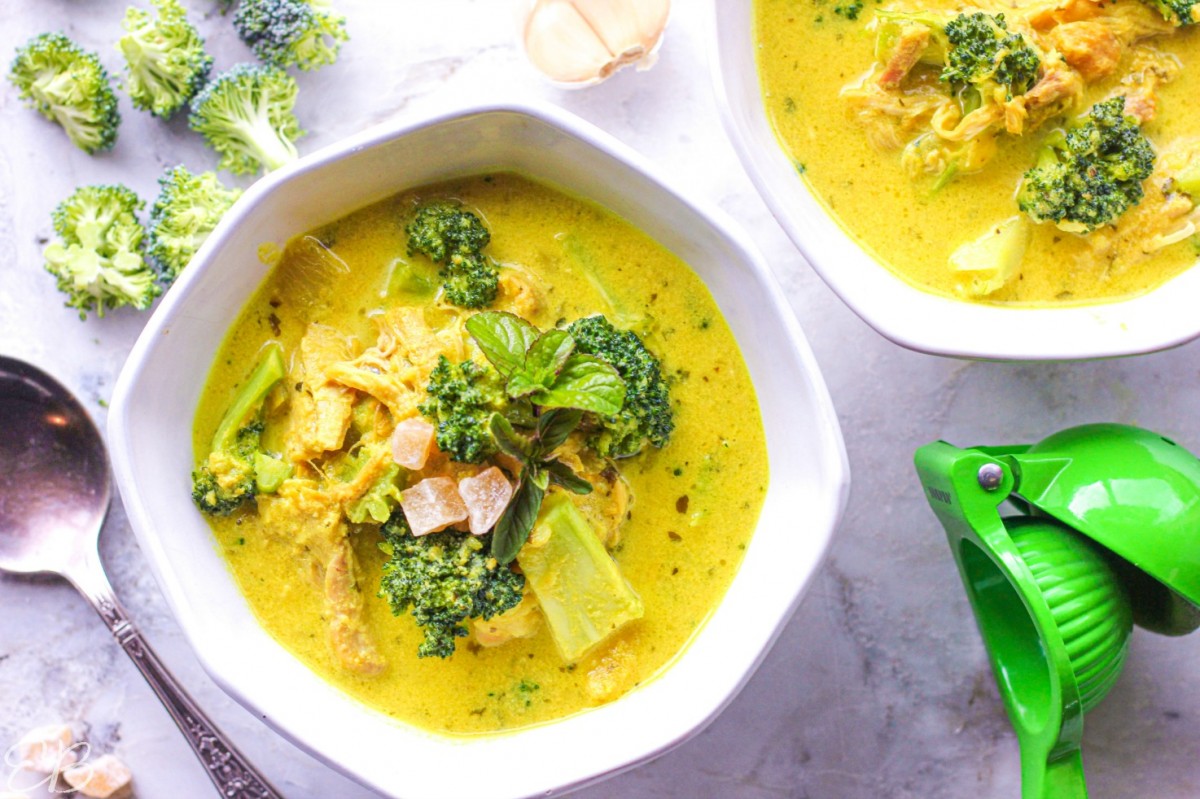 Substitutions that are still AIP & Low Histamine
Most of this Low Histamine Instant Pot Chicken & Sweet Potato Stew recipe needs to stay the same. But you can change up the veggies a bit if you like — and according to your dietary needs.
In place of sweet potatoes, other low histamine and AIP veggies include: turnips, rutabaga, carrots and cauliflower. If you happen to be sensitive to oxalates (sweet potatoes are high oxalate), substitute rutabaga and turnips for the sweet potato.
Alternatives to broccoli that are also low histamine and AIP-friendly are: stinging nettles, zucchini, cauliflower, fennel and collard greens.
Lastly, to make this recipe GAPS diet-friendly, simply sub the sweet potato with winter squash.
Can you use frozen chicken?
Yes, you can, but it changes the recipe a bit.
To use frozen chicken, you'll need to increase the cooking time to 30 minutes (instead of the 15 minutes printed in the recipe).
It's okay to use chicken thighs that are all frozen together in one chunk, but you may need to put them into the pot at an angle so they fit.
The longer cooking time will be perfect for the chicken — but will soften the sweet potatoes into a mush. If you're happy with smashed sweet potato, great. Otherwise, you may wish to sub in a different short-cooking veggie with the broccoli (that gets added at the end) instead. You could also bake sweet potatoes in their jackets, and serve them on the side, or scoop the filling into the stew as you serve for a rustic smashed potato feel.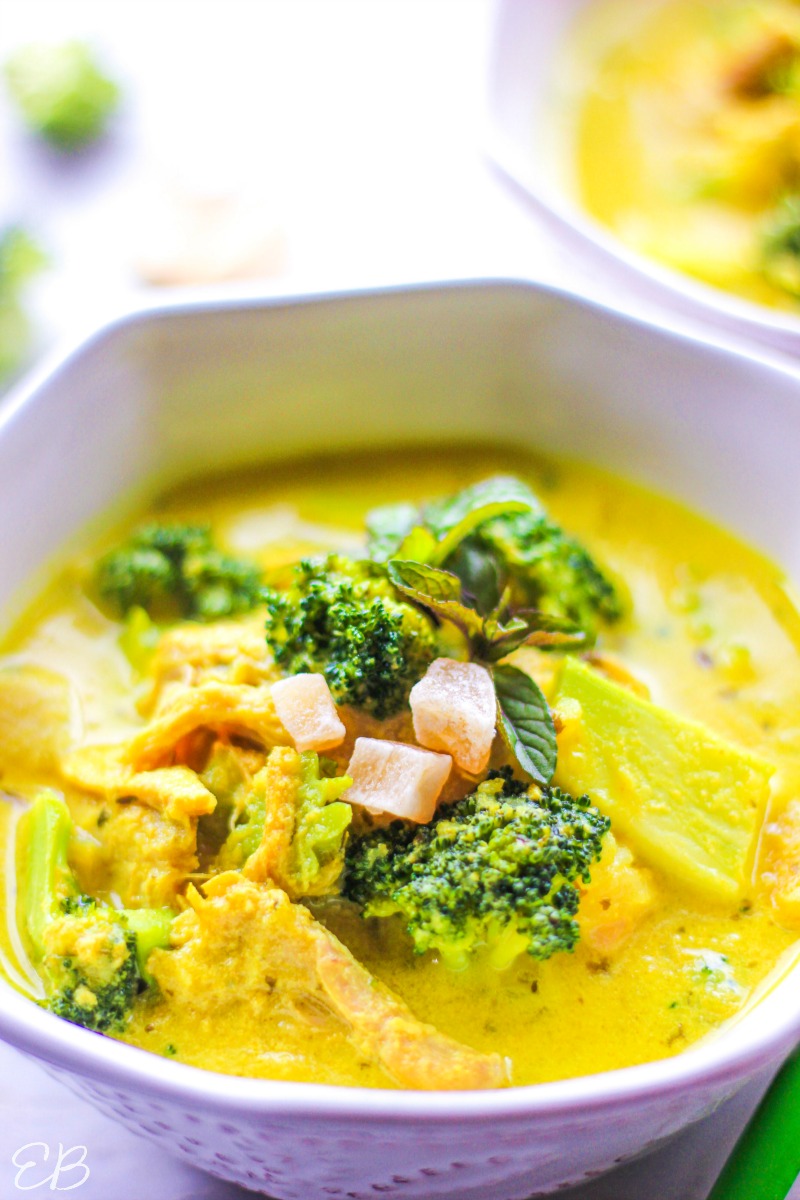 Leftovers of Low Histamine Stew
Leftovers of Instant Pot Chicken & Sweet Potato Stew are great. As with most stews, the flavors continue to develop and keep well. If you have the clear glass lid accessory for your Instant Pot (find it here), you can just stick the whole IP insert in the fridge, covered, for up to 4 to 5 days.
BUT, if you're on a low histamine diet, it's very important to store leftovers in the freezer right away. (Aged foods are higher in histamines, so leftovers increase in histamine content overnight and each day.)
How to freeze, defrost and re-heat
To freeze leftovers, store individual portions in glass containers with lids (like these) — which makes it easy to defrost each one as needed. Different size glass containers allow you to store different portion sizes.
To defrost, place containers in the fridge overnight, and then reheat. Or keep frozen, and bring containers to work with you; they'll defrost enough by lunchtime that they can then be reheated.
To reheat, remove lid and microwave gently. Or reheat in small saucepan on the stove over medium heat, stirring as needed to heat evenly.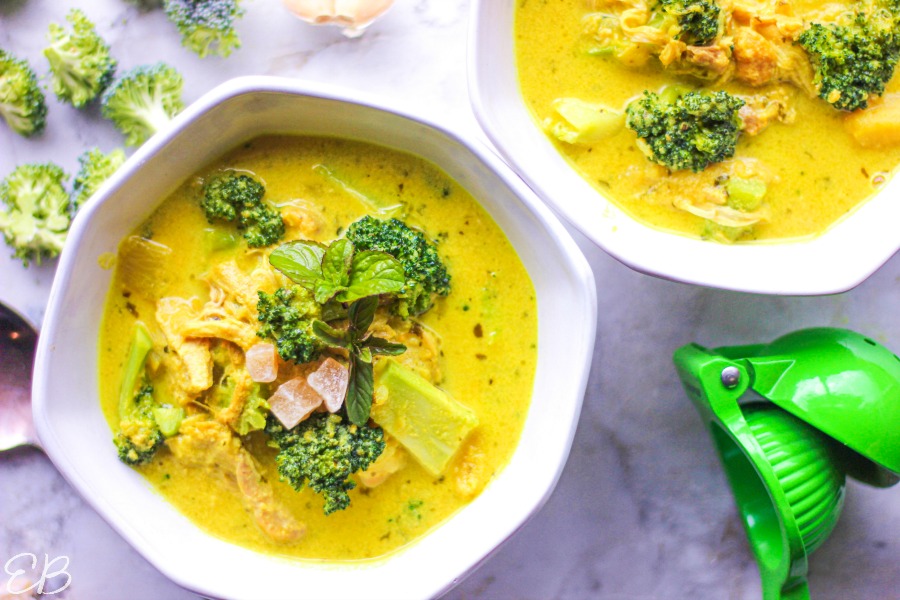 Print Recipe
Low Histamine Instant Pot Chicken & Sweet Potato Stew (GF, Paleo, Whole30 & AIP)
Low Histamine Instant Pot Chicken & Sweet Potato Stew is a delicious Gluten-free, Paleo, Whole30 or AIP dinner. A one-pot dump & cook recipe — easy and fast to make!
Ingredients
1-

½

pounds

chicken thighs

, whole or cubed, boneless, skinless (about 5)

2

cups

broccoli florets

chopped bite-size

1

pound

sweet potatoes

peeled and cubed (about 2)

1

can

coconut milk

no guar gum

1

lime

juiced (optional for low histamine)

2

Tablespoons

coconut butter

, or if not AIP: you can use tahini

5

cloves

garlic

crushed or minced

1

Tablespoon

coconut oil
1-

¼

teaspoons

sea salt

1

teaspoon

turmeric

1

teaspoon

ginger powder

1

teaspoon

dried parsley

+ optional fresh parsley for garnish
Instructions
Place coconut oil and sweet potato in Instant Pot insert. Press "Sauté" button. When coconut oil is melted, add turmeric, ginger, parsley and sea salt. Sauté for about 5 minutes, until spices are very fragrant.

Add coconut milk, fresh garlic and coconut butter, and give it a stir. Press "Cancel". Add chicken. Use sauté spatula to push each piece below the liquid line. Seal lid, shut steam valve and press "Poultry" button. Time will go to 15 minutes (if it doesn't, adjust to 15 minutes).

When timer sounds, allow 25 minutes for pressure to release naturally. Slowly open steam valve to allow last little bit of steam to escape. The liquid in the pot will still be simmering.

Add the broccoli right away, and cover (with the clear Instant Pot lid if you have one). Press the "Keep Warm" button. This allows the broccoli to gently steam. When the timer reads 20 minutes, the broccoli will be nicely tender without being overcooked. (You can also, at this time if you prefer, just leave the IP on "Keep Warm" setting for longer, until you're ready to serve.)

When ready to serve, add the lime juice, and stir. If you used whole chicken thighs, use your serving spoon to break each thigh into a few pieces (the chicken is super tender at this point and will break up very easily). Serve as soup or over cauliflower rice (or Basmati white rice for Gluten-free).

Top with fresh cilantro, mint or parsley if desired.
Notes
Looking for more great soup and stew recipes? Find my delicious soups cookbook HERE, full of Paleo, AIP, Low Histamine and Instant Pot recipes designed to be gentle and delicious for wellness.
Nutrition
Calories:
449
kcal
|
Carbohydrates:
34
g
|
Protein:
11
g
|
Fat:
32
g
|
Saturated Fat:
24
g
|
Cholesterol:
20
mg
|
Sodium:
694
mg
|
Potassium:
829
mg
|
Fiber:
7
g
|
Sugar:
6
g
|
Vitamin A:
16409
IU
|
Vitamin C:
51
mg
|
Calcium:
87
mg
|
Iron:
5
mg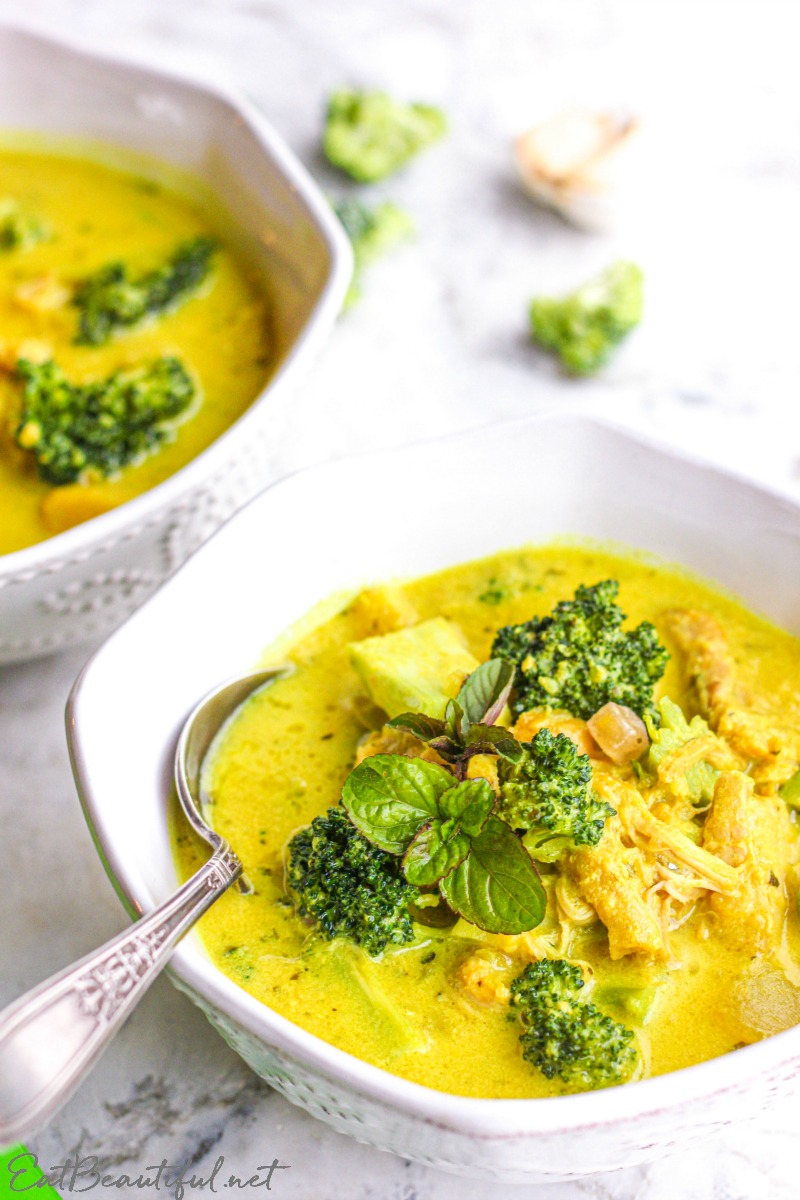 If you're looking for tips for recovering from MCAS or histamine intolerance, I recommend reading this article.