I may receive a commission if you purchase through links in this post. I am not a doctor; please consult your practitioner before changing your supplement or healthcare regimen.
Scallop Scampi with Zucchini Noodles is the perfect healthy meal, full of good fats, rich flavorful pan-seared scallops, refreshing light zoodles — all tossed with fresh basil, olive oil, a bit of fresh lemon juice and sea salt — plus some optional garnishes. This recipe is Paleo, Keto, Whole30, AIP, Low FODMAP, GAPS-friendly and Gluten-free.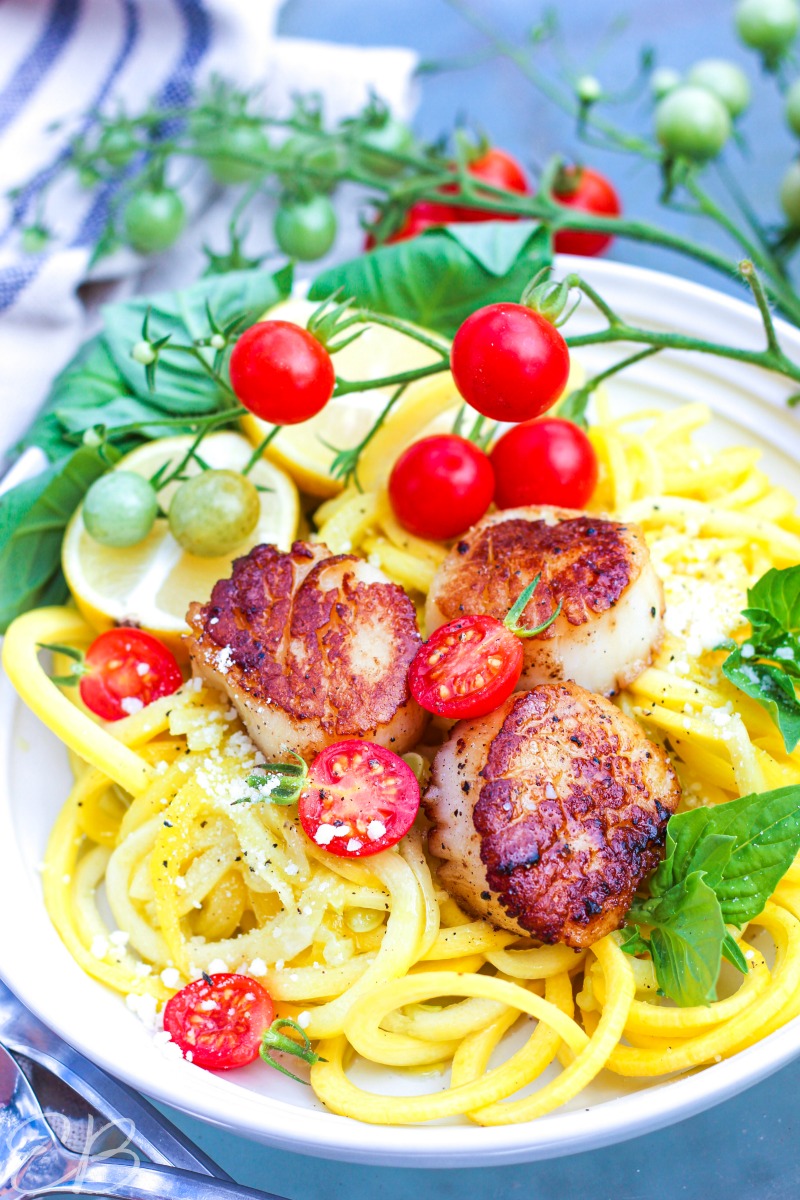 Jump to Recipe
Amazingly, this gourmet dinner is super fast and easy to make. It's simple yet lovely. Make it any night of the week when you don't have a lot of time, but you want a beautiful meal.
Summer produce to make zoodles Scampi
This recipe is one that's completely inspired by what's growing in the garden right now! I couldn't resist the tomatoes and zucchini! (The AIP variation skips garnishing this dish with tomatoes.)
How beautiful to see on this plate: yellow zucchini noodles, green fresh basil and little fragrant tomatoes — yellow, green and red. All topped off with the alluring smells and flavors of pan-seared scallops, sautéed garlic and Mediterranean olive oil.
Shrimp or scallops
I grew up eating shrimp scampi, made by my gourmet mom, with jumbo gorgeous shrimp. She never skimped on the olive oil or garlic. And I always loved noodles.
I chose to make this dish with scallops instead, because we're enjoying them often this summer.
Scallop Scampi with Zucchini Noodles ingredients
This quick recipe has super simple ingredients. Other than the scallops, you may have everything on hand already:
Fresh, large scallops — I buy Atlantic Scallops from Newman's Fish Market.
Avocado oil or ghee — The cooking of the scallops starts with a high-heat fat with a high smoke point.
Bacon fat, ghee or butter — For dairy-free, use bacon fat. If tolerated, you can use butter. This secondary fat finishes off the scallops' cooking and is also used to briefly cook the zucchini noodles.
Garlic — For traditional scampi flavor! (Omit for Low FODMAP.)
Lemon juice — Lemon juice brings the zoodle flavor up a notch, delicious. The pan-seared scallops don't need any extra flavor, but they're wonderful in the mouth with the citrusy noodles.
Sea salt and freshly ground black pepper (pepper not for AIP) — Always good to balance and bring the flavors up.
Fresh basil — Scallop Scampi is a traditional Italian dish that is not surprisingly brought further into that authentic taste realm with the use of this well-loved herb!
For those not on the AIP diet, vine-ripened tomatoes can be added. Keto, Primal and Gluten-free: the dish can be garnished with fresh Parmesan.
For AIP, if you'd like more garnishes, add olives and capers!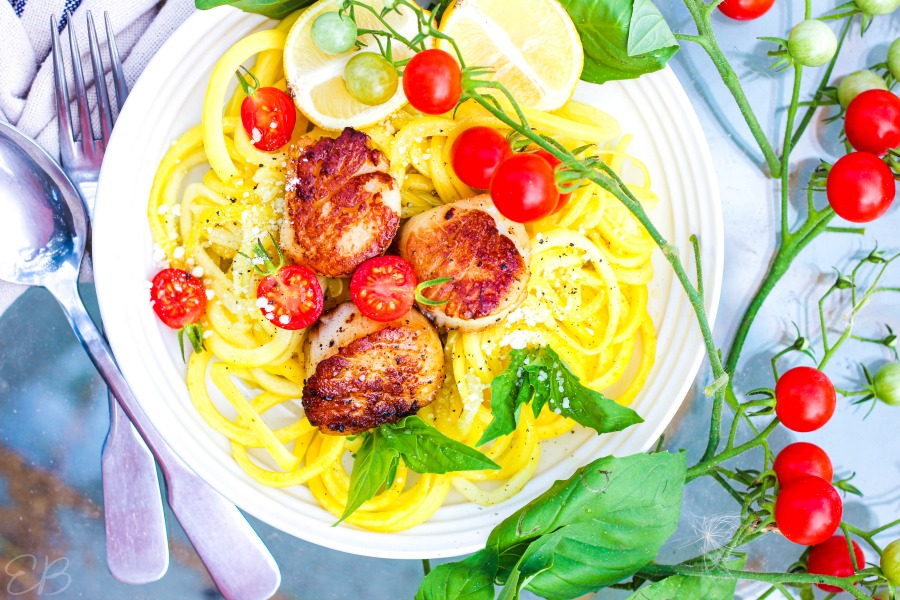 How to make the best pan-seared scallops
I go to Newman's Fish Market where they sell large, fresh Atlantic scallops. These are expensive (word to the wise), but we only eat 3 to 4 each, because they're very rich and satisfying.
Remove scallops from their packaging, and pat them dry with a paper towel. I don't personally remove the little flap on the side, because we don't notice it when we eat. (If you get the best freshest scallops, it's not an issue; the whole thing is super tender.)
Next, it's important to heat your skillet really hot before adding the fat. This creates a non-stick surface. So, heat your skillet over high or medium-high heat until it's quite hot but not smoking. Then add high-heat fat of choice: avocado oil, ghee or lard, and swirl to coat the pan.
I like to cook large scallops for about 3 minutes per side. This cooking time over medium-high heat allows them to get that brown crispy exterior. You'll be able to see the bottom edges browning as they cook. Flip when you see that brown crispy edge. (Super fresh scallops will not get rubbery at all if you cook them a little longer to get that caramelized brown surface.)
After cooking the second side of the scallops, serve the scallops using tongs. You can also move the pan off the heat to a warm surface to keep them warm while you finish the zoodles' cooking.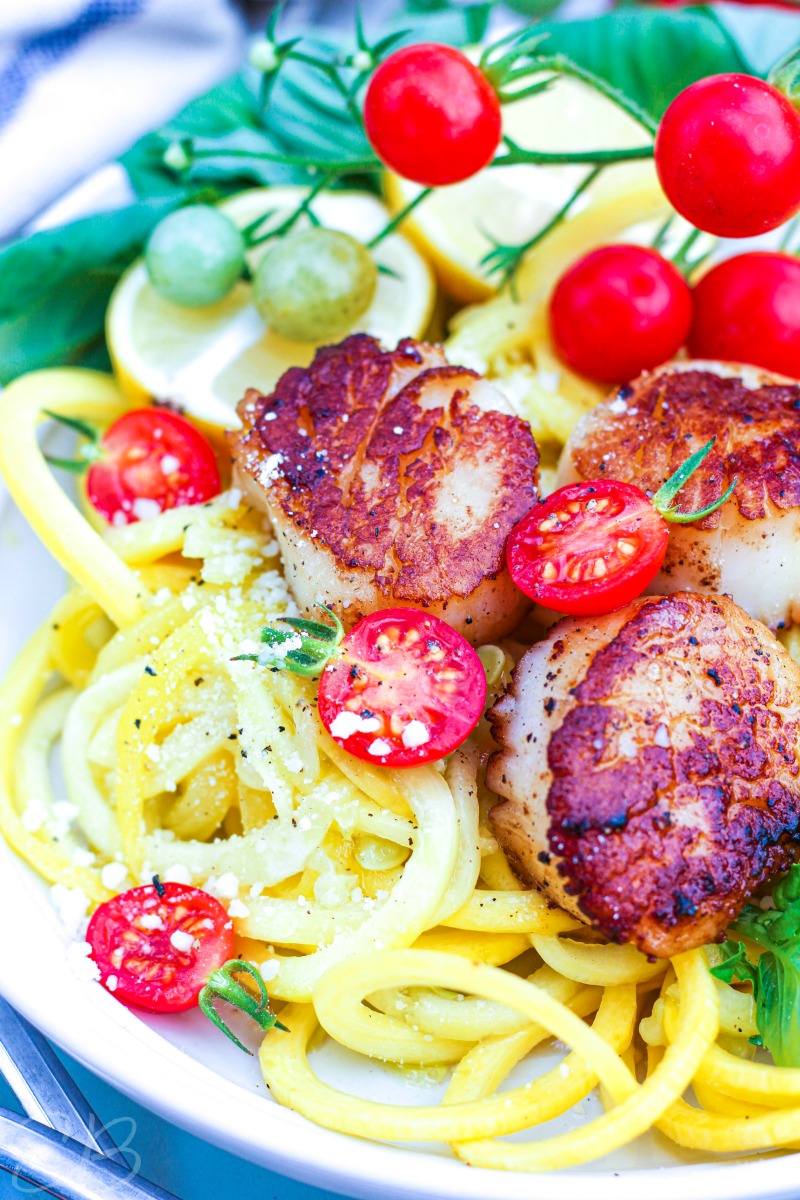 How to make the best zoodles
Zoodles are noodles spiralized from zucchini. You can use more common green zucchini or yellow zucchini (either straight-neck or crook-neck).
I've tried out (purchased and used) three different leading brands of spiralizers. By far the best performing is the Paderno brand (this is the one I have). If you don't own a spiralizer yet, I recommend avoiding the other leading brands, which can't stand up to tougher veggies like winter squash or parsnips.
Overgrown zucchini
Amazingly, giant overgrown zucchini from your garden (or a loved one's) make great zoodles! Many people think it best to compost those or give them away, but we love using big summer squash for zucchini noodle dishes. Or use regular-size zucchini — about 1 zucchini per person usually works out well, quantity-wise.
Use the largest blade attachment for zoodles, to create the best thickness of noodle for this dish.
Cooking zoodles tips
When cooking zoodles, be brief — just one minute of high heat cooking to heat and slightly wilt the noodles. Do not cook more than two minutes, or the zoodles will become too soft and quite wilted (still yummy, but not as good).
In order to cook your zucchini noodles quickly, it's necessary to use a large skillet or wok, so there's plenty of hot surface area for them to cook and be tossed.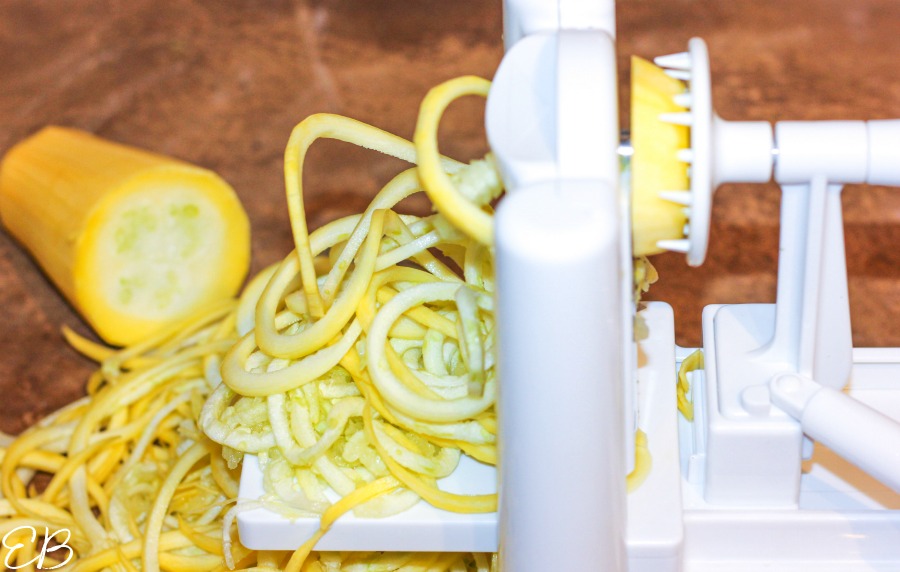 Substitutions for Scallop Scampi with Zucchini Noodles
Seafood: If you're on tight budget, you can certainly sauté any fish that's more affordable (and ideally sustainably-sourced), and sub it for the scallops. Sautéed or broiled fish is just so easy and delicious, plus beautiful and special served on top of zucchini noodles.
Noodles: Regarding the noodles, you can use other noodles you like too. For grain-free and low carb, you can consider Palmini noodles or daikon radish noodles (which I love), if you like the radish flavor.
For gluten-free and paleo diets, you can try new cassava noodles, or rice noodles.
Why zucchini noodles are the best
Zoodles are nice because they're really light in the belly. At least for me, zucchini just digests so gently and well. Plus a big dish of zoodles fills you up without weighing you down. The texture of zucchini noodles also goes great with tender scallops.
For this dish, zoodles are my favorite choice.
Are leftover scallops good?
Actually, yes! if you like them cold, which I do. Leftover cold scallops are delicious!! If you buy super fresh scallops and then eat them cold the next day, they're very rich and light all at once — clean and healthy, sweet and savory both. Delicious.
If you don't like cold leftovers, then I don't recommend reheating scallops. They just won't be the same.
What to serve with Scallop Scampi
This dish is a one-dish meal! You don't need any side dishes — because your veggie is there, in the form of noodles! Your protein is the pretty centerpiece. Garnish the plate with fresh lemons, fresh basil and optional Parmesan (for those who eat dairy).
As mentioned, depending on your diet, you can also garnish this dish with tomatoes.
If you want additional side dishes, consider olives, savory muffins or biscuits, beautiful fruits and a pretty herbal beverage.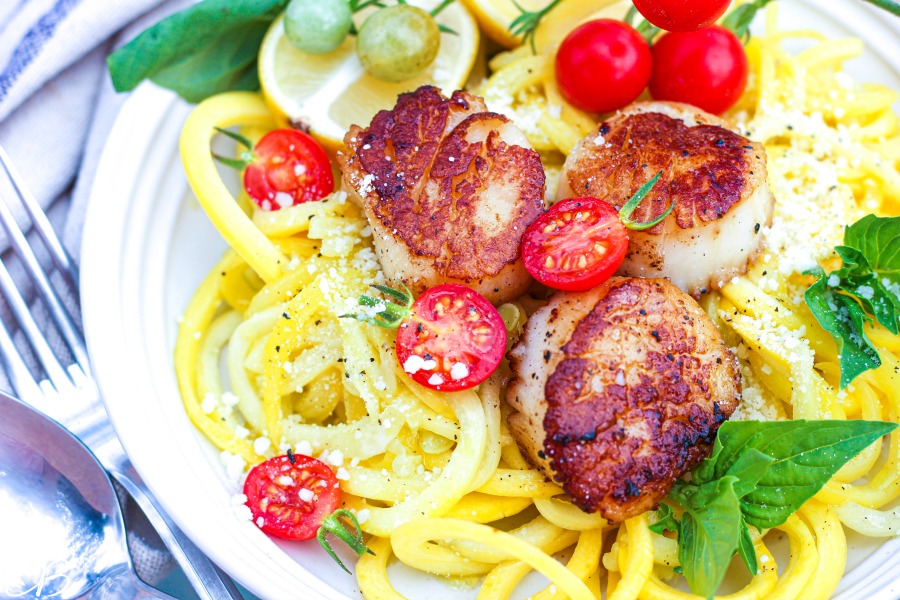 Print Recipe
Scallop Scampi with Zucchini Noodles (Paleo, Keto, Whole30, AIP, GF, Low FODMAP)
Scallop Scampi with Zucchini Noodles is the perfect light meal, full of good fats, rich flavorful pan-seared scallops and refreshing light zoodles — all tossed with fresh basil, olive oil, a bit of fresh lemon juice and sea salt.
Equipment
two large skillets

spiralizer or veggie peeler to make zucchini noodles
Ingredients
1 to 1-

½

pounds

sea scallops

or depending on how many people are eating: allow 3 to 4 sea scallops per person

4

zucchini

,about, or one zucchini per person eating (or one huge homegrown & overgrown zucchini)

¼

cup

lemon juice

3

tablespoons

extra virgin olive oil

or unsalted butter (not AIP) (This is used to finish the scallops and to cook the zoodles.)

2

Tablespoons

avocado oil

, ghee or bacon fat (This is used for the initial higher heat cooking of the scallops.)

4

cloves

garlic

chopped fine or crushed; (omit for Low FODMAP.)

1

teaspoon

sea salt

, about: You'll use this to sprinkle on the cooking scallops.

fresh basil

Optional

depending on one's diet, (not for AIP): homegrown tomatoes, freshly ground black pepper and Parmesan cheese (not for Whole30)
Instructions
Heat a large skillet over high heat. Once the pan is hot, add avocado oil (or ghee), reduce heat to medium-high and coat the pan with the fat. Add the sea scallops, but do not crowd them too close to each other. Reduce heat to medium if it seems too hot. Sprinkle with sea salt (and optional black pepper, not AIP). Cook 3 to 5 minutes, until the bottom side is browned (time depends on the pan you use and the temperature of the pan). (Do not "saute" the scallops: Meaning, do not move them around in the pan at all. In order for them to brown perfectly, they need to stay in one spot. Use tongs or a spatula to flip each one.)

After flipping, salt the second side lightly as well. Cook the second side about 3 minutes. In the final minute of cooking, add one tablespoon of butter or olive oil to help deglaze the pan and glaze the scallops. When they're done cooking, keep them warm over lowest heat while you finish the noodles.

When the scallops are almost done cooking, heat a second large skillet over high heat. Add olive oil (or butter [not AIP]) to the pan. Add zoodles and garlic. Quickly toss the zucchini noodles for just 1 (to 2) minute(s) total. (Otherwise, they get pretty soft and can produce too much liquid. If this happens, don't worry; it'll still be yummy. But they do lose bulk/reduce down a lot when they're cooked longer.)

When zoodles are done cooking, remove from heat. Add lemon juice and toss to coat. Plate the zucchini noodles.

Add scallops on top. Garnish with fresh basil. If included in your diet (not AIP), add garden tomatoes and freshly ground black pepper. For Keto and Primal, garnish with fresh Parmesan. Serve with slices of fresh lemon, more olive oil for passing and sea salt for the zoodles. Optional AIP-friendly garnishes include olives and capers.
Nutrition
Calories:
235
kcal
|
Carbohydrates:
7
g
|
Protein:
9
g
|
Fat:
18
g
|
Saturated Fat:
3
g
|
Cholesterol:
14
mg
|
Sodium:
820
mg
|
Potassium:
656
mg
|
Fiber:
2
g
|
Sugar:
5
g
|
Vitamin A:
392
IU
|
Vitamin C:
42
mg
|
Calcium:
40
mg
|
Iron:
1
mg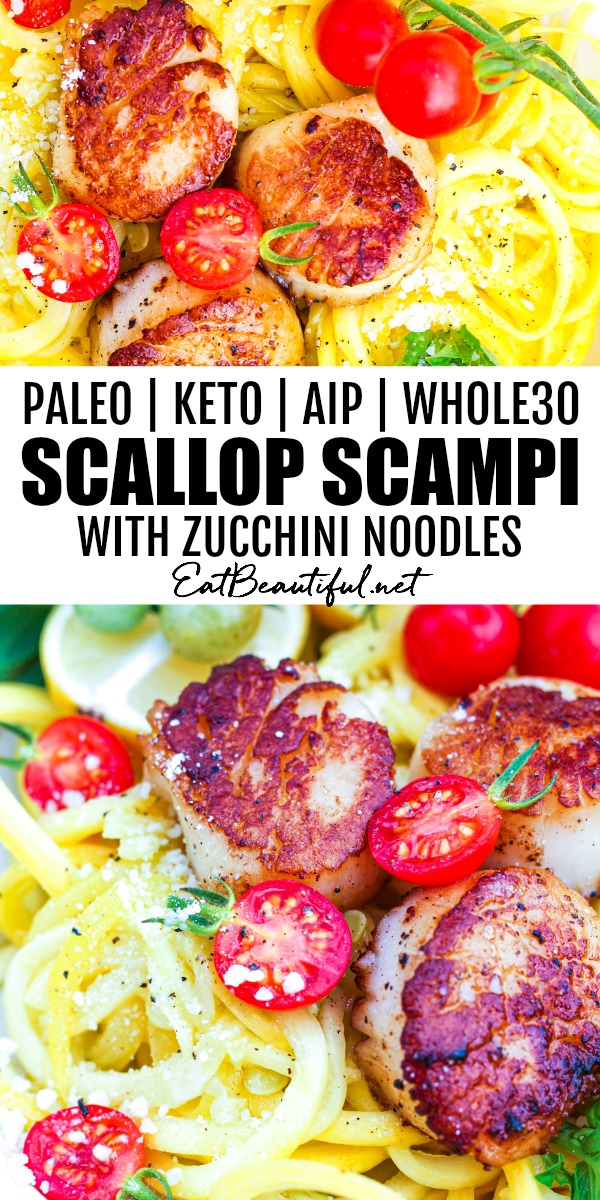 Looking for similar recipes with fresh ingredients and fast prep times? Here are some reader favorites: