I may receive a commission if you purchase through links in this post. I am not a doctor; please consult your practitioner before changing your supplement or healthcare regimen.
Detoxification through the skin makes sense. After all, the skin is the body's largest organ. When we want to get well or promote optimum wellness, a multifaceted approach is best: diet, yes, but also other healing modalities, including detox baths. Let's learn exactly how to take a detox bath with only one to two easy ingredients (or more) and why.
HOW TO TAKE A DETOX BATH
Detox baths work because they help to draw out toxins from the body through the skin. If a dry brush is used, which I discuss more below, the dead skin cells are also sloughed off, which further reduces the toxic load. Several different ingredients, all of which are discussed more below, can be used in a detox bath to help draw out toxins or, alternately, to nourish the body:
baking soda
mineral sea salt
epsom salt (active ingredient: magnesium sulfate = magnesium + sulfur)
magnesium salt
essential oils such as lavender or clove
apple cider vinegar
seaweed
Length of Time and Temperature
A forty minute soak is usually suggested for a baking soda bath: Twenty minutes of the hottest bathwater that is comfortable helps pull toxins to the surface of the skin. As the water cools, the final twenty minutes serve to expel the toxins out through the skin. Cold water may also be added to the tub during the final twenty minutes.
While most don't relish the idea, the contrast of a very cold bath after a hot bath (hydrotherapy) is great for overall organ function, including mental health, and reducing pain. (source) Simply allowing your bath water to get cooler is a good approach for detoxification.
Regarding temperature, use cooler water for children. Also, use cooler water for mineral products, such as epsom salt and magnesium salt, which dissolve and absorb into the skin, in addition to drawing out toxins.
After a detox bath, drink water according to thirst, to help with flushing out toxins. If you're tired, rest. The body works hard to detoxify, and you may feel it.
Personally, if I take a bath before noon, I'll sometimes lay down on my grounding sheet (find it here) for twenty minutes after my bath, to rest and restore energy.
Ingredient 1 in your detox bath
Baking Soda: Baking soda is an anti-fungal with cleansing properties. It helps skin to have the proper pH (and leaves the skin feeling wonderfully silky smooth) as well as helping the whole body to detoxify. Baking soda is my favorite detox bath ingredient for regular use.
You can buy baking soda in bulk from Costco or here. I love how affordable this option is! You'll use 1-3 cups of the healing powder in every bath. Use 1 cup for children and 3 cups for adults.
Ingredient 1 Alternative
Epsom Salt or Mineral Sea Salt: These products are relatively inexpensive and rich in magnesium, good for detoxification, bone, tissue and joint health. Bathing opens our pores and increases circulation; this combination allows minerals to be absorbed and toxins to be expelled. (Read more about the benefits of swimming in seawater for its health benefits here, called balneotherapy.)
OR Magnesium Flakes: Alternately, Magnesium Flakes can be used. If you're suffering from a magnesium deficiency (find out more here), adding magnesium flakes to your bath is a great way to recover and overcome symptoms. While the body has a hard time absorbing magnesium from food, it does quite well absorbing magnesium through the skin. While epsom salt offers just a small amount of magnesium, Magnesium Bath Flakes are a concentrated source (find them here). Mg flakes are a great option for children before bed, to calm and help them sleep better (as well as adults). In terms of gut healing, magnesium is required for glutathione to be synthesized, so magnesium flakes are a good choice for anyone on a gut-healing diet. (source)
Stock up on Epsom Salt or Mineral Sea Salt. Children under 60 lbs. should use 1/2 cup for a standard size bath. Those weighing between 60 and 100 lbs can add a full cup. Adults and those weighing over 100 lbs can add 2 cups or more to their bath. (source)
Use 1 cup magnesium flakes in warm, not hot, water for kids. Use up to 3 cups magnesium flakes in warm, not hot, water for adults.
Ingredient 2 in your detox bath

Lavender and/or Clove Essential Oils: Lavender's benefits make it a suggested ingredient: relaxing, headache healing, anti-bacterial, anti-inflammatory, anti-fungal, anti-itch. If a patient's need is just detoxification, not necessarily headache or stress relief, clove essential oil is recommended.
Combining ingredients for How to Take a Detox Bath
My favorite and very affordable bath is simply two cups baking soda + 3 to 4 drops lavender or clove essential oil. Baking soda and essential oil can also be combined with epsom salt, mineral sea salt or magnesium flakes:
Combine 2 cups baking soda and essential oil of choice with 2 cups epsom salt and, optionally, 1 cup mineral sea salt in your bath water. Some sources recommend adding 1/3 dried ginger powder as well, which can help with aches and pains as well as circulation. (source)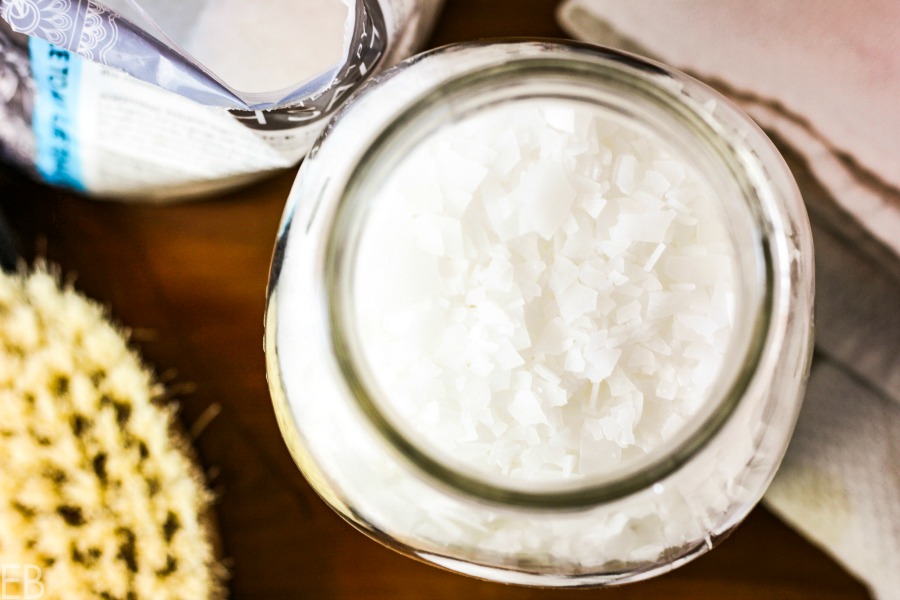 TIPS on How to Take a Detox Bath

Carve out 40-45 minutes for yourself 3-4 times per week. I like to do this in the evening. Detox bath time is good alone, restful time that many of us wouldn't otherwise get — great for rejuvenating one's spirit, as well as healing one's body. And, if you use salts in your bath, the magnesium helps many to sleep more soundly. I find it relaxes even my mind, which helps me get to sleep.
Also, on a mama note for those of you with little ones, I love to let my littlest guy crawl in with me when the water cools down a bit. He relishes alone time with me and this way he gets the detox bath too.
Dry Brushing, ACV, Seaweed … and detox baths
I dry brush before taking my bath. But if I've already dry brushed in the morning and I'm bathing at night, I do not dry brush twice in one day. See my How to Dry Brush video if you're new to dry brushing here. It helps to see how to do it! (Learn how to clean your dry brush here.)
Dr. Natasha Campbell-McBride recommends rotating your bath ingredients. In this way we reduce the likelihood of acquiring a sensitivity to a certain product, and we derive the full variety of benefits offered by the different healing ingredient options.
Two ingredients I haven't yet mentioned that are also wonderful for detoxification are apple cider vinegar and seaweed. Apple cider vinegar has a beneficial effect on the pH of the skin and may help with eczema. ACV also inhibits candida and several types of bacteria. (sources 1, 2) Seaweed is rich in iodine, which both balances and energizes the body, as it nourishes and regulates the thyroid. (source) The Greeks used seawater for its many health benefits; the practice is called thalassotherapy. While direct contact with seawater is best, seaweed brings many of those properties to the bathtub. Combining mineral sea salt and seaweed in bathwater is one approach for simulating the benefits of ocean water.
If you use ACV: Put 1 cup in your bathwater, for standard size tubs, 2 cups for large bathtubs; or use 1/2 cup for children. The apple cider vinegar smell isn't always pleasant, so it's nice to add lavender essential oil to it. (source)
With seaweed, try The Seaweed Bath Company (here). Use 2 tablespoons in children's bathwater and 4 for adults. (Seaweed makes bathwater brown and may cause a temporary ring in the tub after being drained, so be warned.)
For those on The GAPS Diet
Healing diets usually include additional alternative therapies to assist in the wellness process. Years ago, after two years on the GAPS diet, I realized that I was missing an important piece: detox baths.
Most people benefit from detox baths. In this modern age, with toxins bombarding our bodies, detoxing is recommended for most. I mention GAPS as part of my personal story and also to help many of you who are on the GAPS diet, so you don't miss this piece like I did.

The first few times most of us read and refer to the GAPS book there is A LOT to take in, just in terms of implementing the diet. And it's a crazy phenomenon that so many of us are basing years of healing on one book, without perhaps the added help of a knowledgeable practitioner. At least that's how it used to be when our family started the diet, about 9 years ago. Now many GAPS practitioners are indeed accessible, and Facebook groups help with support. You can do the GAPS diet alone, but you'll likely miss a few key components for optimum healing.
I was able to glean many insights that Dr. Natasha Campbell-McBride does include in her book, but other points aren't emphasized, or I missed the recommendations. For me, detoxification baths were at the top of this list. When I realized what I'd missed, I began dutifully soaking, and that's when I learned the content of this post.
I've been taking detox baths for the last 7 years, and I love them to this day. The ritual is still a part of my weekly detox protocols … and one that's nice!
Final thoughts on detox baths
Detoxification baths can be a daily ritual or can be done as seldom as three times a week, for optimum benefits to be derived. For me, baking soda and lavender essential oil are staples, the ingredients I use most often. Epsom salt and magnesium flakes provide magnesium; epsom salt also provides sulphur and tends to be less expensive. Foot baths are a great alternative if you have less time or the weather is hot. Mineral sea salts, seaweed and apple cider vinegar each have their unique attributes and benefits.
Looking for other methods of detoxification?