I may receive a commission if you purchase through links in this post. I am not a doctor; please consult your practitioner before changing your supplement or healthcare regimen.
Often caused by hormonal imbalances — both elevated stress hormones and estrogen dominance — insomnia is a condition that plagues 1 in 3 Americans. DIM, short for diindolylmethane, is a supplement often used for hormone balancing. Depending on the cause of one's insomnia, DIM is now being used increasingly to solve the elusive sleep problem. I have found it very helpful myself.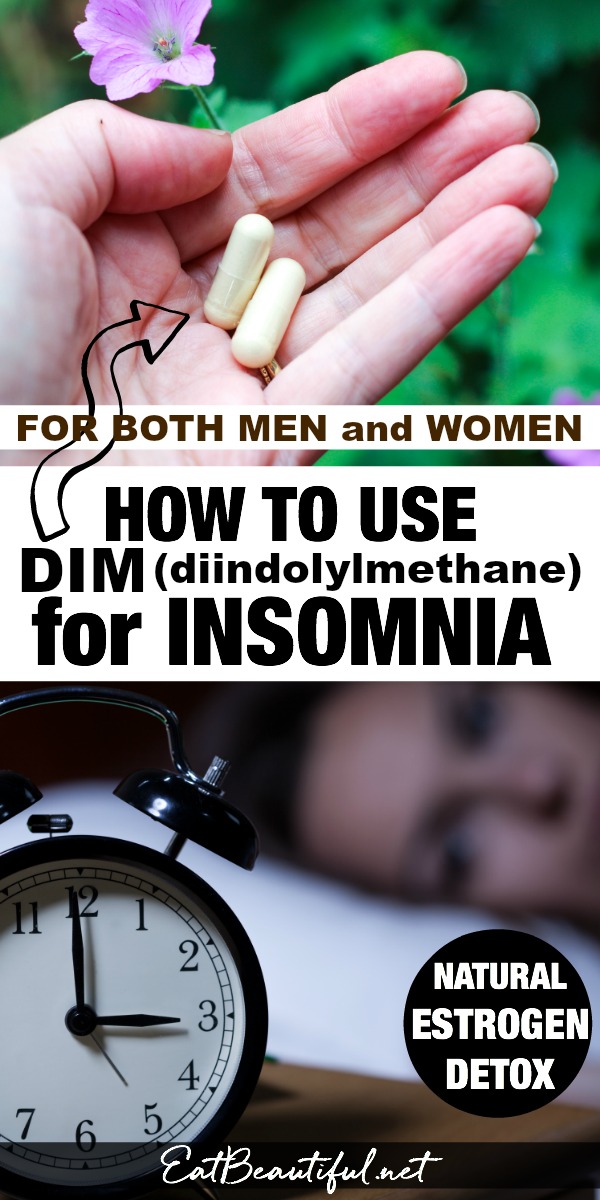 What is DIM?
DIM (and its precursor I3C) supplements contain a component of cruciferous vegetables called diindolylmethane, which has been found to be beneficial in creating a healthy balance of estrogen and testosterone. DIM is found in vegetables like Brussels sprouts, broccoli, cauliflower and cabbage, but not in high enough doses to be helpful from eating the vegetables alone.
Clinical studies also have scientists excited about DIM's effect on breast, cervical, colon, gastric, prostate and thyroid cancers — both in terms of prevention and treatment. (source)
How does DIM work?
DIM causes the stronger form of estrogen (estradiol) to convert into the weaker form (estriol). Estriol is considered a more desirable form of estrogen because it is less active than estradiol. When estriol occupies the estrogen receptor, it prevents estradiol's strong "grow" signals.
Why would someone want less estrogen? Estrogen dominance is common in today's world due to stress, factory meats and environmental toxins. I discuss estrogen dominance more below.
DIM also blocks the enzyme that converts testosterone into estrogen. (Therefore, DIM is a testosterone blocker and not an estrogen blocker [as commonly thought].) For this reason, DIM is prized by body builders, and can be helpful for men struggling with "man boobs", those with extra weight they want to shed, as well as issues like acne (truly amazing results with acne!).
Ddiindolylmethane also works in the gut and liver to coordinate estrogen detox. DIM supports healthy estrogen ratios to prevent estrogen dominance.
Please read more below, too, about important lifestyle choices and co-factors necessary for DIM to be effective.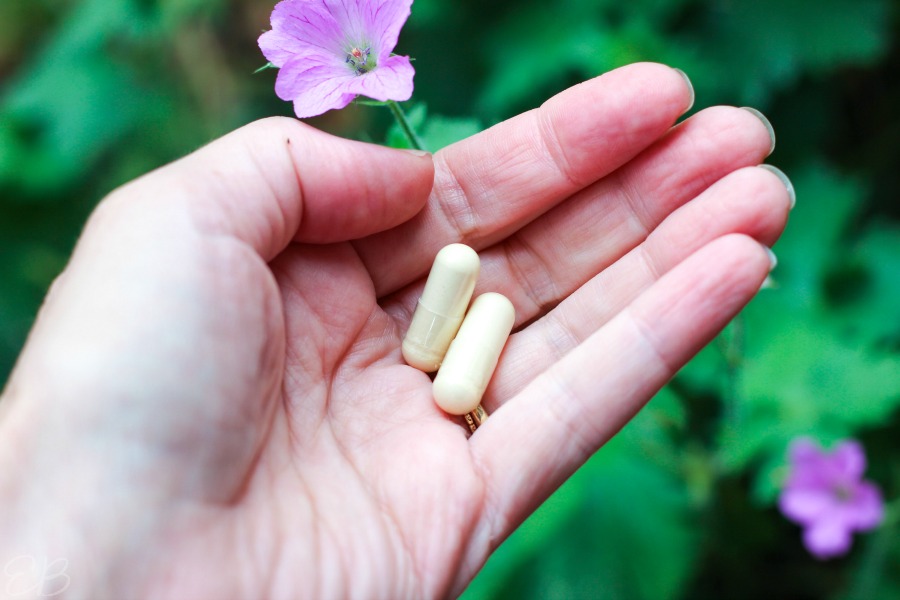 Why DIM prevents insomnia
What I have found, is that my insomnia is related to estrogen dominance. When I take DIM at night, I sleep well.
Interestingly, both estrogen deficiency and estrogen dominance have been linked to waking at 2 or 3 a.m. The former is a common symptom of menopause and the latter often a symptom of perimenopause.
DIM doesn't block estrogen (as is commonly understood). Instead, it has a balancing effect. In estrogen deficit, DIM actually increases estrogen activity. (source)
When progesterone decreases, as is often the case during perimenopause, estrogen may become dominant, not as well balanced by progesterone. For me, the best solution has been to reduce or balance my estrogen.
Progesterone helps with sleep because it converts to a sedating neurosteroid which soothes GABA receptors in the brain. Losing progesterone during perimenopause results in changes to the brain and stress response system.
While I tried taking progesterone (both natural cream and a stronger oral progesterone) and increasing magnesium to solve the problem, I didn't find those solutions to be helpful. If you haven't tried that approach, it is often recommended and may be helpful for you.
DIM detoxes excess estrogen allowing estrogen and progesterone levels to come back into balance.
What causes estrogen dominance
Estrogen dominance occurs because:
The body is making too much.
It's coming from external sources (food or environmental pollutants).
And/or, estrogen is recirculating because the body isn't properly detoxifying it.
Additional causes of excess estrogen include hormonal birth control, Hormone Replacement Therapy and obesity.
Estrogen dominance, and therefore struggles with insomnia, can also be more common after pregnancy and before or during menopause — due to the dip in progesterone production.
Additional causes of low progesterone include low body weight, a nutrient-deficient diet and chronic stress.
The endocrine system
One of the most complex networks in the human body is the endocrine system. The endocrine system controls the release of hormones, which are chemical messengers that travel throughout the body. Hormones initiate processes such as growth, metabolism and fertility.
Xenoestrogens are chemical toxins that disrupt the endocrine system. These chemicals alter the normal function of the hormone estrogen.
This is where is DIM for insomnia comes in, helping the body to convert dangerous estrogen into a benign form — thus allowing sleep-inducing progesterone to come back into balance.
The endocrine system and sleep
When estrogen levels are high, the endocrine system is disrupted — thus, sleep is disturbed. For example, an overly active hypothalamus gland, the control center of the endocrine system, may signal the production of cortisol in the middle of the night, causing wakefulness.
DIM converts estrogen and reduces its effect. As a result, the ratio of progesterone increases. As you'll remember from above, progesterone converts to a sedating neurosteroid which soothes GABA receptors in the brain.
For those who struggle with insomnia due to an imbalance of estrogen and progesterone, DIM can gently restore a good night's sleep.
(Interestingly, cranial sacral work can temporarily restore good sleep, when the practitioner rebalances the hypothalamus gland, "calming down" the control center of the endocrine system. But this approach doesn't address an excess of estrogen and the potential harm of xenoestrogens.)
How to use DIM for insomnia: dosage and supplements
From several cancer studies, the current recommended dosage for DIM is 300 mg daily.
The common dosages of DIM for insomnia, acne or general detox needs are 200 or 400 mg.
In the morning, I take activated charcoal (using this method) to absorb any toxins released by DIM and the cleansing of the liver.
I use this DIM supplement. I take one 400 mg capsule nightly and find it to be very effective.
If you prefer a plant-based, whole food supplement option, here's a great estrogen detox product backed by good science. Alpha Prime is formulated for both men and women to help maintain hormonal levels naturally. It supports the detoxification of estrogen to help maintain normal estrogen levels.
ATP Science, whose research and above product I like, recommends pulsing their food-based supplement: 12 weeks on and 4 weeks off.
Detox support with DIM
Estrogen is metabolized and detoxed in the liver. When using DIM to usher it out, the liver has to work overtime. You may wish to support your liver with glutathione, calcium d-glucarate and/or vitamin C.
You can also intermittently use charcoal, detox baths, cold therapy, grounding, infrared sauna and plenty of clean drinking water with liquid minerals — all ways to support the body's detox mechanisms.
Side effects of DIM
Using DIM for insomnia is not for everyone — especially if you are pregnant or of reproductive age. Because DIM affects estrogen, my own doctor told me to take it with that awareness.
DIM can affect the way oral contraceptives work. For postmenopausal women, who may be at increased risk for osteoporosis, DIM could reduce the estrogen in the body that helps maintain bone density (this is controversial). Talk with your doctor first.
Other ways to support (get) the benefits of DIM with insomnia
If you take DIM for insomnia and to balance hormone levels, there are important lifestyle choices to make as well:
Choose sustainable animal products: Conventional meat and dairy products contain estrogens. Choosing high quality meat and dairy helps you to avoid growth hormones, antibiotics and xenoestrogens. Choose grass-finished meat and organic.
Avoid phytoestrogenic foods if you know you're estrogen dominant: soy, flax, sesame etc.
Decrease or eliminate alcohol consumption: Alcohol often increases estrogen levels and may impair the liver's detoxification of estrogen.
Use better body and cleaning products: EWG.org's website allows you to enter your personal care products to find out their level of toxicity. For house cleaning, keep it simple with products like Bon Ami, 7th Generation dish soap and magnets in place of laundry detergent (we use these, love them and find they work better than laundry soap, plus they save money over time).
Avoid plastics: Avoid drinking out of, and eating off, plastics. (I am surprised by how many families regularly feed their kids out of plastic cups and off of plastic plates. Don't do this.) Also avoid cash register receipts (instead use a budget app on your phone [we use this one, love it, and it's free] or another system to keep track of spending).
Dramatically reduce stress: If you balance estrogen levels but don't manage your stress, you may not see good results with DIM. In addition to estrogen dominance, elevated stress hormones cause insomnia. Be intentional all day to focus on thankfulness and reduce sources of stress. Breathe deeply, stretch, enjoy the sunshine, take comfort in the big plan when the little things get you down, focus on loving others, go for walks, use cold therapy, read the news less if needed etc.

Cofactors needed for DIM to be effective with insomnia
Important note: Necessary cofactors of DIM include folate and B12.
I get methylated folate from my B complex (I use this one).
I give myself B12 shots weekly, but if you have good gut integrity, you may be able to take B12 orally (like this).
As one source points out in regard to DIM, these cofactors "are necessary for this pathway."
Xenoestrogens vs. phytoestrogens
What's the difference?: Xenoestrogens are man-made substances — toxic chemicals — with estrogen-like effects. They are stored in our fat cells and can disturb normal hormonal function. Xenoestrogens have been linked to cancers, early onset puberty, miscarriages, diabetes and autoimmune conditions.
In contrast, phytoestrogens come from the plant world. They can cause estrogen dominance. Unfermented soy products are a common example of phytoestrogens. Other examples are flax and sesame.
However, phytoestrogens may be helpful for those who need more estrogen, such as those in menopause. More often than not, phytoestrogens are consumed without an awareness of their dangers and have been linked to uterine fibroid tumors, cramps, cancers, hair loss, weight gain, depression, heavy periods, man boobs and many other symptoms and conditions.
Surprisingly, DIM is actually a unique phytoestrogen (and not an anti-estrogen). Plant-based, and by definition, phytoestrogens work to maintain a certain amount of hormonal activity. In circumstances when testosterone is adequate or high, and estrogen is low (in males, menopause, PCOS, in female athletes with low body fat and low estrogen levels), DIM will actually bind with and activate estrogen receptors, while blocking the receptors to decrease testosterone activity.
Have you struggled with insomnia? Let us know how DIM works for you in the Comments section below.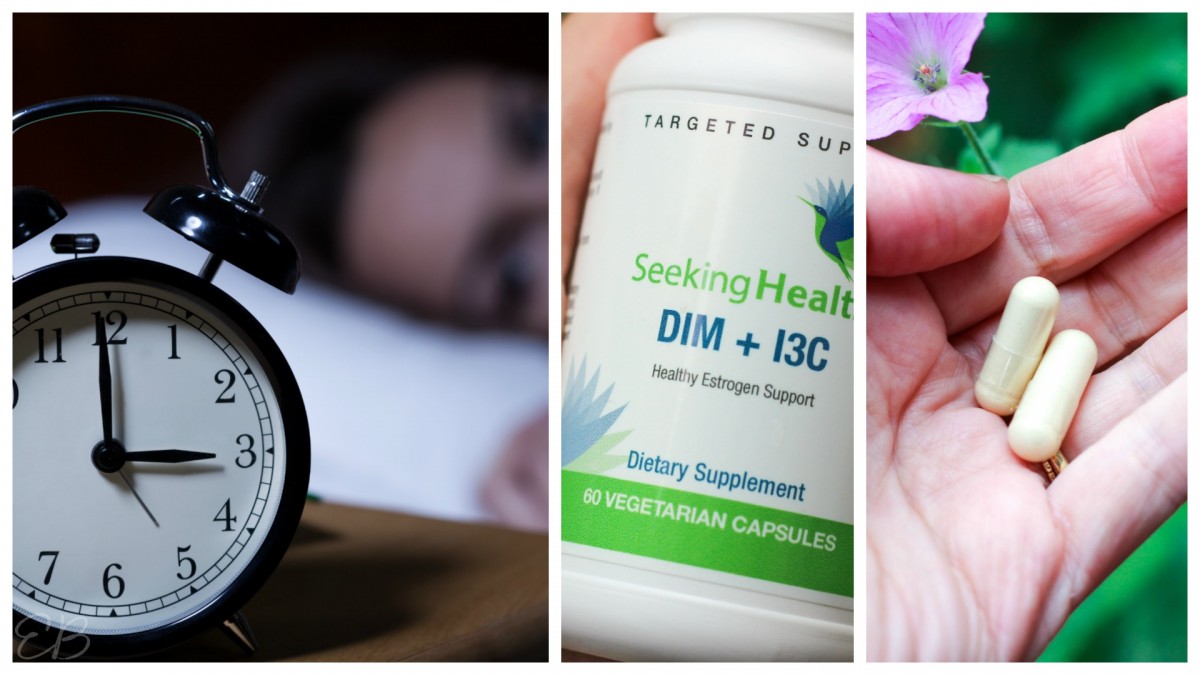 Additional sources:
https://atpscience.com/dim-diindolylmethane-the-most-potent-plant-anti-androgen/
https://www.ncbi.nlm.nih.gov/pmc/articles/PMC2729400/
https://www.ncbi.nlm.nih.gov/pmc/articles/PMC4321807/
https://pubmed.ncbi.nlm.nih.gov/16386416/
https://www.jci.org/articles/view/111040
https://nyaspubs.onlinelibrary.wiley.com/doi/abs/10.1111/j.1749-6632.1995.tb12149.x
https://www.jstor.org/stable/3703815?seq=1#page_scan_tab_contents
https://cebp.aacrjournals.org/content/6/7/505.short
https://pubmed.ncbi.nlm.nih.gov/16287077/
https://pubmed.ncbi.nlm.nih.gov/16675129/
https://pubmed.ncbi.nlm.nih.gov/20021210/
https://asbmr.onlinelibrary.wiley.com/doi/full/10.1359/JBMR.041110
https://link.springer.com/article/10.1007/s00223-007-9014-4
https://www.liebertpub.com/doi/abs/10.1089/thy.2010.0245
https://www.tandfonline.com/doi/abs/10.1080/01635589109514141
https://cebp.aacrjournals.org/content/3/7/591.short
https://onlinelibrary.wiley.com/doi/abs/10.1002/(SICI)1097-4644(1997)28/29%2B%3C111::AID-JCB12%3E3.0.CO;2-K
https://www.spandidos-publications.com/10.3892/or.2015.3758?text=abstract
https://pubmed.ncbi.nlm.nih.gov/19140503/
https://thyroidpharmacist.com/articles/estrogen-dominance-as-a-hashimotos-trigger/
https://allnaturalideas.com/xenoestrogens-list/
https://blog.daveasprey.com/estrogen-dominance/