I may receive a commission if you purchase through links in this post. I am not a doctor; please consult your practitioner before changing your supplement or healthcare regimen.
Gluten-free Rice Bread makes wonderful sandwich bread or toast, great with or for any meal of the day, a versatile loaf that's easy to make! While most gluten-free breads combine rice flour with potato-derived flours (like tapioca and potato starch), this recipe is more allergy-friendly — also free of yeast and gums.
Gluten-free Rice Bread is low oxalate and low salicylate.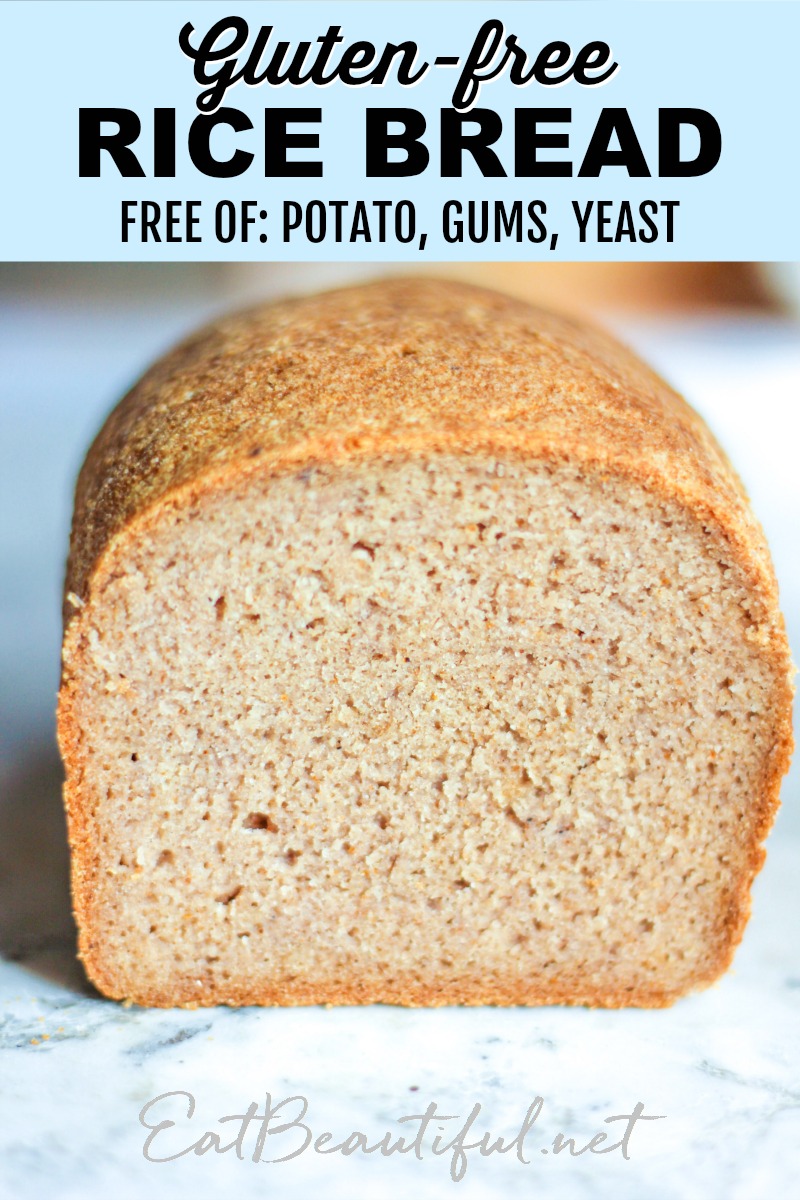 Jump to Recipe
In addition to being gluten-free, this recipe is also appropriate for Paleo folks who eat white rice and the VAD diet.
For extra sensitive digestion, you can also make the Sourdough Gluten-free Rice Bread variation below.
Potato-free Easy Gluten-free Rice Bread
Easy Gluten-free Rice Bread is free of yeast, dairy (optional), refined sugar, refined oil and potato! No: potato starch, arrowroot, tapioca or cassava (all in the potato family). And no gums! No xanthan gum, because it's problematic for some people and not safe for babies.
Most gluten-free bread loaves (and gluten-free flour mixes) combine rice flour with tapioca or potato flour, but roughly half of the population does not digest potatoes and grains well when eaten together. This recipe uses rice flour alone to create a truly delicious, gentle-to-digest slicing bread for sandwiches, toast or any of your bread needs. Only healthy, real food ingredients!
Nightshade-free
While I personally enjoy potatoes, the other advantage of keeping potato starch out of rice bread recipes is: This recipe is nightshade-free. For those who get inflammation from potatoes, this recipe is safe.
(And most potato starch on the market is sourced conventionally; potatoes belong to the list of Dirty Dozen produce items — that are full of pesticide residues and should only be consumed organic. So all that conventionally grown gluten-free bread … not so good.)
Ingredients in Easy Gluten-free Rice Bread
Easy Gluten-free Rice Bread is mixed just like a loaf of "quick bread", no yeast or waiting for it to rise.
The ingredients you'll need are:
White rice flour — This great pantry staple yields a tender loaf and even provides healthy carbs and resistant starch. (I don't use brown rice flour because it's harder to digest … which means our bodies can't access the nutrition.)
Psyllium husk powder — Psyllium husk grows worldwide and comes from a shrub-like herb called Plantago ovata. Each plant produces over 10,000 tiny seeds. Psyllium husk powder is a soluble fiber made from the husks of the seeds — that helps with regularity and is prebiotic. PHP is often used in Keto baking because it has zero net carbs and helps to create a light, nice bread texture!
That's why I use it here: Psyllium husk powder is a great alternative to other flours that are harder to digest, and it's naturally gluten-free.
The remaining ingredients in Easy Gluten-free Rice Bread are:
Water — The recipe calls for 1-1/2 cups of water. To measure the water, use a liquid measuring cup. Water temperature is key to this recipe because it keeps the solid fat warm (instead of congealing) but isn't too hot (which isn't good for the eggs or baking soda).
Coconut oil or butter — If you're dairy-free, choose coconut oil. Otherwise, I like to use Kerrygold butter. Solid melted fat adds moisture to this bread and helps to create the right "crumb". (Use butter for low oxalate and low salicylate.)
Granulated sweetener — Unrefined sugar options add moisture, help to create the right crumb … and add a subtle balancing of flavor, as opposed to true sweetness. I recommend using coconut or maple sugar because they're unrefined. (Choose maple for low oxalate and low salicylate.)
Egg whites — No egg yolks are used in this recipe. Egg whites help to create the right rise in the bread, add moisture, as well as holding the bread together with a spongey texture — in the absence of gluten. You won't taste any eggy flavor with this bread.
Gelatin — In addition to providing needed amino acids to our diet, gelatin has good binding properties for a gluten-free bread in the absence of a starchy flour.
Baking soda — This leavening agent is used for the bread's rise.
And sea salt — For just the right flavor.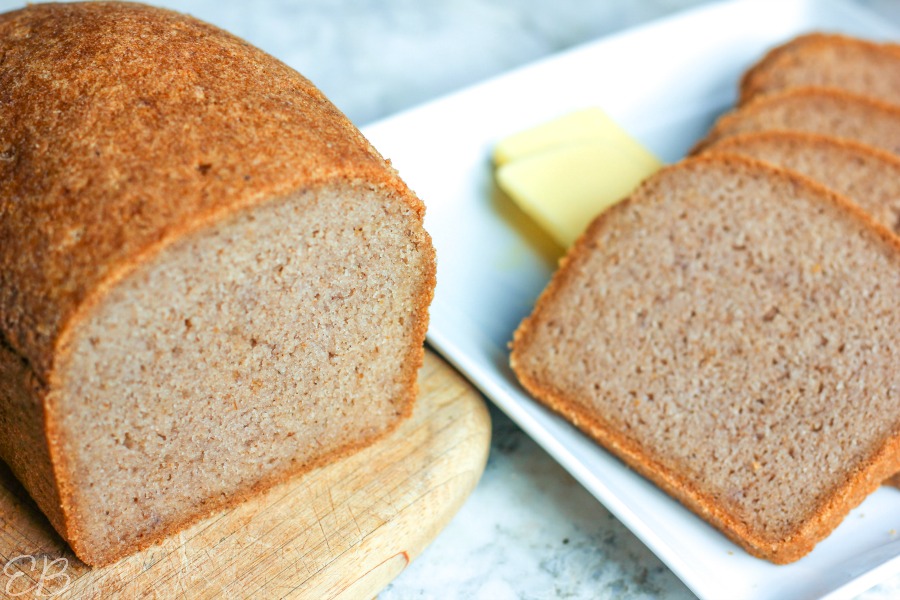 Measuring dry ingredients
I know most of you do not want to weigh your flour, and I don't want to either. I'm a busy lady, and I bake daily, so I don't want to eye a scale. I want my recipes to work with a simple measuring cup system.
If you also prefer to use measuring cups and spoons, that's great. While some claim that it doesn't work as well, I disagree. If you take care when measuring your ingredients, most gluten-free recipes do not need to be weighed, especially for small batch home cooking.
So, good news! This recipe is not finicky! Just use your trusty measuring cups. Don't worry about doing everything perfectly, and you'll be so happy with this easy, terrific loaf of bread.
Here's how to measure ingredients with a dry measure:
1. Select a set of metal nested measuring cups (like these.)
2. Spoon flour into the cup, and overfill slightly.
3. Level the cup with something straight, like the back of a straight butter knife.
Note: Don't confuse nested measuring cups with a liquid measuring cup. You don't want to measure dry ingredients in a liquid measuring cup.
How to mix the dough and shape the loaf
This dough comes together really easily. No dough hook or electric beaters are needed. In fact, I just use a fork to mix my ingredients.
Then I grab a rubber spatula and roll the dough in the bowl until a loaf shape is created with a rounded, smooth surface.
This I roll into my prepared loaf pan (simply lined with a strip of parchment paper so the finished loaf is easy to pull out). Then I briefly shape the dough a bit further with lightly wetted fingers, so the loaf is taller in the center and slopes down on the sides.
Which loaf pan to use
There are two reasons why it's good to consider or reconsider your loaf pan: the first is the size of the pan, and the second is what material the pan is made of. I get this question a lot: What pan did you use to bake that loaf of bread?
Tip: Choose to use a slightly smaller loaf pan when making sandwich-style bread loaves, if you want your loaf to be tall.
While I could just make a bigger recipe to fit a bigger pan, I don't increase the ingredients because I need the bread to cook through to the center without the exterior getting too dark.
For this reason, I don't bake with a traditional 9×5 inch loaf pan. I choose an 8-1/2″ by 4-1/2″ by 2-3/4″ loaf pan. Be sure to use this smaller pan size if you want your loaf to rise higher instead of being lower and broader.
Pan material
Aluminized steel works well for bakers because aluminum conducts heat really well. And aluminum is perfectly safe to bake with as long as you're not using acidic foods like lemon juice or tomatoes (which react with the metal). Here's a good aluminized steel loaf pan.
Ceramic is a good option, too, used for millennia and a pleasure to use. Here's a good ceramic loaf pan.
If you don't want to invest in a new pan, no problem. Just be aware that when this bread is baked in a larger pan, it won't rise as high.
Does this loaf need to rise before baking
Nope! This bread is as easy to make as a loaf of banana bread! There's no yeast in this recipe, no need to wait for it to rise.
The baking soda creates a slight rise while the loaf bakes.
However, if you want to make this loaf extra gentle to digest or want the sour flavor, you can make this loaf into Sourdough Gluten-free Rice Bread. In this case, see the Recipe Notes below, where I walk you through the extra step. In my experience, most people do not need to ferment white rice; it's already pretty gentle. But some people do! If that's you, enjoy the sourdough version of this recipe.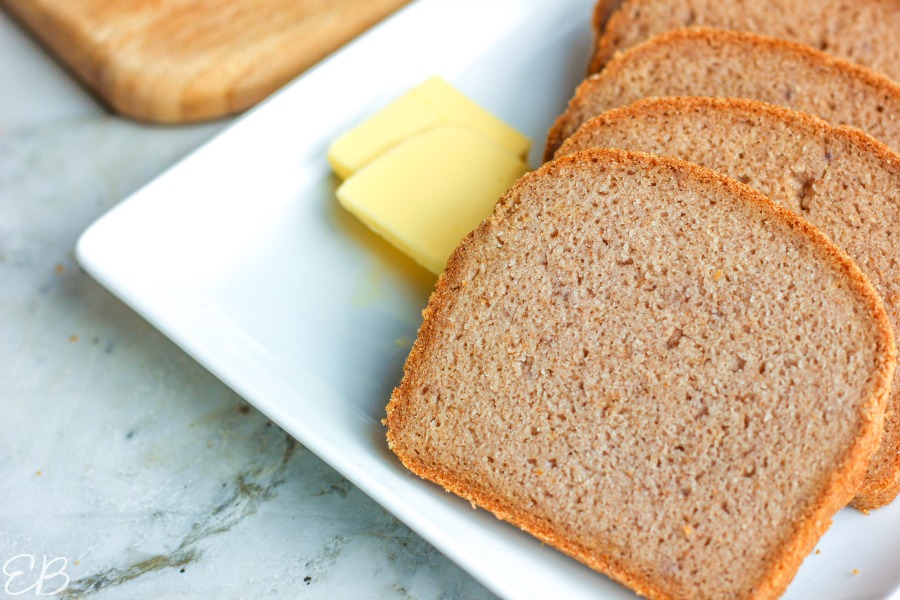 What's Easy Gluten-free Rice Bread turn out like
When ready to serve the cooled, or mostly cooled loaf, use a serrated knife to slice it.
The crust on Easy Gluten-free Rice Bread is a little rustic and crusty — in a good way. It's a nice thin crust, not hard or too tough, with a nice crunch.
The interior baked dough is spongey, tender and soft. However, it's not lofty or fluffy … more like a half whole grain rustic loaf, a bit dense, mildly chewy and very enjoyable.
I actually love this bread plain, sliced thinly. You can slice into it about 20 minutes after it comes out of the oven! Warm and plain, I find it delicious!
Other ways to enjoy Easy Gluten-free Rice Bread:
with butter and honey
or nut butter and jam
with meat and veggies
or smashed avocado and garlic salt
with melted cheese
and on and on … anyway you'd use sandwich bread or toast!
Why to buy organic white rice flour for baking bread
It's common these days to buy brown rice flour — and to buy conventional flour — so why buy organic white rice flour?
Organic rice paddies make a measurable difference in the healthfulness of rice products.
Did you know? Conventional rice production uses over forty different pesticides to control weeds and insects — while organic production supports research on methods for decreasing levels of arsenic in organic rice.
Why eat white rice instead of brown rice? Hard to digest, whole grains' nutrients are locked in unless released through a form of pre-digestion like the sourdough process. Also, when tested, brown rice is consistently higher in inorganic arsenic content than white rice. (source)
So surprisingly, white rice is actually healthier than brown rice! You can read more in this recipe post — why white rice is now considered healthy and even Paleo.
Honestly, it is hard to find white rice flour that's organic. Many stores do not carry it. You can buy a few bags at a time here.
How to store Easy Gluten-free Rice Bread
Like a good artisanal loaf, you can actually leave this bread out on the counter for up to 24 hours! I just flip the cut side down on the cutting board or a plate, so the exposed middle doesn't dry out when exposed to the air. If you happen to pull this loaf out of the oven in the evening, just leave it out until morning, then enjoy all day or wrap it.
To store, wrap in any airtight container, and store on the counter.
I don't recommend refrigerating this bread, because it contains gelatin, so chilled, the bread's texture will change.
To freeze for longer term storage, pre-slice the bread. Then freeze for 30 to 60 minutes so slices stay separate. Then wrap and freeze for up to 3 months. To eat, just pop off the number of slices you need, and toast or warm gently.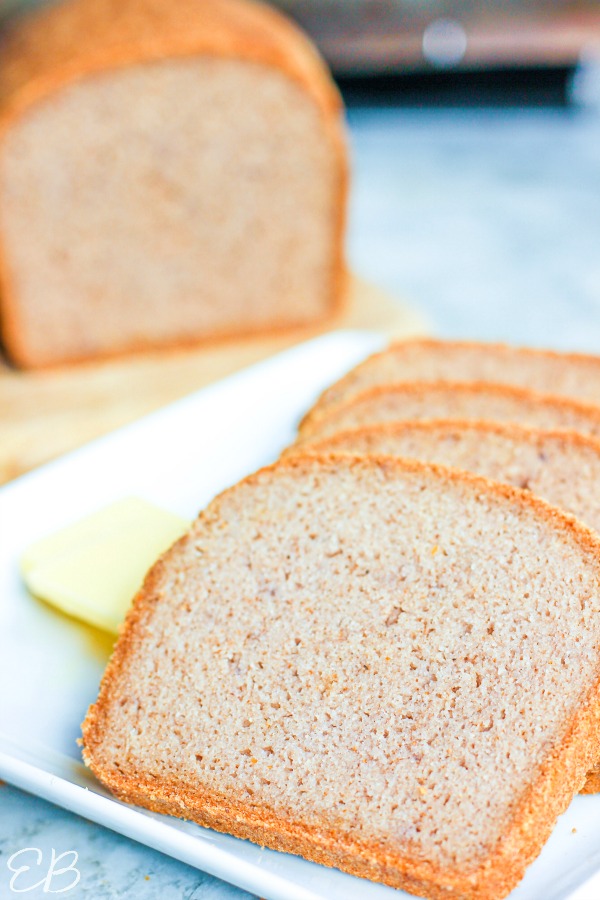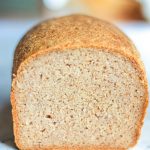 Print Recipe
Easy Gluten-free Rice Bread (No potato, gums or yeast)
While most gluten-free breads combine rice flour with potato flours, this recipe is more allergy-friendly! Gluten-free Rice Bread makes wonderful sandwich bread or toast, great with or for any meal of the day, a versatile loaf that's easy to make. (Low oxalate and low salicylate.)
Ingredients
2

cups

rice flour

(white rice flour for easy digestion; see link)

1-

½

cups

water

, warm (not hot) (Sourdough option: omit

¼

cup of the water, and replace it with sauerkraut juice or whey. See Recipe Notes for variation.)

¼

cup

butter

or coconut oil, melted and cooled; avocado oil may be fine too

¼

cup

psyllium husk powder

(needs to be husk powder; or put husks into coffee grinder, then measure powder)

2

Tablespoons

maple sugar

or coconut sugar (or other granulated sweetener you use)

2

Tablespoons

gelatin

(see link for sustainable brand and use code BEAUTIFUL10 at check out for 10% off your entire order)

2

egg whites

½

teaspoon

baking soda

, sifted

½

teaspoon

sea salt
Instructions
Preheat oven to 350 degrees Fahrenheit. Grease loaf pan and line with one strip of parchment paper, to make it easy to pull out/remove baked loaf.

In large mixing bowl, combine dry ingredients: rice flour, psyllium husk powder, sweetener, gelatin, baking soda and sea salt.

In medium bowl, combine liquid ingredients: warm water, fat of choice and egg whites. (If making sourdough version, use only 1-

¼

cups water, and sub in the remaining liquid [

¼

cup] with sauerkraut juice or whey.)

Add liquid ingredients to dry ingredients and mix well. Electric beaters may be used. (Do not over-mix.) Roll dough into a giant jelly roll shape in bowl. Roll batter into prepared loaf pan, and shape the top with spatula or wetted fingers, so it's slightly mounded in the middle.

Bake approximately 1 hour, until loaf is well risen, very golden brown and sounds a bit hollow when tapped on the bottom side.

Allow to cool briefly in pan. Then slide knife along each end to free from pan, and lift up on parchment ends to pull loaf out. Allow to cool on wire rack before slicing.
Notes
How to make Sourdough Gluten-free Rice Bread
You'll need either probiotic, living sauerkraut juice (or the probiotic liquid from another fermented vegetable) OR probiotic whey to make this recipe.
Proceed with the above recipe, as it is written, BUT sub

¼

cup sauerkraut juice or whey for

¼

cup of the water.
After your loaf is formed, place it in a warm place for 4 hours. Then cover and place in the refrigerator overnight.
In the morning, again, place loaf in warm location an additional 4 hours.
Preheat oven, and bake as above recipe describes.
Note: If using farm eggs that have never been refrigerated, you do not need to refrigerate this loaf at all. Simply leave out at warm room temperature overnight, and bake in the morning.
Nutrition
Calories:
196
kcal
|
Carbohydrates:
34
g
|
Protein:
4
g
|
Fat:
5
g
|
Saturated Fat:
3
g
|
Cholesterol:
12
mg
|
Sodium:
226
mg
|
Potassium:
43
mg
|
Fiber:
5
g
|
Sugar:
3
g
|
Vitamin A:
142
IU
|
Calcium:
8
mg
|
Iron:
1
mg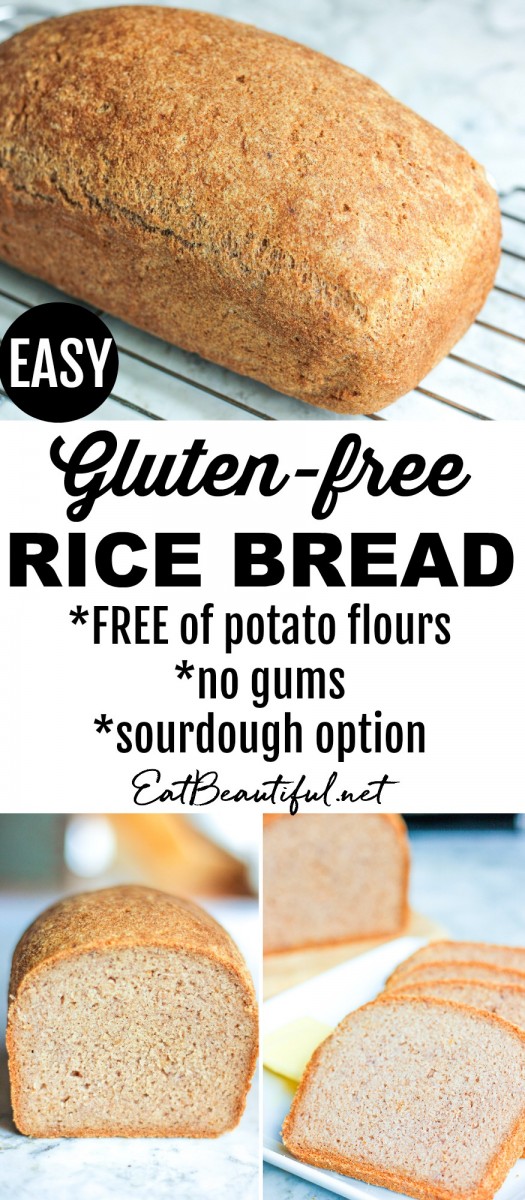 If you love gentle carbs, I think you'll also love these recipes: