I may receive a commission if you purchase through links in this post. I am not a doctor; please consult your practitioner before changing your supplement or healthcare regimen.
Dairy-free Vanilla Custard is a comfort food dessert that's also nourishing, with plenty of omega-3-rich egg yolks and healthy cholesterol. This creamy treat is perfect for Paleo, GAPS, SCD, Keto and Low Carb diets, and you'll never know the dairy is missing!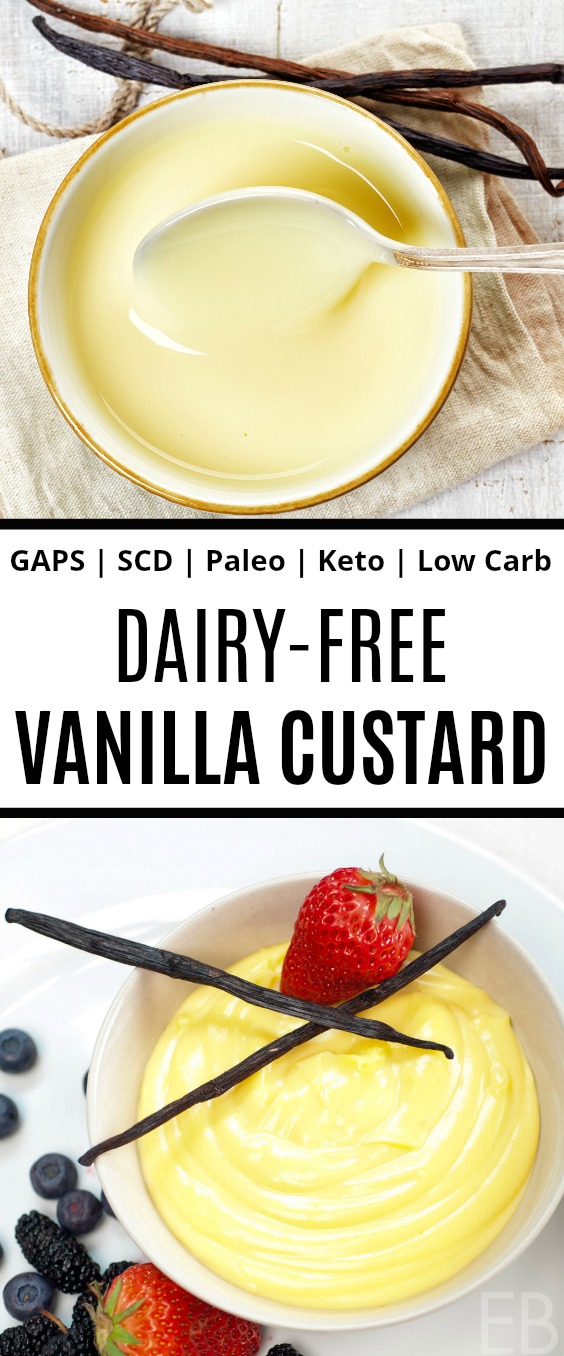 English Vanilla Custard
Comfort foods vary in texture, flavor and temperature: homemade fried chicken, chocolate cake, ice cream. I really prefer savory foods these days and eat a lot fewer desserts and treats. But in the world of healthy desserts, for me, the ultimate sweet comfort food is warm, thick vanilla custard, like the kind you find in England poured over "pudding" or apple crumble.
Surprisingly, most of these warm custards in England today are made from a powdered mix. But how heavenly to have the homemade version of that viscous goodness to cloak a steamed cake, cobbler or deep dish pie. Eat it with a spoon.
I used to enjoy a lovely homemade version of vanilla custard that I developed after a semester spent in London. But those were the days I spent blindly enjoying milk, sugar, and grains.
Dairy-free, Paleo, Keto
When dairy's out in your diet, and flour for that matter, how to have that old craving satisfied? We can be very grateful for gelatin! I use it in so many of my recipes, and it often replaces ingredients I can no longer have.
In this recipe, gelatin replaces the flour or cornstarch that's traditionally used. (While arrowroot and tapioca starch are allowed on a Paleo diet, they are not legal for GAPS or SCD and are too high in carbs for Keto or Low Carb recipes.)
To make it dairy-free as well, my favorite version of this recipe uses soaked pine nuts to make a beautiful homemade pine nut milk. 🙂 Macadamias are even lower in carbs and can be used for the Keto/Low Carb version, with the same creamy effect and mild flavor. Hemp also works.
And for non-Keto/Low Carb, cashews can be used.
(I give all these versions below, and they're all easy and fast to make, but with longer soaking times for larger nuts.)
Coconut milk may also be used. If you can tolerate dairy, this recipe can be made not only with homemade seed or nut milk, but also with raw goat or cow's milk. Or for Keto, cream can be used. (See Step 4 in the Recipe Instructions below for this variation.)
Thickener and sweeteners
Because this recipe thickens up mainly from the use of gelatin, it thickens as it cools. However, I have used a high ratio of gelatin both for its gut healing properties and also because it gets thicker that way when it isn't entirely cold, getting back to the love of warm custard. (Find my favorite gelatin here, and use discount code BEAUTIFUL10 for 10% off your entire order.)
Warm, this custard is beverage-like, drinkable, nourishing, and comforting. Pourable. This drinkable version, like the solid refrigerated version, can be sweetened with stevia alone, for Keto or those with a fructose sensitivity who do well with stevia.
In the ingredients below, I list the various sweetener options that correspond to the different diets this recipe serves, obviously honey for GAPS etc.
If you plan to enjoy the custard as a warm beverage, it is lovely with cinnamon and nutmeg added, a true homemade eggnog.
GAPS and SCD
For those of you on healing diets, such as GAPS or SCD, why not substitute this treat occasionally for the mug or bowl of bone broth? The healing properties in gelatin are not as diverse as they are in a homemade bone broth, but they are gut-healing nonetheless, and the eggnog can be a welcome, occasional change, adding variety and refreshment to your food repertoire. (Fun right?!) As you'll see, this recipe uses very little sweetener, so it's truly nourishing.
Pasture-raised eggs are used in this recipe. So the custard, again, is not only a comfort food treat, but also a truly healthful food, full of minerals, vitamins, fatty acids and needed cholesterol from the raw eggs yolks.
Serving options
If you have the custard at room temperature and pour it over a baked good, or in my case most recently, some grain-free crepes, it will cloak the baked good, like crème anglaise. When refrigerated, the custard will be very solid, but still tender. Here are a few serving options that I've done and recommend:
Stir it together with raspberries, and fill crepes. Top with more warm pourable custard, cinnamon and crispy walnuts.
Make individual cup custards.
Layer it to make parfaits.
Use it to fill cake layers.
Pour custard over crumble, cobbler, moist cake.
Eat like shortcake with scones and macerated strawberries or fresh berries.
Sauté apples or pears, or make chunky homemade applesauce to go with the custard.
For Keto, Paleo and GAPS, make Beautiful Rhubarb Sauce; eat together.
Dairy-free Vanilla Custard
Print Recipe
Dairy-free Vanilla Custard (Paleo, GAPS, SCD, Keto, Low Carb)
This decadent classic is texture sublimity. You can use the custard while still warm if you want it to be pourable, like Crème Anglaise. Or you can chill it if you want it to set up and be scoop-able, for filling crepes or serving in individual glasses.

Ingredients
Homemade Nut/Seed Milk (the custard base)
Custard
1

Tablespoon

gelatin

(Use discount code BEAUTIFUL10 at check out for 10% off your order.)

8

egg yolks

(See post under the recipe for suggestions on how to use the 8 egg whites!)

1

Tablespoon

sweetener of choice:

Keto and Low Carb: use your favorite liquid low carb sweetener; GAPS: use honey; Paleo: use maple syrup

½

of a whole

vanilla bean or

½

teaspoon real vanilla extract
Instructions
Soaking the Nuts or Seeds
Although this recipe is made quickly, allow time for soaking (to create a super-smooth nut milk). Larger nuts need to soak overnight. So plan one day in advance if you're using larger nuts. Seeds like hemp, pine nuts or nuts like cashews only require a short soaking time. Other nuts, like macadamia nuts, need an overnight soaking or a minimum of 6 hours.

See Recipe Notes below for How to Soak Nuts and Seeds.

Homemade Nut/Seed Milk (the custard base)
Into a high-powered blender, add the following: water, soaked pine nuts or preferred nut/seed, (soaked as designated below in the Recipe Notes: How to Soak Nuts and Seeds), stevia and sea salt. Blend on medium-high speed for one full cycle, or about 50 seconds. This blend will create the best milk ever.
Custard
Pour 1 cup fresh seed or nut milk into a small saucepan, reserving the rest in the blender. Sprinkle gelatin over the surface, and allow it to bloom 1 minute. Heat over medium heat, stirring, for 2 minutes, until steam forms and the gelatin dissolves, but do not allow the water to simmer. Remove the saucepan from the heat, and allow to cool slightly, 10 minutes.

Add it back into the blender with the following additional ingredients: egg yolks, sweetener of choice, the inside scrapings from

½

of a whole vanilla bean or the vanilla extract. Blend on medium speed for 30 seconds. Serve warm, or chill, either in individual serving dishes or one larger serving dish.

To chill, allow the custard 3 hours to set up.


Variation 1 — You can substitute 3 cups coconut milk, raw milk or cream for the homemade nut/seed milk. (Omit the water and seeds/nuts from the ingredients if you sub coconut or dairy milk/cream.)

Variation 2 — To make the room temperature or warm custard even thicker, for scooping up wobbly bites on a muffin or cake, add 2 Tablespoons chia seeds, stirring the seeds in quickly and thoroughly. (This is delicious!) Allow the mixture to set up and thicken 10 to 15 full minutes before serving.
Notes
How to Soak Nuts and Seeds
For every 2 cups of raw seeds or nuts, cover with room temperature, filtered water by two inches, and 1 teaspoon sea salt.
Stir well to dissolve the salt. Leave out overnight at room temperature to soak, and ideally up to 18 hours for nuts like macadamia or hazelnuts. Smaller seeds and cashews only need 2 to 6 hours.
Drain them in a colander; and rinse them well.
The nuts or seeds are now soaked and ready for use in this recipe.
(Short soaking times for cashews are beneficial, whereas longer soaking times will render them slimy. 2 hours to overnight is adequate for cashews [and still helps to reduce phytic acid].)
How to use leftover egg whites
For those who eat dairy: Make a thin omelette in LOTS of butter, filled with LOTS of white cheddar cheese. This is delicious! Use sea salt to taste. I like to top mine with microgreens and fresh herbs. (Eight egg whites makes 2 omelettes or 1 large one.)
For dairy-free: Make an omelette that's very thin in a large pan. Fill with avocado, freshly chopped garlic, Paleo hummus or pesto and microgreens. Drizzle the top with nut butter and fresh herbs.
Make Meringue.
Add extra whites to pancake batter.
Nutrition
Calories:
349
kcal
|
Carbohydrates:
5
g
|
Protein:
11
g
|
Fat:
32
g
|
Saturated Fat:
5
g
|
Cholesterol:
390
mg
|
Sodium:
221
mg
|
Potassium:
240
mg
|
Fiber:
1
g
|
Sugar:
1
g
|
Vitamin A:
520
IU
|
Vitamin C:
0.2
mg
|
Calcium:
56
mg
|
Iron:
2.8
mg
How will you use your Dairy-free Vanilla Custard?