I may receive a commission if you purchase through links in this post. I am not a doctor; please consult your practitioner before changing your supplement or healthcare regimen.
This Pumpkin Scones recipe is Paleo, GAPS, Gluten-free and excellent! Freely serve these scones to non-Paleo friends, and let them remark at the velvety texture! Coconut butter is the key ingredient — creating the perfect crumb and velvety texture.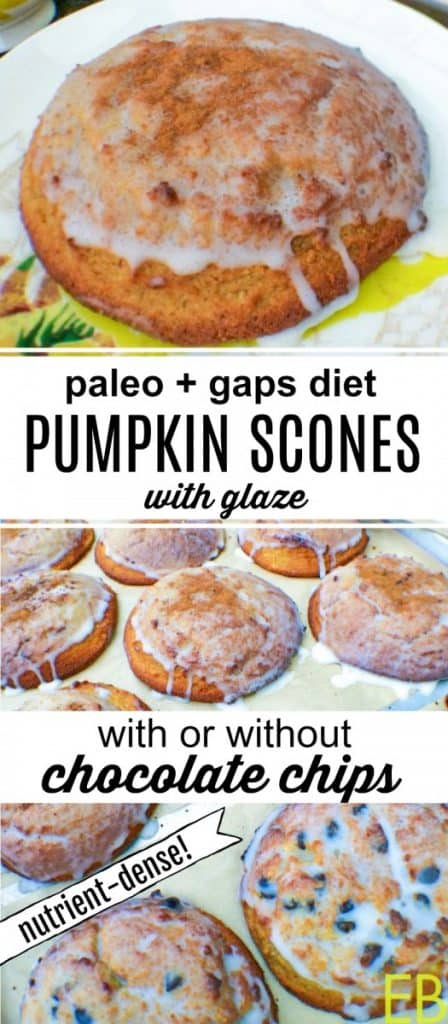 Easy recipe …
Step 1: I make inexpensive coconut butter in this recipe by simply placing shredded coconut in a food processor or high-powered blender.
Step 2: The remaining ingredients get added on top — a super fun process that's efficient.
If you don't have a food processor or high-powered blender, you can buy the butter; and then mix the ingredients in a large bowl.
Step 3: Scoop the batter onto your prepared baking sheet. And bake!
What makes Pumpkin Scones healthy
Pumpkin Scones are indeed healthy. 🙂 They are completely nutrient-dense, high in protein and good fat, yet a sweet treat.
Yet, they're so good you're not going to want to stop at one. The first time I made these, we brought them to a friend's house to share. She made fresh, raw whipped cream from their Jersey cow's milk, and we topped the scones with the cream and their own honey. WOW. What a lovely breakfast, with sausage on the side.
Today, as I write, we're about to eat them with bacon on the side, scrambled eggs and bulletproof coffee. Such a special meal that cultivates savoring.
How many Pumpkin Scones does this recipe make
I love how many scones this recipe makes — fifteen! And they're each a good size. So for a pretty short prep time, you really get a big yield, enough to put some in the freezer for future breakfasts or to pack in a lunch.
I recommend buying a large cookie scoop, if you don't already have one, for added ease and a nice looking finished product. I love the big one I have for making these scones (or for making medium-size pancakes or large cookies). I like having smaller scoops for average-size cookies.
Cookie scoops make drop scones, and all round baked goods, a breeze, proportionate and pretty. (I don't recommend scooping ice cream with these, unless the ice cream is soft. It will break the mechanism.)
Sweet treat …
Optional — Add chocolate chips to the batter, if you love scones or pumpkin baked goods with chocolate chips.
Glaze them (recipe below) if you love the texture and flavor of glaze on a scone. And please, try these with whipped cream or cultured cream (for GAPS) and honey, for pleasure's sake.
But they're great all on their own, too. Enjoy!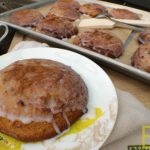 Print Recipe
Pumpkin Scones (Paleo, Gluten-free, GAPS)
Wonderfully textured Pumpkin Scones are special enough to serve to friends. This recipe makes a big batch for breakfasts, snacks, lunches and desserts. You can freeze leftovers or serve a crowd. These gluten-free Pumpkin Scones are Paleo and GAPS diet-friendly.
Equipment
baking tray

oven

blender or food processor (optional)
Instructions
Preheat oven to 325 degrees Fahrenheit. Grease a large cookie sheet. Set aside.

In a small mixing bowl combine the following dry ingredients: coconut flour, baking soda, sea salt. Whisk together with a fork and set aside.

In a food processor fitted with a metal blade place, either 5 cups shredded coconut, or 1-

½

cups coconut butter. If the shredded coconut, process for 5-10 minutes until runny butter is formed.

Add the remaining ingredients to food processor: eggs, oil, pumpkin, honey, spices and sea salt. Process for about 25 seconds.

Add coconut flour mixture, and process again, briefly, until it is fully incorporated, without over-mixing. Allow batter to sit and thicken for 5-10 minutes.

Using a 4-ounce scoop, or similar size, scoop batter into neat mounds on prepared cookie sheet. Bake until golden brown all over, with darker brown tinges. Start checking for doneness after 15 minutes.

Allow scones to cool on rack before chilling or dipping in glaze. Glaze is optional. These scones are also excellent served with whipped cream and honey.
Notes
Glaze Recipe
¾

cup coconut oil or cocoa butter, melted and cooled
2 T. raw honey or maple syrup
½

tsp. vanilla
⅛

tsp. cinnamon
2 dashes of stevia, optional
Whisk together all of the ingredients in a medium size bowl.
Chill cooled scones in freezer for 10 minutes before dipping their tops, to facilitate the glaze setting up/hardening.
Dip the top of each scone once; then place on parchment lined cookie sheet. Garnish the glaze with a fresh grating of nutmeg or a sprinkle of cinnamon. Or top each with pieces of crystallized ginger.
Variation
Add

¾

cup homemade or unsweetened Fair Trade chocolate chips to the batter, with the coconut flour step, before scooping and baking.
Nutrition
Calories:
156
kcal
|
Carbohydrates:
11
g
|
Protein:
3
g
|
Fat:
12
g
|
Saturated Fat:
3
g
|
Cholesterol:
44
mg
|
Sodium:
159
mg
|
Potassium:
40
mg
|
Fiber:
3
g
|
Sugar:
7
g
|
Vitamin A:
1335
IU
|
Vitamin C:
0.5
mg
|
Calcium:
18
mg
|
Iron:
0.7
mg
These are the smaller scoops I like for cookie dough:
This is the big scoop to get for these scones. It's a 4-ounce scoop: