I may receive a commission if you purchase through links in this post. I am not a doctor; please consult your practitioner before changing your supplement or healthcare regimen.
Rhubarb Crumble has just the right crumble in your mouth, thanks to a well-tested topping that's versatile and comforting. Tart rhubarb first roasts in this recipe and then simmers into the perfect gooey-sweet tangy base. Welcome spring and summer with this beautiful, first crop from the garden dessert that's both Gluten-free and Paleo.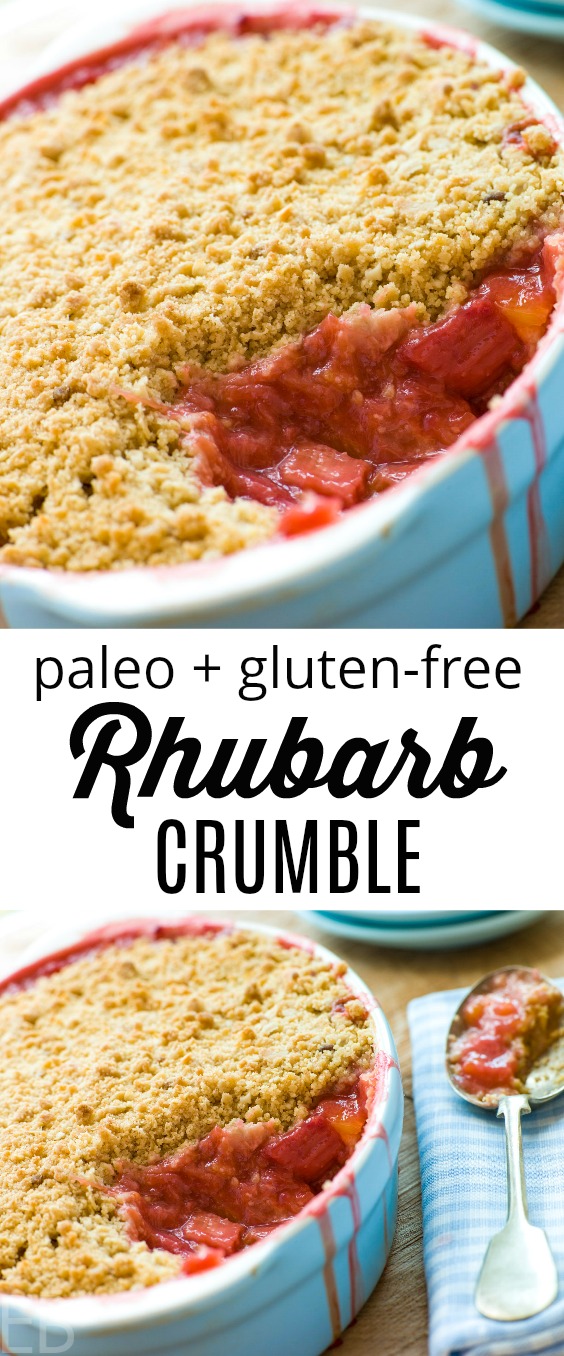 Spring Rhubarb
Rhubarb — That tall, slender, pink friend, who takes us tartly by the hand to tell us: "Spring is here. I'm not a fruit, but I taste like one. Let me walk you slowly toward strawberries and peas. But, for now, be content with me." She is first to whisper, "Fruity" when the winds of winter still howl. Embrace her! Let us go into our gardens, amidst the others at the again-sprouting farmer's markets. Let us find her and when we do, we proclaim that seasonal foods matter: They are more healthful, and they are excitingly local.
The Topping and Filling
This crumble has the perfectly-textured topping, one I "messed around with" a lot, to get it just right. And the filling bakes first, so it's plenty tender and cozy without the topping getting too dark.
If you haven't enjoyed rhubarb before, it's lemony with echoes of berry. It starts out (raw) crunchy and stringy, like celery, but cooks to be like applesauce (but better).
Cinnamon Ice Cream
Years ago, in Julian, CA, I had rhubarb pie with cinnamon ice cream. It was one of those desserts you never forget. The combination of flavors is perfect. That warm cafe with my husband; the town is so special: the heat, the smells, the childhood memories (I spent seven consecutive summers at camp in Julian). I had to share with you the same combination. So, if you're inclined, I include with this Rhubarb Crumble recipe, below it, a perfect and creamy Cinnamon Ice Cream recipe.
Enjoy with or without. Wow, such good flavors together that, with a comforting zing, ring in this new time of year for which I, for one, yearn.
One other topping/side option, here's a sublime Vanilla Custard recipe (dairy or dairy-free versions).
Rhubarb Crumble
Print Recipe
Rhubarb Crumble
You can half this recipe, if you want a smaller portion.
Ingredients
Rhubarb Filling
6

cups

rhubarb

chopped into 1" pieces

½

cup

water

⅓

cup

maple syrup

or honey, coconut sugar, or stevia to taste

3

Tablespoons

butter

or coconut oil

2

teaspoons

sustainably-sourced gelatin,

see source in Recipe Notes
Instructions
The Crumble
Preheat oven to 325 degrees. Grease a 9"x13" or other large casserole dish.

Place cassava flour, coconut flour, coconut sugar, and sea salt into food processor. Pulse briefly to combine. Add butter and pulse repeatedly to combine, until largest butter pieces are no bigger than pea size.

Add egg yolks and pulse again until meal begins to clump in places. Set aside while you assemble the rhubarb.
Rhubarb Filling
In casserole dish combine rhubarb, water, sweetener, and gelatin, tossing to combine with two large spoons. Dot with small pieces of the butter or preferred fat.

Bake rhubarb alone first, without the topping, for 25 minutes in preheated oven.
Assemble
Remove casserole dish from oven; add topping: If you wish, use your hands to squeeze small clumps of the dough together. Cover the surface of the rhubarb with both clumps and small crumbles of dough. Or just spread the fine crumble all over.

Bake crumble an additional 25 minutes, until the sides are very bubbly, the center is very hot and the topping is golden brown.
And here's that optional creamy loveliness, Cinnamon Ice Cream: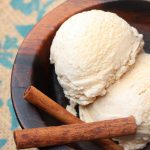 Print Recipe
Paleo Cinnamon Ice Cream — AIP, Keto, Vegan, GAPS
Cinnamon Ice Cream is that undiscovered ice cream flavor that's stupendously delicious by itself or with your favorite pie! Or with cake. Can't. go. wrong. 🙂
Ingredients
2

cups

creamy coconut milk

OR heavy cream (or probiotic sour cream for GAPS)

1

cup

lite coconut milk

or water (Yes, water! Water creates the right mouthfeel, when combined with cream and sweetener.)

⅓

to

½

cup

maple syrup

or raw honey OR for Keto: granulated stevia-erythritol blend (amount depends on how sweet you like it, AND using more sweetener creates better scoopability if you plan to have leftovers)

1

Tablespoon

pure vanilla extract

optional

1

teaspoon

cinnamon
Instructions
Place all ingredients in blender and puree until blended, about 10 seconds. (Don't over-blend if using heavy cream or it will turn to butter.) Or whisk together well by hand.

Pour into fully frozen ice cream maker cylinder (freeze overnight on coldest setting), freezing according to manufacturer's instructions. Serve; or freeze to harden more before scooping.
Notes
The nutritional facts below are for the Keto version of this recipe.
Nutrition
Calories:
193
kcal
|
Carbohydrates:
6
g
|
Protein:
1
g
|
Fat:
58
g
|
Saturated Fat:
1
g
|
Sodium:
1
mg
|
Fiber:
1
g
|
Sugar:
1
g
|
Calcium:
5
mg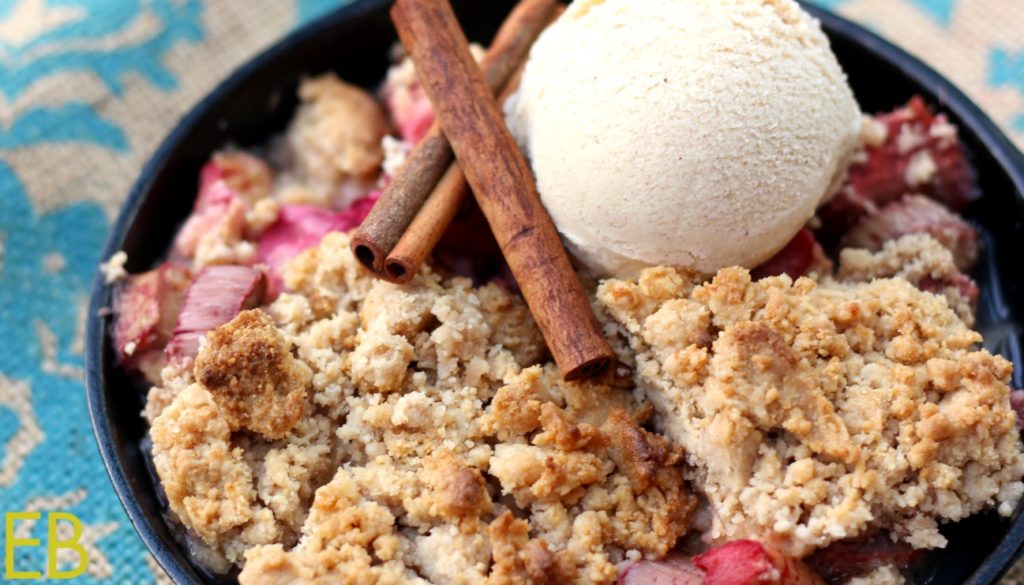 Do you grow your own rhubarb? Here's another favorite: