I may receive a commission if you purchase through links in this post. I am not a doctor; please consult your practitioner before changing your supplement or healthcare regimen.
Here's grain-free white bread with nutrition, bread that tastes of challah when made with honey. Paleo Sandwich Bread is great for sandwiches or alongside soup. You'll love how this bread rises suuuper high, ballooning itself in the oven. And you'll need to shoo away the eager line that forms, those pesky family members who keep asking for one more slice. 😉
If you slice it at the table during a meal, all eyes will be on you.
The ingredients in Paleo Sandwich Bread
Cassava flour — You've heard me say it before. If you eat this cassava cooked and cooled, then you're giving your body resistant starch, which is great for colon health and your gut ecosystem. Cassava is the only flour in the bread, and it makes the crumb pretty crumb-less. It is both strong and tender with just the right chew.
Avocado oil — I like avocado oil because it's high in monounsaturated fat and every single member of our family can eat it, despite various food intolerances. It's also easy to measure and work with, and creates the best crumb and overall outcome in this recipe. (Some readers have used olive oil instead with fine results.)
Eggs — 10 eggs! Yes, this recipe is quite high in protein, with almost 1 egg per slice of bread! That means that a piece of bread is a meal in and of itself. But this bread does not taste eggy (in my opinion). It tastes like Paleo Wonder Bread-meets-challah. If you want it to taste eggy, make French toast with it.
Honey — If you're sensitive even to unrefined sugars, you can sub in stevia, to taste. The point of the sweetener in this recipe is not to create a sweet loaf, per se; it just makes the bread yummy, adding to the flavor and to the texture. If you use honey, the loaf will bake up quite golden brown and taste a bit like, yes, challah. Other sweeteners will produce paler exterior and interior colors when baked, and the texture and outcome will be slightly different.
Sea salt and baking soda — Yep, those are the last two ingredients, for flavor and leavening. Did you know? Baking soda does not need to react with vinegar to rise. Eggs are acidic enough to do that trick. So, basically, this is a really fast and easy recipe with very few ingredients. However, please make sure your baking soda is fresh.
How to make Paleo Sandwich Bread
Fast. You'll love that this bread recipe is made in 10 minutes. It is SO easy.
It can be made in the blender or with a mixer and has very few ingredients:
Simply add all of the ingredients to your blender in the order they're indicated in the recipe.
Let the batter sit while you line a loaf pan with parchment. (The batter thickens a bit while it sits.)
Pour batter into pan. And bake in preheated oven.
Cool and serve.
How convenient to make a loaf or two in so little time and have enough for a week or two. I like to pre-slice mine and freeze some.
Now, what're you waiting for? If you don't yet have Otto's Cassava Flour, I recommend you buy it here. It's good stuff. I can't stop baking with it. The shipping is free; and you'll love it.
If you've got the flour already, time to get baking! This loaf will be ready in one hour, start to finish; it's that fast! Slice some while it's warm; or remember, let it cool first if you want the resistant starch (RS) benefits!
And yes, you can re-warm the bread after it's cooled and still get the RS! So French toast still gives your gut the happy punch. xx
How to store Paleo Sandwich Bread
Cool, slice, and freeze in a sealed container. Make sure the slices are separated a little when you freeze the loaf, so it's easy to break off a slice and toast it. (Toasted is my favorite way to eat Paleo Sandwich Bread.)
Or — cool and place in fridge if you plan to eat it within about 5 days.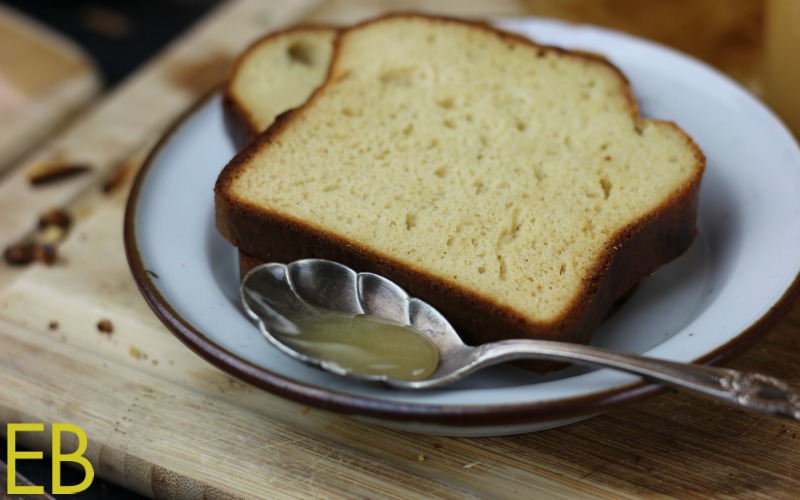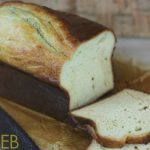 Print Recipe
Paleo Sandwich Bread
Full of protein and excellent for toast, Paleo Sandwich Bread is also super fast to make.
Instructions
Preheat oven to 350 degrees Fahrenheit.

In a medium size bowl whisk together cassava, sifted baking soda and sea salt.

In a high-powered blender (alternately, use a mixer) place ingredients in the following order: eggs, oil, honey, flour mixture. Blend on low speed 10 seconds. Stop motor, scrape sides and bottom briefly, and blend on low 3 more seconds. Allow batter to thicken slightly while you prepare the pan.

Lightly grease a small-standard*** size loaf pan. Line with parchment paper. Pour batter in, and bake 45 minutes** in preheated oven. Test doneness with a toothpick inserted into center of loaf to be sure it's cooked through. Pull up on parchment to release loaf from pan. Cool, slice, and serve.
Notes
*A few folks in the comments have had issues with their dough spilling out during baking or being under-cooked in the center, or deflating. I tried to re-create this problem so I could help trouble-shoot. I believe this happens if the eggs are extra-large; so in essence the cook is adding an extra egg to the recipe. I use pasture-raised, local eggs that are medium or medium-large in size. I think that's the issue! 🙂 So please use the same size (and preferably pasture-raised) eggs that I do to ensure success.
**This recipe has only been made using Otto's Cassava Flour. If you use a different product, you may have different results. I recommend Otto's for ensured success.
***This recipe has been made in a 4" by 8" metal loaf pan and in the small/standard size pyrex/glass loaf pan. It has also been made in a large clay (Pampered Chef) loaf pan. All of these pans baked the loaf in the exact same way: 45 minutes was the perfect amount of time needed. However, be aware that different pans may require a longer baking time.
Nutrition
Calories:
123
kcal
|
Carbohydrates:
8
g
|
Protein:
5
g
|
Fat:
8
g
|
Saturated Fat:
2
g
|
Cholesterol:
136
mg
|
Sodium:
195
mg
|
Potassium:
54
mg
|
Fiber:
1
g
|
Sugar:
6
g
|
Vitamin A:
200
IU
|
Vitamin C:
0.2
mg
|
Calcium:
24
mg
|
Iron:
0.8
mg
Other Paleo breads to enjoy:
I'm an old-fashioned girl and love baking in Le Creuset. If you don't have a loaf pan you love, I recommend this one- so pretty, comes in many colors, durable, and made of high-fired stoneware.
If you trust silicone and don't have a loaf pan you love, I recommend this one. As you may know, aluminum is the metal of choice among bakers, because of how evenly and well it distributes heat. As long as you aren't baking lemon juice or tomatoes, aluminum is safe and non-reactive. This pan is also lined with silicone and has a lifetime warranty. If you choose this pan, you will not need to line it with parchment nor grease the pan, as the recipe designates. It's non-stick, even after 100 uses. It's heavy duty.