I may receive a commission if you purchase through links in this post. I am not a doctor; please consult your practitioner before changing your supplement or healthcare regimen.
Low FODMAP Holiday Recipes for Thanksgiving and Christmas provides you with 30 recipes to fit your dietary needs that won't leave you missing out on the best holiday treats.
Unlike other Low FODMAP collections, these recipes are all great for Gluten-free, Paleo and/or AIP diets.
Main Dish Low FODMAP Holiday Recipes for Thanksgiving or Christmas
Most of us eat TURKEY for our Thanksgiving main dish, but on Christmas more of us deviate. Truth is, my parents deviate for Thanksgiving, too, more often than most families.
I've included this section for those of you who want to do something different than turkey for your holiday protein.
I love all of the recipes that follow, so I know you will, too.
What's special for the holidays, other than turkey?!:
1. Paleo Leg of Lamb Roast
Easy Paleo Boneless Leg of Lamb Roast is actually a dinner we enjoy about once a month — year round. It's wonderful, and everyone loves the variety it offers — a new special dinner, delicious red meat … and basically juicy steaks, but more economical and easier to make. What a special and easy protein for a holiday meal. (AIP)
2. Pork Tenderloin with Blueberry Sauce
AIP Pork Tenderloin with Blueberry Sauce is an easy but super special dinner, when you need a recipe you can count on, but don't want to spend a long time cooking. Baked Pork Tenderloin is in a class all its own — because it's the easiest meat to bake that ends up turning out so well. The outside gets a little crusty, and the inside is tender, juicy and flavorful. With this recipe you'll get the culinary delights of an herb coating, citrusy pan juices and a rich decadent Blueberry Sauce. (AIP)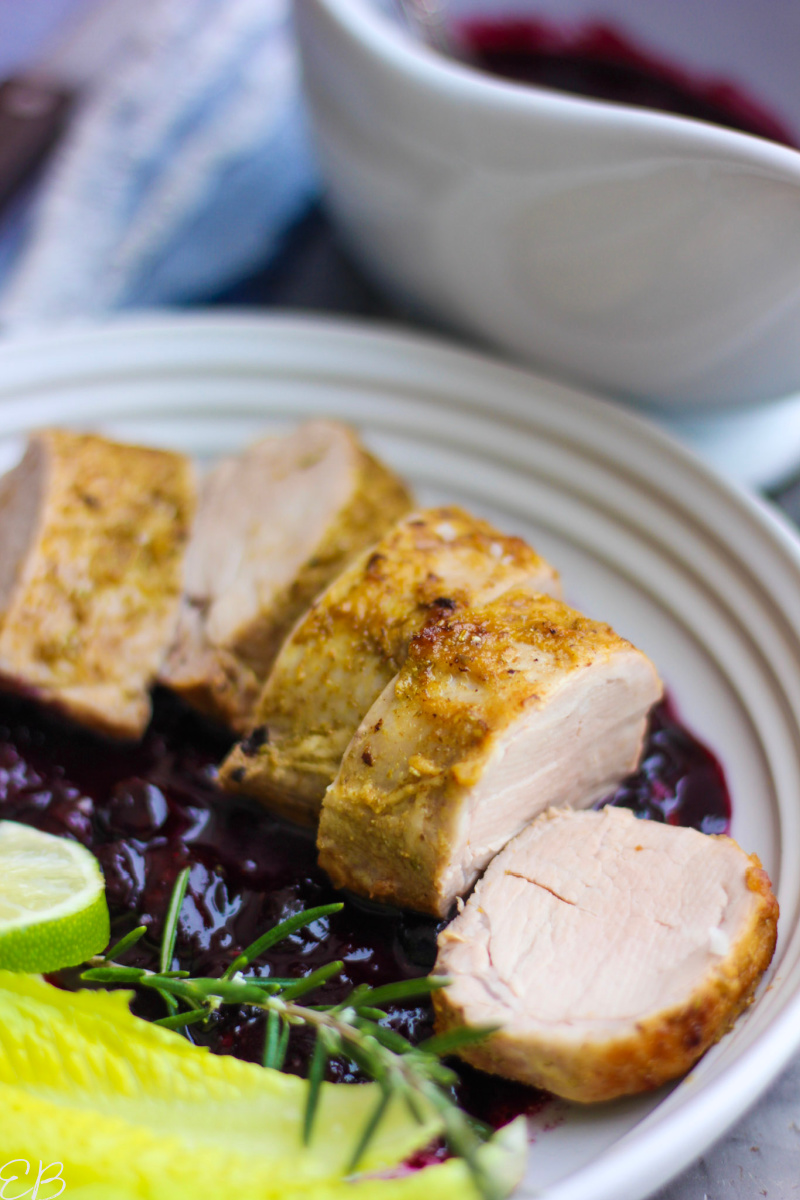 3. Easy Crispy Duck Breast
Easy Crispy Duck Breast has crispy skin, tender dark meat and lots of duck fat leftover for future cooking. This easy and fast to prepare meal is also decadent and gourmet. (AIP)
4. Lemon Roasted Whole Chicken
A very simple recipe, but Lemon Roasted Chicken is gourmet perfection and can be a nice sub for a whole turkey when you have fewer mouths to feed. (AIP)
5. Maple Rosemary Chicken
Maple Rosemary Chicken cooks in a sweet herbal sauce that then dresses your warm wilted salad — the perfect place to feature beautiful holiday fruits that are also Low FODMAP like: cranberries, mandarin oranges, grapes and kiwi. Sometimes chicken really is the best dinner for the holidays, and this prep makes for a really easy meal. (AIP)
6. Ginger Lime Salmon
Ginger Lime Salmon is the best version of salmon, and yet so easy to prep and pop in the oven — with tips on how to cook it perfectly so it won't be overcooked. (AIP)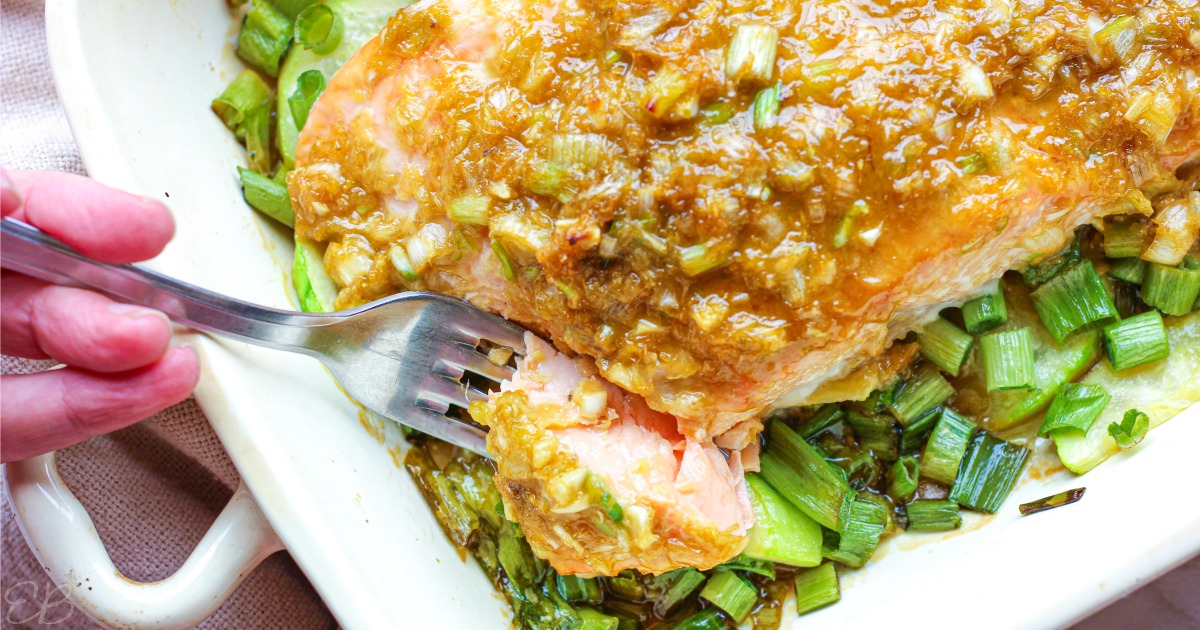 7. Low FODMAP Beef Tenderloin
Beef Tenderloin is a main dish loved by most. And this recipe is not only impressive, it's simple, with just two ingredients: the beef itself, and a special Low FODMAP spice mixture.
Side Dish recipes for your Low FODMAP Holiday table
8. Low FODMAP Sourdough Stuffing
Best Low FODMAP Sourdough Stuffing is literally the best stuffing you'll ever eat. No one will know it's Low FODMAP; it's just incredibly perfect and delicious. Our family loves this recipe so much we'd be happy to eat it and gravy as our main dish! 😉 Enjoy!
9. Simple Bone Broth / Meat Stock Gravy
Simple Bone Broth / Meat Stock Gravy — Simple perfection. Use either bone broth or meat stock to make this really easy and delicious gravy; I give links to both in the recipe. (AIP)
10. Mashed Parsnips
Mashed Parsnips (with optional Crispy Parsnips on top) are the nightshade-free version of mashed potatoes. Everyone in my world loves these! Photo above. (AIP)
11. Parsnip Hashbrowns
Parsnip Hashbrowns make an elegant side dish when laid partially beneath your protein or another side. Very crispy edged, sweet and rooty, this is one of my favorite recipes, and I love that the hashbrowns finish in the oven, making them easy to make. (AIP)
12. Roasted Delicata Squash Slices
Roasted Caramelized Delicata Squash can't help but be everyone's favorite side dish — sweet, crispy and caramelized, they are better than popcorn for nibbling. (AIP)
13. Carrot Mint Bisque
Carrot Mint Ginger Bisque is just perfect for those of us who love the old world charm of serving a bisque soup before a big multi-course meal. (AIP)
14. Lemon Roasted Green Beans
Try Lemon Roasted Green Beans for an easy side dish that's big on flavor. Green beans are always a comforting, delicious and familiar holiday vegetable; here the additions of high heat roasting and lemon dial them up a notch. (AIP reintro.)
Low FODMAP Holiday Recipes: Breads and similar
15. Low FODMAP Bread Recipe
Slice this beautiful Low FODMAP Bread Recipe, and let it become a tempting part of the set table, with jams and butter to top.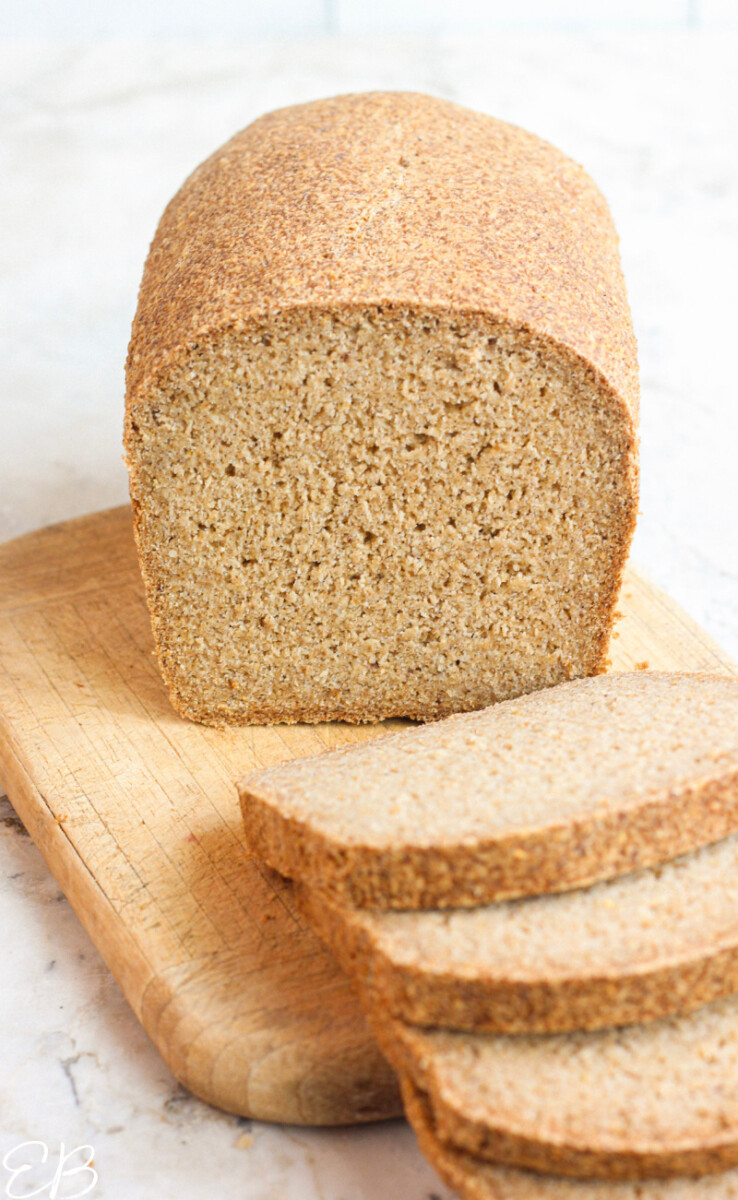 16. Bacon & Green Onion Scones
AIP Bacon & Green Onion Scones are a fun alternative to rolls. So tempting and so special. (AIP)
17. Green Plantain Crackers
If you have a cheese plate, consider these Green Plantain Crackers and the Tostones just below. (AIP)
18. Tostones
Also known as Fried Green Plantains, Tostones are an easy fried cracker treat that most of us love. Great on their own, they would add a lovely touch to a cheese, fruit or meat board. (AIP)
19. Tiger Nut Flour Tortillas
Not usually very fitting for a holiday table, true, but rolled up around lovely fillings Tiger Nut Flour Tortillas can make a great holiday appetizer or plate to pass at the table. I first had this bread treatment at the table of a Swedish relative, who always includes it at her family gatherings. Roll in pretty red jam made from strawberries or cranberries. (AIP)
Low FODMAP Holiday Recipes: Desserts
20. Paleo Zucchini Spice Cake
This Paleo Zucchini Spice Cake can be made in any size or shape pan to make it perfect for a variety of holiday occasions: Bake in a loaf pan, and slice for breakfast, brunch or afternoon tea. Or bake in a bundt pan, and enjoy for dessert. The flavors and moistness of this cake are both perfect.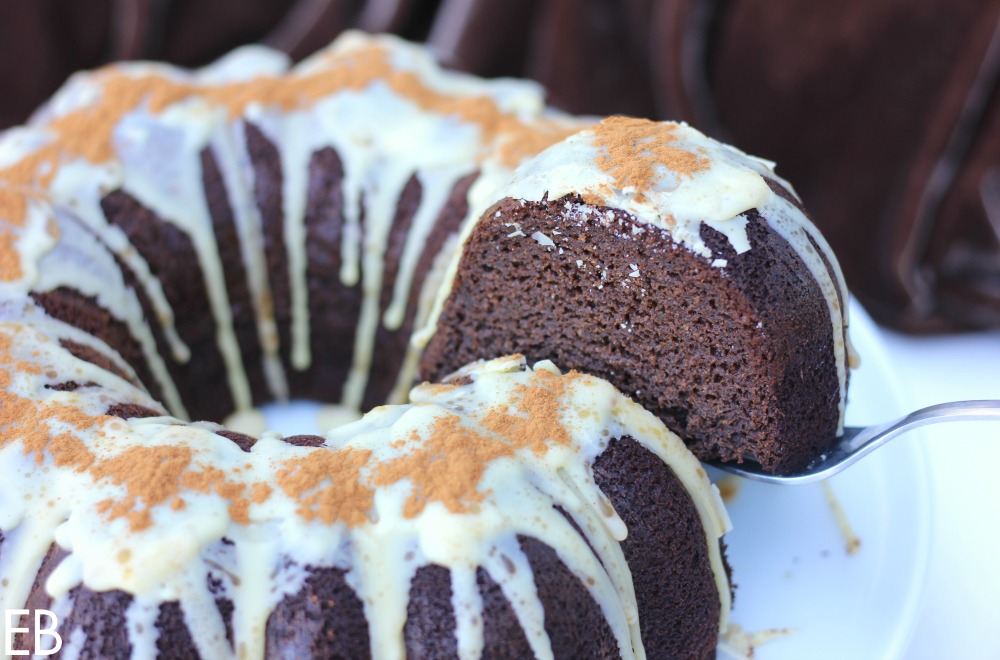 21. Cranberry Upside Down Cake
A moist, simply phenomenal cake with that extra special cranberry topping in tart-sweet caramelized juices! I love cranberries, and I love cake, so Cranberry Upside Down Cake is a real holiday favorite for me, and so pretty for a gathering or buffet. (AIP)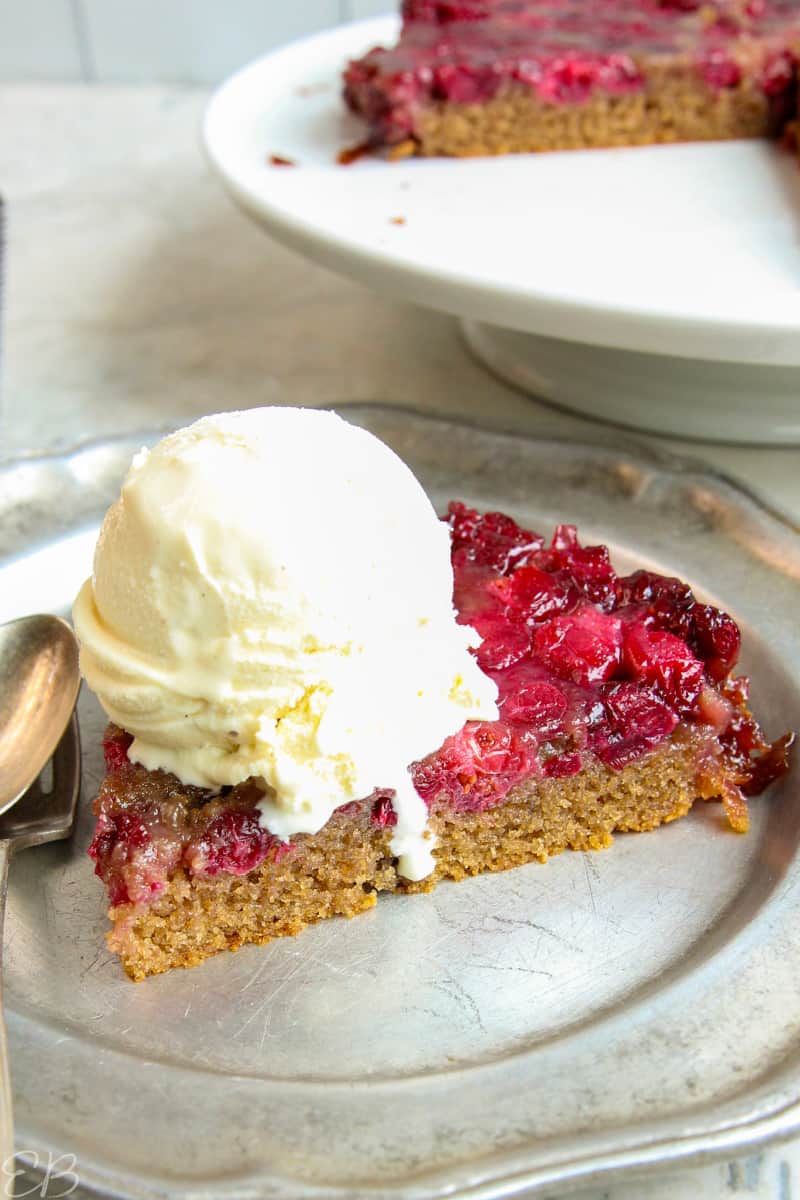 20. Strawberry Coconut Lime Cream Pie
You can't beat the decadence and beauty of Paleo AIP Strawberry Coconut Lime Cream Pie (Choose the maple syrup option, for sweetener.) (AIP)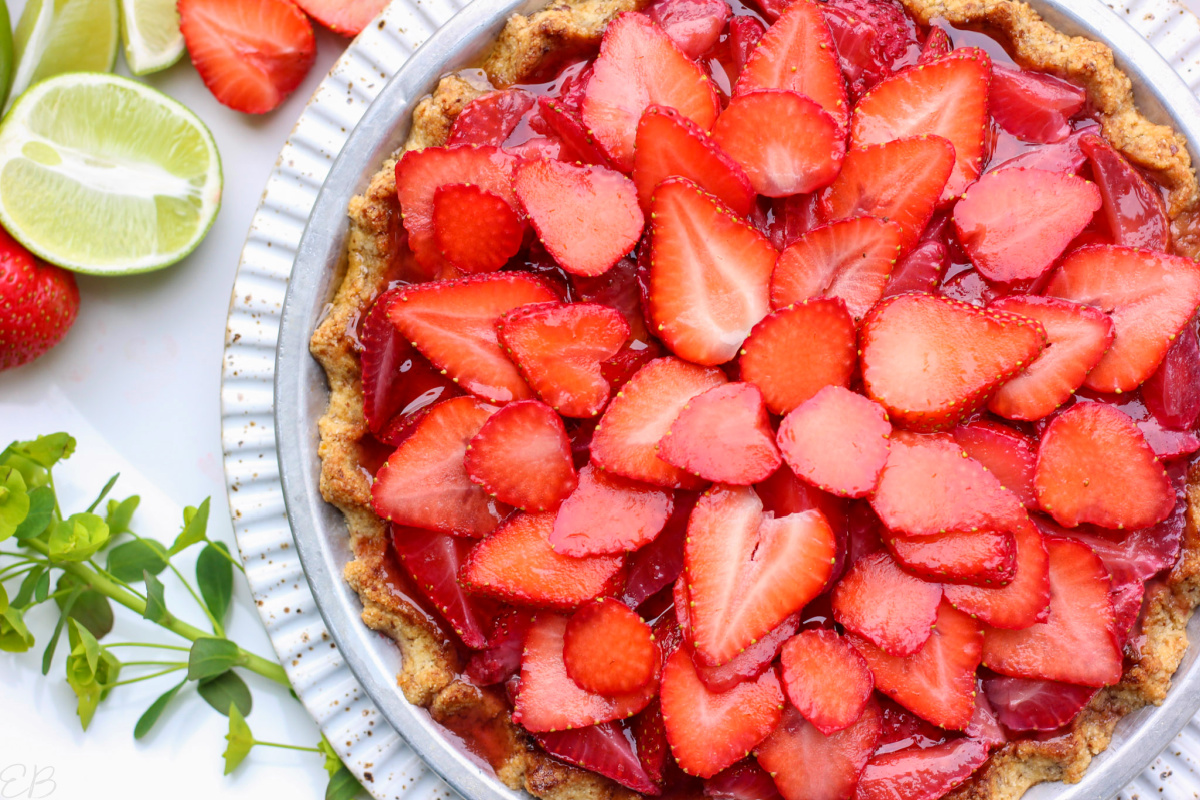 21. Carrot "Pumpkin" Pie
Recipe coming next week, a great alternative to pumpkin pie, for those who don't eat winter squash; or make this recipe with white carrots for those who do a low vitamin A diet. (AIP)
DESSERT COMPONENTS
If you need just a sauce or a crust that's Low FODMAP, here are a few that may be helpful.
22. Rhubarb Sauce
Rhubarb Sauce — Enjoy this with Low FODMAP bread (recipe above) on the holiday table or with a holiday breakfast on Pancakes (recipe below). (AIP)
23. Tiger Nut Flour Pie Crust
Tiger Nut Flour Pie Crust (or Chocolate "Oreo" Crust, just below) both make great bases for no-bake holiday desserts. Fill with ice cream for an easy fun option, and top with Chocolate Ganache or Pourable Chocolate Sauce (recipes just below). (AIP)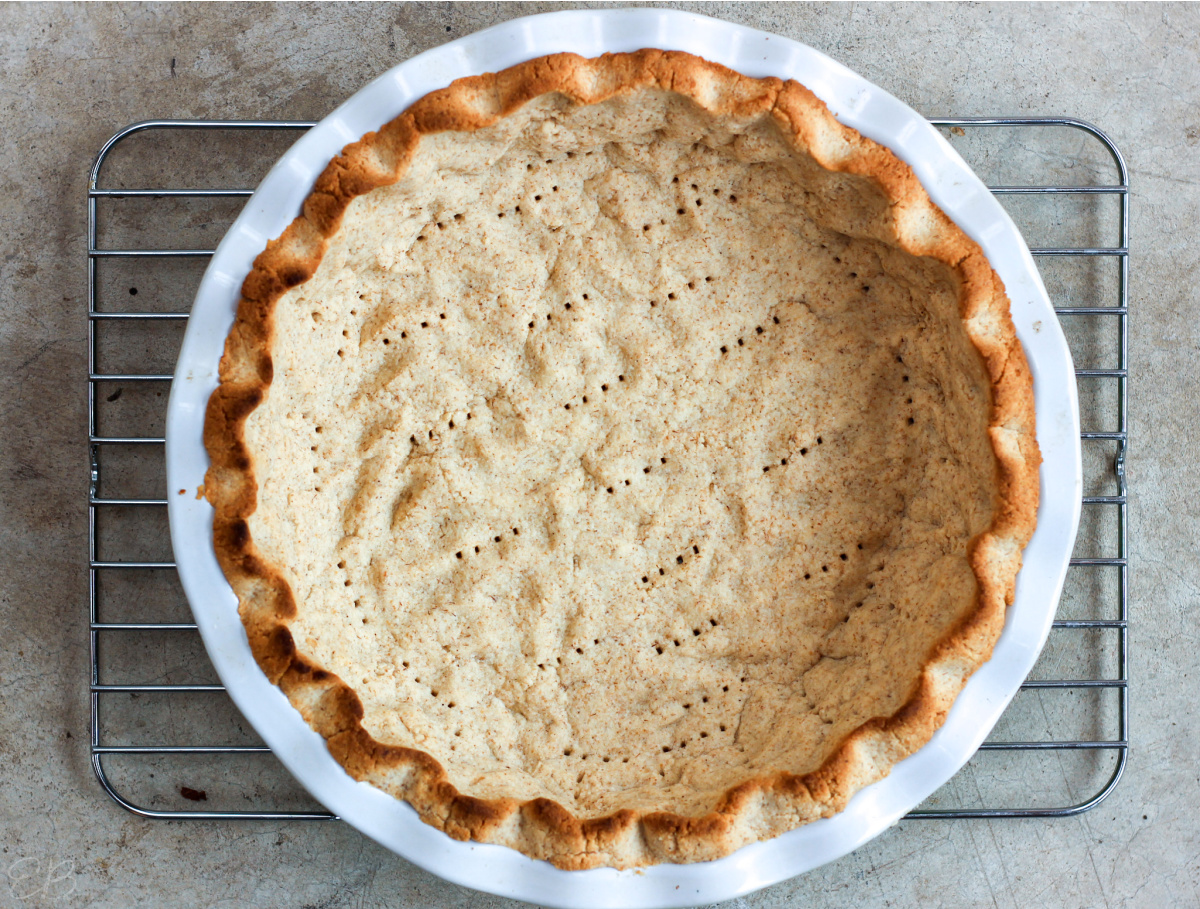 24. Chocolate "Oreo" Crust
This Chocolate "Oreo" Crust tastes a lot like the original processed cookie crust, but so much healthier. Such a fun and exciting base to a dessert!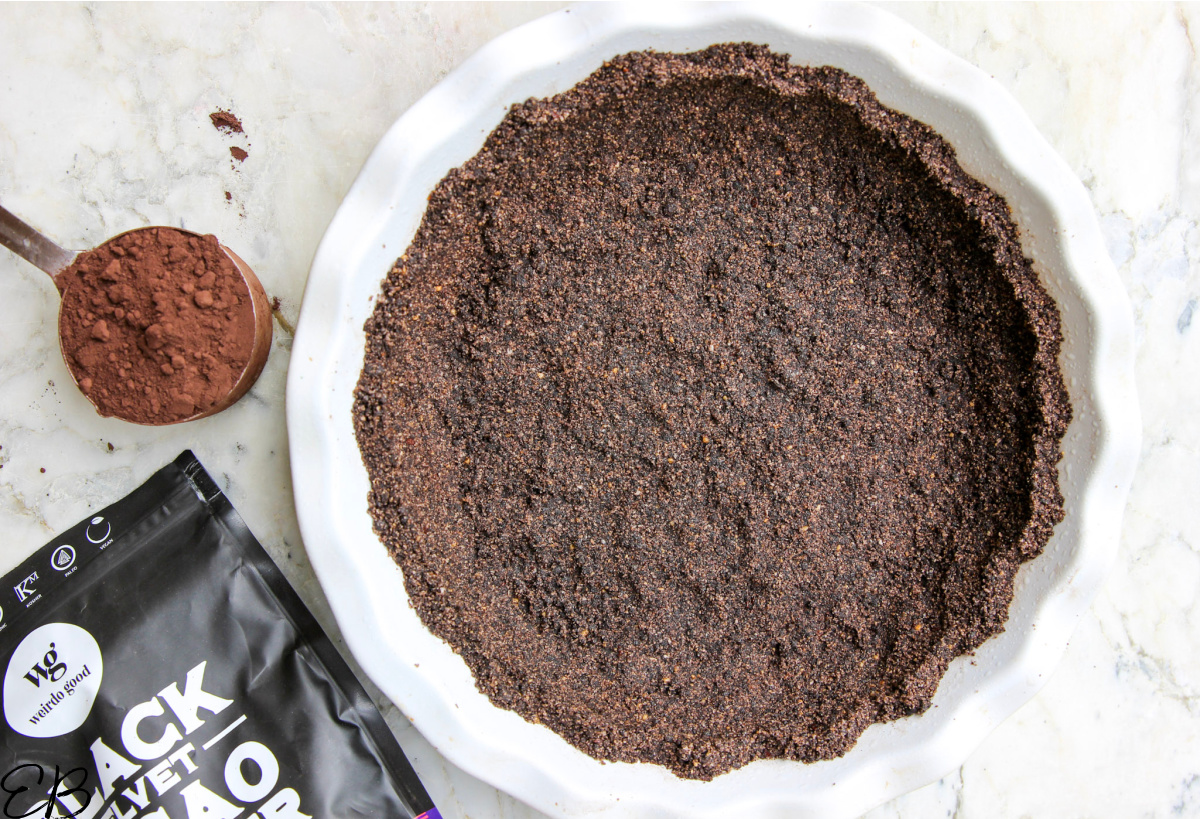 25. Chocolate Ganache
One of my favorite treats ever, this Chocolate Ganache can be spread on ice cream pie, any cake … or even eaten with bread! It's dessert and real food all at once, and so utterly fabulous. (Use the maple syrup option for sweetener.)
26. Pourable Chocolate Sauce
It functions like Hershey's, but Pourable Chocolate Sauce is from ethically sourced cocoa, and it's made to be gentle for your body. So delicious on ice cream, ice cream pie and anything else you can dream up! (Use the avocado oil and maple syrup options.)
Holiday Breakfasts that are Low FODMAP
27. Mediterranean Crustless Quiche
This Mediterranean Crustless Quiche is so pretty and one of my favorite breakfast recipes — filled with sliced potatoes, peppers, olives and that wooing spice za'atar.
28. Meat and Egg Muffins
If you need a brunch or buffet item, Meat and Egg Muffins are beautiful, delicious and easy to make for low stress breakfast fare.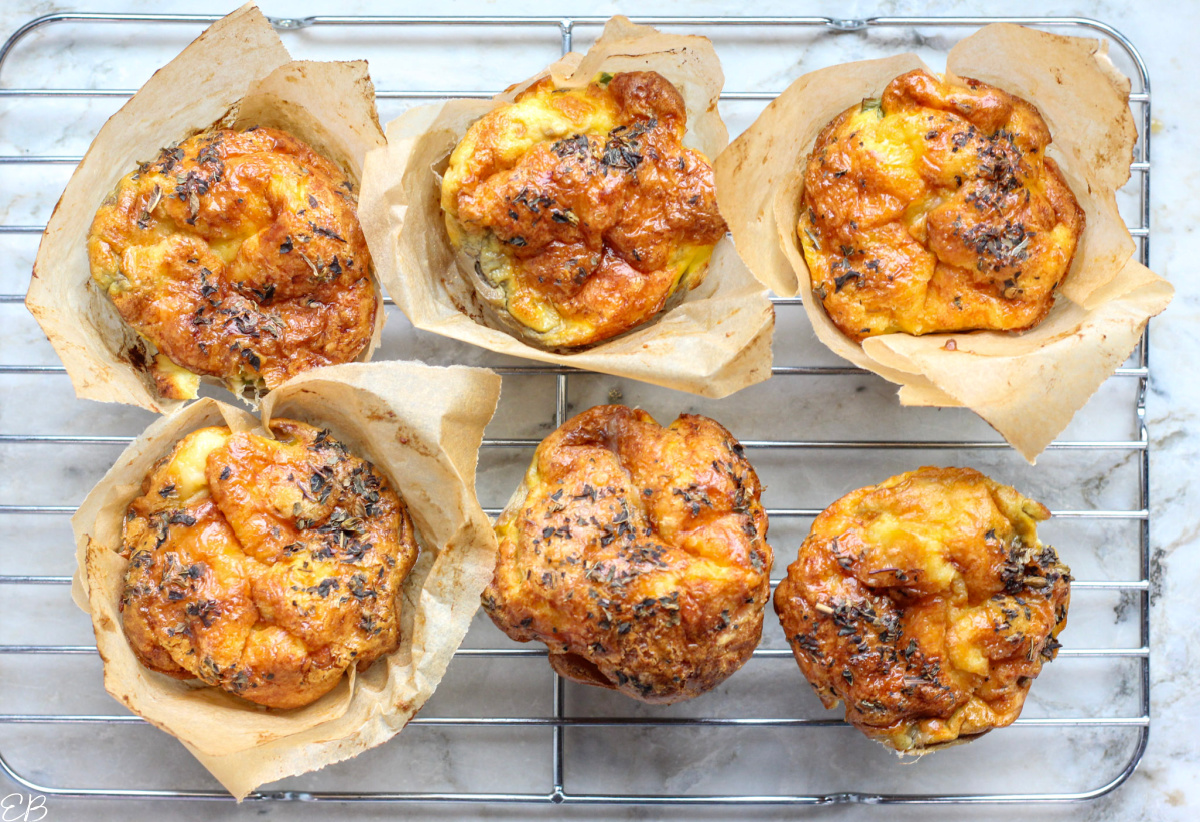 29. Best AIP Pancakes
You'll never know these pancakes are Paleo or AIP. These Best AIP Pancakes are just perfect. (AIP)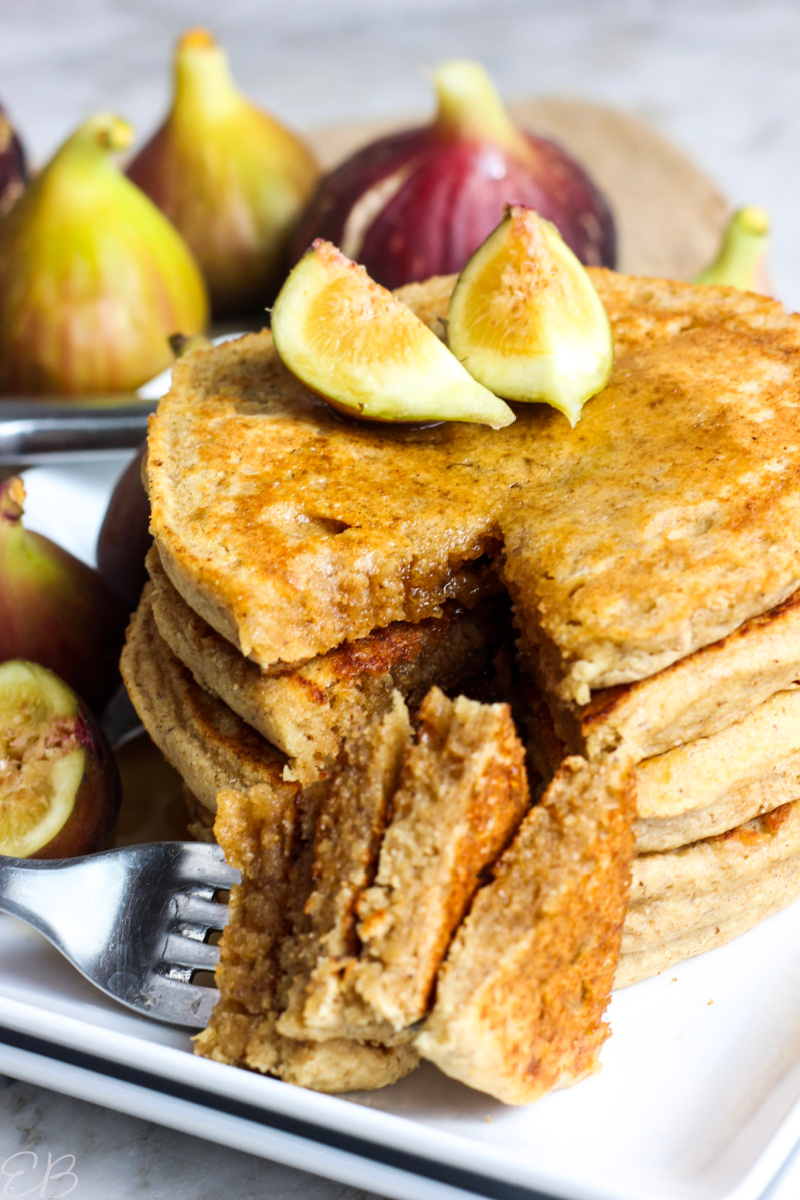 30. Tiger Nut Bran Muffins
Stud Tiger Nut Bran Muffins with berries or raisins for a really lovely grain-free muffin. Use the maple syrup option for sweetener.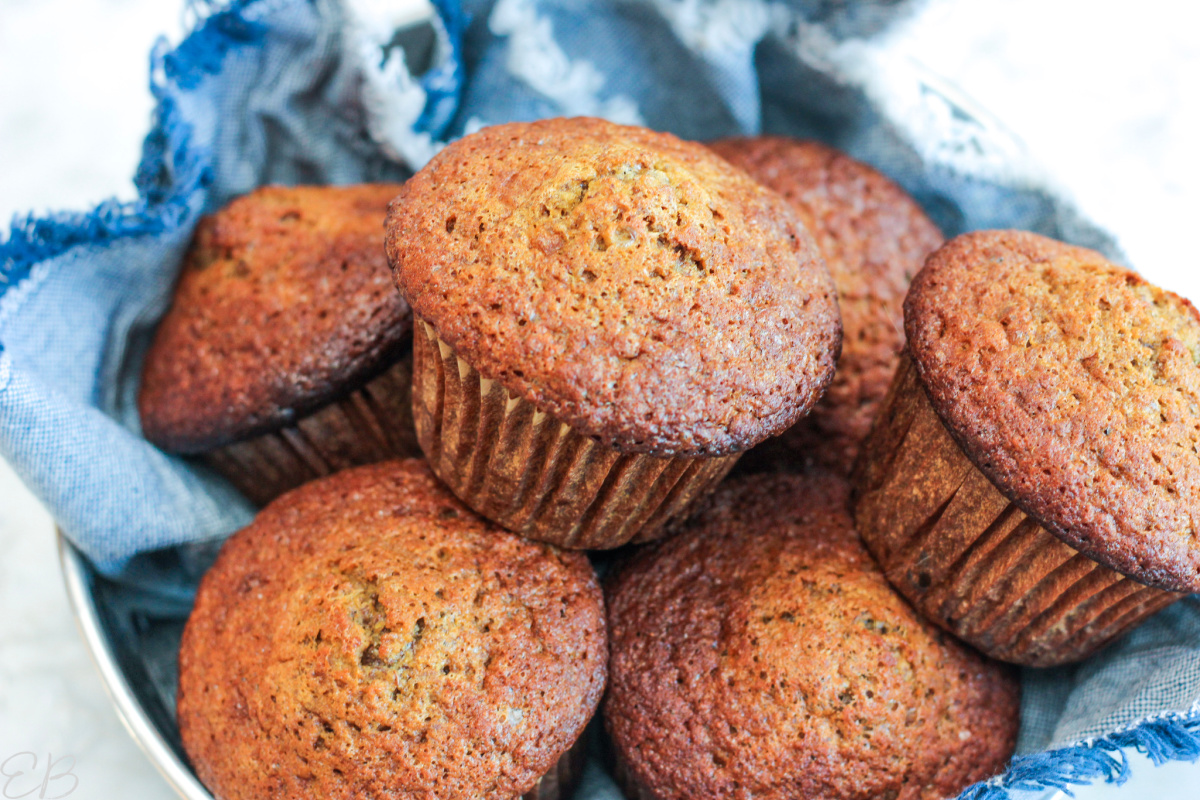 You can Pin 30 Low FODMAP Holiday Recipes here: