I may receive a commission if you purchase through links in this post. I am not a doctor; please consult your practitioner before changing your supplement or healthcare regimen.
Tigernut "Bran" Muffins are lovely — VERY like real bran muffins, but, of course, grain-free and gluten-free. Enjoy this Paleo baked good, full of resistant starch and a wonderful healthy treat.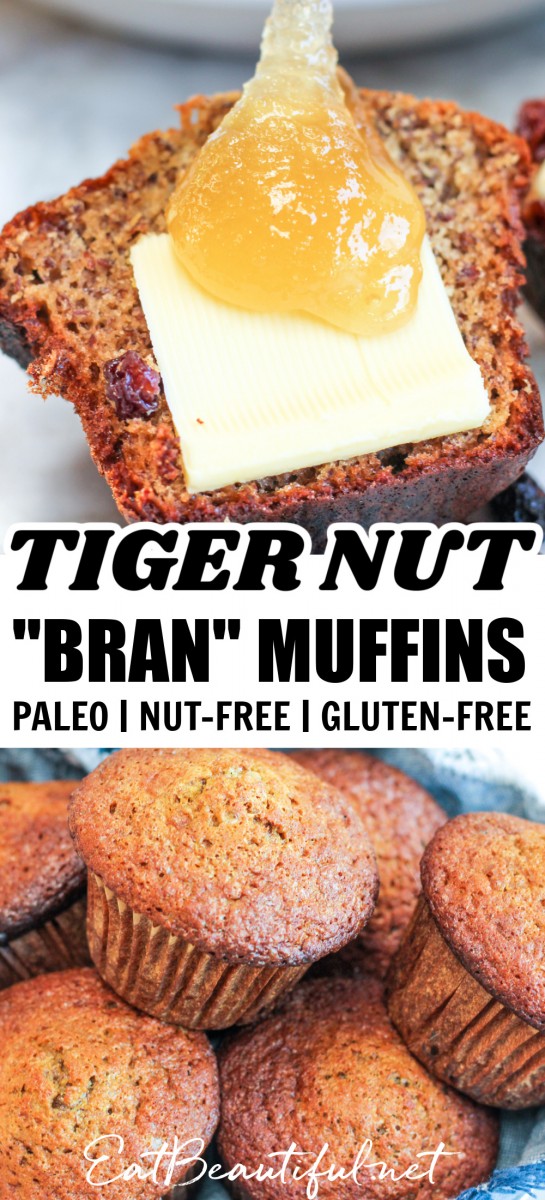 Tigernut "Bran" Muffins remind me of a cafe we'd go to as children with my parents, called Sonrisa, where we'd always order the bran muffins and freshly squeezed San Diego orange juice — the sweetest.
To be great, bran muffins should be moist but have good muffin edges to their tops. My husband loves bran muffins, so it's been fun to reintroduce an old favorite of both of ours back into our diet.
A word about resistant starch because tiger nuts are FULL of it!
As a quick reminder, or read the post here for greater detail, resistant starch is indigestible by humans, but when it reaches the intestines and colon it becomes food for beneficial flora.
Tiger nuts are one of THE best sources of resistant starch. This prebiotic occurrence benefits the bowels, blood sugar levels, and increases the biodiversity of the gut, giving the host (you and me) better health overall.
One more detail about resistant starch, or RS. There are different categories. Tiger nuts are considered RS2 or RS3. The reason this is important is that when you eat tiger nuts they must be either raw (RS2) or cooked and cooled for the RS3 (also called retrograded starch) to form. So, you need to eat these muffins cooled if you want the RS benefits.
What are tiger nuts
Tiger nuts aren't nuts at all. They are little tubers. Eaten whole and raw they are chewy, crunchy and nutty and a little sweet. They are high in mono-unsaturated fats and low in poly-unsaturated fats ~ that's good, similar to olive oil, actually.
In addition to using the flour (available here) in baked goods, I like to use it like folks used bran or wheat germ in the 80s ~ sprinkle it on top of my porridge, yogurt or smoothie! It really is nutty and yummy, so makes a good condiment. This is the easiest way I've found to incorporate the nutrition. (I think this brand tastes a little like graham cracker crumbs!)
And after creating this recipe, (update), I've created many more tiger nut recipes as well, for all of us to enjoy. Here are a few favorites: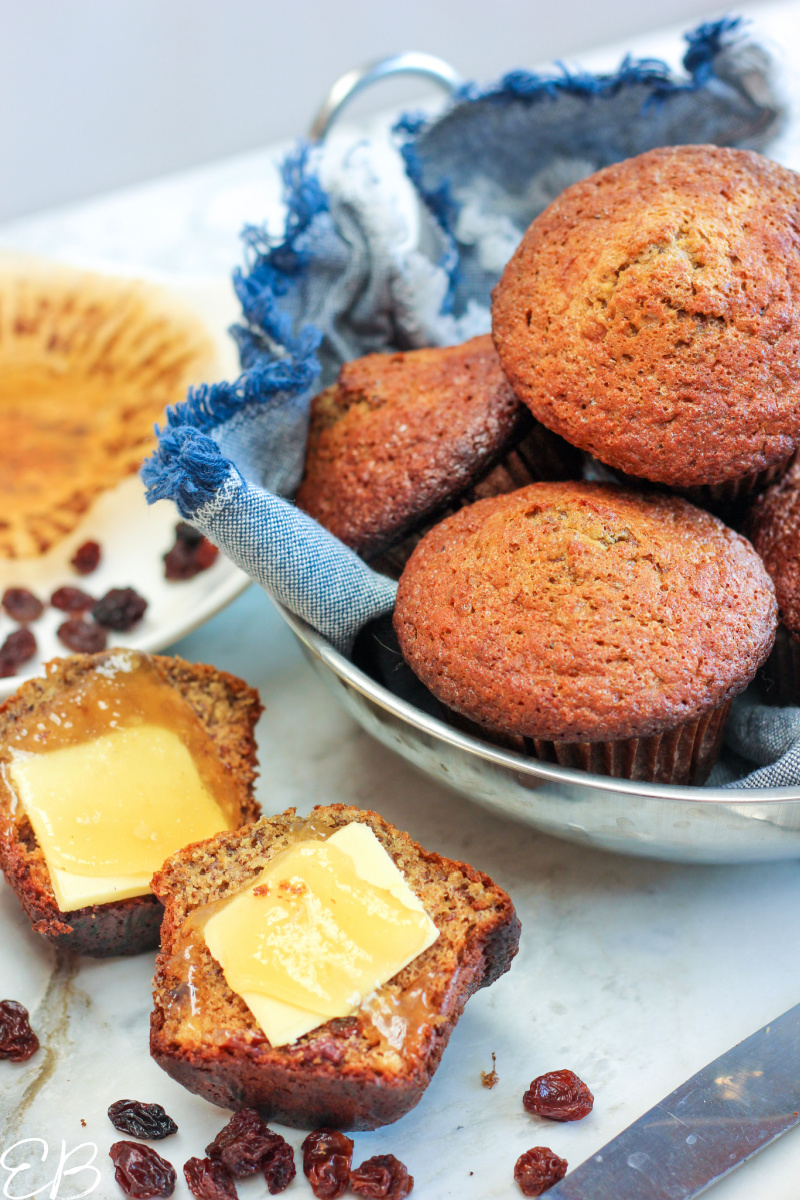 How to serve Tigernut "Bran" Muffins
Enjoy Tigernut "Bran" Muffins plain, with butter, with butter and honey, or butter and (if you eat dairy) chèvre — lovely.
Stud the batter with raisins, chopped dried figs or dates, or fresh/frozen blueberries, if desired (see recipe for method).
Drink with tea or alongside soup. A classic recipe — yet super healthy.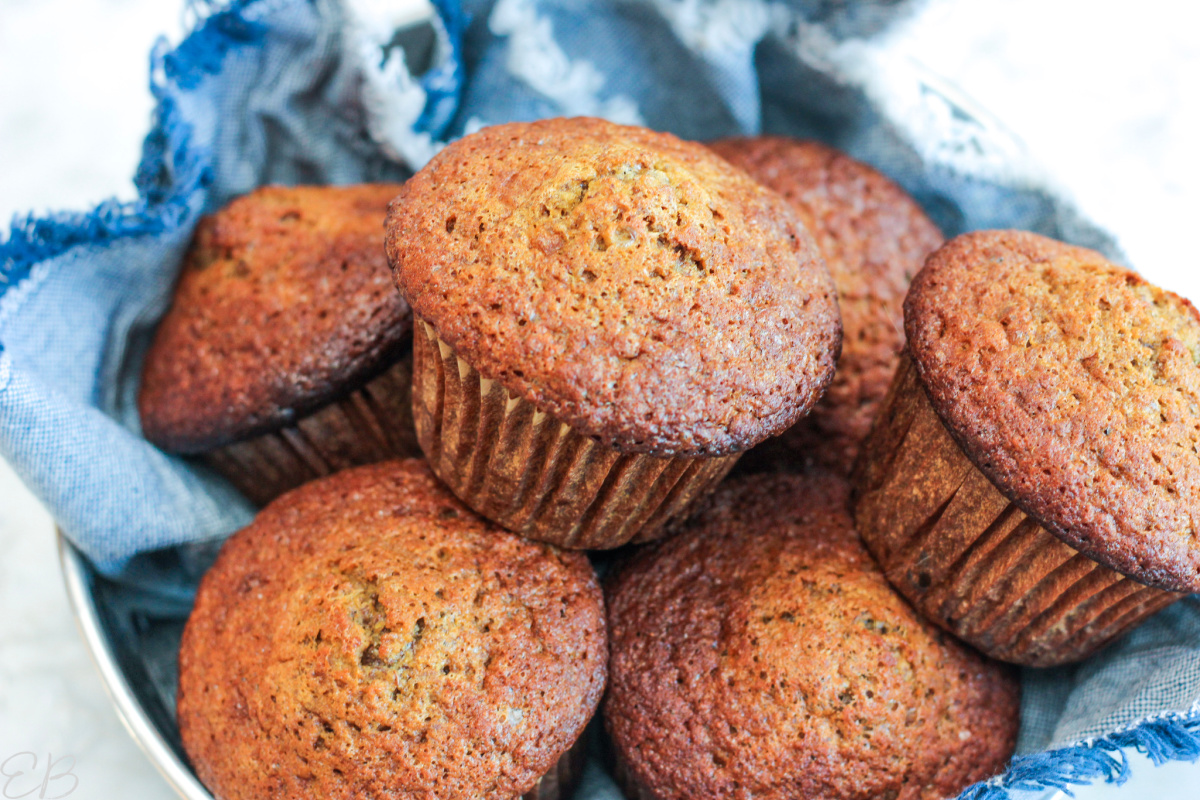 Print Recipe
Tigernut "Bran" Muffins (Paleo | Gluten-free)
Tigernut "Bran" Muffins are lovely — VERY like real bran muffins, but, of course, grain-free and gluten-free. Enjoy this Paleo baked good, full of resistant starch, and a wonderful, healthy treat. Great by themselves. Or stir in 1 cup blueberries before baking, or

¾

cup raisins.
Equipment
muffin pan (with capacity for 6 muffins)

oven
Ingredients
5

medium-size

eggs

⅔

cup

tiger nut flour

½

cup

flax seed meal

¼

cup

honey

or maple syrup (the muffins will not brown as much if you use maple syrup)

¼

cup

avocado oil

or traditional fat of choice, melted and cooled slightly

1

teaspoon

vanilla extract

optional

½

teaspoon

baking soda

, sifted

½

teaspoon

sea salt

OPTIONAL: blueberries or raisins

(Before baking, stir into batter 1 cup blueberries, or

¾

cup raisins. If you choose blueberries, you may need an extra muffin pan or taller muffin cups to compensate for the extra batter. See recipe Notes below for tip.)
Instructions
Preheat oven to 325 degrees Fahrenheit. Fill muffin pan with 6 liners. Set aside.

Place wet ingredients in blender or large mixing bowl: eggs, honey, avocado oil and vanilla. Blend or mix (with electric mixer) for 10 seconds.

In medium size bowl sift together dry ingredients: tiger nut flour, flax seed meal, baking soda and sea salt.

Add dry ingredients to blender or large mixing bowl and puree/mix until combined thoroughly, without over-mixing. (You may also briefly stir in optional blueberries or raisins.)

Fill each muffin cup with batter (it's okay to fill them to the brim, because these muffins rise straight up). Bake 20 minutes and then check with a toothpick or sharp knife for doneness. Bake up to 5 minutes more, until toothpick inserted comes out clean.
Notes
Tip when adding blueberries to the batter
If you add blueberries to Tigernut "Bran" Muffin batter, the batter will increase by 1 cup in volume. Without blueberries, the batter fills 6 standard muffin cups exactly.
If your muffin liners are labeled "Large", they are likely the standard muffin cup liner, which is actually pretty small. If you buy "Extra Large" or "Jumbo" muffin liners, you'll have enough capacity with this recipe to add blueberries.
But if you have the "Large" or standard muffin liners, I recommend you make easy homemade liners instead, out of squares of parchment paper. It's easy to tear or cut parchment paper into approximate 5" squares, and press them into the muffin pan's cavities. I use various weights to keep the papers in place before pouring in the batter (apples, lemons, spice jars or small glasses etc.). 
When I photographed this recipe, I added raisins to the batter and used standard "Large" muffin cups. The batter filled the 6 cups perfectly, right to the rim before baking. But I usually use parchment paper liners when I make muffins. It's more economical in the long run, looks nicely rustic, is relatively fast to do, and is always non-stick (unlike some muffin liners). Parchment paper also lasts longer, and is always there when you need it.
Nutrition
Calories:
128
kcal
|
Carbohydrates:
14
g
|
Protein:
4.4
g
|
Fat:
6.5
g
|
Saturated Fat:
1.6
g
|
Cholesterol:
82
mg
|
Sodium:
190
mg
|
Potassium:
155
mg
|
Fiber:
4.5
g
|
Sugar:
9
g
|
Vitamin C:
1
mg
|
Calcium:
22
mg
|
Iron:
3
mg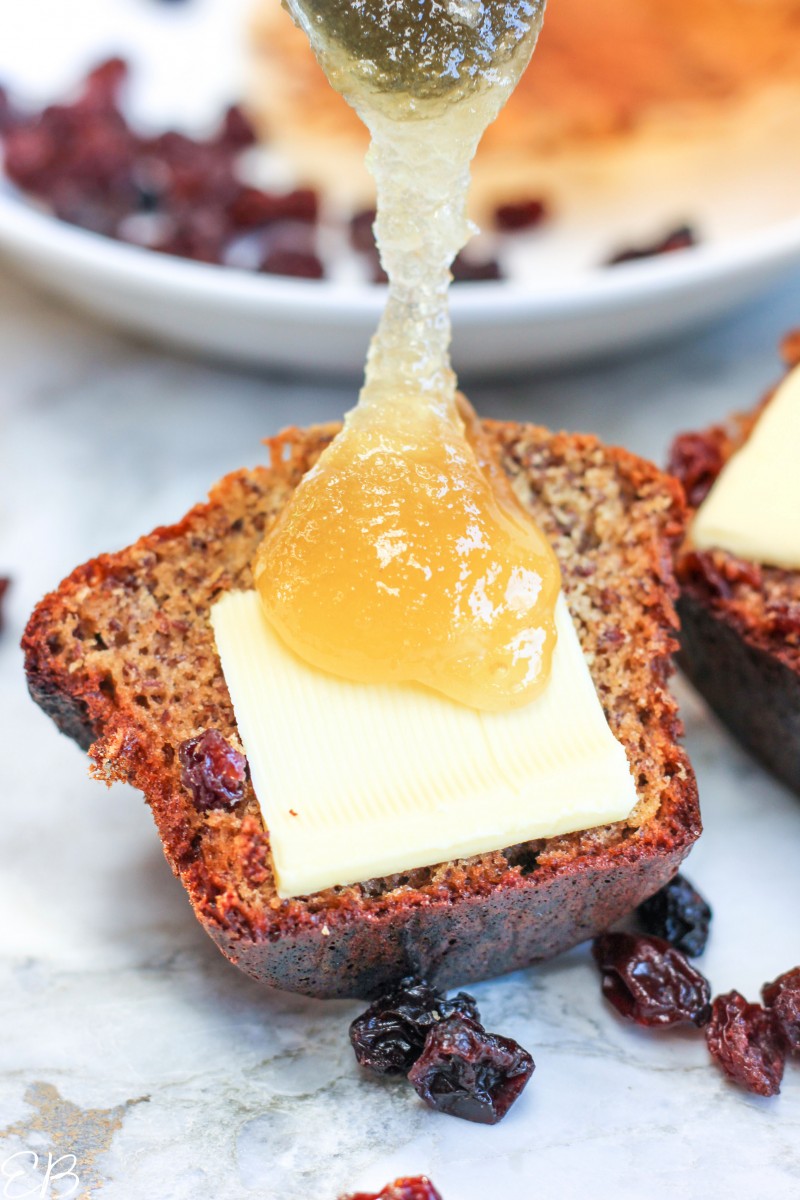 Love tiger nuts? I also recommend my homemade Tiger Nut Yogurt! It's a great source of prebiotics and probiotics.
Find my favorite brand of tiger nut flour

HERE

.