I may receive a commission if you purchase through links in this post. I am not a doctor; please consult your practitioner before changing your supplement or healthcare regimen.
Zucchini Galette features easy homemade pie dough folded over fanned slices of fresh zucchini then baked until the pastry is golden brown, flaky and crispy. The zucchini is then topped with Creamy Lemon Mint Pesto and a variety of optional toppings.
This savory treat can use local or home grown produce; it's fun to make! and beautiful to eat. Other topping options include flavorful sausage, tiny fresh lemon wedges, fried garlic, fresh herbs and a sprinkling of ground sumac.
Enjoy Zucchini Galette seasonally each spring, summer and fall, or year round when you want fresh produce and comforting pastry for a lovely meal.
Savory pastries are one of my favorite foods, and this recipe is flexible to accommodate a variety of diets, including Paleo, AIP, Whole30, Gluten-free, Low FODMAP and VAD.
The best things about a galette?:
You get to enjoy a delicious flaky pastry dough, without having dessert. Savory pastries are so satisfying.
They're a lot like pizza, but with zero need for cheese. So galettes are perfect for dairy-free diets.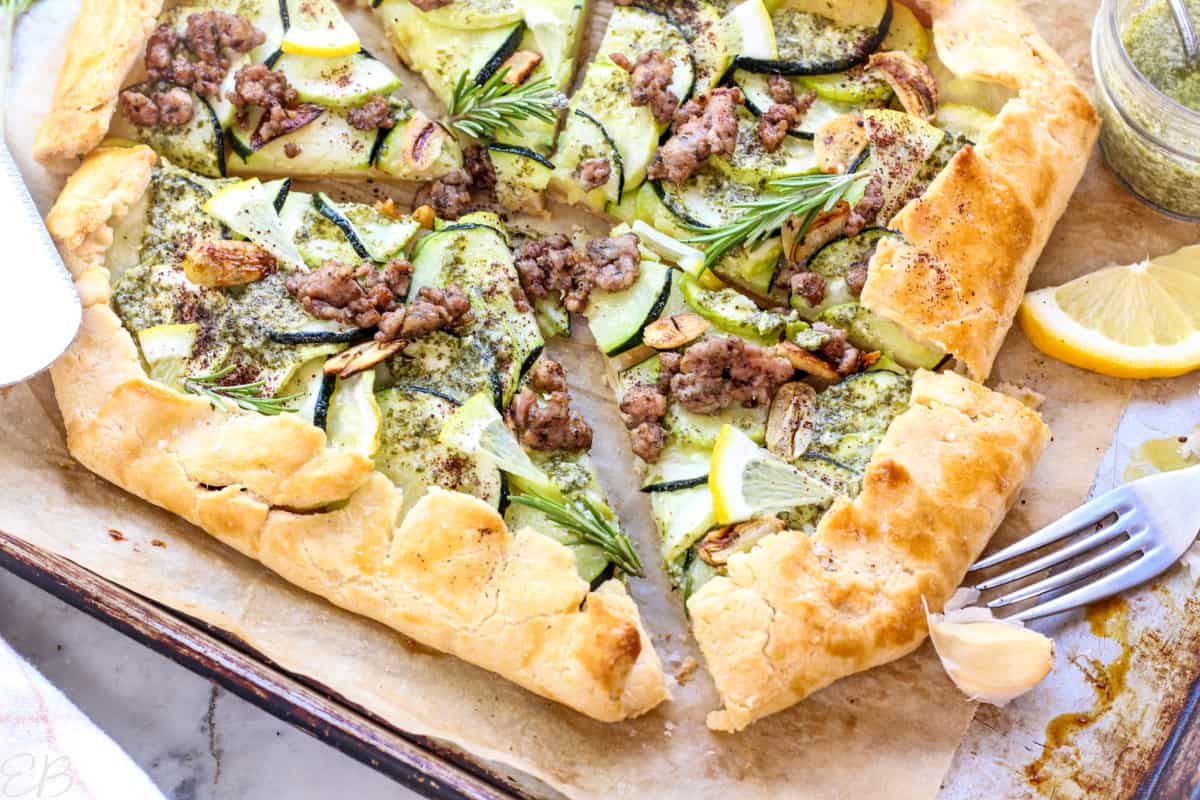 Jump to Recipe
Ingredients in Paleo Zucchini Galette
There are 5 main ingredients in this galette recipe. Both the pie dough and the Lemon Mint Pesto are separate recipes, so keep that in mind when you make the recipe: The pie dough needs to be made first. The pesto can be made while the galette is baking, if you wish, or it can be prepped ahead of time.
To save time, it's also okay to buy pesto. But I love this recipe for Lemon Mint Pesto, and it's extra nice because it's dairy-free.
pie dough – For Paleo, AIP, Whole30, VAD and Gluten-free, use this Paleo Pie Crust. For Keto, see the Notes section below the recipe.
fresh zucchini — peeled for VAD
Creamy Lemon Mint Pesto — or basil pesto if preferred
olive oil
sea salt
Optional toppings
After the initial 5 main ingredients, there are also a few optional toppings that you can use if you wish:
bulk pork sausage, cooked up — Omit for VAD. Make sure spices are AIP compliant.
lemon slices extra thin and then cut into tiny triangles, which are lovely on top — Omit peel for VAD.
fried garlic – Omit for VAD and Low FODMAP.
ground sumac — This is a lemony spice that's pretty and adds a great zing.
fresh herbs — such as mint, thyme or rosemary
In most of the photos, I used all of the toppings.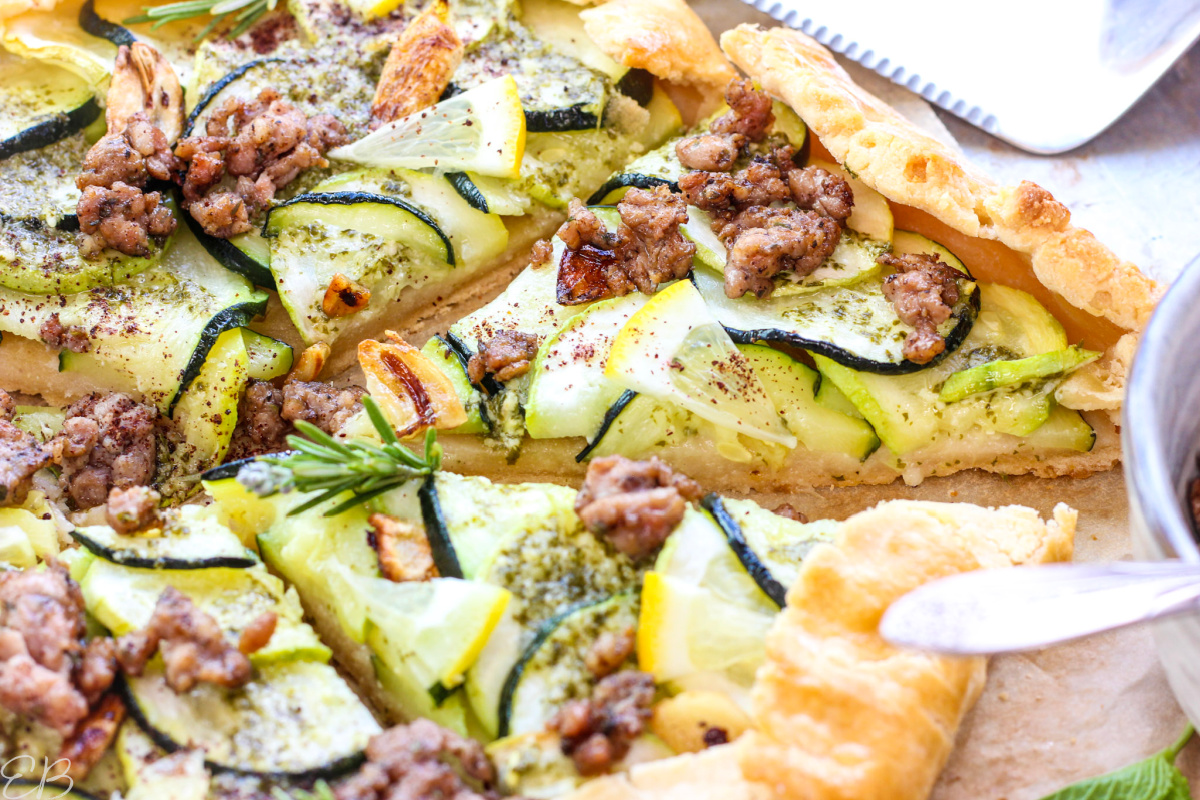 How to make Zucchini Galette
Make the pie dough. — The two pie crust options include 1) a Paleo recipe that's also AIP, Whole30, VAD and Gluten-free, or 2) a Keto option, found in the Notes section below the recipe. (The Keto pie dough needs to be made 4 hours ahead of time, so it can chill before being rolled out.)


Roll out the pie dough into a rough circle on parchment paper. Transfer this to your cookie sheet.

Slice zucchini and fan the slices in rows. Fold the pastry edges over the zucchini middle. Sprinkle with salt, and bake until the pastry is crispy and golden brown.
Make Lemon Mint Pesto while the pastry bakes or ahead of time. When the galette's done cooking, spoon and spread pesto over the cooked summer squash.
Garnish with thinly sliced tiny lemon wedges, optional cooked up sausage, fried garlic, sumac and herbs.
Slice and enjoy!
Print Recipe
Zucchini Galette (Paleo, AIP, Keto, Whole30, Gluten-free)
Zucchini Galette features easy homemade flaky pie crust folded over slices of fresh zucchini and topped with a Lemony Mint Pesto.
Ingredients
1

lb

zucchini

peeled for VAD, sliced thinly:

⅛

to ¼" thick

1

recipe

Creamy Lemon Mint Pesto

For AIP, omit pine nuts from pesto recipe, or use an AIP pesto.

1

recipe

pastry dough <-- recipe here for Paleo, AIP, Whole30, GF, VAD; For Keto recipe, see Notes below. (If making the Keto version, plan ahead; it needs to chill for 4 hours minimum, or overnight.)

3

Tablespoons

olive oil

divided

4 to 5

cloves

garlic

sliced thinly, omit for VAD and Low FODMAP; use fewer for Keto.

2

slices

lemon

cut through the middle of a whole lemon to get full very thin circles of lemon, then cut each one into 8 or more tiny triangles

optional

¼

to

½

pound

bulk country pork sausage

cooked (broken up with a spatula in a small frying pan and cooked fully); omit for VAD; make sure spices are compliant for AIP (just use plain pork sausage, and season yourself with sea salt and dried sage).

optional

ground sumac

for garnish; omit for AIP.
Instructions
In large bowl, toss zucchini slices to coat with 2 Tablespoons olive oil. Set aside. (Do NOT add salt yet.)

Use two large pieces of parchment paper to roll out pastry dough. When pastry dough is 1/4" thick or less, peel off the top sheet of paper, and transfer bottom parchment paper to baking pan (with dough on top).

Create overlapped rows of zucchini on pastry dough, leaving a 1-1-½" border of pastry around the edges.

When all or most of the zucchini is used, use the edges of the parchment paper to help you fold the pastry dough neatly over the zucchini. This is a rustic pastry, so it doesn't have to be perfect or symmetrical. Fold sides and corners, overlapping, until all the edges are folded over the zucchini.

Sprinkle all of the zucchini with sea salt, to taste. (Don't skip the salt at this stage because it helps the moisture from the zucchini to evaporate when it bakes, preventing soggy zucchini.) Optional, if you're not AIP/VAD and eat eggs, you can brush the pie crust edges with beaten egg to create a more golden crust when it's done baking.

Bake 25 to 30 minutes, until all the edges look golden and crispy, and the zucchini is nicely cooked.

Garlic garnish: While zucchini bakes, optionally fry garlic in remaining one tablespoon olive oil: Heat pan over medium heat. Add olive oil to the center of the pan. Lay slices of garlic into oil. Reduce heat to low. Fry garlic until first side is golden brown, being careful not to burn. Use two forks or similar to flip over, and cook second side the same way. Remove to a plate when golden brown on both sides.

After allotted time, remove galette from the oven. Use a spoon to ladle Lemon Mint Pesto over the fanned zucchini, spreading it nicely. Optionally, also garnish with tiny lemon wedges, cooked sausage and sumac.

Slice and serve.
Notes
Keto Pie Crust option (rolls out)
Plan ahead for this pie crust option. It needs to chill for 4 hours minimum, or overnight.
Ingredients
12 Tablespoons butter, room temp
2 ounces cream cheese, room temp
1 large egg
1 teaspoon sea salt
2 cups blanched almond flour

¼

cup coconut flour
2 Tablespoons tapioca starch (low carb when in this amount)
2 Tablespoons psyllium husk powder (not whole)

¼

teaspoon xanthan gum
Instructions
Nutrition
Calories:
329
kcal
|
Carbohydrates:
6
g
|
Protein:
7
g
|
Fat:
15
g
|
Saturated Fat:
3
g
|
Polyunsaturated Fat:
2
g
|
Monounsaturated Fat:
10
g
|
Sodium:
352
mg
|
Potassium:
365
mg
|
Fiber:
3
g
|
Sugar:
3
g
|
Vitamin A:
228
IU
|
Vitamin C:
23
mg
|
Calcium:
32
mg
|
Iron:
3
mg
You can Pin Paleo Zucchini Galette here:
Similar recipes you may enjoy